100 Apps for everything you ever wanted to do on Mac
From web development to photo editing, drive cleaning, and budget planning — all for a single monthly fee. Give it a spin to see for yourself.
Try it free
Free 7-day trial. No credit card required. Cancel anytime.
Next time you need something done, you'll think:
"I probably have an app for that in Setapp."
And you probably do.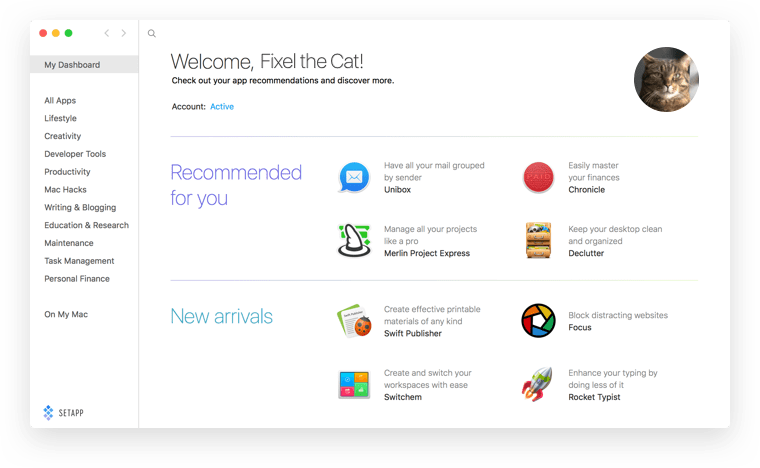 We have amazing apps that solve problems you never knew could be solved. All apps are neatly grouped for easy search. Plus, you get some personal suggestions.
People love the idea, and the apps

Really great experience w/ Setapp during beta and after its release. I love this new app distribution channel. User-friendly and valuable.

By bundling together many mac apps, Setapp looks to bridge developer's predictable revenue goal with those of a user's desire to get continual value out of a subscription. I'm hoping Hype's reputation as a professional graphic design tool will bring credence to the quality of the SETAPP platform and simultaneously expose new users to our application.

Just discovered Setapp. I may give it a whirl. Some pretty cool Mac apps in there that I've been wanting to try.

The subscription model simply makes sense in today's fast evolving software environment, but if you're not a very big player like Microsoft or Adobe, it's near impossible to adopt: understandably so, users just don't want dozens of recurring subscriptions. Setapp is having a go at solving these issues, for both users and developers.

I've been using Setapp since the early beta, and it's solid software. The selection of apps is also quite good, and growing.

The decision of joining Setapp was really attractive for Sip for a number of reasons: the business model, which definitely is the next step for the app market, the high quality of the other apps invited, and the fact that MacPaw is building it. What they showed us at our first meeting was really inspiring.

Just discovered Setapp and I'm in love. Awesome idea, great pricing and an excellent selection of apps - I'm a happy camper!

Setapp stands for an interesting new approach to software distribution and payment. We're convinced that subscription is the direction the whole industry will head for: in times of ever-changing hardware and operational systems, it is the only way for developers to run a sustainable business.

Setapp is awesome. New apps all the time. So convenient to install and uninstall as needed.

Setapp promises to be a great platform to present my apps without being lost in the crowd. I appreciate that I don't need to compete with other app developers for a limited amount of money customers are willing to spend on apps - users can simply choose to use as many apps as they need!
Press reviews
"It broadens horizons, introduces you to apps you may not otherwise hear about, and cuts the time required to search the Mac App Store for just the right app for your needs."
"If you're an avid Mac productivity app user, you know the cost of buying software can get a little out of control."
"Priced at $9.99 per month, Setapp is designed to be an alternative to the Mac App Store."
"Setapp is a subscription-based service that provides a bunch of apps you can download and fully use for one monthly price."
"Getting started with Setapp is easy. After signing up and installing Setapp, a new folder appears in the Finder on your Mac called Setapp."

Get 100 tools for work and creativity right on your Mac
Free 7-day trial. No credit card required. Cancel anytime.