How To Buy A Refurbished Mac
We all love Macs — those powerful and easy-to-use laptops and desktop computers with iconic design that somehow keeps getting better and better every year. What usually stops us from getting the newest one? Price.
While Macs might be the most beautiful computers on the planet, they are also among the most expensive ones, setting you back anywhere from $1,000 to over $10,000 for top performance models. If only there was a way to buy them cheaper! Luckily, there is — it's called Apple Certified Refurbished Store.
What Does Refurbished Mean Really?
You might have heard the term "refurbished" before. But what does refurbished mean exactly? How does it differ from used or discounted products?
Refurbished essentially applies to any products that were returned to the manufacturer for any reason. This could be a MacBook Air with a sticky key, a powerful iMac Pro that the original buyer simply didn't feel comfortable with and sent back within 14 days of purchasing, or a floor model of a MacBook Pro from the Apple Store. For some other brands, refurbished might mean unsold stock, but Apple's production is synced up with the demand so well that it's rarely the case.
Why buy refurbished MacBooks at all? You could save up to 15%.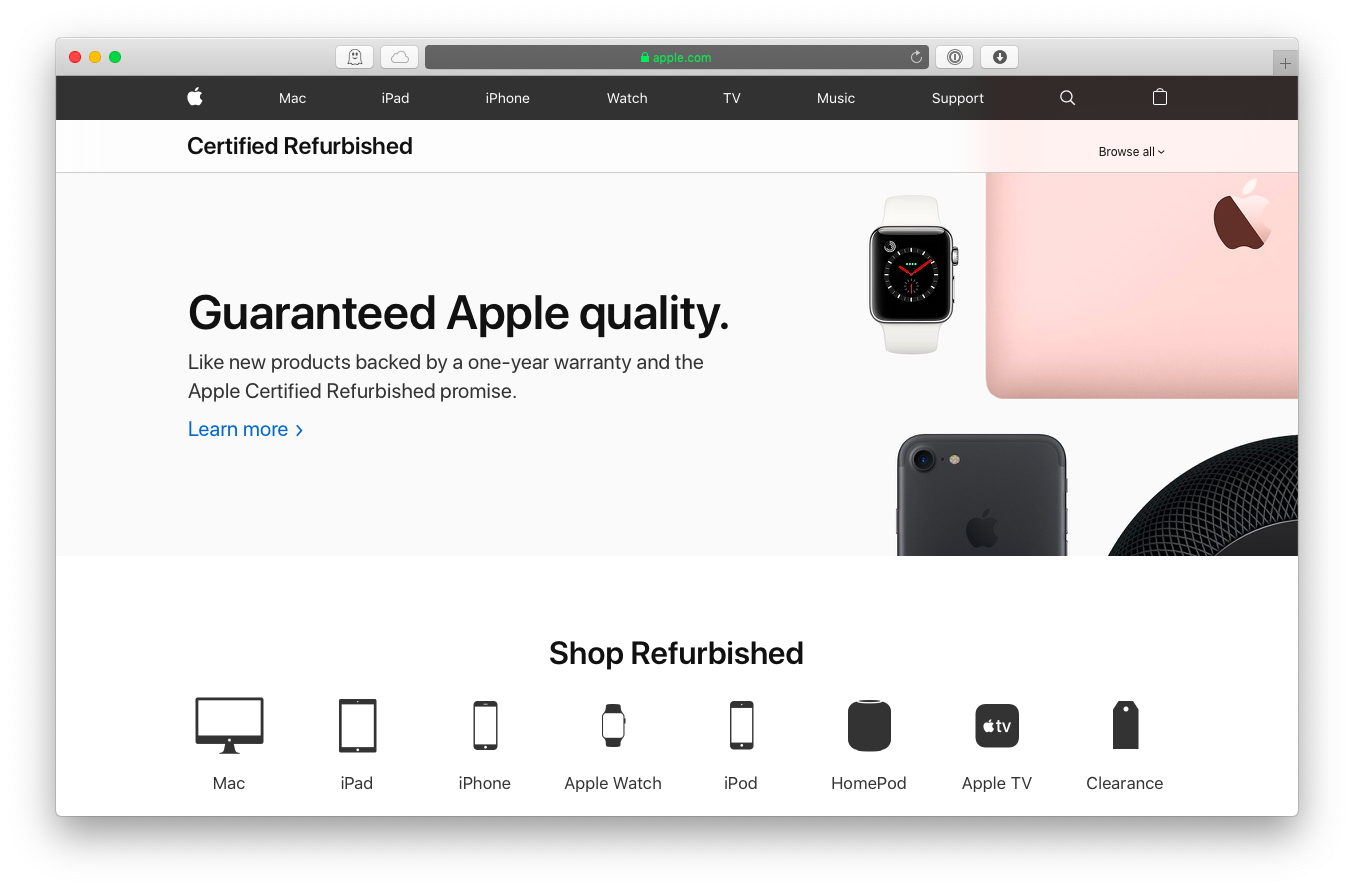 What's the difference between refurbished vs new?
Even people who've heard about the Apple Refurbished Store often remain skeptical. It might be that the word "refurbished" itself now carries a bit of a negative connotation. Is a refurbished MacBook Pro in some way dysfunctional?
The answer is no. Refurbished Apple laptops are functionally not different from any brand new products. They are:
Checked during the functionality testing. Any defective parts are replaced.

Cleaned and inspected for any physical damage

Repackaged with new manuals, cables, and boxes

Updated to the most recent operating system, when available

Assigned a new serial number

Put through Apple's Finished Goods testing, the same process as all other Apple devices
You could even say that Apple refurbished products are more reliable, since they go through all the testing twice.
Can you return refurbished iMacs and MacBooks?
Ok, so getting your iMac or MacBook refurbished is cheaper without giving up any quality in the process. But what about warranty and returns?
Whether you choose the Apple refurbished MacBook Pro or refurbished MacBook Air, it would come with a standard one-year warranty and 90 days of free technical support that covers all Apple devices, and you can return it for free within 14 days as well. Additionally, there's an option to purchase AppleCare+, which costs around $300 and extends the coverage to three years instead of one. It also covers a few instances of accidental damage, so you wouldn't start tearing out your hair after a spilled cup of coffee.
Finally, let's walk through how and where to buy, for example, a MacBook Pro refurbished.
How to buy refurbished MacBooks
Since you now know that refurbished Apple laptops are identical to new ones but cheaper, you might want to look into buying one. The only issue here is that not all the models and configurations are available at any given time — so shopping around a few stores might be wise.
Your first stop — Apple Refurbished Store, which means buying directly from Apple. Simply go to apple.com/shop/refurbished and take a look at the inventory they currently carry. If you don't see what you like but you're not in a hurry, check back occasionally for a good deal to come up.
Most of the refurbished products are likely to be one to two years old. It's extremely unlikely that you can get a deal on a refurbished MacBook Pro that has just been released.
Buying from the Apple Refurbished Store is exactly the same as buying from their regular online store — same process, same checkout — you might even combine refurbished and regular products in one shopping cart. The only hiccup with refurbished MacBooks is that you can't return them to the physical Apple Store nearby, but have to ship them back instead.

If you don't see what you're looking for in the Apple Refurbished Store, don't worry — there are other options too. Big retailers like Best Buy and Amazon often offer their own refurbished deals on a regular basis.
Another option is to look for certified Apple resellers in your area. Some of them might not have up-to-date websites, but their low profile could yield you a great deal that can't be found elsewhere.
In case you've searched for your perfect MacBook everywhere and found nothing, you could just expose yourself to a little bit more risk for a lot more choice — by buying secondhand.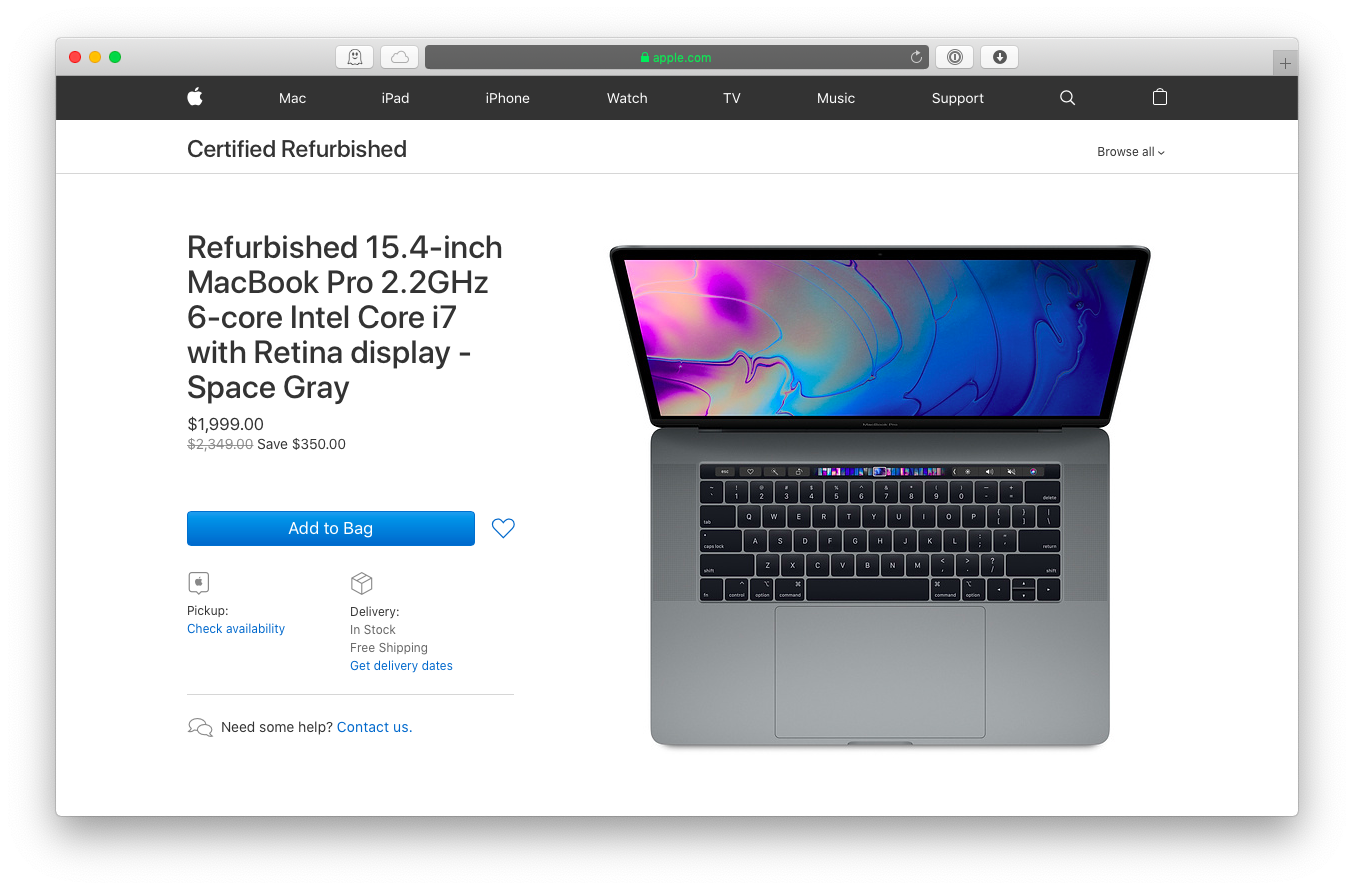 Pros and cons of buying Apple laptops secondhand
"How much is my Mac worth?" It's not an easy question to answer, which leads to some attractively mispriced deals on the secondhand market.
Simply scrolling through your local Craigslist or getting lost in never-ending eBay offerings has a high chance of giving you what you need at the right price. Since Macs are quite reliable (some running the latest operating systems for as long as seven years), buying a MacBook or iMac that is a few years old shouldn't be a problem.
But buyer beware! The biggest risk of buying secondhand online or in-person is getting scammed into receiving something that doesn't exactly match what you had in mind. So make sure to take some precautions.
When buying off Craigslist, always take the time to personally inspect the device for:
Physical damage

Correct characteristics by clicking on the Apple icon in the menu bar ➙ About This Mac

Overall responsiveness with basic tasks
When buying off eBay, pay special attention to:
User ratings and reviews. Top sellers have vested interest in keeping their score as high as possible.

Photos of the device from a variety of angles

The asking price by cross-checking with a few other places online
Following the tips above will ensure that you get the quality similar to the refurbished Apple laptops. But what about maintaining your Mac's performance?
Keep your Mac in top shape
Whether you've decided to buy a refurbished MacBook Pro or a secondhand one, or even a brand new model — it'll only work well if you care for it. How to do that? Start with iStat Menus.
iStat Menus allows you to easily monitor the performance of your Mac and spot any inconsistencies long before they lead to trouble. This utility features a thorough set of trackers that live in your menu bar and do constant background checks. When you think something is about to go off, you can easily correct it with CleanMyMac X.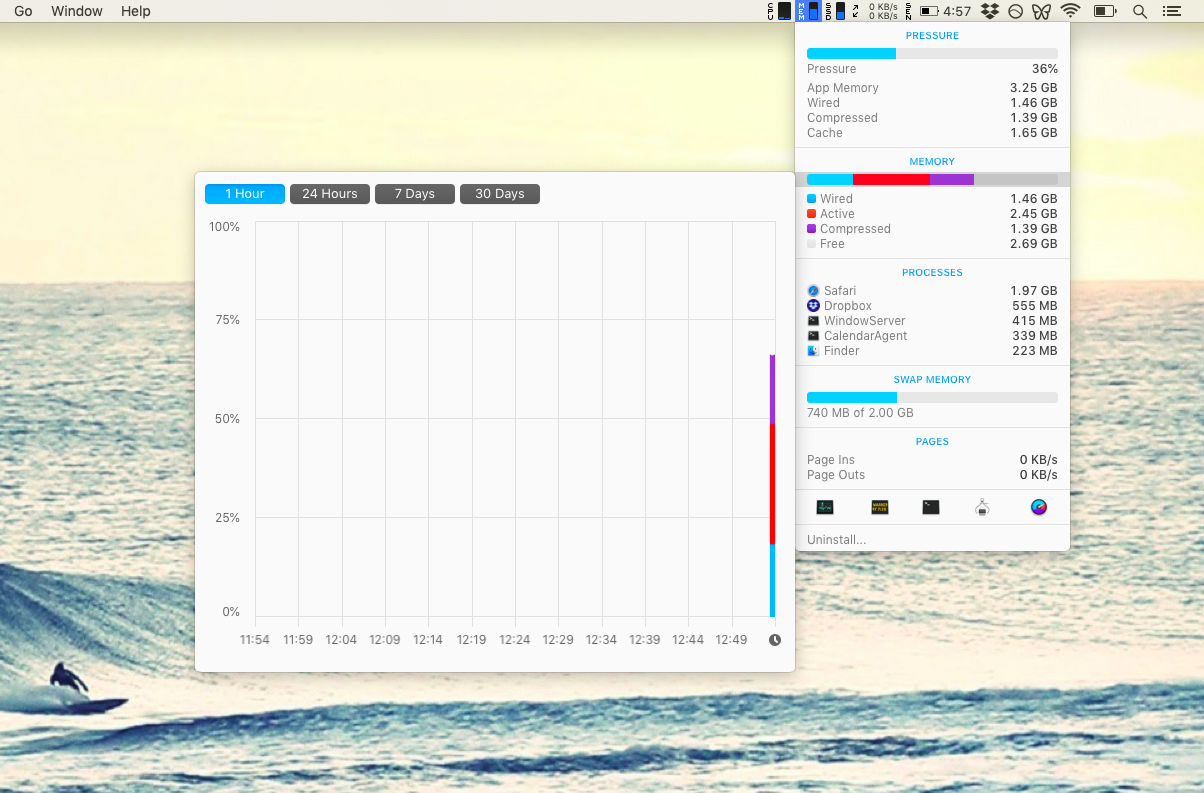 CleanMyMac X is a leading optimization tool for any refurbished MacBook Pro or iMac. It scans your whole machine for things like malware, outdated caches, unused languages, unneeded log files, and much more. This is the first thing you should do on any secondhand or refurbished Mac.
To use CleanMyMac X:
Download and open the app

Select System Junk in the sidebar ➙ Scan

Review Details and delete anything you deem necessary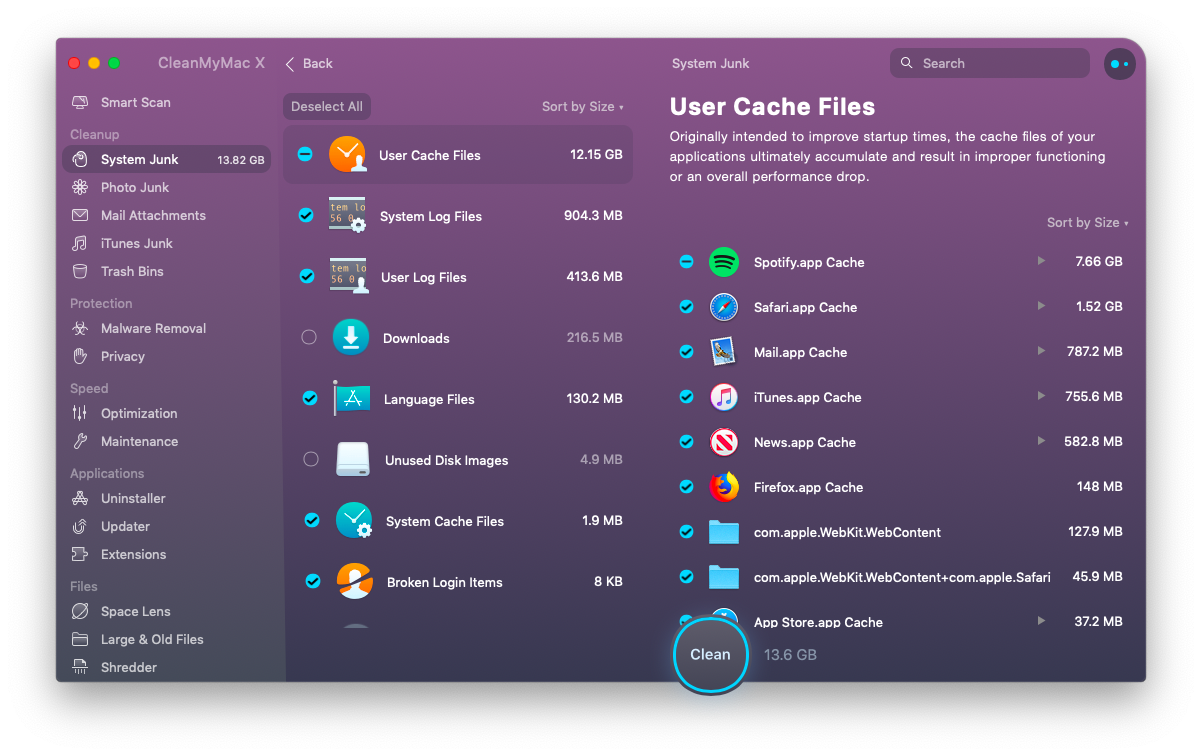 uBar, at last, replaces the standard and inefficient Dock on Mac with a custom control center that works for you exactly as you need it to. Easily see app progress, badges, status, and activity. Even better, it's possible to create a different uBar for every screen (if you have a multi-screen setup). Total time saver.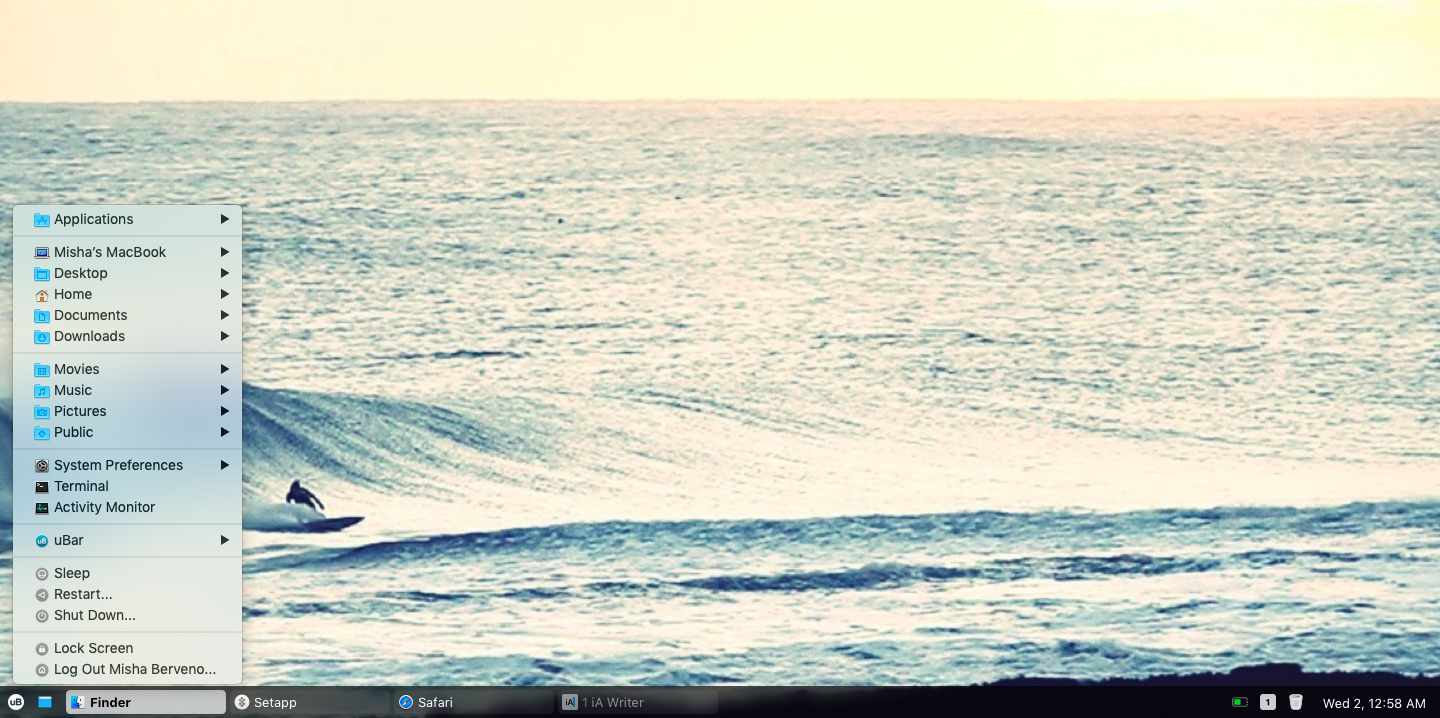 Best of all, you can improve your new Mac with iStat Menus, CleanMyMac X, and uBar for free during a seven-day trial through Setapp, a platform of over 150 top Mac apps and utilities curated to leverage your creativity and make technology more accessible than ever. Saving money is never a bad thing!