Pulltube, a video and audio downloader for Mac
Your video downloading shouldn't be limited. Sometimes you need to grab a video tutorial on Vimeo, the other times — a YouTube playlist. Or maybe you're learning a new language and want to download subtitles for your favorite movies. Pulltube is the only media downloader you'll ever need, whatever the task.
Instantly grab video, audio, and playlists from anywhere
With Pulltube, an advanced video downloader for Mac, you can save video, audio, and playlists from YouTube, Vimeo, Facebook, Dailymotion, Youku, Instagram, Soundcloud, and many other platforms. Once you find a file that you want, copy the URL or drag it directly into the Pulltube window to start downloading. If your video is a part of a playlist, downloader will recognize it and allow you to download an entire list or specific files in batch.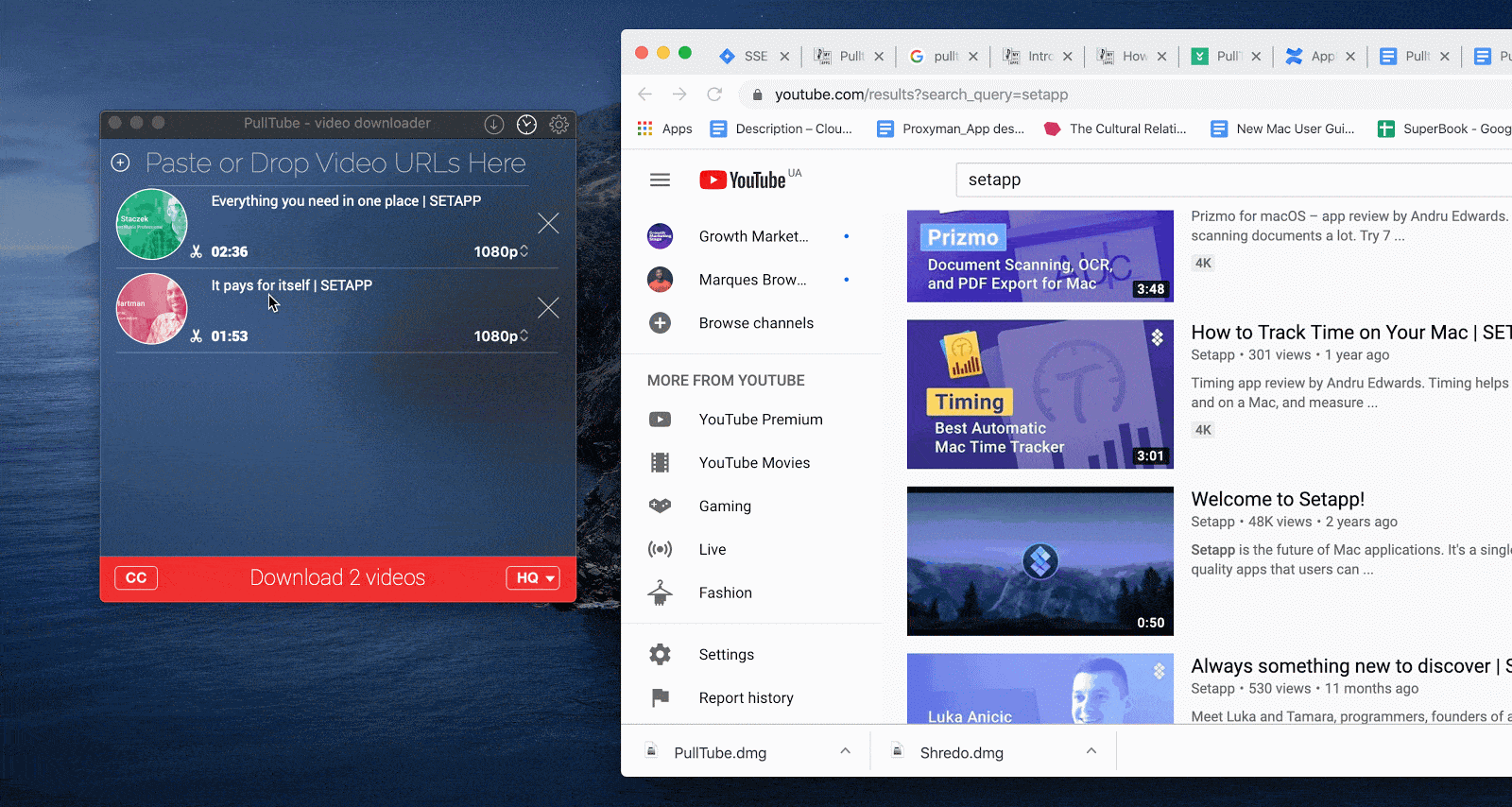 Your media files, in the right format
Pulltube supports 4K, 8K, HD, and 60fps video file formats. Depending on whether you want to download video or audio, the app enables you to flexibly manage the outputs — you can choose to save MP4, MP3, or M4A. So no external media converter needed, it's all covered by Pulltube.
To customize the quality of a downloaded file, go to HQ in the bottom right corner of the Pulltube window. If you want to add/remove subtitles, click on CC in the bottom left corner.
Extract a part of a video
If you only need to capture one scene, what's the point of downloading the whole movie? With Pulltube, you can trim videos and save only specific parts of it. Paste the link and click on the scissors button below it. This will take you to the Trimming Mode where you can manually set clip duration. Once you're ready, click the Trim button and Pulltube will save the desired output.
Browser extensions and shortcuts for more speed
If you want an even faster way to download media, get Pulltube's smart extensions for Chrome, Firefox, or Safari. Whenever you come across an interesting video on the web, you can instantly send the link to Pulltube.
What's more, the app comes with gestures and keyboard shortcuts that help you speed up the experience:
Swipe right/left to see the options like "save to download later fast," "open link in a browser," etc.
Enter/Return to start downloading.
Esc to stop fetching video content.
Command + V to paste video link.
Command + O to show the menu where you can paste multiple links, and more.
Buy Pulltube license for $14.99 or for $19.99 if you get it with Shredo, a file shredder app for Mac. Pulltube is also available with your Setapp subscription for free. A great deal if you want to use it alongside other top Mac apps like CleanMyMac X, Ulysses, and Elmedia Player.