How to stay organized in the kitchen with apps
The home's kitchen includes clever storage solutions that keep clutter off your kitchen counters - like pullout rack for spices, well-organized pantry, and easy-to-reach shelves. But how to stay organized when you have thousands of best recipes in granny's kitchen cookbooks?
Whether you love food or hate it, everyone's got to eat. And if you have a family, you've got to feed them too, even if you just fed them the day before. You can survive on grilled cheese sandwiches and potato chips, or you can step it up. And as always, technology can help.

Setapp includes a whole menu of apps (see what we did there?) to help you stay organized in the kitchen. MacGourmet Deluxe lets you build a recipe database, plan your meals for the week, and create a grocery list so you won't find yourself missing one ingredient when it's time to get cooking. It's an essential tool for any Mac user.
Clear the clutter of old cookbooks with a modern app
MacGourmet Deluxe lets you organize your thoughts on everything food and drink related, helping you store recipes, keep track of your favorite brands of wine and beer, look up references like what temperature to cook chicken to, plan meals, and create a shopping list.
Save and store all your recipes
First and foremost, MacGourmet can be your go-to recipe database. You can save recipes from tons of food websites using the Recipe Import Assistant—just click Get Recipe From Web in MacGourmet's toolbar.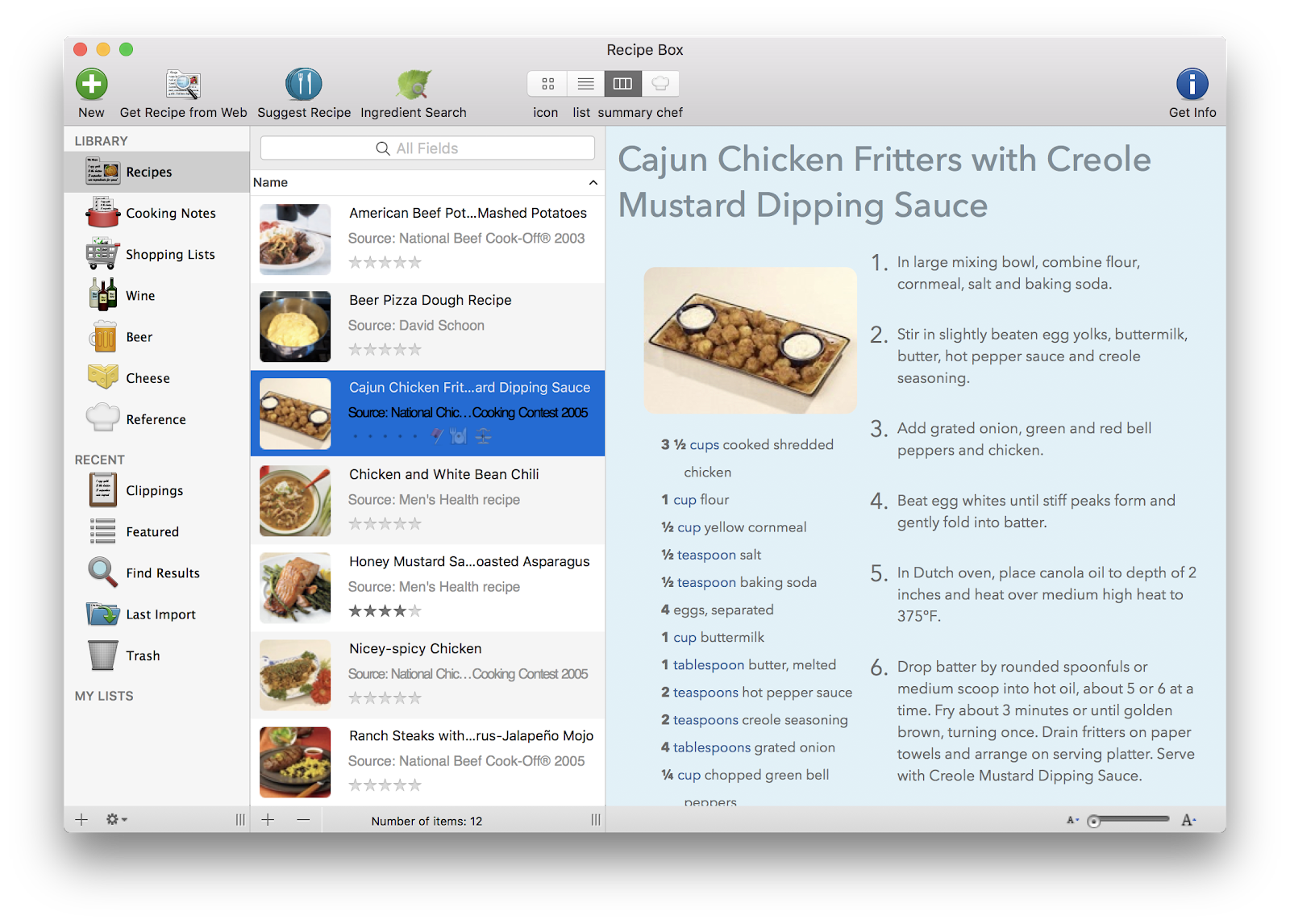 You can also build your own recipes from scratch, and the recipe builder is incredibly detailed. You can keep it simple with just the ingredients list, directions, and a photo. Or you can dive into the minutia of prep times, equipment lists, cuisine types, recipe categories, and so on.
Don't worry that your recipes will be trapped in one place, either. MacGourmet's developer, Mariner Software, provides cloud sync between Macs and with the Gourmet app for iPhone and iPad. You can also print out recipes on cards, or create your own cookbook, but more on that later.
Keep notes on wine, beer, and cheese
MacGourmet also has places to take notes on wine, beer, and cheese. That way you remember your favorites, and finally come to appreciate the difference between Vermont and Wisconsin cheddar. Give them ratings, snap a picture of the label, and add lots of keywords to search for later.
You can even jot down where you found each item and how much you paid for it. That way, for example, if you see the same wine you bought at a fancy wine store on sale at the grocery store, you'll know if it's a good deal.
Find out calorie counts and nutrition info
When you're editing a recipe, one tab in the editor is labeled Nutrition, and it can help you calculate how many calories will be in each serving.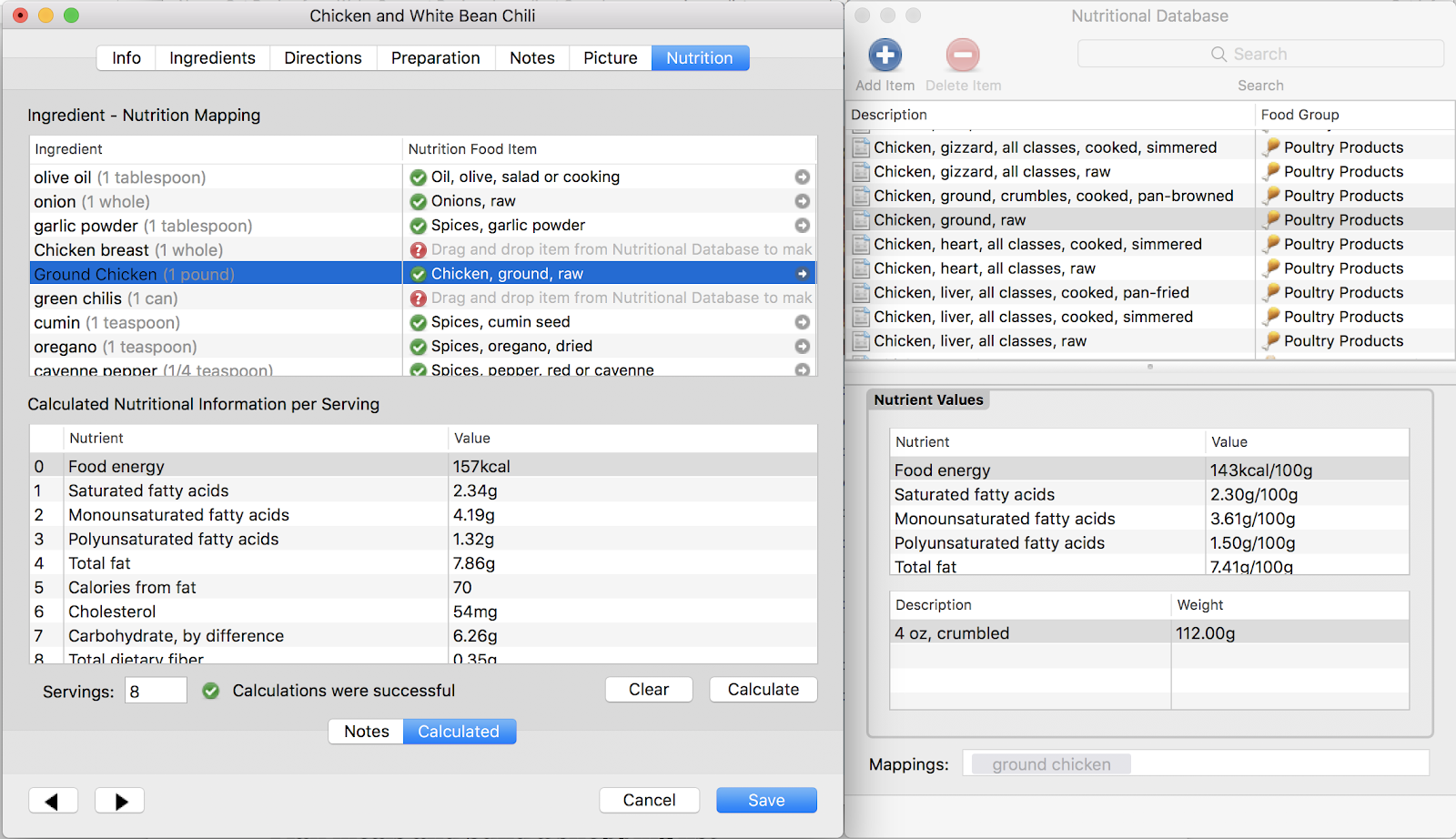 The app will match up ingredients to the built-in nutritional database, which you can see for yourself by pressing Command–1. If one ingredient's nutritional info isn't found automatically, you can just search for the ingredient, and drag it onto the recipe card and drop it onto the missing ingredient. Then enter the number of servings and click Calculate for a complete nutritional breakdown: calories, fat, cholesterol, fiber, protein, sodium, and on and on. Ever wonder how much lycopene is in pizza dough? MacGourmet can tell you.
This is incredibly handy for anyone on a restricted diet, or who just likes to tinker in the kitchen. Maybe you want to take an existing recipe and substitute a few ingredients to change the nutritional content as well as the flavor profile.
Plan meals and build a shopping list
MacGourmet lets you plan meals for the week, print out the list, and put it on the fridge, with or without the recipes. Once they can see the meal plan, your kids will know which nights to invite themselves over to a friend's house. Ha, just kidding.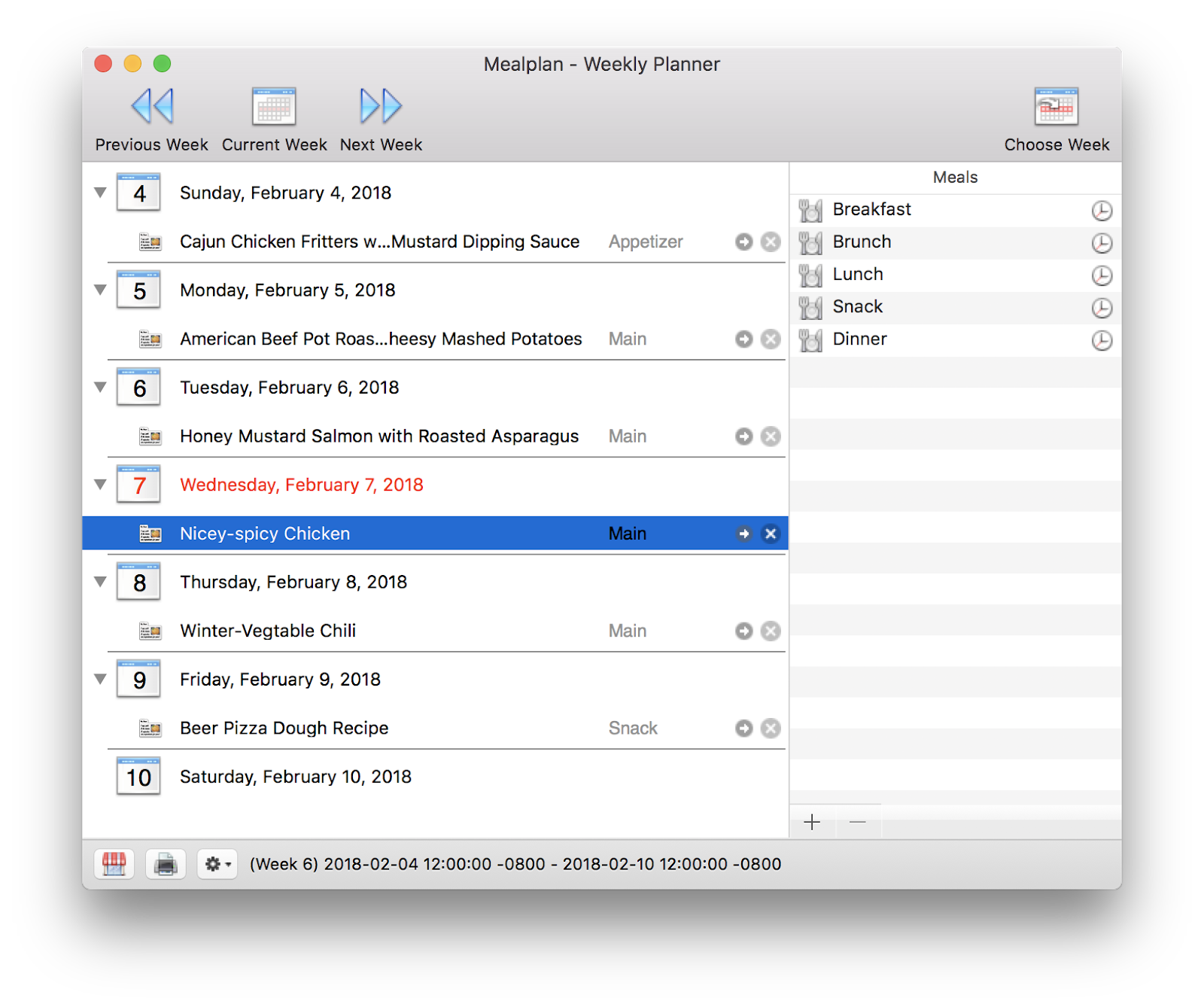 To get started, click Mealplan > Weekly Planner in the menubar, and keep the Recipe Box window (Window > Recipes) open too. Then just drag recipes from your database onto the weekly calendar. If you're planning every meal (as opposed to just dinners), you can drag in meal labels like Breakfast, Lunch, Dinner, and so on from the sidebar on the right to separate the recipes for each day into meals.
Once you're happy with your meal plan, click the little shopping icon at the bottom-left of the Weekly Planner. That automatically creates a shopping list in the Shopping Lists section of the main Recipe Box window. Double-click it to open the shopping list editor, where you can check off any ingredients you already have on hand. What remains is your shopping list. Press Command-P to print it, and you're off to the store.
Find anything with powerful search and smart lists
When you click File > New in the menubar, MacGourmet gives you options to create a smart list of recipes, wines, beers, cheeses, cooking notes, even a smart list based on your current search results.
There are so many possibilities for helpful smartlists: * All the wine you buy at Trader Joe's, or at Costco * All the wines you've rated 4 and 5 stars that cost less than $15 * All your vegetarian recipes * Every recipe you've added in the last month but haven't tried yet * All the beers you logged during a road trip last summer * Soup recipes that don't use cream * Every cheese you've tried from France
And that's just the beginning. You can probably think of better ones.
Share recipes and make your own cookbook
MacGourmet lets you share recipes on Facebook or by email, and it's easy to print neatly formatted recipe cards if you're into that. If you ask me, keeping a little file box of recipe cards never went out of style.
Even better, you can design your own cookbook, with recipes, text pages, and big, beautiful photos. MacGourmet makes it simple with the Cookbook Builder—find it by selecting Cookbook > Cookbook Builder in the menubar.
Then just drop recipes and photos into each chapter, and add in extra text pages, photo pages, and blank pages for notes. When you're all done, select Cookbook > Create PDF to export a high-res PDF ready for printing, or sending off to an on-demand publishing service.
If your kitchen were more organized and simple to use, your life would feel easier.

Other apps that can help you in the kitchen
MacGourmet isn't the only app in the Setapp family that can help you out in the kitchen. Try some of these others, and you may find them just as tasty.
Photolemur: This one-click photo enhancer can instantly improve your food photos, which are too often taken in weird lighting or with incorrect white balance.

CameraBag Pro: If your photos need more edits, CameraBag Pro is just as powerful as Photoshop. Try adding a text layer with the name of the dish in a fancy font.

PhotoBulk: Food bloggers concerned about their photos being lifted will appreciate PhotoBulk's watermarking feature, but it's also an easy way to apply the same edits to a batch of photos.

Grids: Instagram is a great way to share gorgeous food photography, and Grids makes it easy to post from your Mac, as well as find new foodies to follow.

MarsEdit: Since MacGourmet helps you track your notes on recipes, wine, cheese, and beer, why not start a blog? Cook your way through a famous cookbook, and blog based on the notes you keep, or start a cheese blog. MarsEdit helps you go from idea to finished post in no time.

Numi: MacGourmet can scale recipes easily, but Numi's clever calculator comes in handy when you forget how many teaspoons in a tablespoon, pounds in a kilogram, or cups in a liter.

HazeOver: This utility lets you focus on your recipe by dimming any other Mac apps you have open. It also automatically dims your display for at night.

Lungo: When you're following a recipe on your Mac, you don't want your screen to go to sleep, or you might have to touch your computer with dirty hands to wake it again. Lungo does one thing perfectly: Keeps your Mac from falling asleep.
Even if you never make your own cookbook or start a wine-tasting blog, MacGourmet can help you plan your meals to save money and reduce food waste. But once you get in the habit of cooking more, who knows where you'll take it. With Setapp and a little creativity, there's no telling what you can dream up!