Strike the match of your writing skills
To write, you need nothing more than a blank page. To write productively, you need a writing space that supports your flow. The basic digital toolkit of a writer covers markdown editors as well as sharing and file organization instruments. Still, unless they come as a part of a single package, it's not really the coziest writing space. A space means you can stay inside without switching around, like Strike.
Write, edit, and collaborate on your content
Strike is a small tool for Mac that completely maintains your writing experience—so that you don't have to leave the app. It's a combination of smart markdown, powerful editing, autocorrect, and a sharing tool, all in one. From the first draft to publishing your content online, Strike will be standing by.
How Strike creates for you
The Strike window has a super functional, yet nearly invisible panel with markdown and editing instruments. Like your personal writing assistant, always close at hand. Thanks to Smart Markdown functionality, it takes you one click to apply headlines, turn text into outline, or format. Actually, the app will apply format automatically—just type the characters in plain text to signal what should be changed. Throw in attachments and you're ready to go.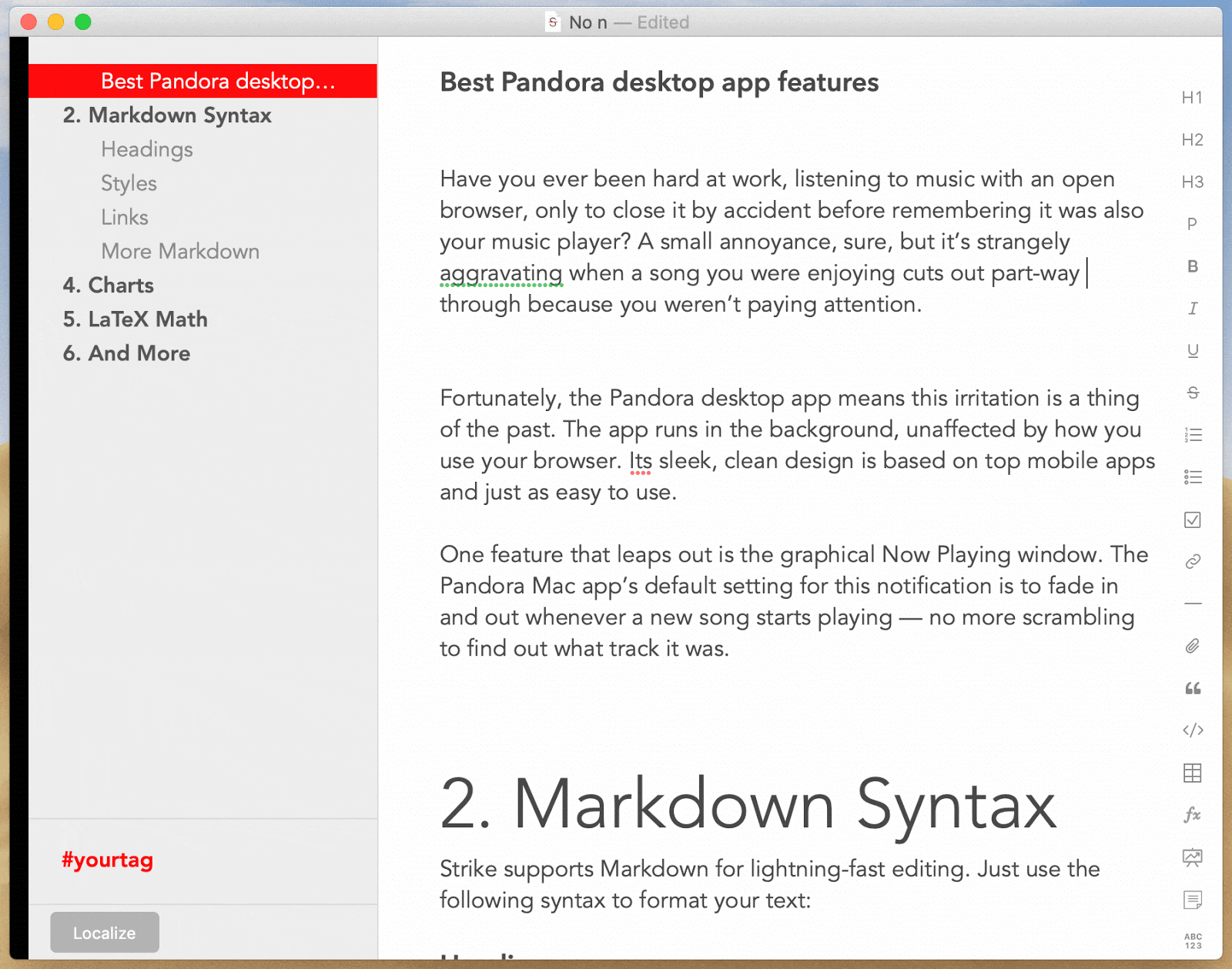 How Strike edits for you
Strike is not just another editing tool that fixes spelling mistakes (although it can do it too), it's rather about refining everything that could go wrong in your text. Choose how to sort lines of text, remove duplicates, apply autocorrect, and do tons of tailored transformations. For example, you can ask the app to convert lower case to upper case or apply text/dashes/link substitutions.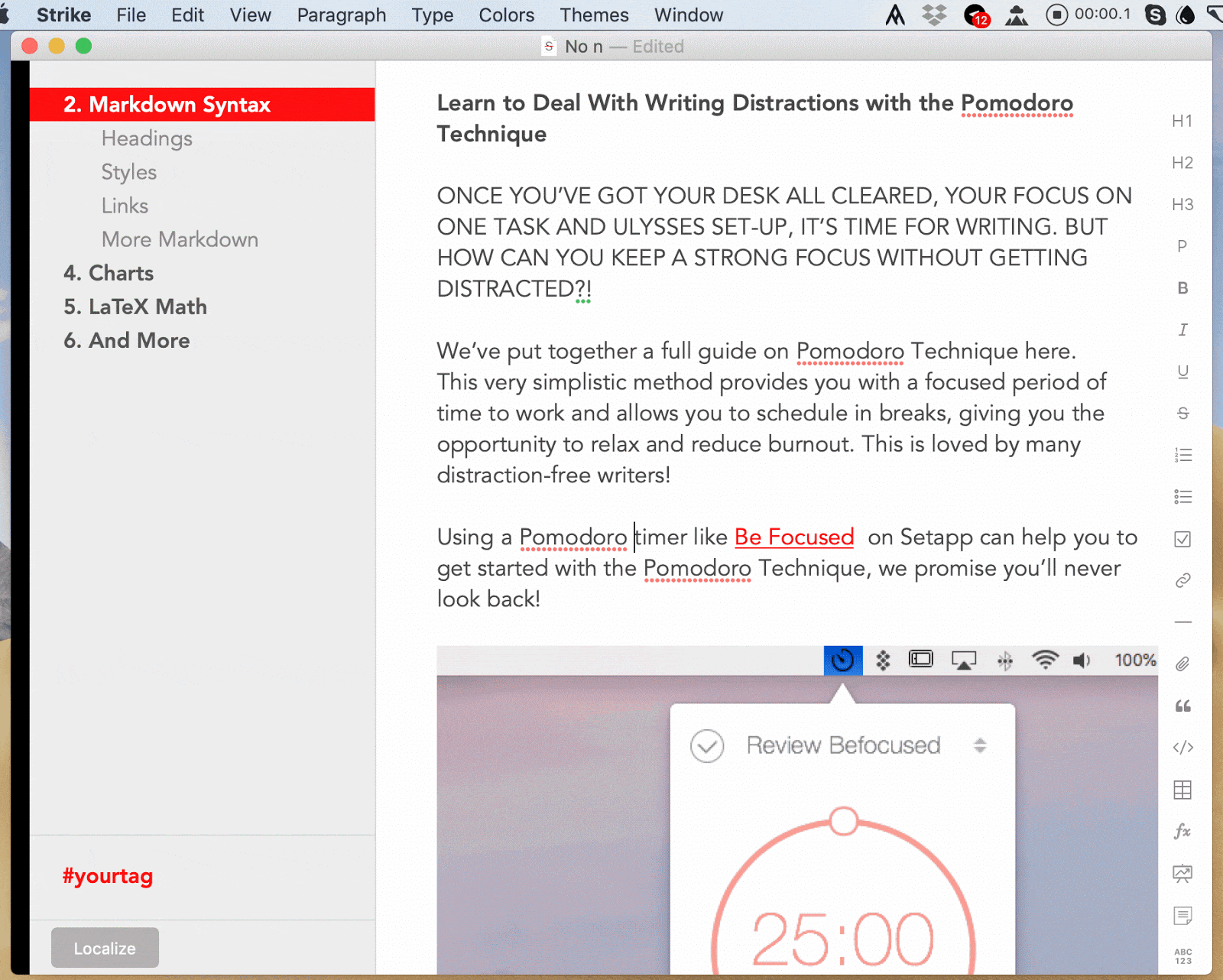 How Strike shares your creations
Again, Strike goes much further than you could have expected. Apart from traditional sharing and export options, the app can help you revert to any of the previous versions of your document. If you want to collaborate with your colleagues or friends, Strike allows editing with up to 10 people in real time. Needless to say, it's totally secure with password protection and the option to lock your docs.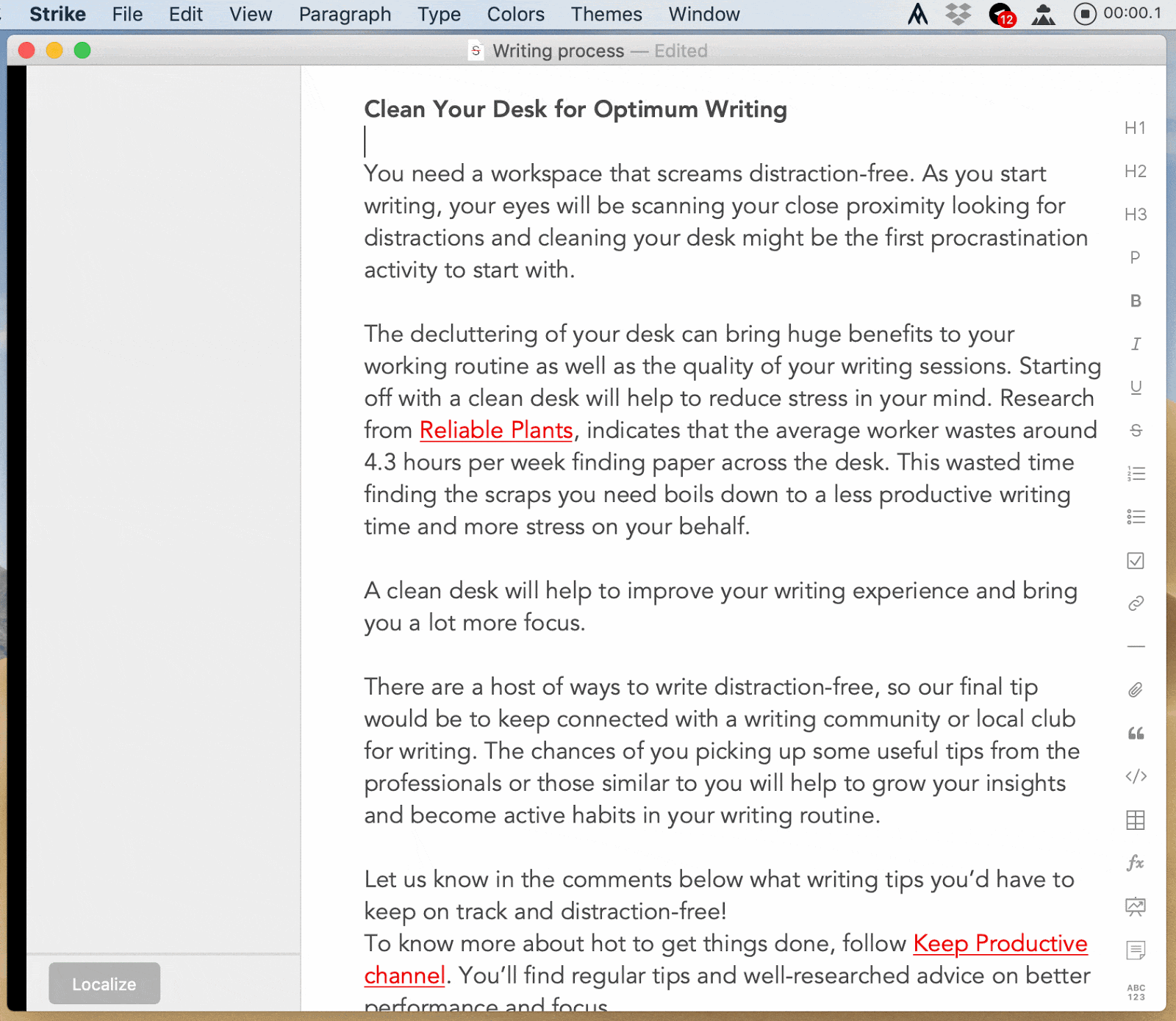 The app is available by subscription. Or, rather, two different subscription deals. You can test it for $1.99 per month of $9.99 per year. Alternatively, you can get Setapp to use Strike alongside other popular writing tools like MarsEdit or Ulysses, as well as discover 170+ extra tools for different tasks on Mac. It's pricing starting from $9.99 for a month of use. And of course, if you already own a Setapp subscription, just enjoy the addition for free.