How to write better content with ProWritingAid
In the battle between digital note-taking and paper, the former clearly wins. Yes, handwriting sounds romantic—we imagine poets jotting down notes on a napkin while drinking coffee in a Parisian cafe. The problem is that paper and pencil leave you all alone with your writing skills. Unless you hire an editor, there's no one to point out your spelling errors or provide grammar help.
Modern writers are embracing technology more and more. Why wouldn't you rely on software that can highlight potential problems and suggest corrections? If technology can improve your writing and help you get your ideas across, why wouldn't you jump on board?
Let ProWritingAid polish your texts
But if the magic of writing happens on a digital device, you can use an online writing editor to fix any problem – from structure to grammar to style. The only challenge is to find the tool that does it all. Lucky for you, we've got it.
A world-class grammar checker with extras
Meet ProWritingAid, a professional grammar checker software and vocabulary enhancement tool rolled into one. The app looks deeply into your writing to make it spotless. Apart from traditional features like spelling and grammar checkers, there are tons of other perks: ProWritingAid can analyze readability and repetitiveness, refine wording, improve structure, and even scan texts for acronyms. The detailed summary report lets you get a full picture of the key actions that will most improve your text.
Eliminate grammar and spelling mistakes
Clean writing isn't a myth – not even a huge challenge – if you use check writing software like ProWritingAid. Get rid of grammar mistakes and fix wrong spelling painlessly. The app doesn't only point out what should be fixed, it allows you to correct mistakes automatically as you go.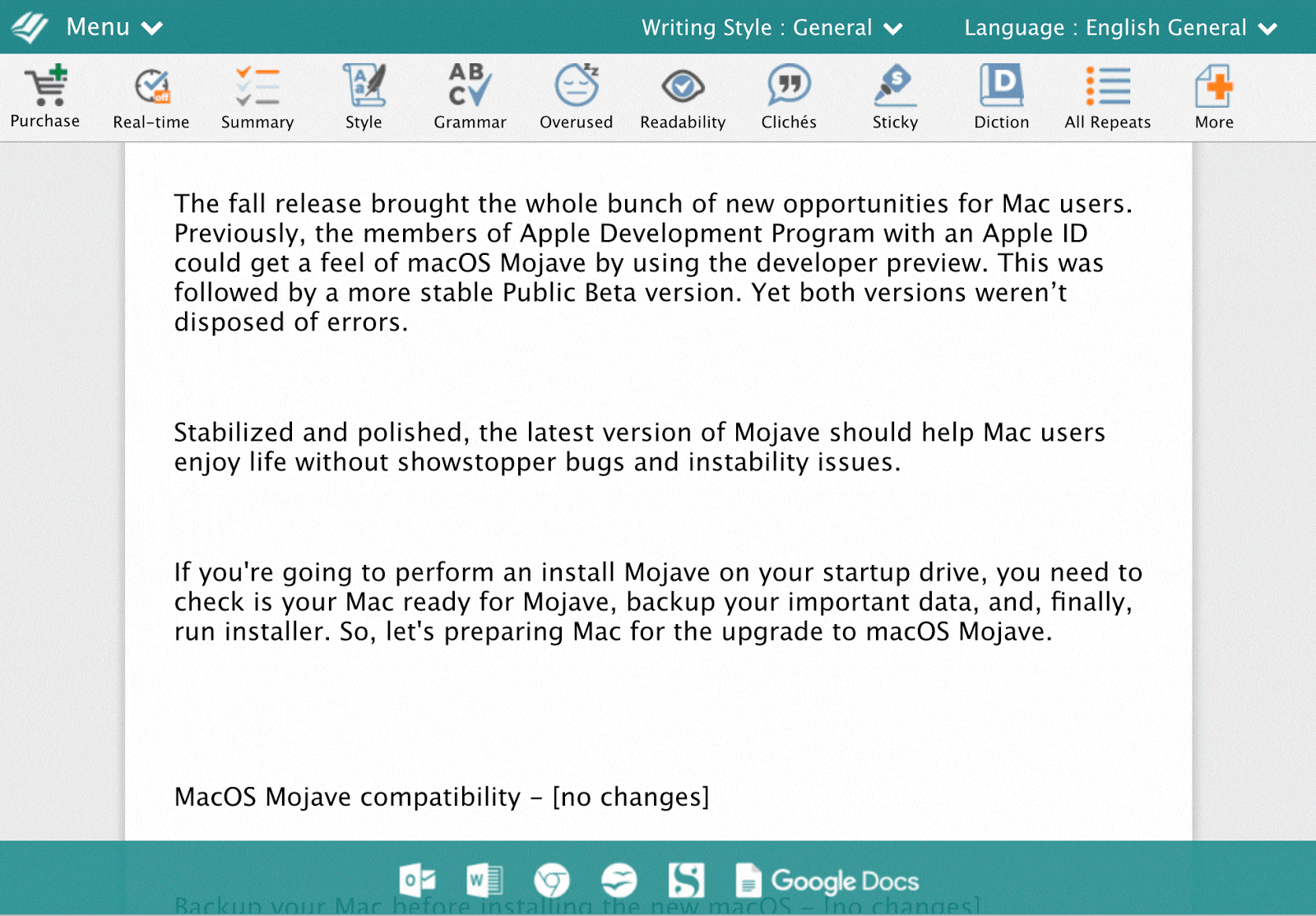 Refine your style
Style issues are among the most common pitfalls even pro writers have to deal with. The thing is you may not even realize you use too many glue words or clunky phrases. But worry not, ProWritingAid has your back. You can self-edit your writing based on smart suggestions to make it sound fluid and natural. The app detects tons of style problems, including passive voice, over-complicated sentence constructions, cliches, and much more.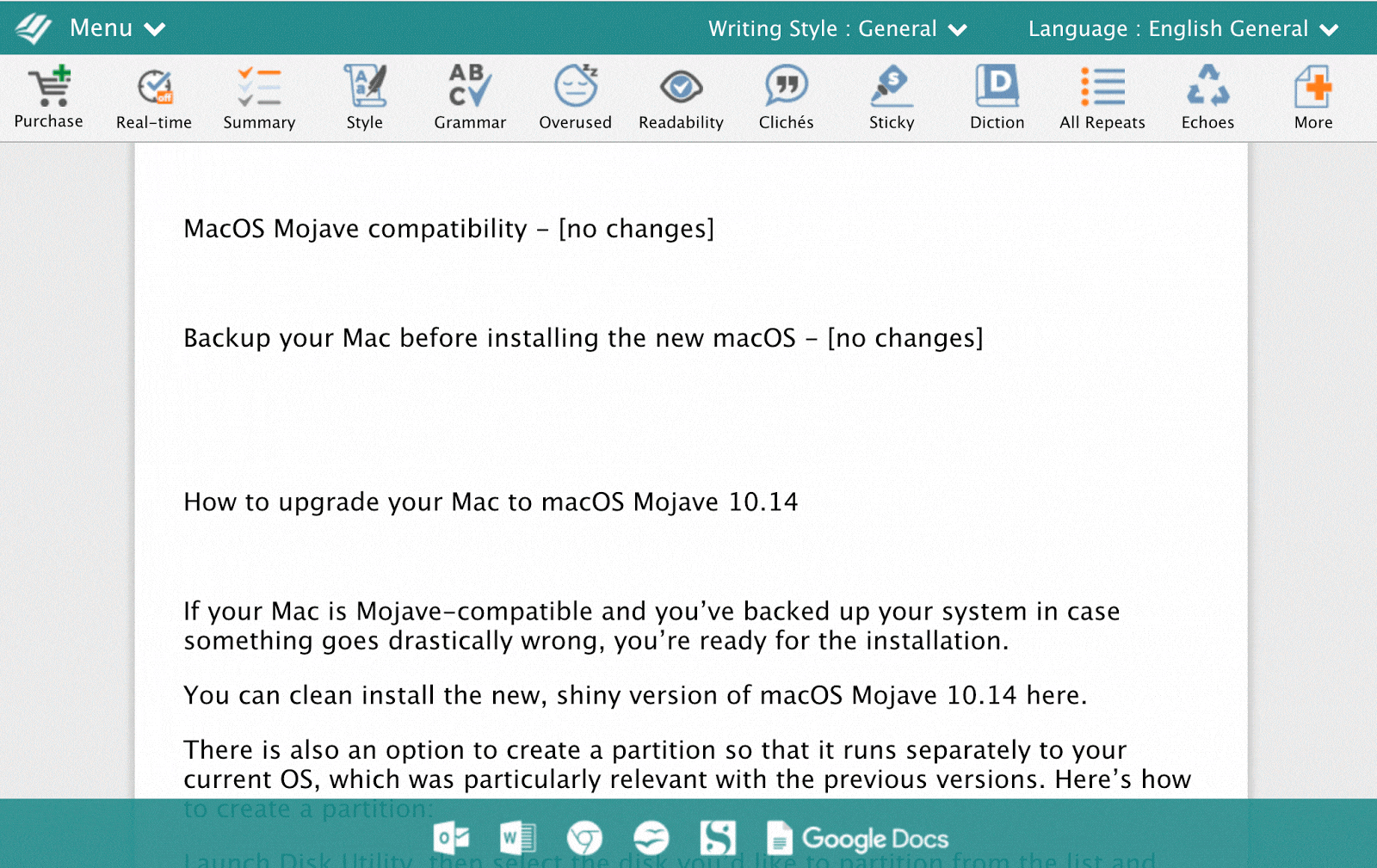 Pick the perfect words
You know the feeling when it doesn't click? The right word is just not there? Even if you read Shakespeare and drill your vocabulary round the clock, you're still not immune to awkward wording. ProWritingAid has an integrated contextual thesaurus that expands your vocabulary lightning fast. Select Thesaurus in the upper right corner and you'll get a detailed report on wording. View suggested synonyms and vocabulary enhancements to help you find the perfect words.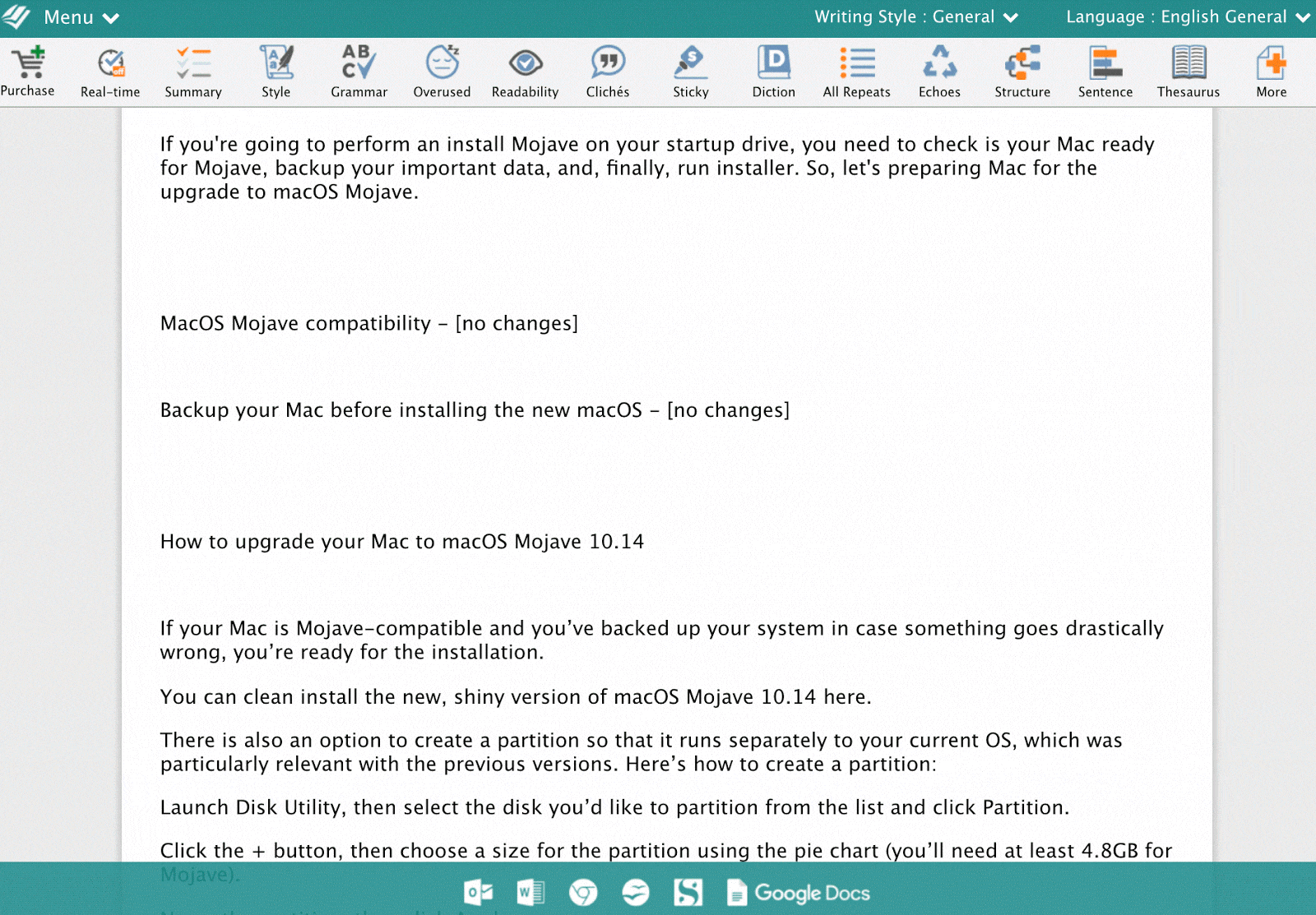 See the big picture
The best thing about ProWritingAid is that it doesn't just diagnose your writing problems, it also helps you cure them. In the summary section, you'll find a detailed report on different aspects of your writing – from readability to grammar to consistency. Use it to find your common mistakes and strengthen your writing.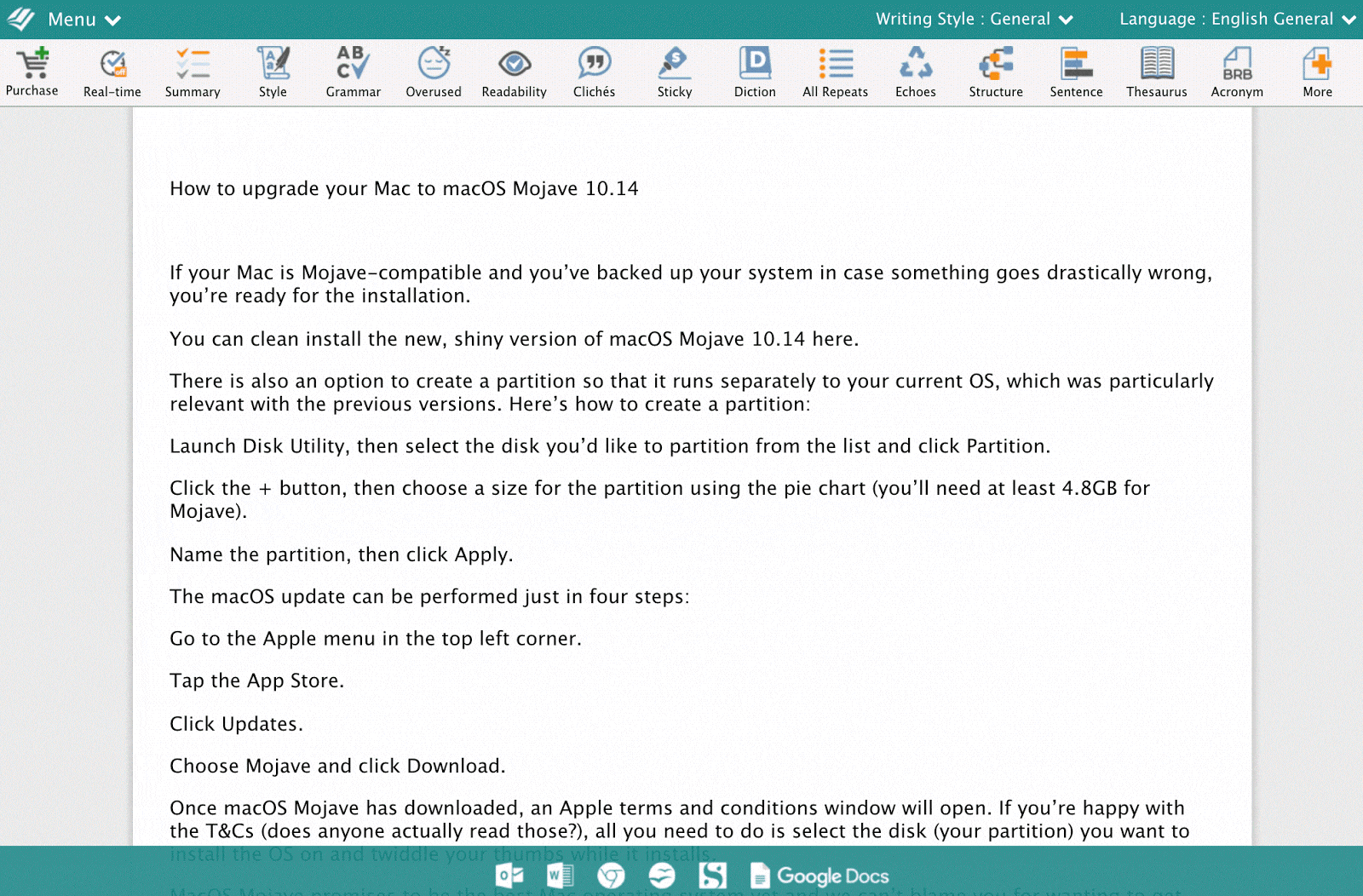 ProWritingAid is a handy toolkit that can replace a professional copyeditor. The app is available on Setapp and you can try it for 7 days free of charge.