Think tasks,
not apps.
That's Setapp, a useful toolkit for your iPhone with apps for any task.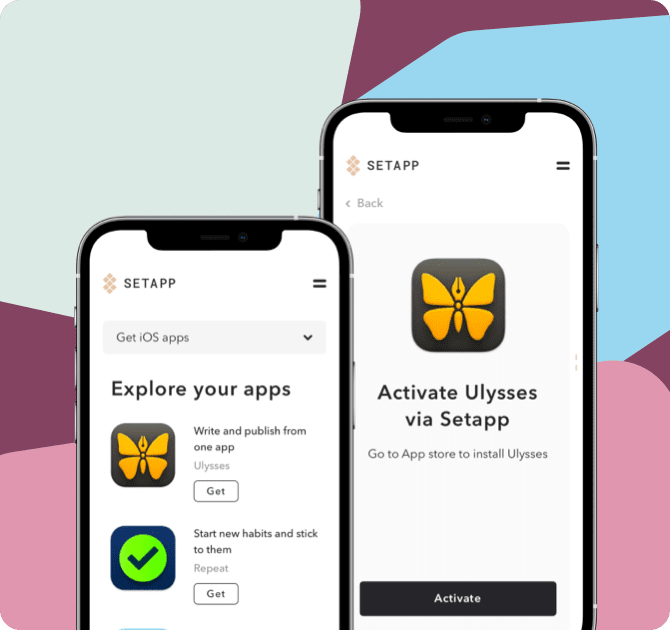 A single signup
One subscription
No ads
Who is Setapp for
No matter what you're into, you use plenty of apps every day. Setapp is a productivity kit with apps, for everyone.
Those who
solve daily tasks on their iPhone
Those who
waste too much time on app search
Anyone who
wants to have all apps they ever need at hand
You have tasks, Setapp has apps
Become a Setapp member.
Sign up and enjoy it for free for 7 days.
Install as many apps as you want.
The apps inside Setapp are yours. Entirely.
Free updates.
No ads, in-app purchases, or hidden fees. Install and enjoy.
Each app is a solution
The right app can make a difference. Take the stress away from your daily routine. Apps will help.

Keep your private diary
Write your personal story wherever you are. Thoughts, feelings, all in one place.

Pomodoro timer
Set up your focus time and avoid distractions while working.

To-do manager
Schedule tasks and reminders and build super easy to-do lists in no time.

Mind mapping
Mind mapping Brainstorm ideas and create impressive presentations on the go.

Store everything you copy
Keep everything you have copied regardless of its format.

Two-step authentication
All about security: from adding a new account to copying its two-step code.

Prioritize tasks
Manage your to-dos and get things done without distractions.

Easy email client
Read only important emails, and prioritize contacts and newsletters.

Remove duplicates
Free up your iPhone space by spotting similar photos and deleting them.

Write and publish
An all-in-one writing app for everything you need to put into words.

Find anything in a PDF
Find anything in the thousands of pages with AI.
Setapp on all your iOS devices
Spend one week free. If you like it, pay $4.99 per month.
Your iPhone and iPad, both Setapped
Use Setapp on two iOS devices for $4.99/month.
Ever-growing suite, one price
New apps are added while your fee remains unchanged.
You make #setapp as much as we do
Recommend apps and stay in-the-know. Setapp members are a family of their own.
The whole Setapp product is worth a look. I use a bunch of tools in there every day to speed up workflows.

I've been using Setapp since the beginning. I can't imagine what it would be like without it. I keep finding new apps that are extremely useful. Thanks!

I have been a @Setapp customer for more than a year, and I fully recommend it.

Try free for 7 days. Pay only if you want to continue.
$4.99 per month*. Free for a week.
Don't worry. We will remind you 3 days before trial ends.
Cancel anytime
No charges during trial
*Tax may apply, depending on your country of residence.
Not sure about Setapp? Let's dispel your doubts
The Setapp membership gives access to the whole collection of 28 apps. You can install any of those on two of your iOS devices. See the entire app catalog in your account on my.setapp.com and install the tools you need. No worries, you can cancel your membership any time, no strings attached.
Setapp works with proven and honorable developers who create applications of exceptional quality and value. All the apps in Setapp are tested, checked against our quality, functionality, safety, and privacy guidelines, and regularly updated at no extra cost.
$4,99/month + taxes. Setapp doesn't charge any hidden fees, and there are no in-app purchases. However, when collecting the Setapp membership fee, we must charge and report taxes on your purchase. The most common tax forms are the sales tax in the US and the value-added tax (VAT) or the goods and services tax (GST) in the EU and other countries.

Depending on the state, the tax varies from 5% to 25% of the fee. As an estimate of what you'll pay on top of the Setapp subscription, you may use this list by Paddle, our payment provider partner.
You can save 10% by paying annually.
• Setapp offers a curated collection of apps with high-quality, secure, and tested tools only.
• You can access all apps in a single subscription, at a single flat fee.
• New apps are added regularly, but the price stays the same.
Setapp is free for a week, then $4,99 for 2 iOS devices.
• You can cancel your subscription anytime.
• We remind you about your regular monthly charge.
• No hidden extra charges