Aeon Timeline: The Visual Timeline App
Aeon Timeline is a powerful tool for organizing and presenting a sequence of events. Whether you're laying out the plot of a screenplay, planning an event, or presenting evidence to a jury, the app's simple interface gives clarity to even the most complex timelines.
Aeon Timeline tutorial
Great visualization can boost your analytical skills, help get your team on the same page, and bring creative projects to life. With great flexibility and customizable templates, it's a straightforward tool that anyone can use. Here's how to make the most of it.
Creating a timeline
The app's opening lets you search and sort your timelines and offers a set of templates for different fields. It also gives you access to some more fleshed-out timelines for inspiration. These can be found under the "examples" tab.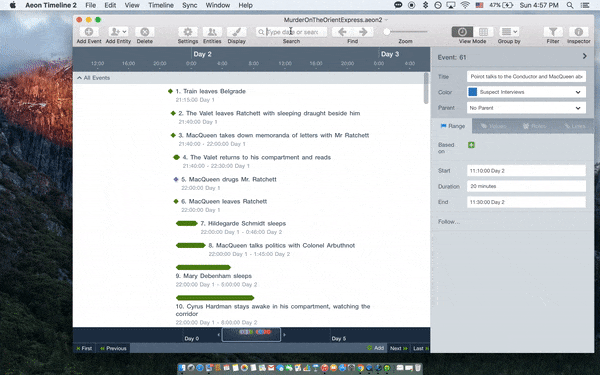 Creating an event
Once you've created a timeline, it will appear empty. You can populate it with events using the "Add Event" button. When you create an event, you'll have the option to name it, color-code it, and assign it to "entities": locations, participants, and more. Don't worry if you don't have all the details about an event just yet—you can always return and edit events as your timeline develops. Once your event appears, you can click and drag to adjust its position in the timeline.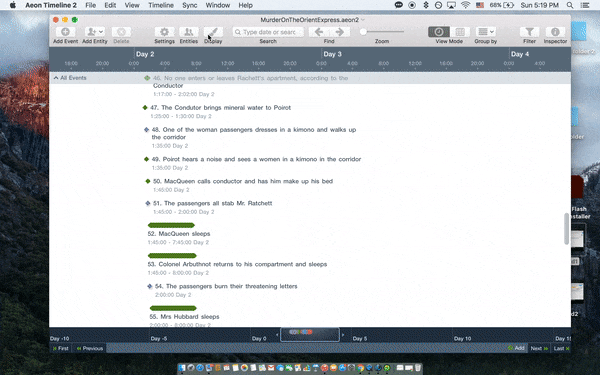 Creating and assigning entities
Besides events, you can also enhance your timeline with entities. These have different names depending on the type of timeline you're using ("category" and "person" in Legal become "arc" and "character" in Fiction) but they all give you ways to assign people, places, and things to events.
As we'll see later, this can be a useful way to sort through a complicated timeline, so don't be shy about making them. You can create entities with the "Add Entity" button and edit them with the "Entities" button.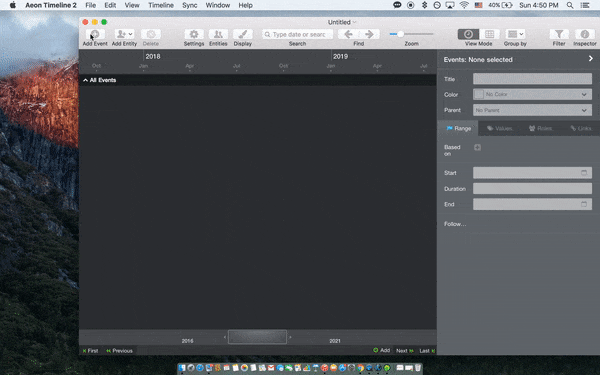 You can assign any entity to an existing event under the "Roles" tab for that event.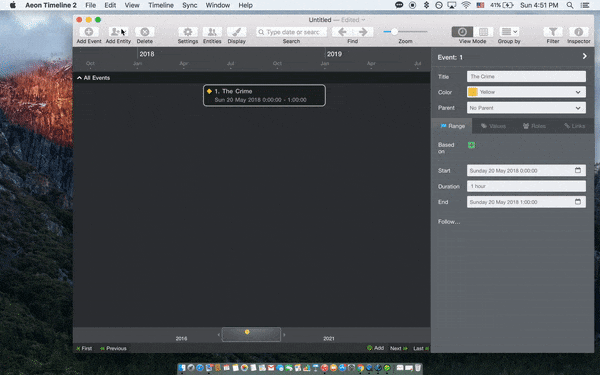 Using your timeline
Once you've developed a timeline, there are many ways to navigate it. You can search for a term with the search bar, then navigate using the "find" arrows. Use the "group by" menu to arrange events according to the characters, places, and other entities assigned to them. If you need a closer look or a bird's-eye view, the zoom slider can adjust the timescale with ease.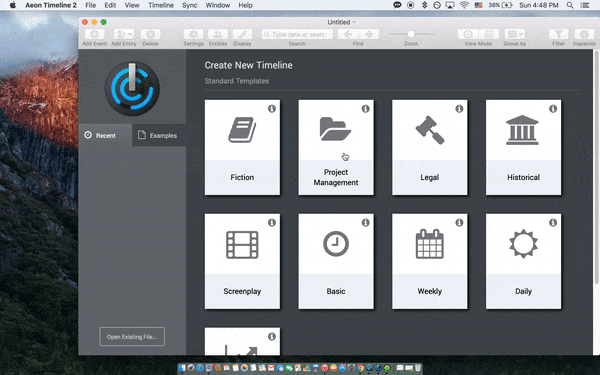 Customization
When you click the "Display" button, you'll find options for customizing the look of your timeline. Here you can adjust the background color, layout, and scale of your timeline.You can also select how much information each event will show when selected and unselected.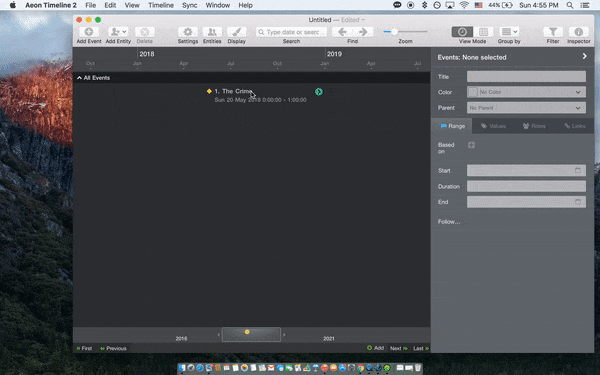 Whether you're pursuing a creative hobby or you need to present or plan your work, Aeon Timeline can help make it easy and beautiful. Keep an eye on your entities! They're your best bet for keeping your work organized.