Rapidweaver is an extremely intuitive tool for creating slick, professional-looking websites. There's no code to learn — instead, you organize pages and plugins much as you would a series of folders. This simple layout supports a wide variety of features, including text boxes and forms, image hosting, embedded videos, and premade themes.
Create your own websites in minutes
The app's preview feature makes it easy to avoid publishing any mistakes you might make along the way, while its extensive tutorial library puts even complex designs well within your reach. Even better, websites designed with Rapidweaver are optimized for search engines and are mobile-responsive.
Here's how to put it to work.
Creating a project
To begin, click the "Create a New Rapidweaver Project" icon on the opening screen. You'll see a blank project; to add your first text, click the "+" sign at top left and choose from the drop-down menu. This will create your site's first page. Enter as much or as little text as you'd like. Then, click over to the "Themes" tab and select from the app's extensive catalog of pre-made designs.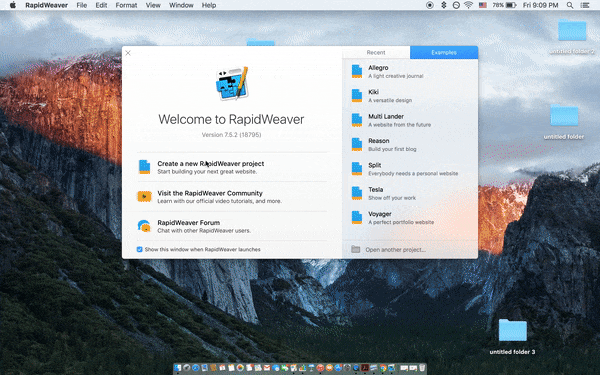 Adding pages
Once you've started your project, you can add more pages with the "+" button. Any page you add will be linked to your homepage with the app's built-in navigation feature. Under the "All Plugins" tab of the drop-down menu, you'll find all sorts of file types you can add, from blogs to photo galleries to contact forms.
Be sure to name each new page you create by clicking its tab in the sidebar: this will make navigation much easier.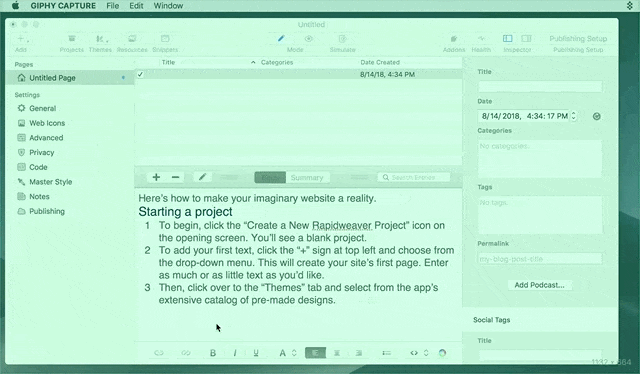 Previewing
Once you've got a few pages filled out, it's time to see how the site looks on its feet. Click over to the "Preview" tab to see your themes and text in action. You can also use the drop-down menu to see how your site will look on other iOS devices.
Don't like what you see? Try another theme, or click the "Master Style" tab on the left side of the window and adjust font size, color, and other visual attributes to your liking.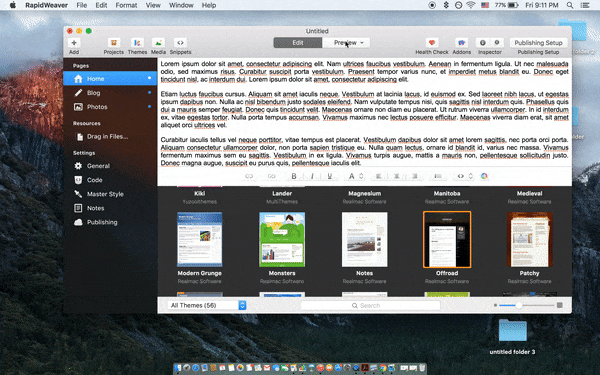 Publishing
When you're ready to take your site live, click the "Publishing Setup" button in the top right corner. Fill in the details about your hosting server and web address in the text fields and drop-down menus. When complete, click "Test" to try out a demo or "Publish" to post your site online.
If you're not sure that your site is ready for prime time, hit the "Health Check" button, which analyzes your site and lets you know if you've skipped any crucial steps.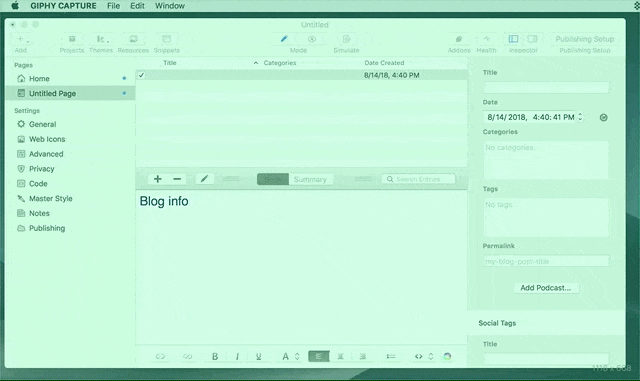 Rapidweaver puts you in charge of an elegant, easy-to-use set of design tools. With its comprehensive support, easy editing, and preview modes, it's a learning experience that grows with you. Get Rapidwerver on Setapp to try it for free.
Get 100+ Mac apps for any job
Sign up to Setapp and try them for free.
Try for free