Build a website with Rapidweaver app
RapidWeaver is an extremely intuitive tool for creating slick, professional-looking websites. There's no code to learn — instead, you organize pages and plugins much as you would a series of folders. This simple layout supports a wide variety of features, including text boxes and forms, image hosting, embedded videos, and premade themes.
Create your own websites in minutes
Without a doubt, RapidWeaver takes the top place for apps that allow you to build websites without knowing a lick of code. Apply a theme you'd like to modify from the extensive professional library, find and use the best imagery from Unsplash, see any work-in-progress with the preview feature, and make your website responsive and search engine friendly — all in a span of a coffee break.
Here's how to make your imaginary website a reality.
Starting a project
To begin, click the "Create a New Rapidweaver Project" icon on the opening screen. You'll see a blank project.
To add your first text, click the "+" sign at top left and choose from the drop-down menu. This will create your site's first page. Enter as much or as little text as you'd like.
Then, click over to the "Themes" tab and select from the app's extensive catalog of pre-made designs.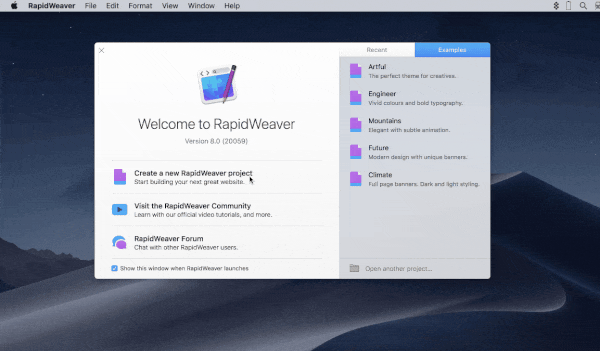 Adding pages
Once you've started your project, you can add more pages with the plus button. Any page you add will be linked to your homepage with the app's built-in navigation feature. Be sure to name each new page you create by clicking its tab in the sidebar: this will make navigation much easier.
RapidWeaver supports finding the perfect imagery by using Unsplash right within the app. And with a straightforward but powerful built-in plugin manager, you can choose any extra functionality you need, from blogs to contact forms.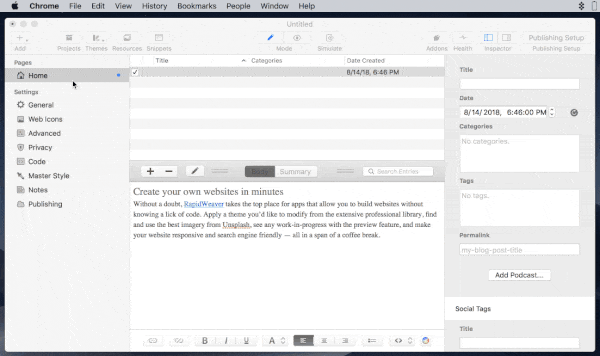 Previewing your work
Once you've got a few pages filled out, it's time to see how the site looks on its feet.
Click over to the Preview tab to see your themes and text in action.
You can also use the Responsive Device Simulator to see how your site will look on a variety of devices with different screen sizes.
Don't like what you see? Try another theme. To view how it looks click Preview Page With.. via context menu and view the page in the Google Chrome. Or click the Master Style tab on the left side of the window and adjust font size, color, and other visual attributes to your liking.
Forgot about GDPR? No problem. Flick the privacy cookie banner on in Settings with just one click.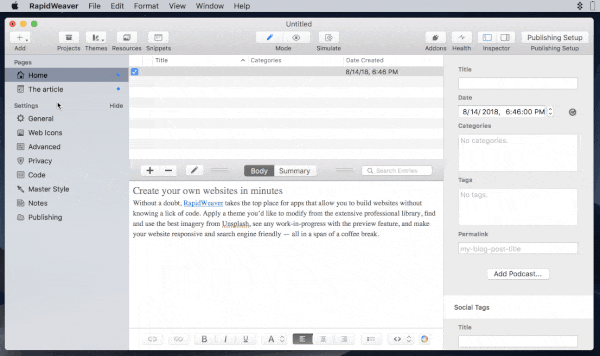 Publishing to the world
When you're ready to take your site live, click the Publishing Setup button in the top right corner.
Fill in the details about your hosting server and web address in the text fields and drop-down menus.
When complete, click Test to try out a demo or Publish to post your site online.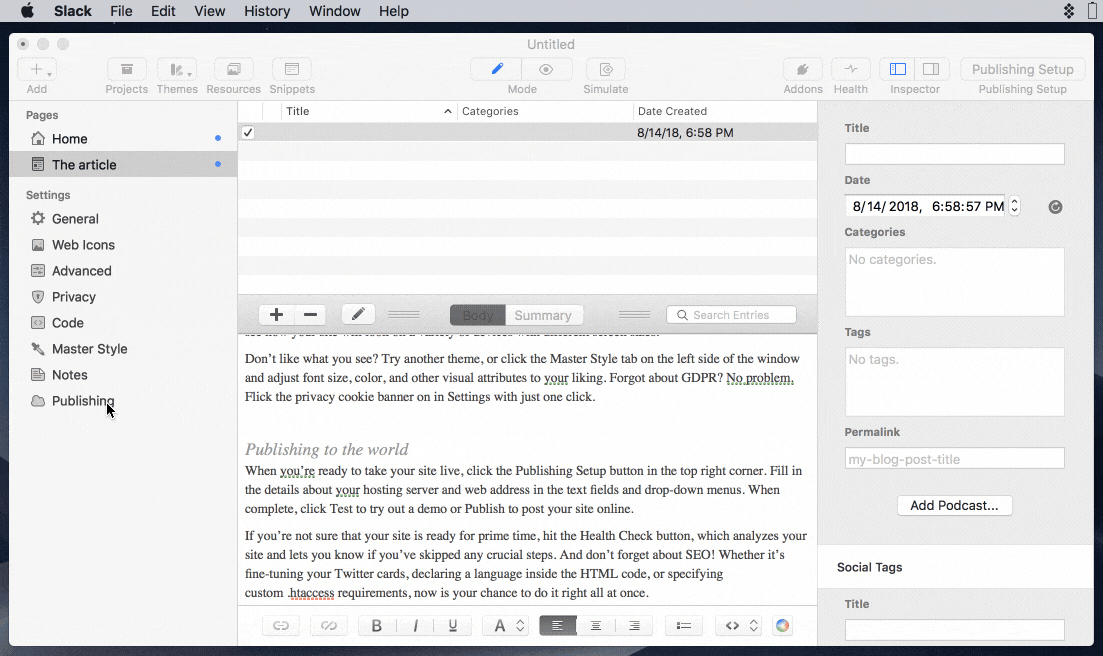 If you're not sure that your site is ready for prime time, hit the Health Check button, which analyzes your site and lets you know if you've skipped any crucial steps. And don't forget about SEO! Whether it's fine-tuning your Twitter cards, declaring a language inside the HTML code, or specifying custom .htaccess requirements, now is your chance to do it right all at once.

This website building app puts you in charge of an elegant, easy-to-use set of design tools. With its comprehensive support, easy editing, and preview modes, it's a learning experience that grows with you. Get RapidWeaver on Setapp to try it for free.