Mac Developers Survey 2019
2019 has been a blockbuster year for the app market, with new service entrants from major tech companies like Google Play Pass and Apple Arcade (on the gaming side), new awards & recognition for the developer community (Setapp also managed to tuck away a few accolades we're rather proud of). App consumption is continuing to evolve, and developers are adjusting their business models to match, with subscription models at the forefront as a monetization channel.
For the fourth year in a row, we again surveyed Mac app developers to look at the state of the industry. This year 812 participated and told us what they think. To followers of market news, the findings might not surprise, but the main takeaway is that we continue to see revenue as both an obstacle to the Mac App Store's place as the go-to distribution channel of choice and an opportunity for alternative marketplaces like Setapp.
Revshare cut continues to challenge App Store
Mac App Store developers are looking closer at its revenue sharing agreement: 62% of survey respondents thought it was unfair this year, 12 percentage points more than last year. At the same time, 70% of developers who don't sell in the Mac App Store said that the revenue sharing model was an important reason why. Furthermore, 58% of developers said they earned more in revenue outside of the App Store than inside of it.
Unhappiness with the revenue balance also cut into the overall Net Promoter Score of the App Store this year. Among devs who sell just inside of the Mac App Store, the NPS went from -19 to -35; for devs who sell outside of the Mac App Store, the NPS was -76; and for developers who sell both inside and outside, the NPS dropped 5 points to -40.
NPS Scores of Mac App Store by Developers, 2019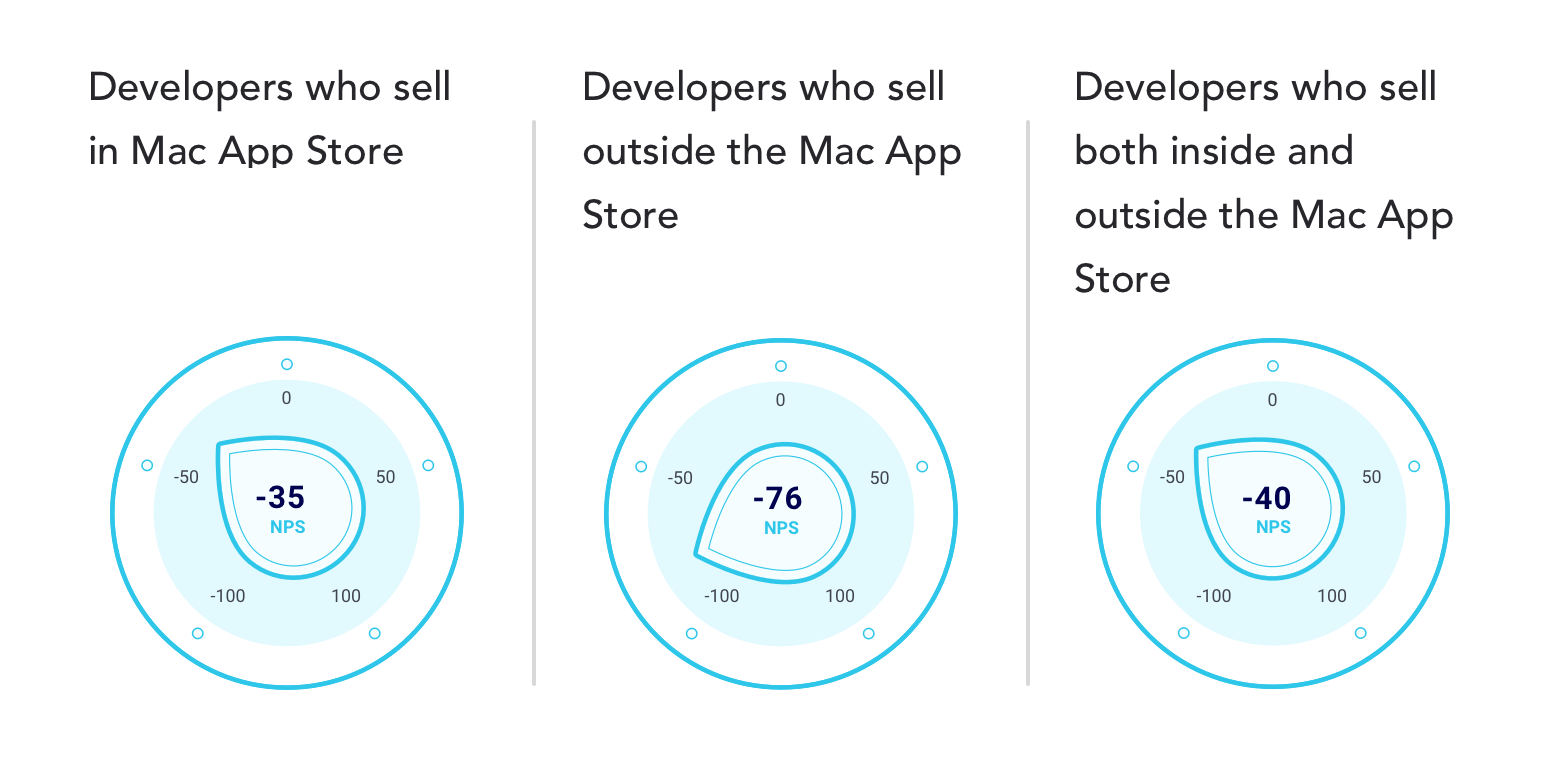 In terms of the app review process, overall sentiment was largely similar compared to previous years. Just under half thought the overall process was satisfactory, with a largely neutral attitude toward the guidelines themselves.
Setapp increasingly attractive revenue stream for independent devs
As revenue sharing is becoming an increasingly contentious issue for Mac App Store developers, Setapp continues to earn high marks for its model. In stark contrast to the score for Apple's official app marketplace, 94% of developers said they thought Setapp's distribution guidelines were fair.
Revenue is clearly at the top of mind for independent developers. 73% said additional revenue was the main factor behind joining Setapp, up 20 percentage points from last year. This might also, at least partially, explain the high interest in exploring additional distribution platforms like Setapp: 76% of Mac app developers said they were interested in adding their app to Setapp. Already one-fifth of Mac developers who participated in the survey who sell their apps outside of the Mac App Store distribute them via Setapp.
Digital download of full 2019 Mac Developers Survey Results
This year we're making the annual Mac Developers Survey results available as a digital download PDF doc. There are a lot more valuable insights to be found there, including more detailed views on the Mac App Store, drivers behind subscription model adoption, and a look at expansion into app development for non-Apple platforms. You can also find the previous year's survey results from 2018, 2017 and 2016 here.