Polarr packs all the functionality of a professional photo editor into an intuitive, user-friendly package. With it, you can take your photos to the next level by adding blurs, masks, and other effects. It has a lot of options and professional tools and it's very easy to deal with.
But it's not just useful for editing the photos themselves. The app is great for organizational tasks as well, such as watermarking, resizing, and batch renaming photos from a series. And, with its automatic edit tracking, you'll never lose track of what changes you've made.
The most powerful Polarr's features:
Photo extension
Color masking, brushing, gradient and circular masking
Auto enhancement
Ability to edit in DNG and RAW formats
Persistent edit history tracking
Create, customize, and share your own filters
Export photo at different settings; exporting images in batches
Customizable workspace
Everything you need to make perfect photos is Polarr
Here's how to get started.
Importing and opening photos
The app is built with multiple photos in mind, which means that you can import photos in batches and flip between them with ease.
To import a photo or group, click the "Open Photos" button near the top left corner. Click all the photos you'd like to work on, and then click "Open." The entire batch of selected photos will appear along the bottom of the screen; click among them to change the active photo. The icon at the bottom left will tell you how many images are in your current batch.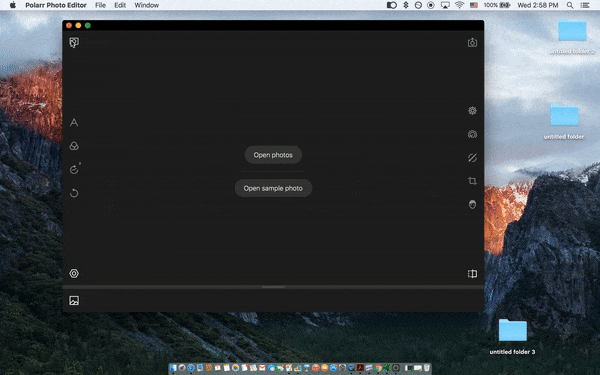 Editing with intelligent filters
As any Instagram user can tell you, it's a lot easier to use overall filters on your photos than to make individual adjustments. This app comes packed with a huge library of effects so that you can get the effect you want quickly.
Click the "Filters" button on the left to choose from the menu; click the "..." icon at the top of the panel to see more thematic filter collections. When you've picked the one you want, click it and it will automatically apply to your photo. Then use the slider bar to adjust the filter's intensity.
Not sure how you like it? Click and hold the "Show Original" button in the bottom right corner for an easy comparison.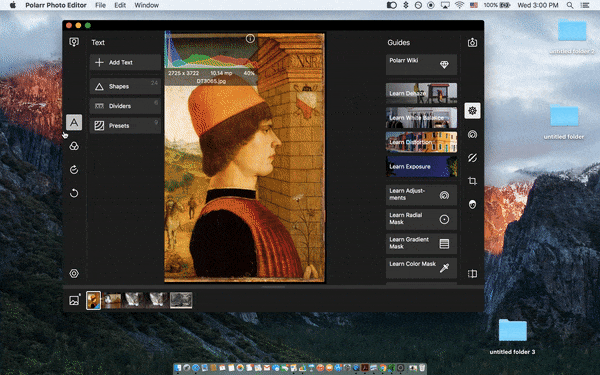 Other adjustments
Of course, some people want a little more control with their editing. The app supports a range of useful features, which you can open from the icons on the left and right sides of the screen.
The "A" icon gives you options for adding text and shapes to your image (great for the memers out there!). The "Adjustment," "Local Adjustment," "Retouch," and "Crop" icons on the right hand side each open an intuitive toolbox for making specific, tailored changes to your image.
If you want to boost your skills, the "Guides" tab has handy tutorials for individual effects and techniques.
Revealing your editing history
Everyone makes mistakes, but not everybody has Polarr to help them figure out what went wrong. The app automatically logs every change you make to the image; you can click the "Editing History" tab to see how each edit changed the overall effect. If there's any change you want to make, just click back to the previous version or click "Undo."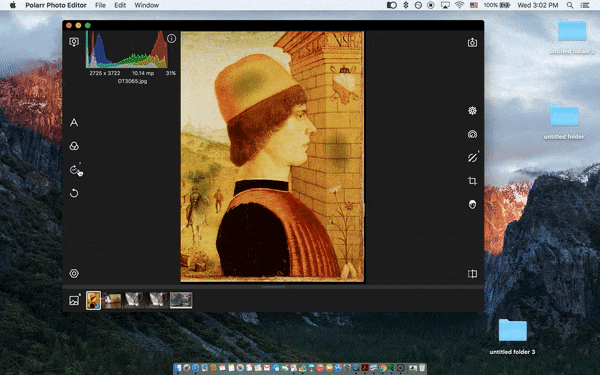 Exporting and sharing your photos
The app's export options make it easy to get your finished photos ready for prime time. To export, click the "Save Photo" button at the top right. Under the Save window's tabs, you'll find lots of handy options, from file format and image quality, to watermarking and metadata, to batch renaming and resizing.
When everything is to your liking, save the edits or share your photos by text, email, or on social media.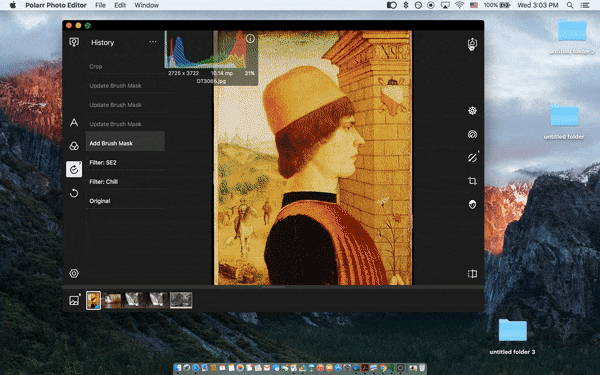 Taking the perfect picture isn't easy, but Polarr in Setapp has an intuitive interface can take out a big part of the strain. Plus, its series of guides mean that the app grows with you as you become a more competent, confident photo editor.
Get 100+ Mac apps for any job
Sign up to Setapp and try them for free.
Try for free