Review: Photolemur, the powerful automatic photo enhancement app for your Mac.
Many of the major headaches photographers and content creators face are slow, time-consuming edits. What if there was a tool available to help improve photos in seconds— without manual editing?
Photolemur saves the day by eliminating hours of manual work with some really smart AI. It's also the only app in the world that combines 12 smart technologies that automatically adjusts and analyzes photos.
Explore AI-powered photo enhancer on Setapp
By using automatic image enhancements, photographers and content creators can edit photos individually or in sequenced batches. So instead of applying the same edits to every photo and digging through filter options, it analyses the content of each photo and performs the appropriate edits so you'll never have to face time-consuming (or hair-pulling) edits again.
Drag and drop simplicity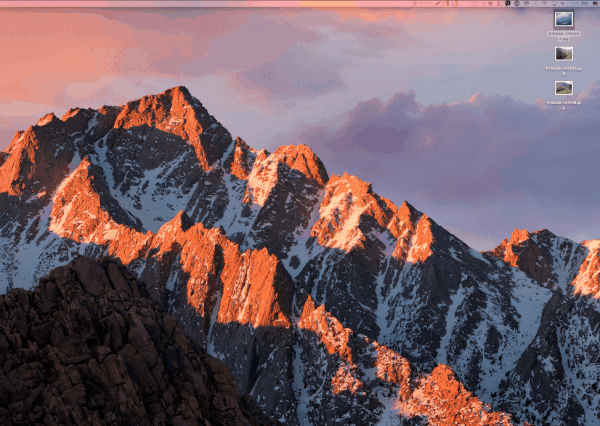 Open the Photolemur on Setapp. Once installed, you'll immediately notice how easy it is to use. Simply drag and drop or click the "Import" button to upload photos from your desktop. Even more, you can quick drag-and-drop from Photos.
The native Photos app in macOS is notoriously incompatible with most third-party software and requires constant Import-Export routine to function. Photolemur have managed to marry the two and implement a seamless connection where you can just drag an image from your gallery in Photos and drop it right into the app's window.
Photolemur supports most of common image formats and even HEIC (High Efficiency Image File), so you'll have no trouble uploading your fresh-made photos into the app.
Automatic AI enhancement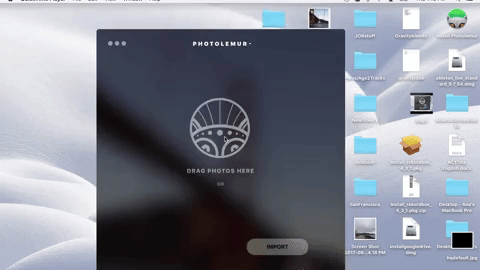 After photos are dropped into the workspace, smart algorithms are applied to hone in on specific regions like exposure and facial recognition. Automatic enhancements can range from color recovery and exposure compensation to smart dehaze, tint perfection, and noise reduction.
The latest update also introduced face recognition and auto-retouch. This optional setting allows you to smoothen the skin, enlarge the eyes a bit to fit perfect proportions, and give your images that high-class glamorous look.
Before and after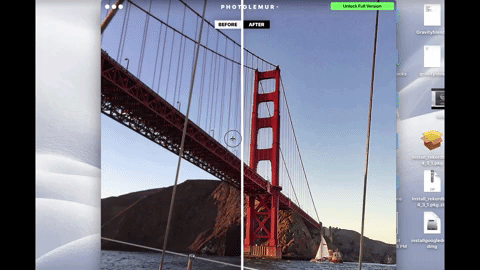 Once an image has been processed, Photolemur's manual control slider can be used to balance between before and after. Photos can go from "Realistic" to "Vivid" by simply dragging the slider left to right. The closer it is to the realistic end, the more subtle the effect, whereas vivid is more pronounced and obvious.
There a re few styles if you're feeling like applying common, Instagram-looking filters to your images. This way you can combine enhancement with impressive edits, and it will still take only a few seconds.
Bulk edits for working smarter, not harder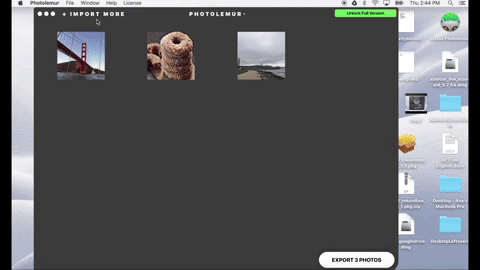 Having seen the results of before and after options, you can click "Export" to save the photo to your desktop. Photolemur also allows for multiple edits. Go to file and click "Add images" or simply click "Import more" in the upper left hand corner to load photos from your desktop.
Once uploaded into the software you can perform batch edits for faster output. Simply click "Export" to save each individual photo or multiple photos at the same time. Settings on images can also be applied in bulk, so you can get filters and enhanced eyes on all the photos in a group.
Can be used as a Photoshop/Lightroom plugin
You can install Photolemur as an easily-accessible plugin right into your main photo-editing apps, like Adobe Photoshop and Lightroom. To do it, simple open the app and in its main menu, find Install plug-ins. You'll see a window allowing you to process with installation and then all the magic of Photolemur will be right there, saving you time on exporting photos from one app to the other.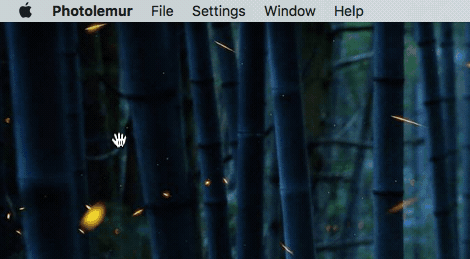 Ready, set, send…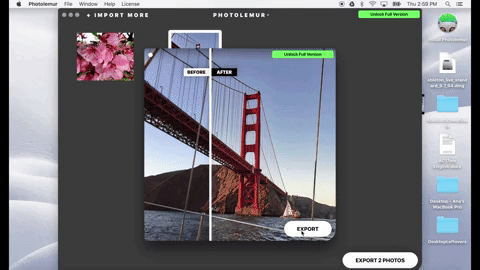 Once you're happy with how the edits look, you can either click "share" from the file menu at the top left corner or "export" at the bottom right corner of the work space. Then you'll be able to send your image to a variety of social networking sites, as well as email.
Photolemur automatically handles stress-free edits, photo enhancements, and instant sharing, so you'll have more time to snap quality pictures without the hassle of time-consuming edits.
Explore Photolemur app on Setapp.