Image2Icon: Create Icons and Customize your Mac
Now you can easily convert your favorite images into icons with Setapp. Learn on how to create a icon from a picture on you Mac easily - meet an Image2Icon app.
Image2Icon is a one-stop app for creating custom icons and applying them to your files. Its simple drag-and-drop interface makes it easy to organize your files with eye-catching custom icons. Plus, it's easy to save and share what you've made on any number of platforms with the app's export feature. Here's how it works:
How to convert an image into an icon
To start, select the image that you want to base your icon on, and drag and drop it into the circle at the center of the app window. Alternatively, you can start from an emoji or a piece of text. To do this, click the "Aa" button next to the circle and either enter text or select an emoji.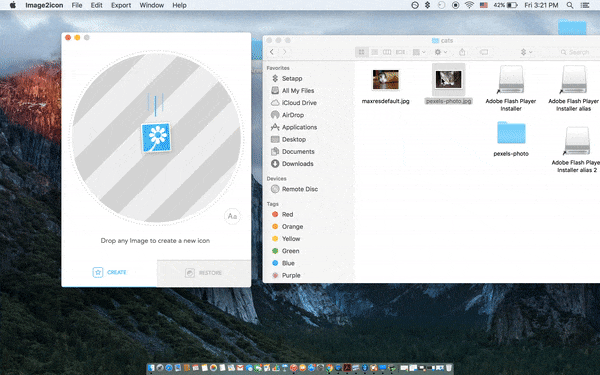 Finalizing your icon
Once you enter your image or text, you'll be automatically brought to the next step. The app offers lots of template options for your icons, including folders, discs, and simple shapes. Scroll through the pane at right to try them out on your image. Use the slider bar at bottom to blend your image with the background and adjust its color. The slider button at the top right has options for adjusting the rotation and orientation of your image.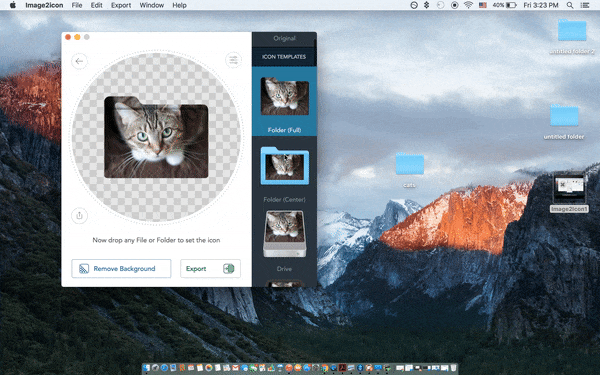 Changing a file's icon
Once you've created an icon that you're happy with, drag any file into the app to assign it your new icon. If you change your mind, click the app's "restore" tab and drag the file into the circle again. This will cause it to revert to its original icon.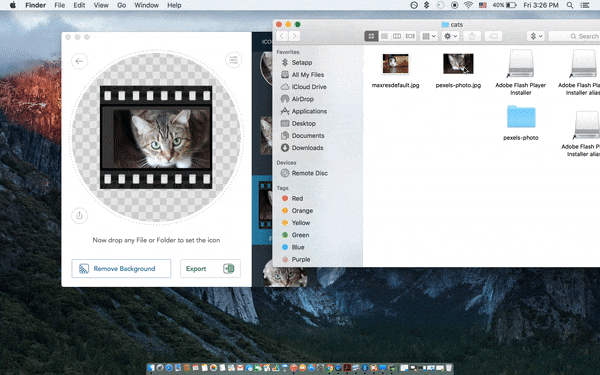 Exporting your work
Once you're satisfied with your work, you can export or share it. To share an icon, click the share button below the circle and select the app you'd like to use to share it. To export it to an icon manager like favicon or to save it in your format of choice, click the "Export" button at the bottom of the app and choose from the pop-up menu.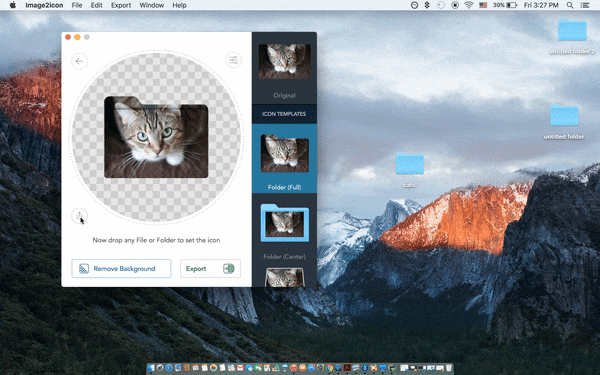 Get Image2Icon on Setapp and control icons on your Mac. If you've got an image, you can make it into a custom icon for as many files as you like. Plus, with its "Restore" function, you'll always be able to change your work back. It's the perfect app for visual organizers.