Setapp brings its family of apps to families
You're a kind soul—you've been sharing Setapp with the fam using extra seats. You're happy. They're happy. But the wallet? That's a different story. We know how important it is to be able to share the power of Setapp with those you love most. That's why, starting today, sharing just got easier.
Add family members to Setapp
To add your son, daughter, mom, dad, grandma, dog, dog's sister, or nephew's goldfish, they'll need to be new to Setapp. All accounts are managed from yours.
Have some folks in mind? Sweet!
Head to your account and choose Family Plan page in the sidebar.
Browse the benefits and check out FAQs. When you're ready, click Switch to Family Plan. You'll be billed either $19.99/month or $239.88/year depending on your chosen plan. We're no Corleone's, but we'd say this is an offer that's hard to refuse. The price is fixed and doesn't depend on the number of Family members.
Grow your family! Enter the emails of those you'd like to invite. They will receive a Setapp download link. You will (hopefully) receive a big hug.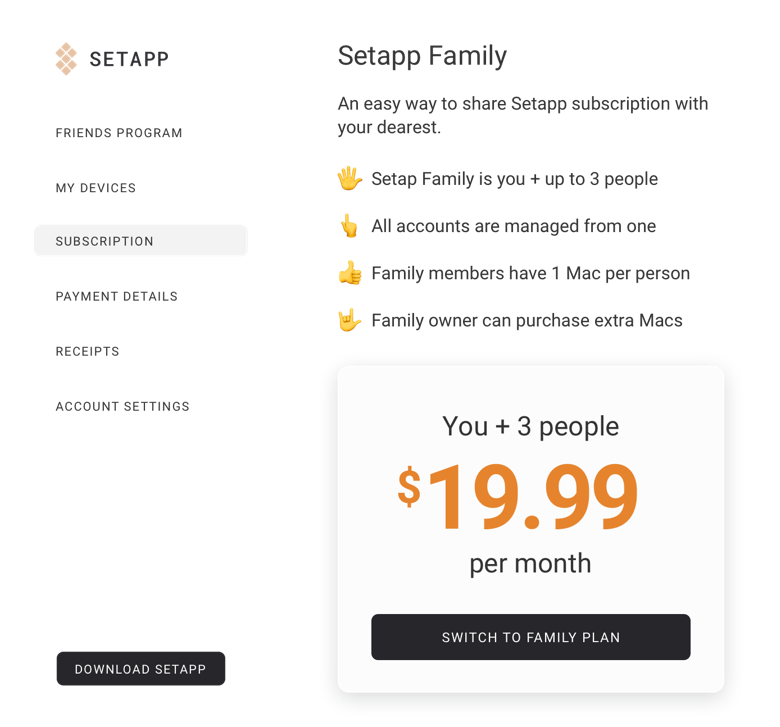 This plan allows a Family owner to use Setapp on two Macs. Other Family members get one seat per person.
A few details
You, the mighty keeper of the Family Plan, will have 1 seat to use Setapp on your Mac. Your managed members will have 1 as well. Don't worry, everyone gets a seat at the dinner table!
Your family is unbreakable. So if Uncle Ivan decides to go on that year-long backpacking trip he's been bragging about, he can leave the family plan or you can remove him, but you can't replace him. It's your uncle, come on.
And those are the basics! We are incredibly excited to see what you and your family will accomplish with Setapp's rolling register of software—a register that, like a family, just keeps growing.