Mac virus scan: effective ways to run Mac malware scan in 2023
Computer viruses hold a sweet spot between boring, everyday occurrences dating back to the 70s and dramatic, science fiction-fueled monsters that will haunt us in the digital world. Whether you want to know how to find virus on MacBook Air, MacBook Pro, or iMac, learning to keep your information safe first is necessary and easy, with a few tips from professionals.
In this guide, we explain how to detect malware on Mac (both with virus checker software and manually), as well as how to protect your Mac from getting infected in the first place.
Understanding Mac viruses: what they are and how to identify them
Many people think that Apple products are immune to viruses and malware; therefore, they don't need Mac virus protection. Sadly, that isn't true. Macs are vulnerable to malware (short for malicious software).
A popular malware virus of 2017 was embedded into a Word document — a Mac Word file, not a PC one. In 2018, Apple discovered flaws in their Intel processor chips that could lead to two kinds of very ambitious strains of Mac viruses too. It's wild to think that even iPads and iPhones can contract malware.
While Apple takes a lot of security precautions, the level of protection depends on your knowledge of how to check for malware on Mac. Let's take a closer look at macOS malware protection.
What is a Mac virus?
Most of us are familiar with recognizing what a virus looks like thanks to its atrocious design and alarming vocabulary. However, not all viruses take the shock-and-scare approach to getting on your Mac. The latest adware could be a Trojan hiding in one of your Xcode projects, which is hard to recognize and equally hard to delete.
While Apple's new M1 and M2 Macs are considered more secure than Intel-based models, they get viruses too. The infamous Silver Sparrow virus — disguised as the macOS Installer Javascript API — specifically targets Macs with M1 chips and is believed to have infected dozens of thousands of Macs.
Mac viruses often take the form of a .dmg file, because it was created by Apple itself to help install good software on your computer. If you're ever trying to download something you know is supposed to be an image, music, movie, or document, but you get a .dmg file instead — that is as red as a red flag gets in terms of viruses. Do yourself a favor and delete that file immediately.
Signs of a Mac virus infection
Before you learn how to find virus on Mac, get acquainted with the main signs of your Mac being infected. The common red flag is your Mac going slow — but don't panic; your Mac could have performance issues for many reasons, including low RAM, resource-hungry apps, etc. Typically, apart from slow Mac, viruses will give you one of the following problems:
New extensions just appeared in your browser from nowhere
Your browser homepage has changed
You're being stalked by annoying ads and pop-ups
You get security alerts as a result of Mac virus checking
You can't access your private files.
How to scan your Mac for virus
So how do I check for malware on my Mac? There are two answers to this question — you can either inspect your Mac step by step manually or get it all done for you. Let's start with the easy method.
Automatic Mac virus scans: one-click solution
If you want complete Mac security, there is no better tool than CleanMyMac X, which can effortlessly scan for all the latest viruses, malware, spyware, and more.
Here's how to scan your Mac for viruses with CleanMyMac X:
Open the app and click Smart Scan > Scan
Wait a few minutes to see the results of the Mac malware scan under Protection
If the app has found any malicious files, click Remove to get rid of them.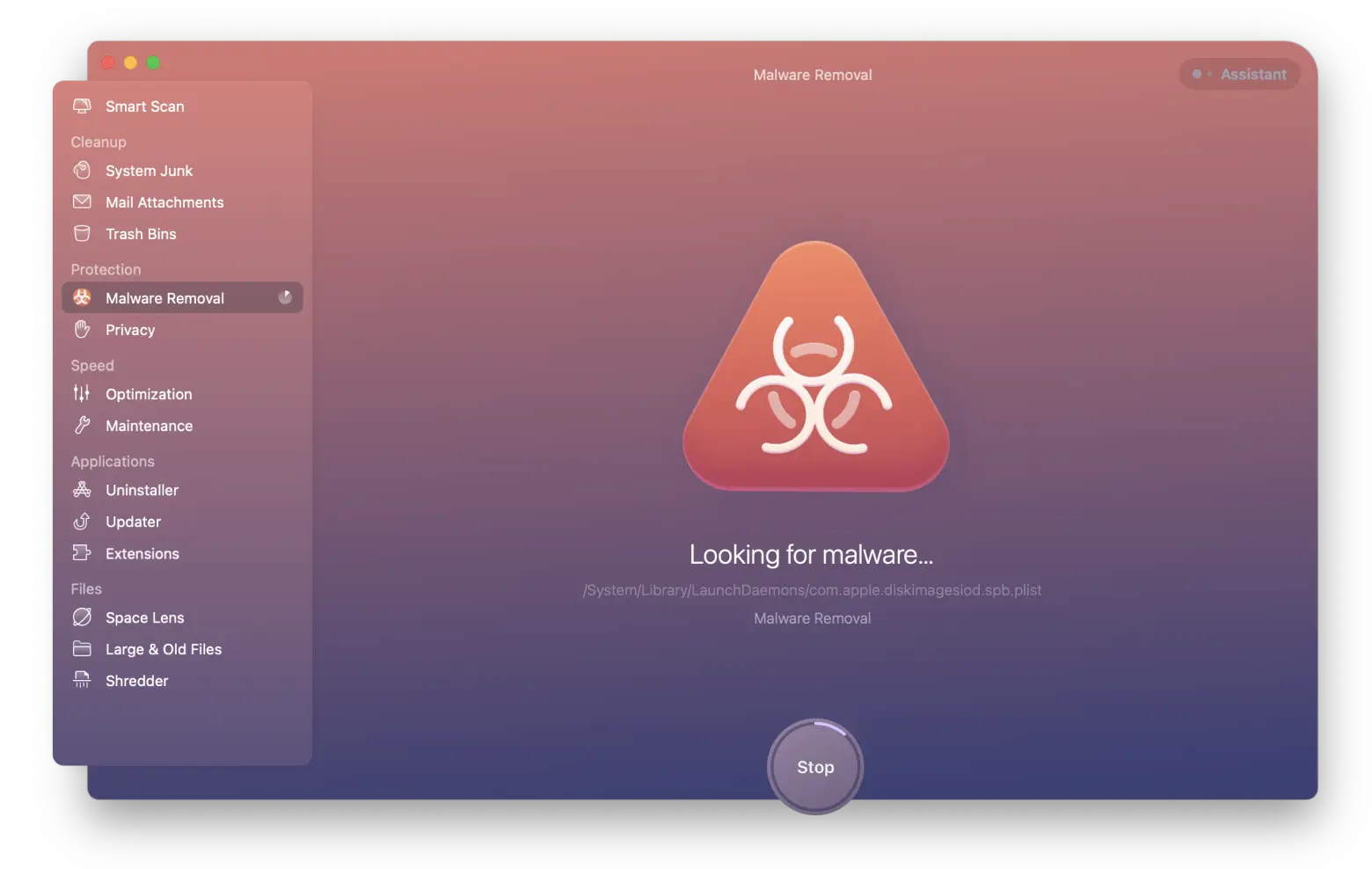 Using a tool like CleanMyMac X makes getting rid of viruses of all shapes and formats very easy. After the scan, it tells you what it's found and gives you the option to remove it completely right then and there. Additionally, it will give you all kinds of other great options on how to optimize your Mac's performance and free up some storage space.
How to do a malware scan on Mac manually
In an ideal world, scanning for viruses should be automatic and happen nearly continuously. In reality, you can consider yourself reasonably safe if you scan your Mac once a week. However, not everyone has a good virus checker. "So how do I run a security check on my Mac manually?" you may ask. Here are the top things to do:
Check Activity Monitor
Activity Monitor is a good way to track down troublesome apps or processes. You can also use it to detect malware.
Here's how:
In the Finder, click Go > Utilities
Open Activity Monitor and click the % CPU column to see processes and apps with high CPU use. You may want to quit those apps and processes by clicking the X button in the upper-left corner
You can also find other suspicious processes and google them to see if these are malware.
Tip: Keep an eye on your Mac's performance 24/7 with iStat Menus. This will allow you to identify malware threats as early as possible. iStat Menus is a system monitoring tool that lives in your menu bar, with real-time insights about your Mac. CPU, network, disk load, and resource-hungry apps, iStat knows more than you do about how your Mac performs. So when it slows down because of malware, this app will alert you first.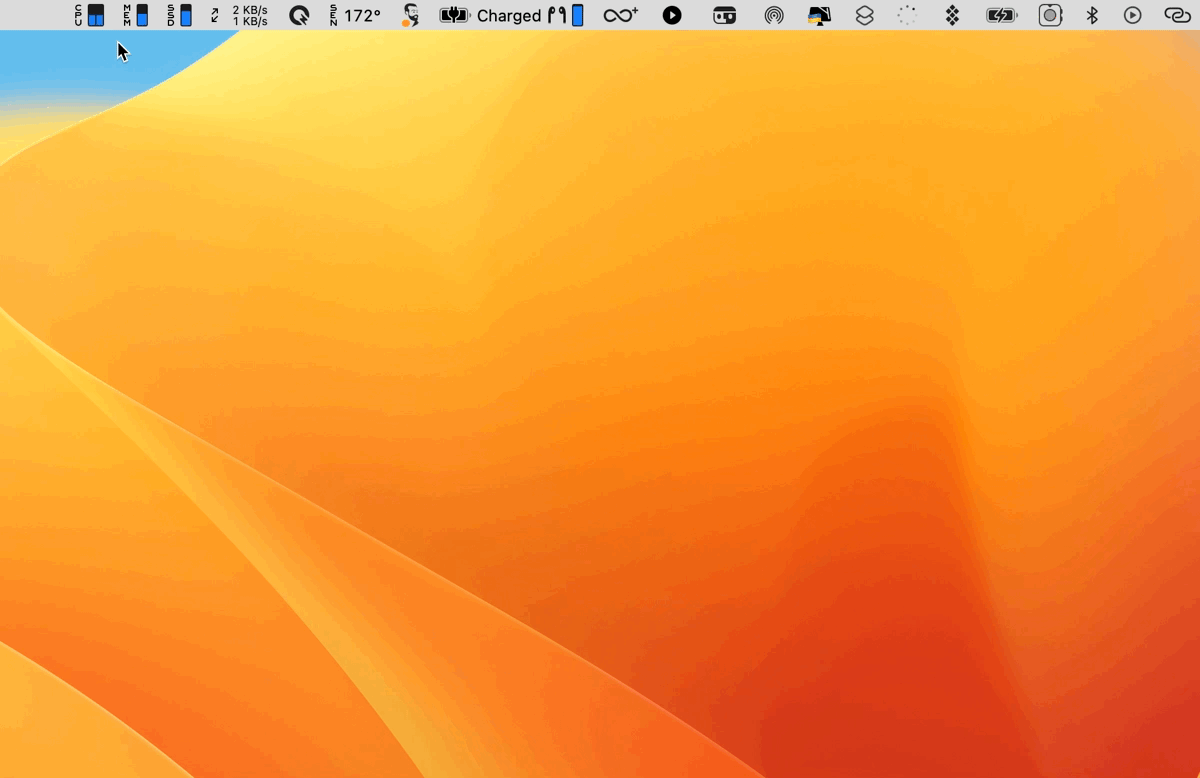 Clear downloads and temporary files
As we've mentioned before, .dmg files could be the source of Mac viruses. While everything you download, including .dmg, typically goes into the Downloads folder, it's smart to clear it first. Go to Finder > Downloads and delete the files you no longer need from there.
Uninstall suspicious apps and browser extensions
See whether you have applications installed that you don't recognize:
Go to the Applications folder via Go > Applications or using the shortcut Shift + Command + A
Scroll through the list and delete any unknown applications
Then empty the Bin.
Keep in mind that that won't remove every trace of the app from your Mac. Apps store files in several different places in your computer's Library folders. You could track them down and remove them manually, but it's much easier to use a dedicated uninstaller tool such as CleanMyMac X. With its help, you can remove every app's trace in a few clicks. Here's what you need to do:
Open CleanMyMac X
In the Applications section, click Uninstaller
Inspect the list of applications and select those you want to get rid of
Click the Uninstall button.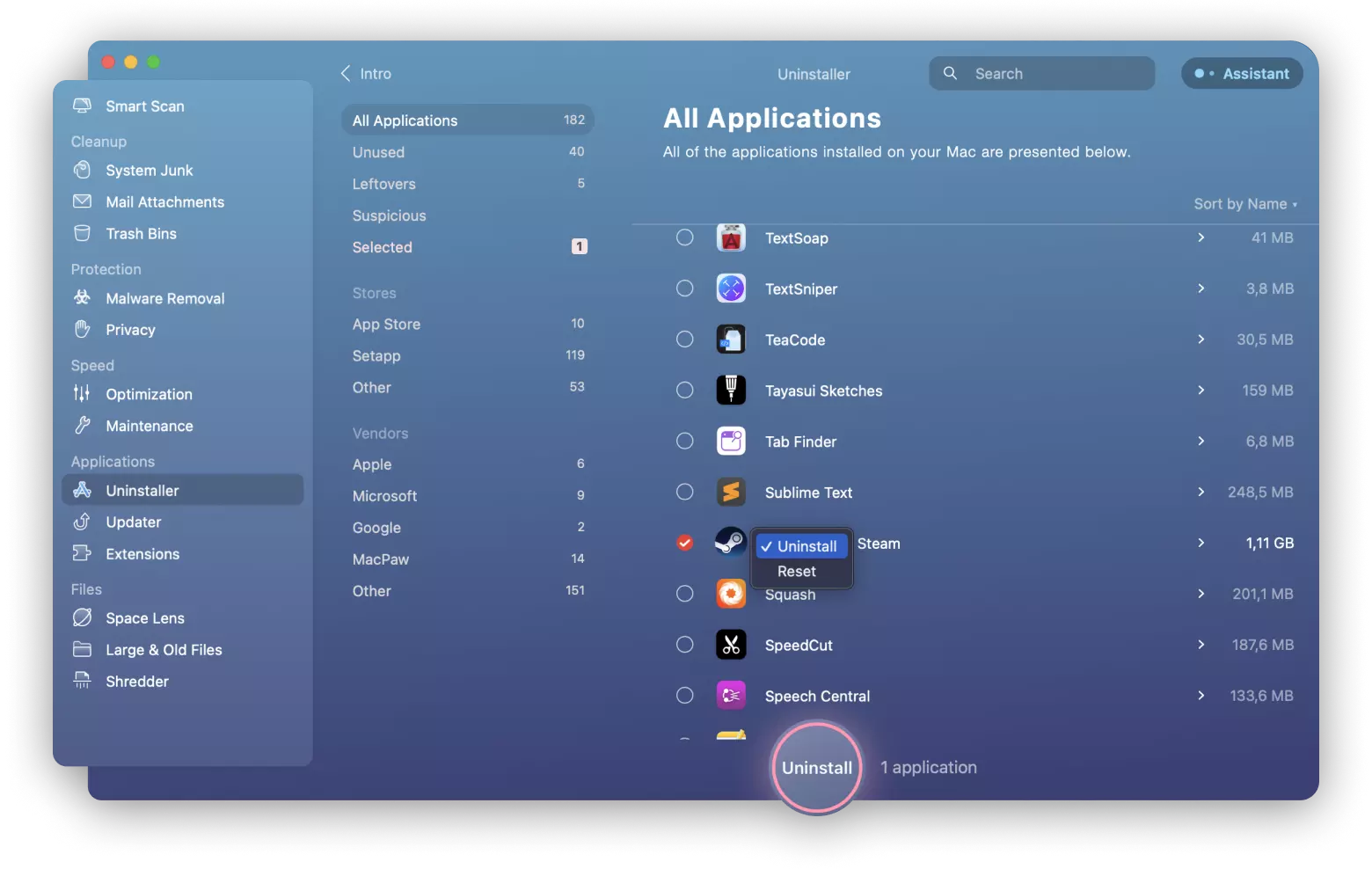 The second step you should take is to check for browser hijackers and adware extensions:
Go to Safari > Settings. See what the Homepage URL is currently set to and correct it if needed
Then proceed to the Extensions tab and uninstall any you don't recognize, as they could spy on you, save your private data, and redirect you to their malicious websites.
You can remove unnecessary extensions using CleanMyMac X.
Open CleanMyMac X
In the Applications section, click Extensions > View All Extensions
Inspect the list of extensions and select those you want to get rid of
Click the Remove button.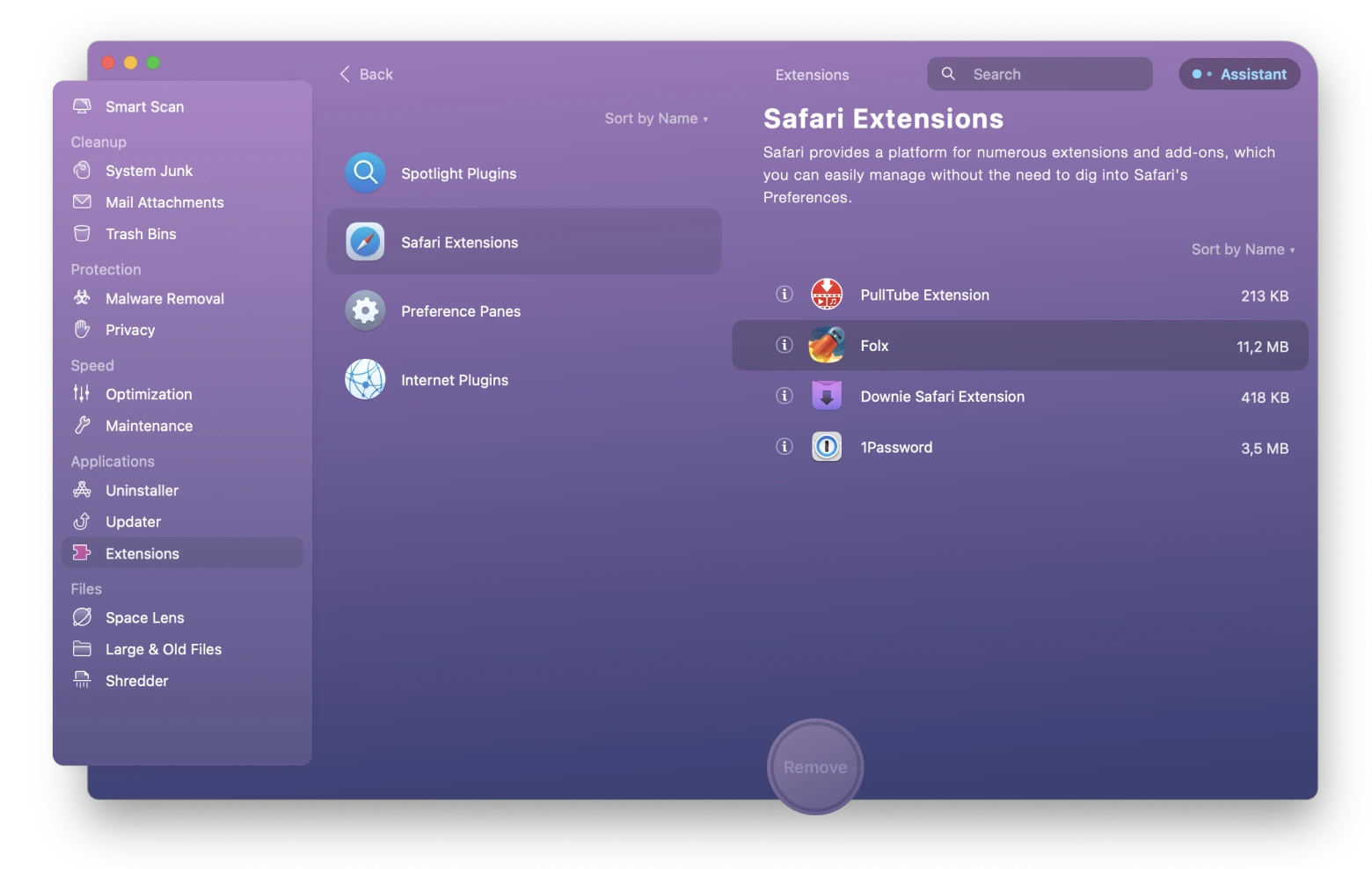 Delete suspicious login items and profiles
Another step on your "Mac malware removal" mission is to remove any login items that act strange. Maybe you don't recognize some of them, or you don't remember enabling them. Here's how to stop these items from launching on startup:
Go to the Apple menu > System Settings > General > Login Items. Use the "-" button to > remove login items.
You might not be able to stop some apps from opening automatically even if you try all of the above. In general, these are things like software updates and auto-launch agents. Some of them don't show up in the Login Items list.
To find those, use CleanMyMac X.
Open the app and go to Optimization
Choose View All Items > Login Items
Find the apps for which you want to disable autorun, select them from the list, and click Remove.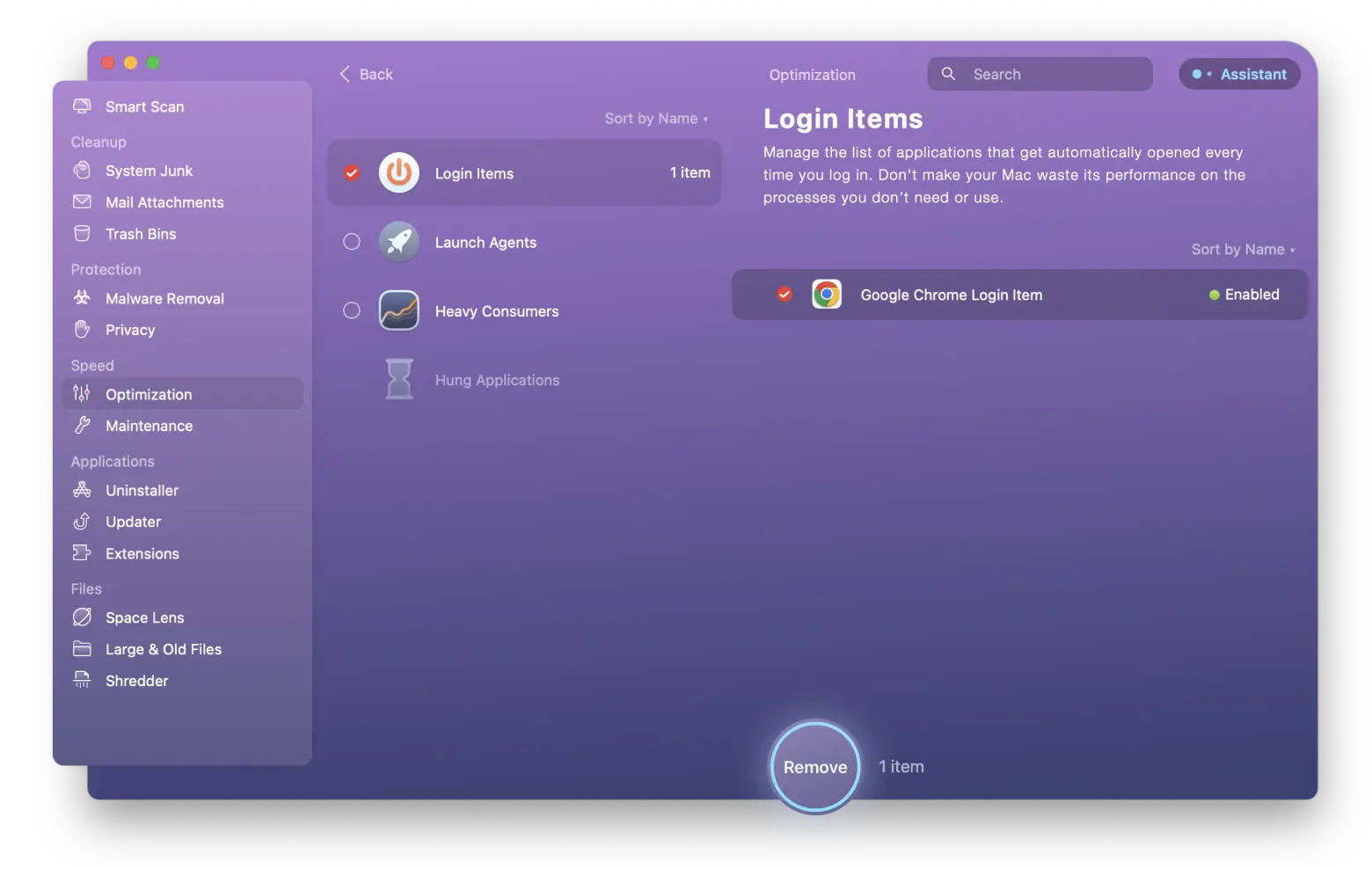 Using antivirus software and other security tools
There are a number of Mac virus scanners that let you check for malware. But it's important that you don't just look for "Mac antivirus software" in Google. Many sites that say they have antivirus tools, especially the free ones, are actually full of viruses. And you might make the problem even worse.
So, what is a safe way to check for malware? We suggest using trusted tools such as CleanMyMac X. It can find thousands of types of malware, such as adware, spyware, worms, ransomware, cryptocurrency miners, and so on. When CleanMyMac finds something that seems odd, it offers to get rid of it right away.
Create a new profile in macOS
If a Mac virus seems to be targeting the user and not the device, you can solve the problem by creating a new profile in macOS. To add a new user profile, do the following:
Go to the Apple menu > System Settings > Users & Groups
Then click Add Account…
Unlock the page to make changes
Add a new username and password. Click Create User.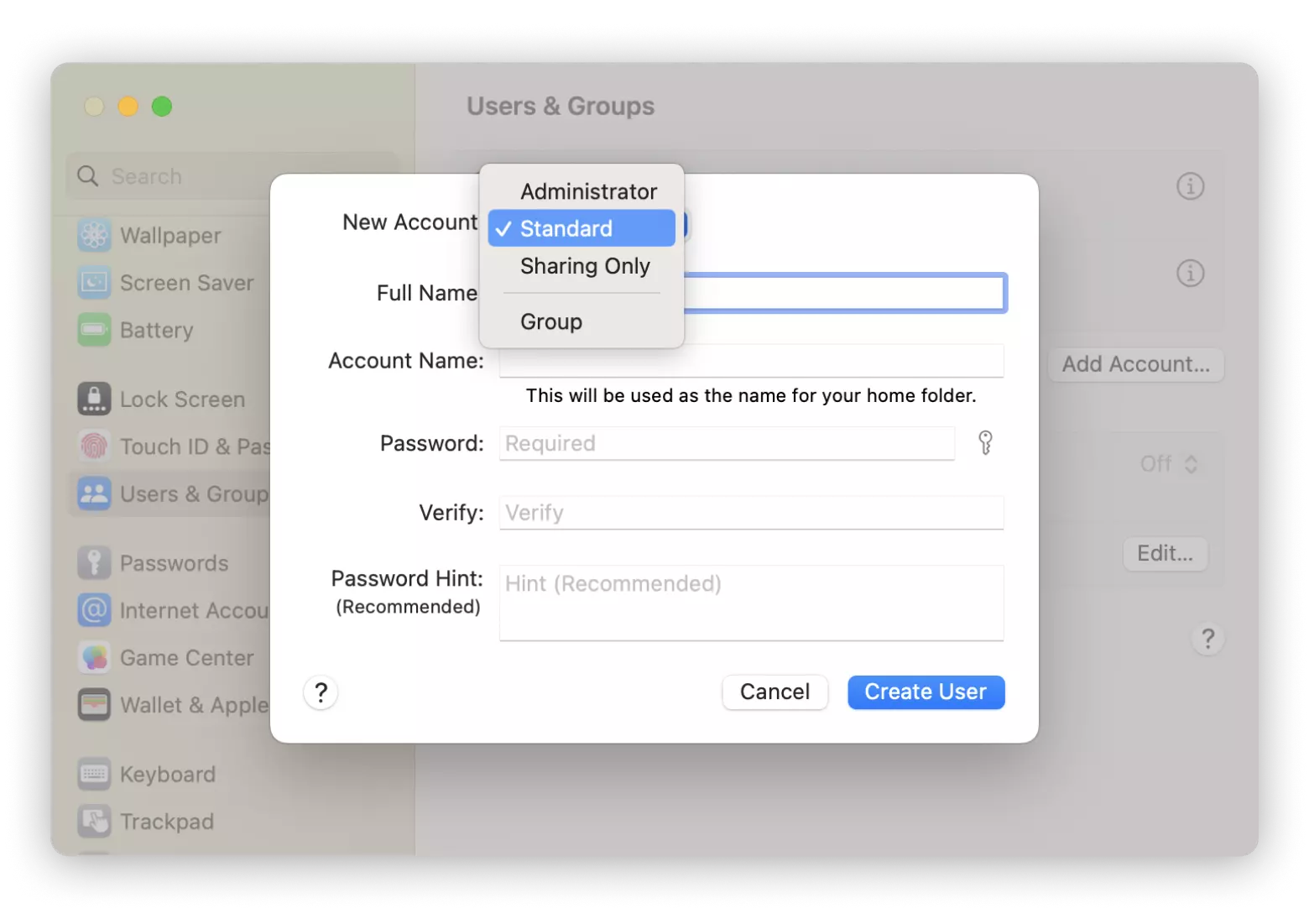 How to protect your data from Mac viruses
Protecting your data from Mac viruses is more important than ever to keep your Mac performing at its maximum capability. Here are a few tips to follow.
Back up your Mac
You may also protect your Mac from viruses by making a backup of your documents. The built-in Time Machine tool on your Mac can be used to save your backup to an external hard disk. By regularly backing up your documents, you can restore recent copies of them in the event that a virus deletes or encrypts them. Here's how to back up your Mac:
Connect a portable hard drive
Go to the Apple menu > System Settings > General > Time Machine
Add Backup Disk and follow further instructions.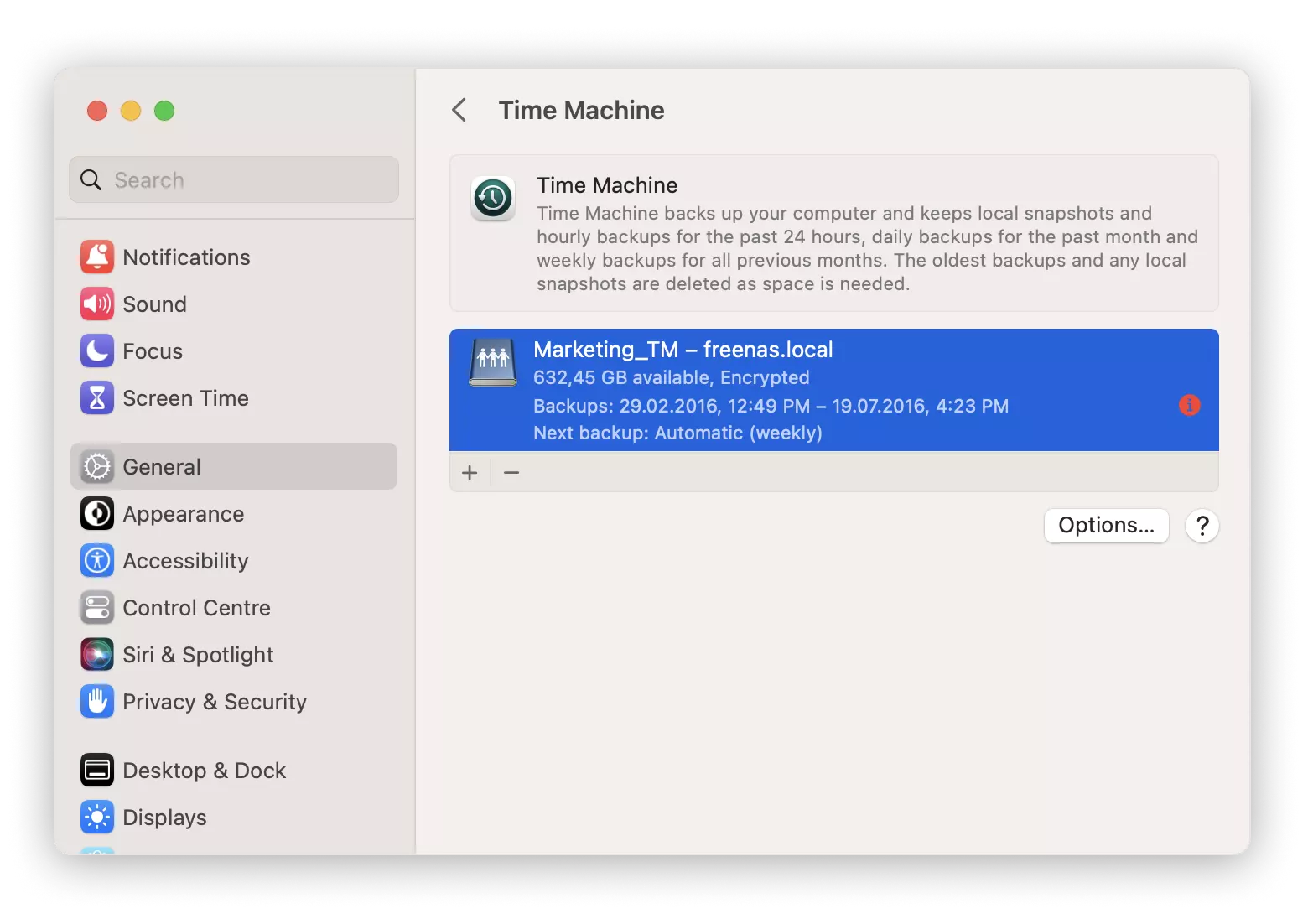 The problem with Time Machine backups is that they aren't compressed well, so they take up too much space. Also, Time Machine will regularly back up everything on your Mac. You can exclude certain files from the backup, but the process is tedious, and you'd have to do it by hand every time. If you want to save time and effort, try Get Backup Pro.
Here's how to back up your Mac with Get Backup Pro:
Open the app and select Backup or Clone (Get Backup Pro can also create a bootable clone – a mirror of your boot drive)
Click the "+" button in the left corner at the bottom to create a new project
Specify the backup source and destination
Click "File+" or "Apps Data+" to add the data you want to back up
Hit the Backup button to get started.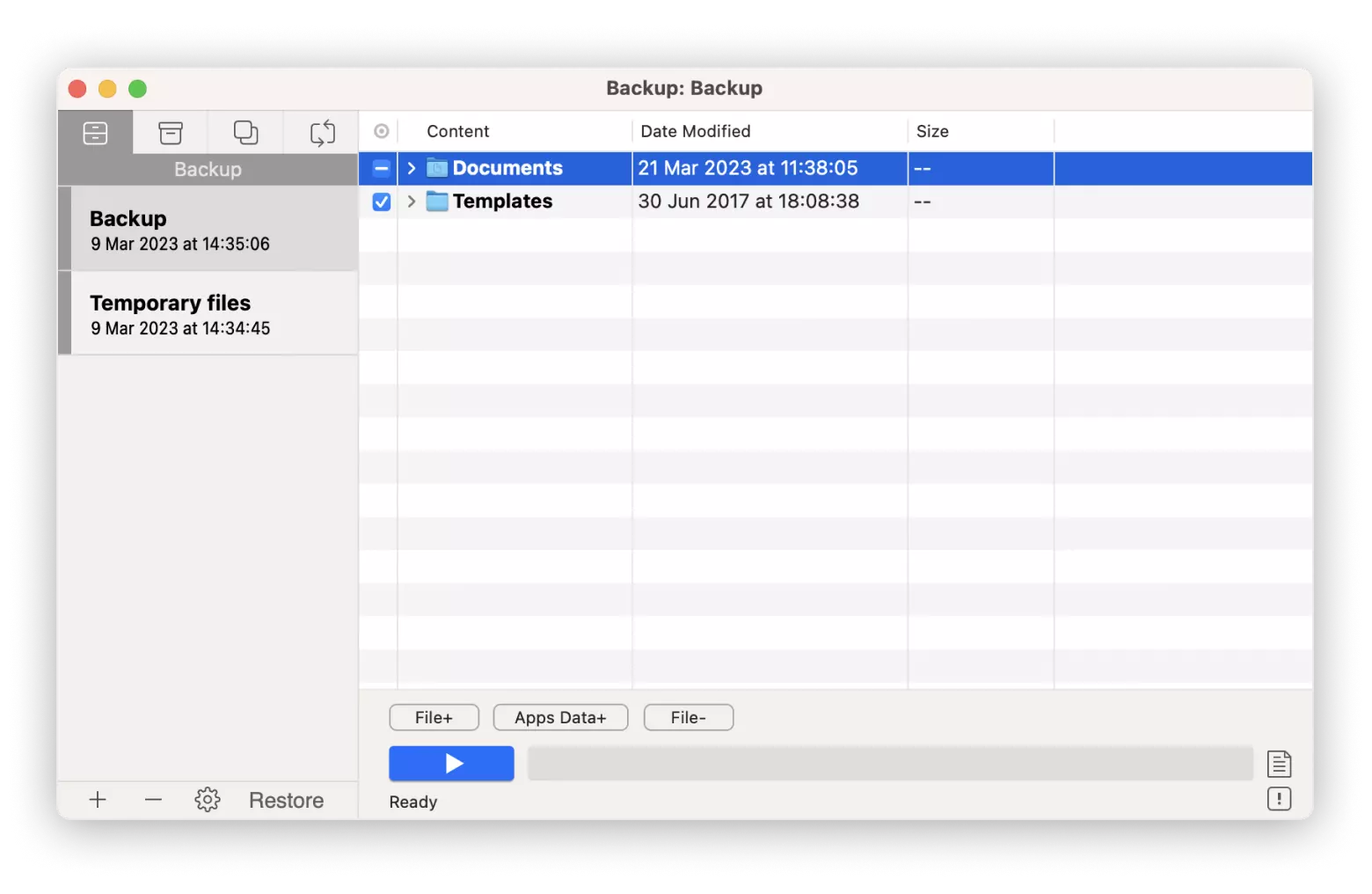 Regularly update software and operating system
To really protect your Mac, one of the best things you can do is update to the latest version of macOS and turn on auto-updates for all your apps. The latest versions of the software have all the security fixes that developers know about, so they are a good place to start.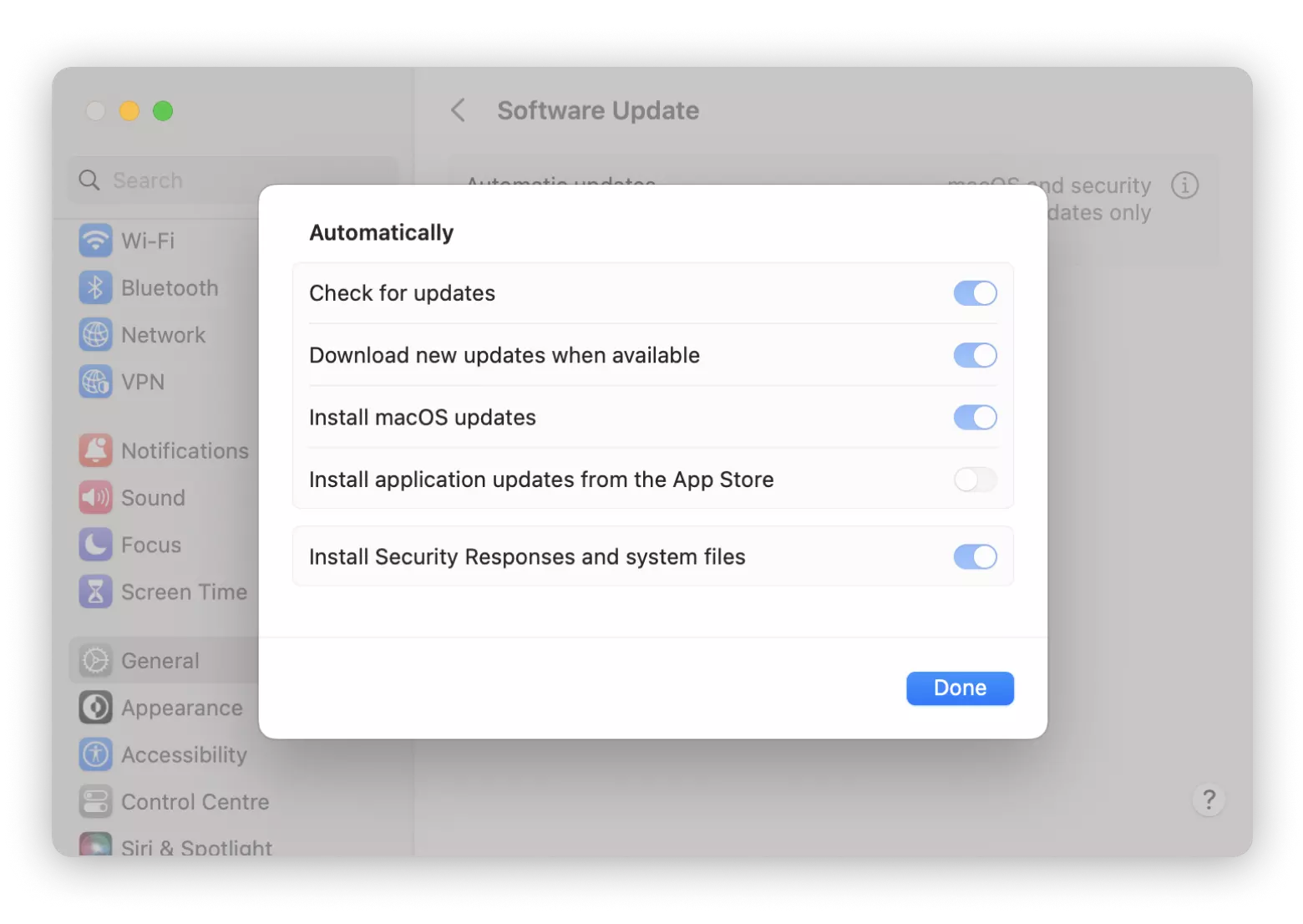 Check the App Store for updates and install them if you find any
Then click the Apple icon in the top left corner > System Settings
Choose General from the sidebar
Then click Software Update
Now, your Mac will check if there are any software updates available for download. To continue, click on Install Now.
Use Firewall and other security measures
Sometimes the simplest things can cause the biggest problems. Here's something you can do right now that will take less than 30 seconds for your Mac virus protection.
Go to the Apple Menu > System Settings > Network
Click on Firewall and make sure it is on.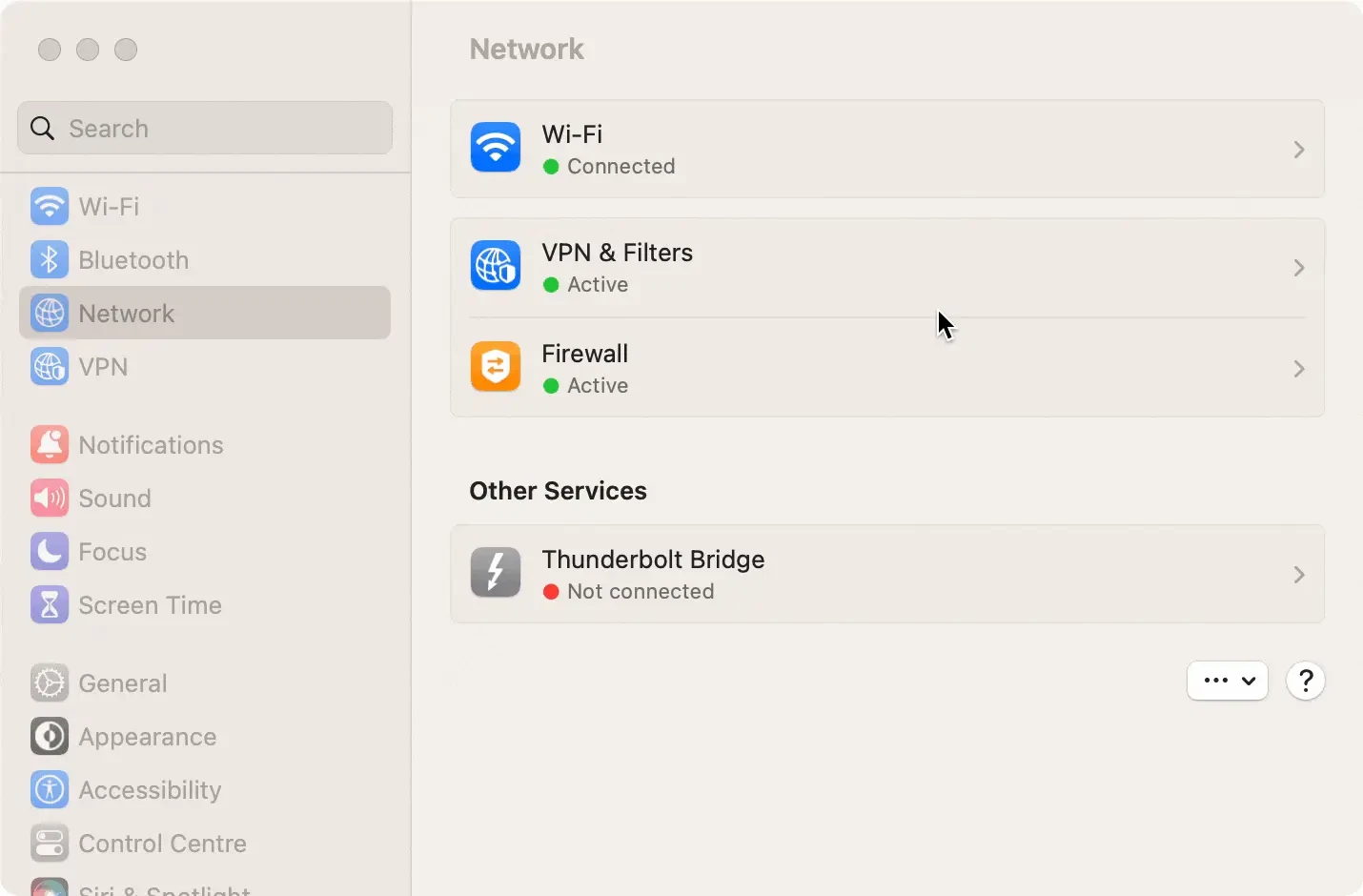 Staying alert to new virus threats and updates
Finally, always be curious and interested in information about potential Mac virus threats.
FAQ:
That's a lot of information, we know! That's why we've put together some of the most common questions about macOS malware protection.
Does Mac have a virus scanner?
Yes, Mac devices typically come with a built-in virus scanner called XProtect. XProtect is also known as the File Quarantine, and it helps protect Mac devices from malicious software (malware).
Can your Mac get a virus?
Yes, Macs can and do get viruses. Although Macs are generally considered more secure than PCs, they can still be vulnerable to malicious software if they are not adequately protected.
What is the best way to scan for viruses on my Mac?
The best way to scan for viruses on a Mac is by using a reputable tool. Look for an antivirus program that is designed specifically for Macs and make sure it has comprehensive protection which includes scanning for viruses and malware, the ability to update regularly, etc. We recommend CleanMyMac X.
Is it possible to have a virus on my Mac without any symptoms?
Yes. It is possible for a Mac to be infected with a virus without showing any symptoms. Even though antivirus software is not as common on Mac computers as it is on Windows machines, it is still important to ensure your Mac is protected. Install CleanMyMac X and perform regular Mac malware scans to make sure your Mac is secure.