How to recover permanently deleted photos from iPhone
The Photos app deleting your images feels like a major betrayal. Vacation pics, photos from family gatherings, photos of you with that weird hairstyle — when it's all suddenly gone, it hurts.
Is it possible to recover deleted photos iPhone removed? Luckily, yes. But it's much easier to recover them on Mac than on iPhone. The iOS binary file management is less robust and if you can't find an image in Photos, it's probably lost.
A Mac, on the contrary, has some solid recovery options built-in. And if you want to be sure you can recover any image, no matter what happens, you can install Disk Drill, an advanced file recovery and backup app on your Mac.
In this guide, we explain how to recover deleted photos from iPhone, how to restore pictures on iPhone with or without iCloud backups, and more.
Recover photos from Recently Deleted album via Photos app
When you want to know how to retrieve deleted photos on iPhone, the first thing to keep in mind is the Photos app has a "Recently Deleted" folder. It saves images for up to 30 days before deleting them forever. You can restore those images, and they will retain their place in your iPhone Photos library as though you never deleted them!
Here's how to recover deleted photos from iPhone camera roll via the Photos app:
On your iPhone, open the Photos app
Scroll down until you see the "Recently Deleted" album (it's listed under "Other Albums"
Select "Recently Deleted"
Select "Select" from the top right of the screen
Tap on the images you'd like to restore
Tap "Recover" on the bottom right of the screen
Select "Recover Photo"
That's all you have to do! Your image will be restored to your Photos library immediately.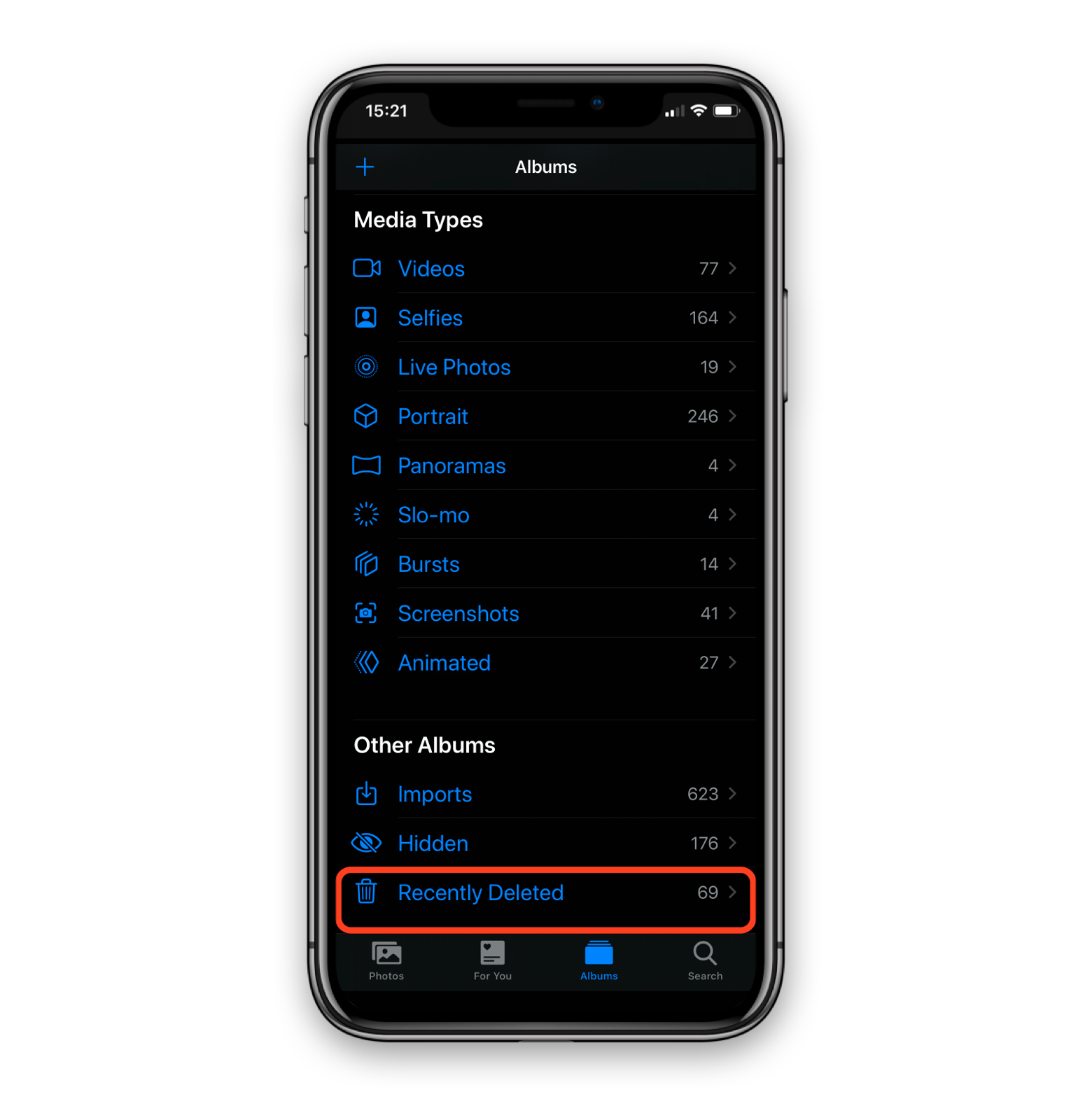 Recover permanently deleted photos from my iPhone with ease
Disk Drill is the most effortless data recovery tool for Mac and iPhone. The app can handle external drives just as well as it handles your Mac drives, making it perfect for managing your files across all devices.
Here's how to recover permanently deleted photos from iPhone with Disk Drill:
Connect your iPhone to Mac with a Lightning cable
Open Disk Drill on your Mac
From the list of available drives, select your iPhone
Click "Search for lost data" to scan for deleted files and photos on your iPhone
Preview any files or images that can be restored
Select "Recover" to restore the deleted images to your iPhone.
Recover deleted photos from an iPhone backup
If you've ever lost a file on Mac or iPhone, you should be cautious next time and create a secure backup of your data, which you can recover anytime. The iPhone backup tool we can recommend here is called AnyTrans for iOS.
AnyTrans is essentially an iPhone content manager that can help move your data from one iPhone to another, or from iPhone to Mac, and vice versa. It also has a handy backup manager you can use to back up your photos and store them in a safe place such as an external drive. Here's how to back up and restore photos using this tool:
Connect your iPhone to Mac and open AnyTrans
Click the backup icon in the toolbar
Choose Back Up or Restore Backup, depending on your task.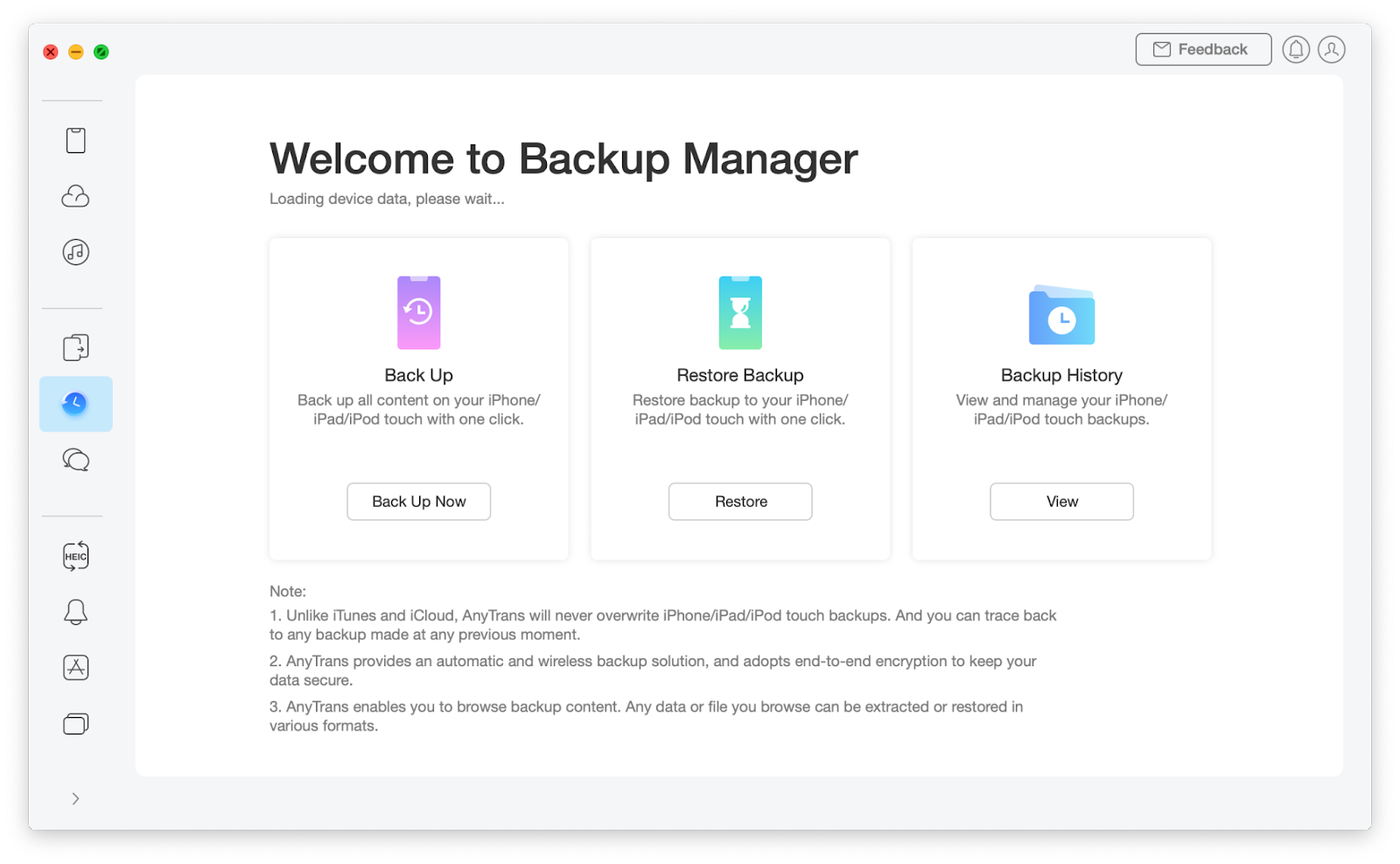 Restore deleted pictures from iPhone with iCloud backups
Another way to back up and sync your files is to use Apple's iCloud. If you're trying to recover a Photo from the Photos app's Recently Deleted album – and it's not there – it may be available on the iCloud website.
On iCloud.com, select the Photos app, and the "Recently Deleted" folder on the left side of the screen. It will likely mimic what you see on your phone, but there are times it has images that aren't on your iPhone any longer. Before you worry too much about lost photos, check iCloud.com.
There are also iPhone backups to consider, which are also kept in iCloud. Apple keeps your most recent iPhone backup version in iCloud, which is used to restore a phone or establish a new device. Here's how to backup your iPhone with iCloud:
Open the Settings app on your iPhone
Click on the top banner (it has your name and profile picture)
Select "iCloud"
Choose "iCloud Backup" (Note: this option should be toggled on if you want your iPhone to automatically back itself up when plugged in overnight)
Tap on "iCloud Backup"
Select "Back Up Now."
That will get your iPhone backing itself up to iCloud immediately. Keep in mind you may need to plug your iPhone into a power source for the backup to initiate and complete.
Note that iCloud backups can eat up lots of your storage space and, unlike AnyTrans, can be overwritten, which is not the most secure way to back up your photos.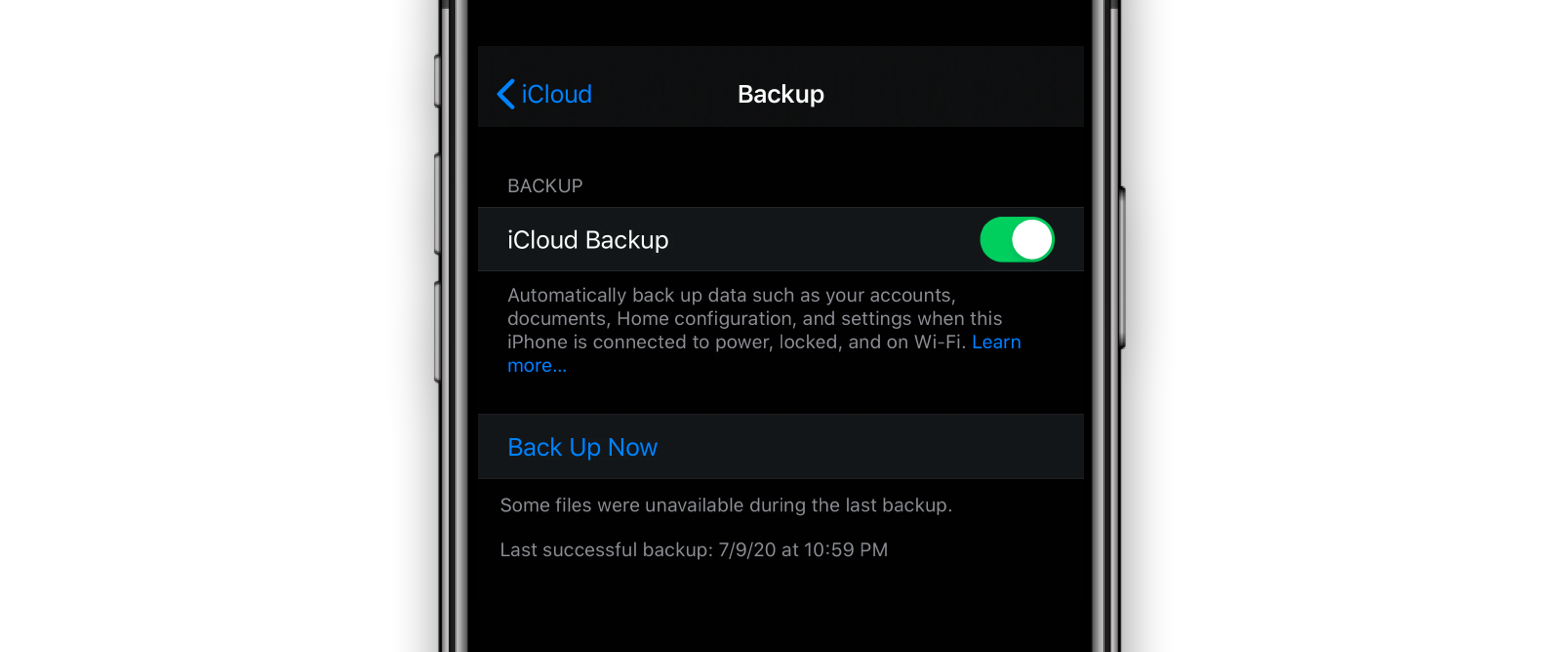 If you want to sync specific files, try the Mac app, ChronoSync Express. It has an accompanying iPhone app that allows you to sync files from your Mac to an iPhone with ease.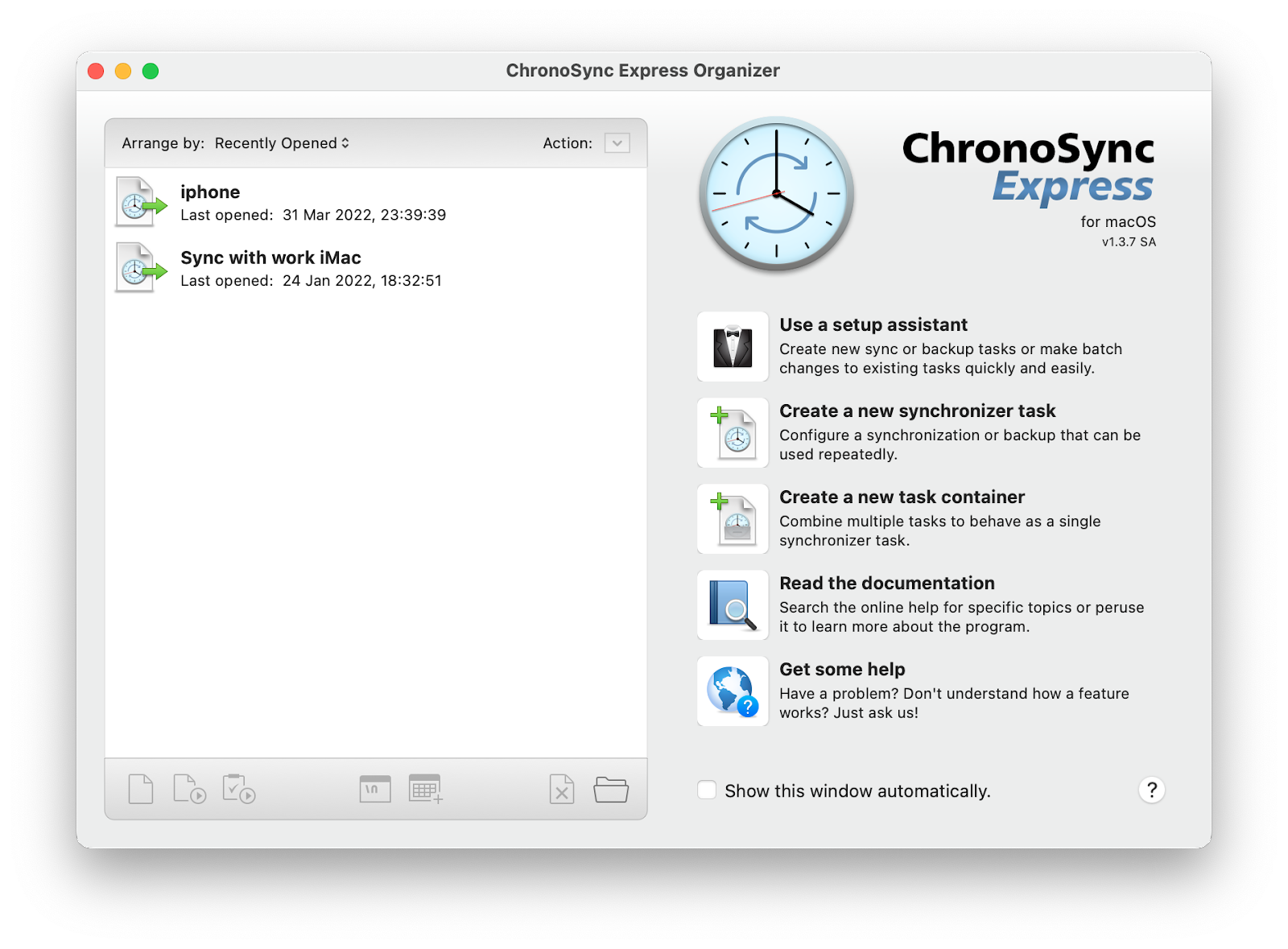 Syncing can also be scheduled for overnight or any other time you like, and the app allows your Mac to access the storage on an iPhone. This is another – possibly better – method for how to get deleted photos back on your phone.
How to restore with cloud storage
Many iPhone users opt to use a cloud storage option besides iCloud. While iCloud is great for syncing data, it's a poor option for keeping true backups of files and images. This has made Google Drive, Dropbox, OneDrive, Box, and others very popular options for backing up data to the cloud.
Each cloud storage container has its own method for uploading and restoring files and photos to your devices. Many offer the ability to sync folders across devices, with the ability to select which folders to sync. To save a true backup of your images to the cloud, you should opt to upload your images from a Mac to the cloud storage folder using Safari. This will ensure you have a separate folder of images that aren't syncing and deleting on your devices unless you purposefully remove them.
(And even then, most cloud storage options have the same type of 'recently deleted' folder as iCloud.)
Another option is Get Backup Pro, a Mac app that makes backing up files a snap. We like Get Backup Pro because it keeps files stored locally to your Mac, but also has the ability to zip folders to reduce the amount of storage you use. If you like, those zipped backups can also be copied or moved to the cloud storage container of your choosing.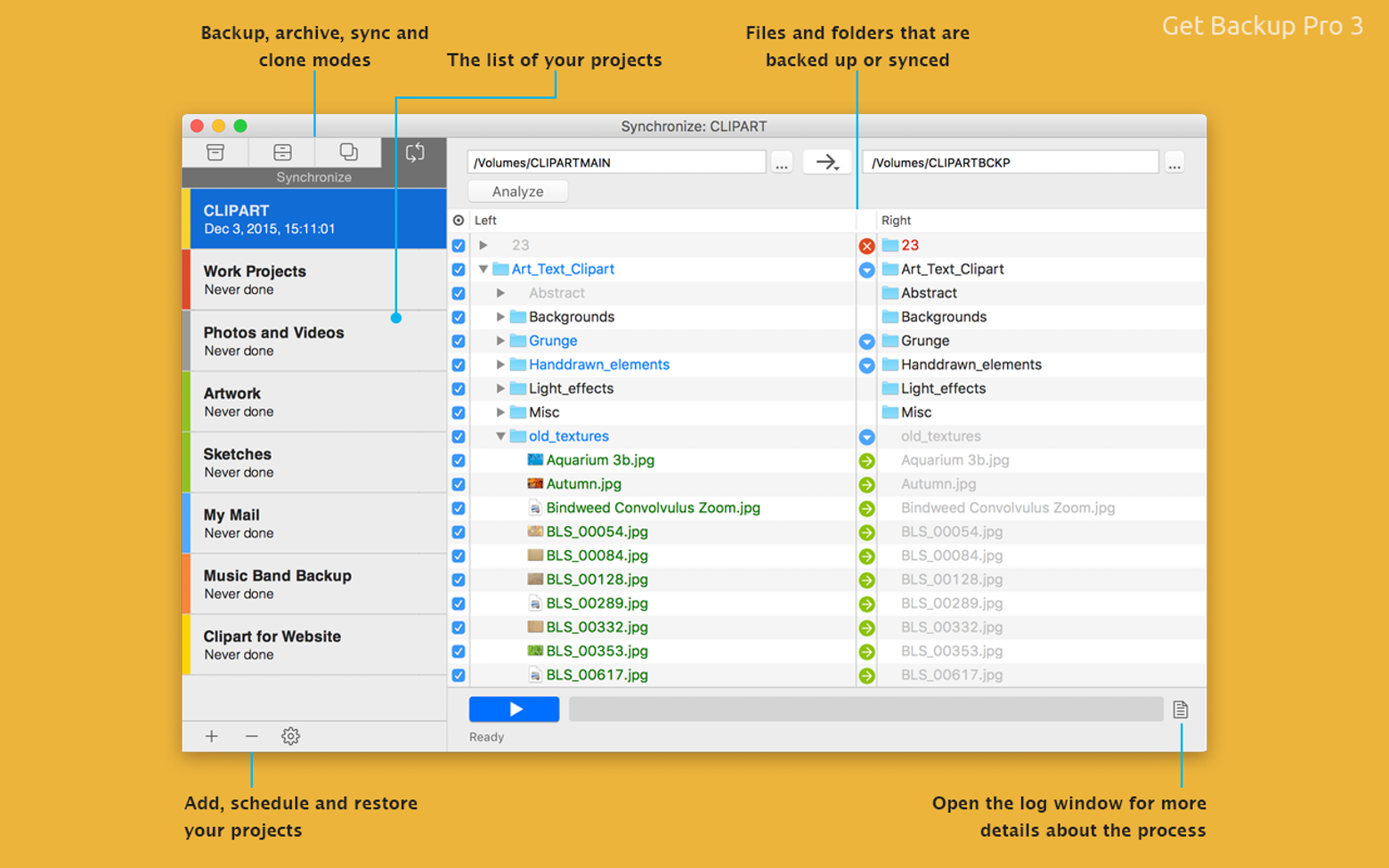 Folders can also be synced to another Mac if you'd rather have a more local backup for your backups! It's also possible to take your backups and create a bootable clone of your Mac's disk for the most thorough backup imaginable. Also, check out how to backup iPhone to mac.
Tip:
How to get deleted photos back using Finder on macOS Catalina 10.15 and later
Finder is your Mac's default location for managing folders and files. If you regularly back up your iPhone, Finder can also be used to locate and restore photos on macOS 10.15 and later:
With your iPhone connected, open Finder
Choose your iPhone from the list of devices under Locations
Click Restore Backup
Select the right backup based on the date and click Restore.
Recover deleted photos from iPhone with messaging app
If you don't have a backup of your photos and you can't recover them with Disk Drill, here's one more hack we recommend: try remembering if you've shared those photos with anyone via messengers. If they're still there, you can download them from attachments!
AnyTrans app is the fastest tool to brush through the hidden nooks on your iPhone. For example, if you're aiming at Messages attachments, you can just connect your iPhone to Mac, open AnyTrans, choose Messages from the list of your iPhone media, and wait for the app to load your Messages. Then, click Attachments and you'll be presented with the full list of attached images.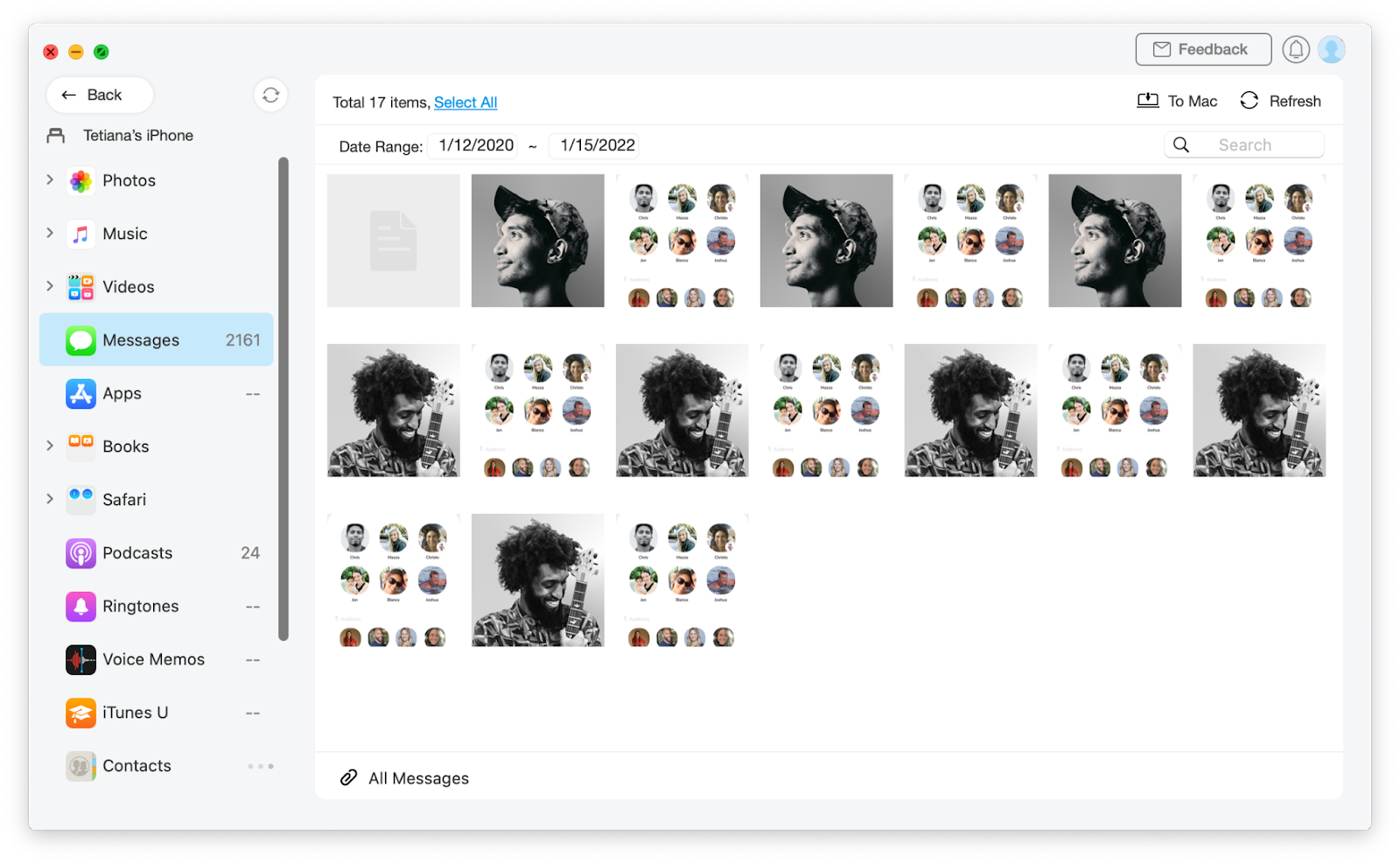 Similarly, you can try and recover photos on iPhone via WhatsApp, Telegram, Facebook Messenger, or any other service you use to exchange photos with friends and family.
How to recover permanently deleted photos on Mac
The best advice is to be careful about the images you delete so you don't have to go searching for them anyway. Even when you're careful, photos are deleted. Sometimes you select a ton of images at once and errantly select one you want to keep – or maybe you thought it was a different picture altogether. Maybe you just decided you wanted to keep it after deletion.
Whatever your reasoning, Photos' 30-day purgatory is handy. It can probably serve most of your recovery needs, but we still advocate for having images backed up to an external drive or cloud storage. This is particularly easy when you manage your photos well and can simply drag a Photos folder onto the desktop, and then into the storage option of your choice.
It's also why we advocate you use AnyTrans, Get Backup Pro, ChronoSync Express, and Disk Drill. All four make managing files and restoring deleted images far simpler than any of Apple's solutions. We especially enjoy Get Backup Pro's ability to compress backups, which reduces their size up to 60 percent. You can backup and store tons of files without eating into your iCloud storage too much.
Disk Drill is the best tool to permanently restore photos even if you haven't backed them up, and even if you deleted them over 30 days ago. So that's kind of your last resort.
All of these apps are available for free as part of a seven day trial of Setapp, a sensational suite of productivity apps for your Mac. In addition to AnyTrans, Get Backup Pro, ChronoSync Express, and Disk Drill, you will have immediate and unlimited access to nearly 200 additional Mac apps. When the trial ends, retaining access to Setapp is only $9.99 per month.
How to recover photos from iPhone: FAQ
To sum it up, let's answer the most common questions we get regarding photo recovery on iPhone.
How do I recover permanently deleted photos from my iPhone without backup?
If you haven't enabled automatic iCloud backups and don't use any app to backup your photos, you can still try and recover them with Disk Drill. It works even in the most desperate situations because Disk Drill has virtually all rercovery options baked in. Still, backups are essential to keep your data intact, so make sure you do backup your iPhone and Mac next time. This will help you recover files even if your Mac went lost or your drive crushed.
Can I recover deleted photos from iPhone without computer?
You can recover photos deleted from iPhone in the first 30 days after you've deleted them. Just restore them from the Recently Deleted album. If you have automatic iCloud backups enabled, you can search for deleted photos on iCloud.com. In other cases, you'll need to connect your iPhone to Mac to recover photos with Disk Drill or Get Backup Pro.
Where do deleted photos go on iPhone 7/8/X/11+?
They initially go to the Recently Deleted album and stay there for 30 days. During that time, you can easily recover those photos right on your iPhone, no need to look for backups or connect your iPhone to Mac. After 30 days, you'll need a professional recovery tool like Disk Drill to bring those photos back.
Is it possible to recover permanently deleted photos after 30 days?
Yes, it's possible, but you need to have a backup of your photos in the cloud or on an external drive. Apps like Get Backup Pro and ChronoSync Express will help you here. You can also use Disk Drill to restore the photos you've lost more than a month ago. Tip: If you use cloud storage services like Dropbox or Amazon S3, get CloudMounter. This small but powerful utility will give you quick access to all your storage accounts in the menu bar. It's a fast and secure way to locate any deleted image.