Sounds good? Well it looks good too.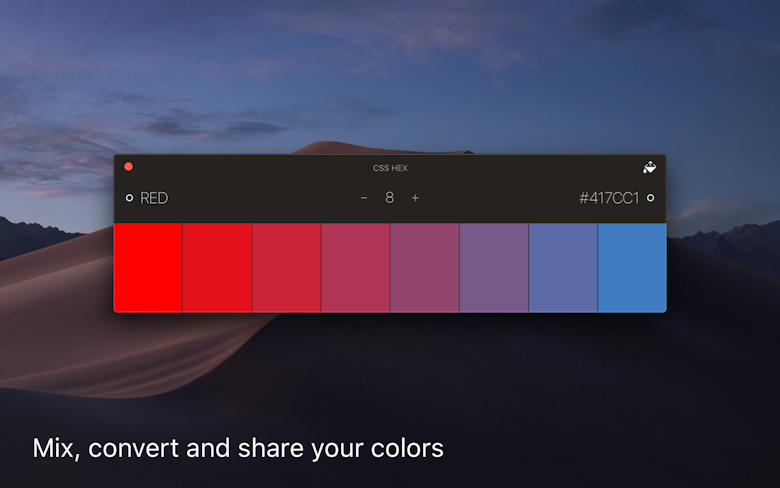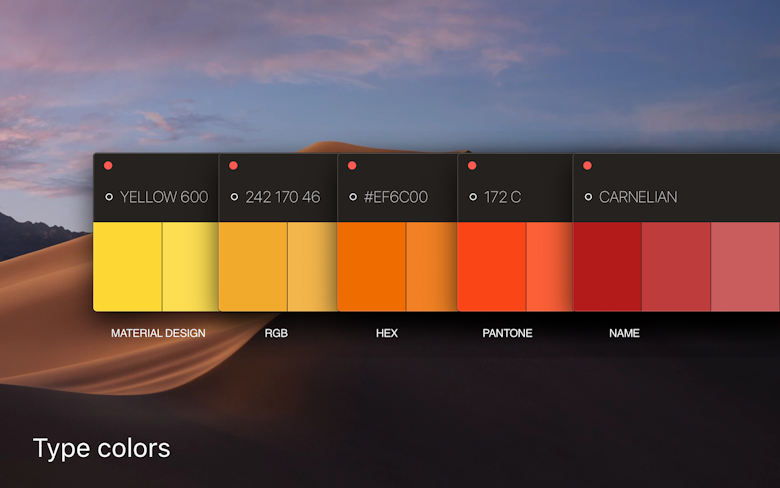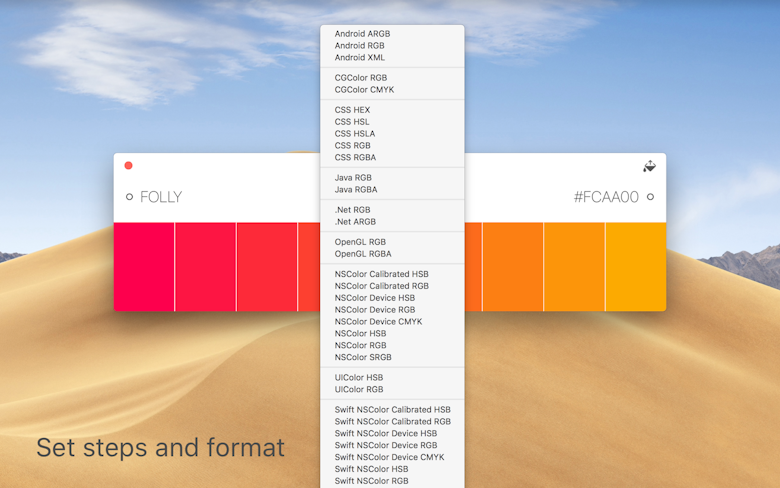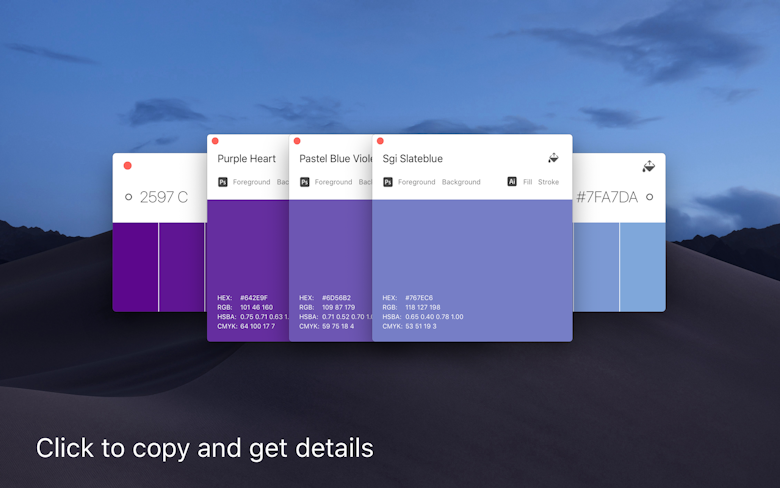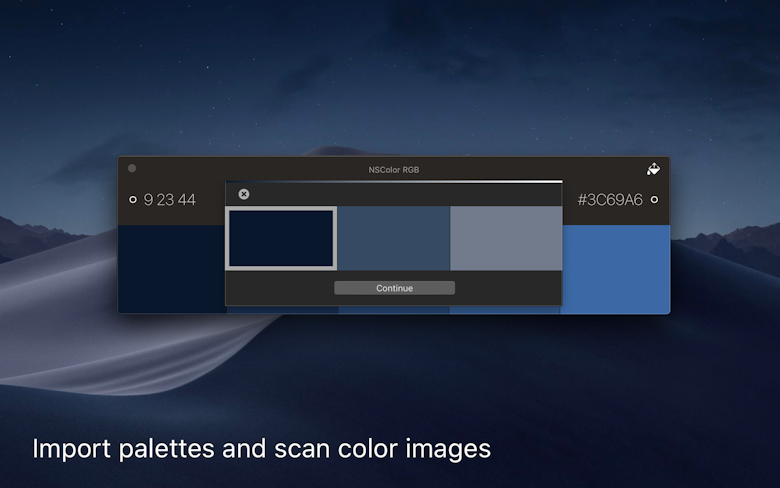 Aquarelo features
UI/UX
The key in Aquarelo is a minimalist interface that only emphasizes colors. Color palette display patterns long predate the web. Yet we still think that is the best solution. A quick scan is all you need! With Aquarelo a designer or developer can improve their workflow and get details from first to last color and every shade in between. The idea is simple: 1 - Choose and type one or two colors - hex/rgb value or a color name. 2 - Set steps and a color format useful for you. 3 - Just click to copy it in pasteboard. Done!
Swift, Objective-C, Java, CSS…
Whether you are a developer or a designer, Aquarelo converts your colors into 36 standard formats you will ever need! Color is one of the hardest things to master in design. Color space (color model, color system) is an abstract mathematical model which describes the range of colors as numbers. It is also critically important, for this reason Aquarelo supports 46 color profiles: 21 RGB and 25 CMYK.
Scan your images
Images take a big part in usability: as the vast majority of users are visually driven. Images become the hook points of getting basic data about the website or app. Images present the part of content which is both informative and emotionally appealing. They are big images which are usually the first visual element catching user attention in the initial seconds of interaction. Color is critical to a successful visualization project, so the advice is to use as few colors as you can. Aquarelo scans images, pdf and palettes to get the main colors to improve graphic design. The result is that the color harmony is always a winning choice since it's hard to make a mistake and create the distasteful color scheme.
Sharing
Working with a design team can be an invaluable asset. We believe in ideas that you can built and deliver in a timely manner without sacrificing the quality. Which tasks add value and which weigh you down? In Aquarelo, the steps to export individual colors and palettes are simplified. For instance, sending a color to Photoshop (foreground/background) and Illustrator (fill/stroke) is very easy. We have even more great features up our sleeve, but we are sure you'll like using the app right away!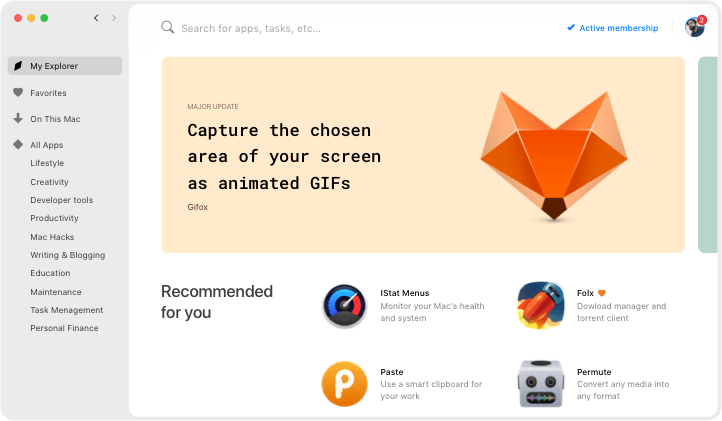 We love Setapp
---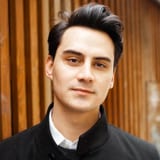 Very impressed with World Clock Pro @setapp @minimuminc. Making light work of time differences 🤘yew. How MacOS still doesn't have some kind of digital clock widget is mind boggling.
jessengatai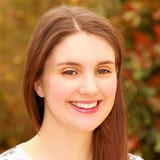 I have used Endurance (http://enduranceapp.com ) which is on @setapp to try and extend my battery life, 12 hour flight from Vienna to LAX and I spent about 8 hours working on an essay - not bad going!
Rosemary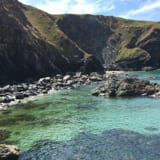 Wow just downloaded Setapp for my Mac - the value here is amazing. Some of the apps cost more than the monthly subscription alone and there are some amazing apps like Ulysses, RapidWeaver etc. @setapp
Mark Mitchell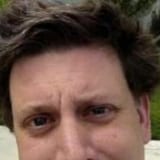 Discovered @PDFpen via @Setapp. Worth it just for the stellar OCR job it does on poorly-scanned assigned readings. Now to start playing with all those PDF editing features...
Nate Dickson