Sounds good? Well it looks good too.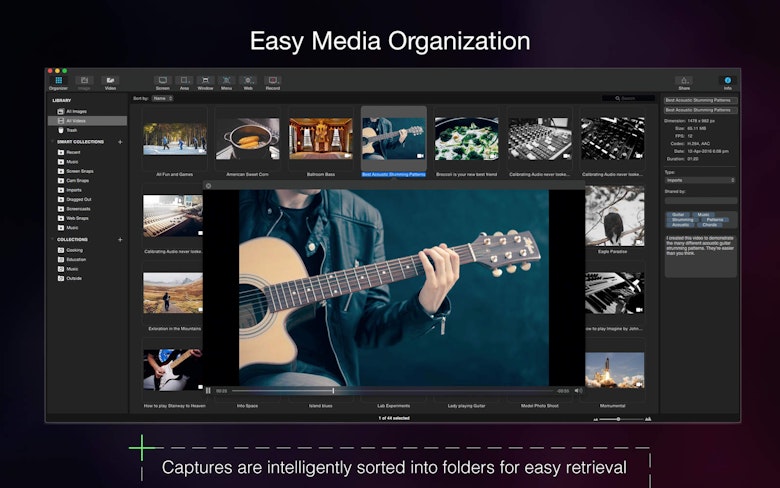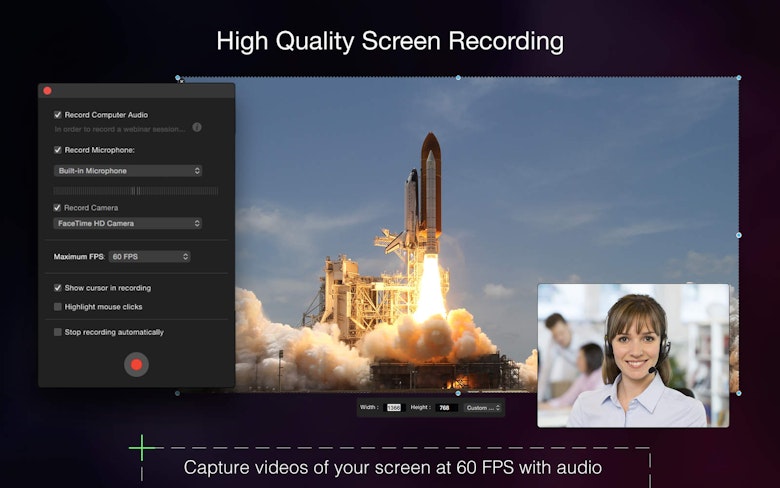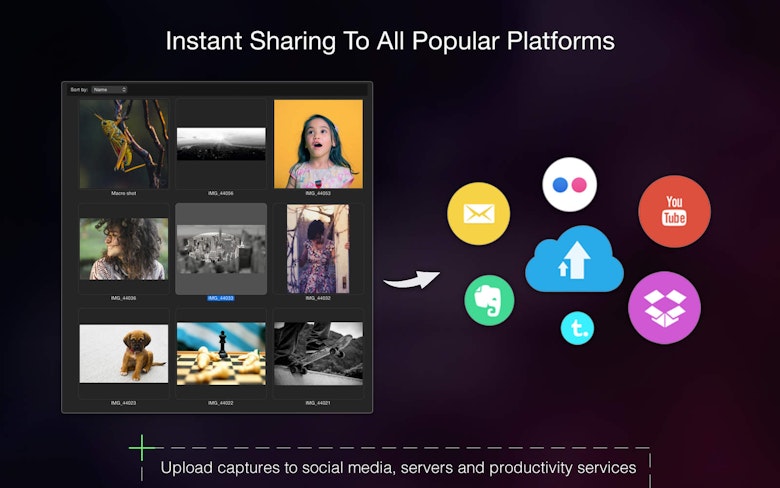 Capto features
Record a screen or an area
Customize what you what you record in a few clicks. You can record a specific window on your Mac, a browser, or the whole screen. Also, you can select an area of any size that captures any number of windows. In any way, Capto's options to record screen will always fit your needs.
Tutorial Video Making
Capto is a perfect screen video recorder for tutorials. Among all the screen capture software, it's clearly the simplest and the fastest for the job. You can make extensive tutorials with voiceovers and a recording from your face camera, which you'll see in the bottom.
Make a screenshot
Capto also has a quick and easy Mac screenshot maker. You can take a quick screenshot, edit it, crop where necessary, add some text on the image, and upload it instantly to one of the many social networks that are directly connected to Capto.
Hide desktop while recording
Now, while you're busy recording your video you might have troubles with clutter on desktop. Capto has a desktop recorder setting for this case: don't switch to another desktop, just activate desktop hiding and roll! All the files and folders will be hidden in the recording.
Editing video and images
In case you also need a video editing software, Capto can handle it as well. Crop, cut, fade in and fade out for the audio track, adding voiceover and annotations — all is pretty easy. Simply add the video or image you want to edit and double-click it to start editing.
Online sharing
Another cool thing about all the media you prepare with Capto is that it takes just a click to upload it anywhere. From commonplace Dropbox, YouTube, Facebook, and Tumblr, to all possible shared storages, including FTP/SFTP server sharing.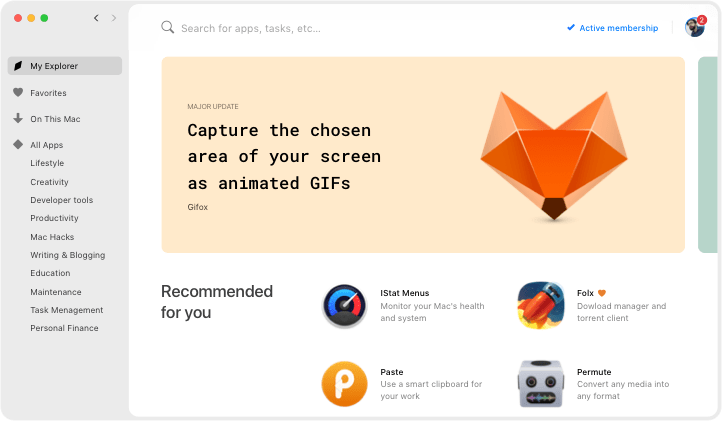 We love Setapp
---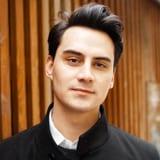 Very impressed with World Clock Pro @setapp @minimuminc. Making light work of time differences 🤘yew. How MacOS still doesn't have some kind of digital clock widget is mind boggling.
jessengatai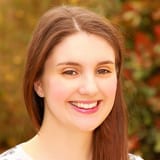 I have used Endurance (http://enduranceapp.com ) which is on @setapp to try and extend my battery life, 12 hour flight from Vienna to LAX and I spent about 8 hours working on an essay - not bad going!
Rosemary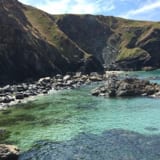 Wow just downloaded Setapp for my Mac - the value here is amazing. Some of the apps cost more than the monthly subscription alone and there are some amazing apps like Ulysses, RapidWeaver etc. @setapp
Mark Mitchell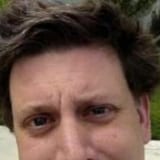 Discovered @PDFpen via @Setapp. Worth it just for the stellar OCR job it does on poorly-scanned assigned readings. Now to start playing with all those PDF editing features...
Nate Dickson