Sounds good? Well it looks good too.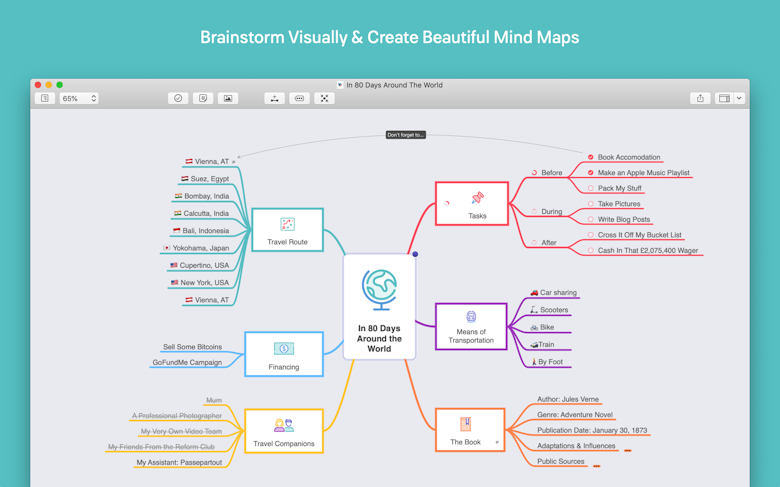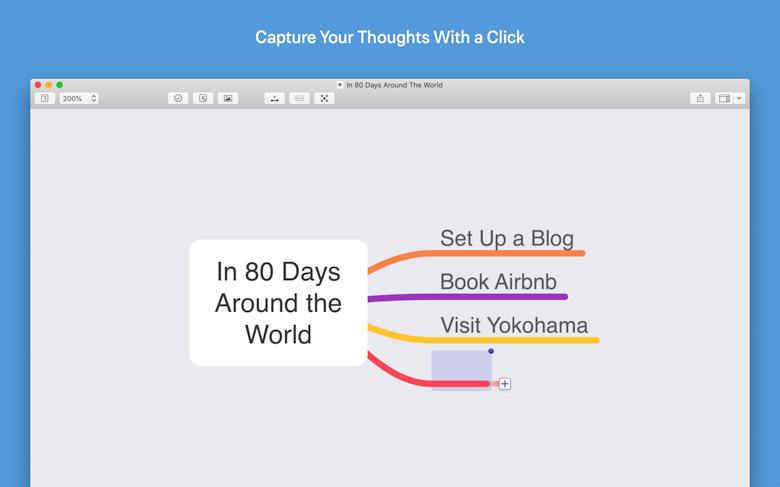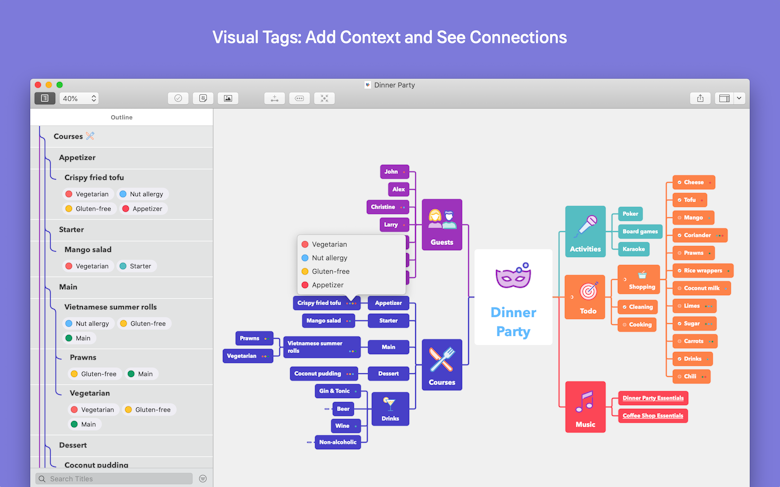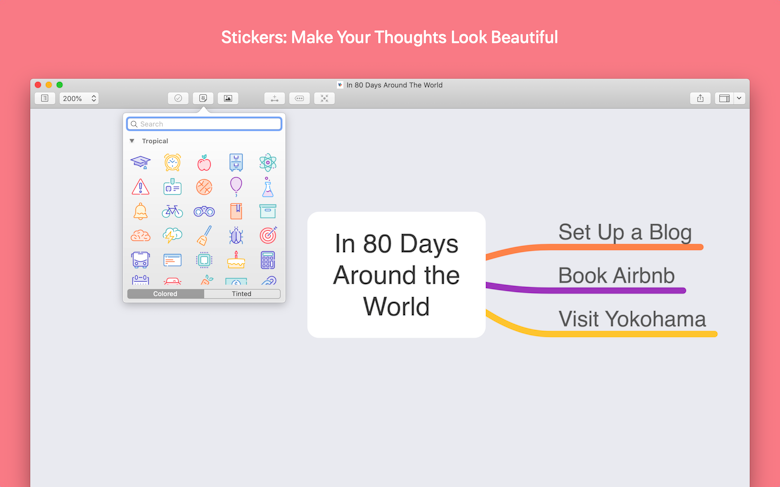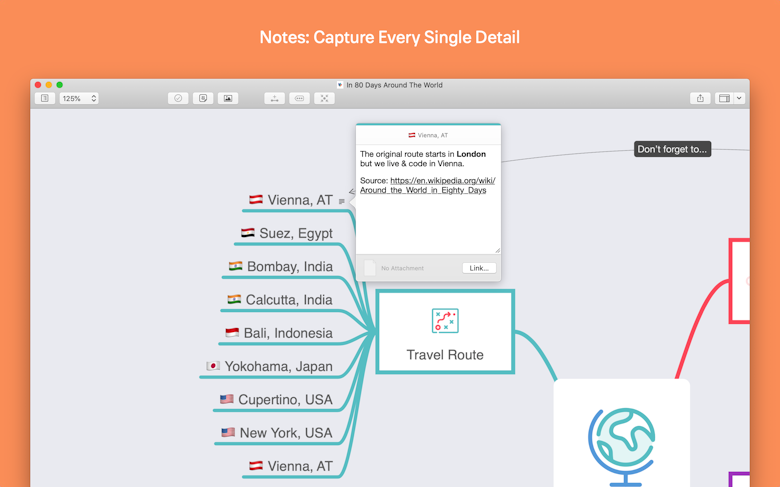 MindNode features
Good ideas in any format
Bring visual thinking to your toolset using words, images, links, lists, tasks, notes, and more — all inside the same mind map. When complex ideas can take any shape or form, don't let the limited scope of traditional tools get in your way. MindNode is always exploring new approaches to helping you extract your ideas loud and clear.
Capture thoughts on the go
Compelling thoughts and ideas can come at any time, so be prepared. MindNode supports devices like iPhones, iPads, and Apple Watches which can synchronize with your Mac so you stay productive wherever you are. Store and access your files in iCloud Drive to make sure a damaged hard drive never takes your ideas down with it.
Share your thoughts far and wide
Achieve new breakthroughs in your thinking by collaborating with others. Export your project as PDF, image, csv, opml, txt, docx, markdown, or a text outline, and then send it to your colleagues. You can even share your mind map using the free web service myMindNode. Forward tasks to Reminders or OmniFocus to keep the momentum up, and your ideas will come to life faster than ever.
A beautiful canvas for thoughts
Bring a fresh perspective to your thoughts using MindNode's beautiful themes, and stickers. Add individual styles to your text and nodes to help distinguish your ideas at a glance, or use the Smart Layout function to automatically organize your thoughts, so you don't have to worry about the look of it.
Find new connections
Establish links between thoughts and ideas that you never considered before. Connect, reconnect, and detach nodes or fold your branches. Use the outline to visualize the flow differently, then play with your ideas to discover unexpected connections and create something unique.
Bring supercharged focus to your thinking
Tap into your flow zone by using MindNode's focussed toolset. Set your theme to dark mode, or put a spotlight on a particular branch and fade out the rest for narrow thinking. Add new ideas using quick entry or take photos and save them for later dissection. You can even use Siri shortcuts to save yourself from distracting thoughts and focus on new breakthroughs.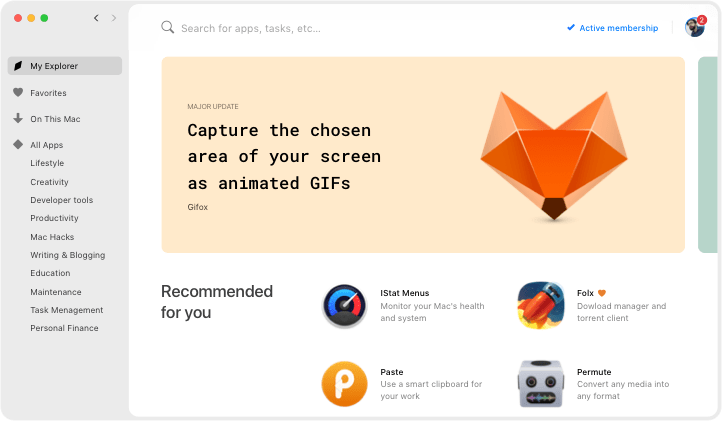 We love Setapp
---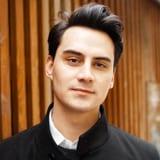 Very impressed with World Clock Pro @setapp @minimuminc. Making light work of time differences 🤘yew. How MacOS still doesn't have some kind of digital clock widget is mind boggling.
jessengatai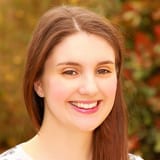 I have used Endurance (http://enduranceapp.com ) which is on @setapp to try and extend my battery life, 12 hour flight from Vienna to LAX and I spent about 8 hours working on an essay - not bad going!
Rosemary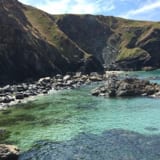 Wow just downloaded Setapp for my Mac - the value here is amazing. Some of the apps cost more than the monthly subscription alone and there are some amazing apps like Ulysses, RapidWeaver etc. @setapp
Mark Mitchell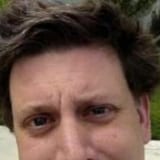 Discovered @PDFpen via @Setapp. Worth it just for the stellar OCR job it does on poorly-scanned assigned readings. Now to start playing with all those PDF editing features...
Nate Dickson