Welcome to the grid. Your grid. It's empty for now, but by the end of this reading will be filled to the brim with microtasks, ready to be wooshed away with ease. You may not be used to this type of task management — it's okay, we weren't either. And while it may not appear to fit your particular way of getting things done, it's totally worth a try.
Ready to uproot your todos? Plant 'em elsewhere? Cheers to you for giving Taskheat a shot.
Open the floodgates
Your old task list is a dumpster fire. Not a warm, cozy, majestic bonfire, no. It's unruly. To get a grapple on what it means to migrate to Taskheat, the first thing to understand is that it's flow-based. This means once tasks are stacked in a hierarchy on what the app calls your Flowchart, smaller items get the hot seat first.
To even begin to douse your list, it has to be integrated with the flow.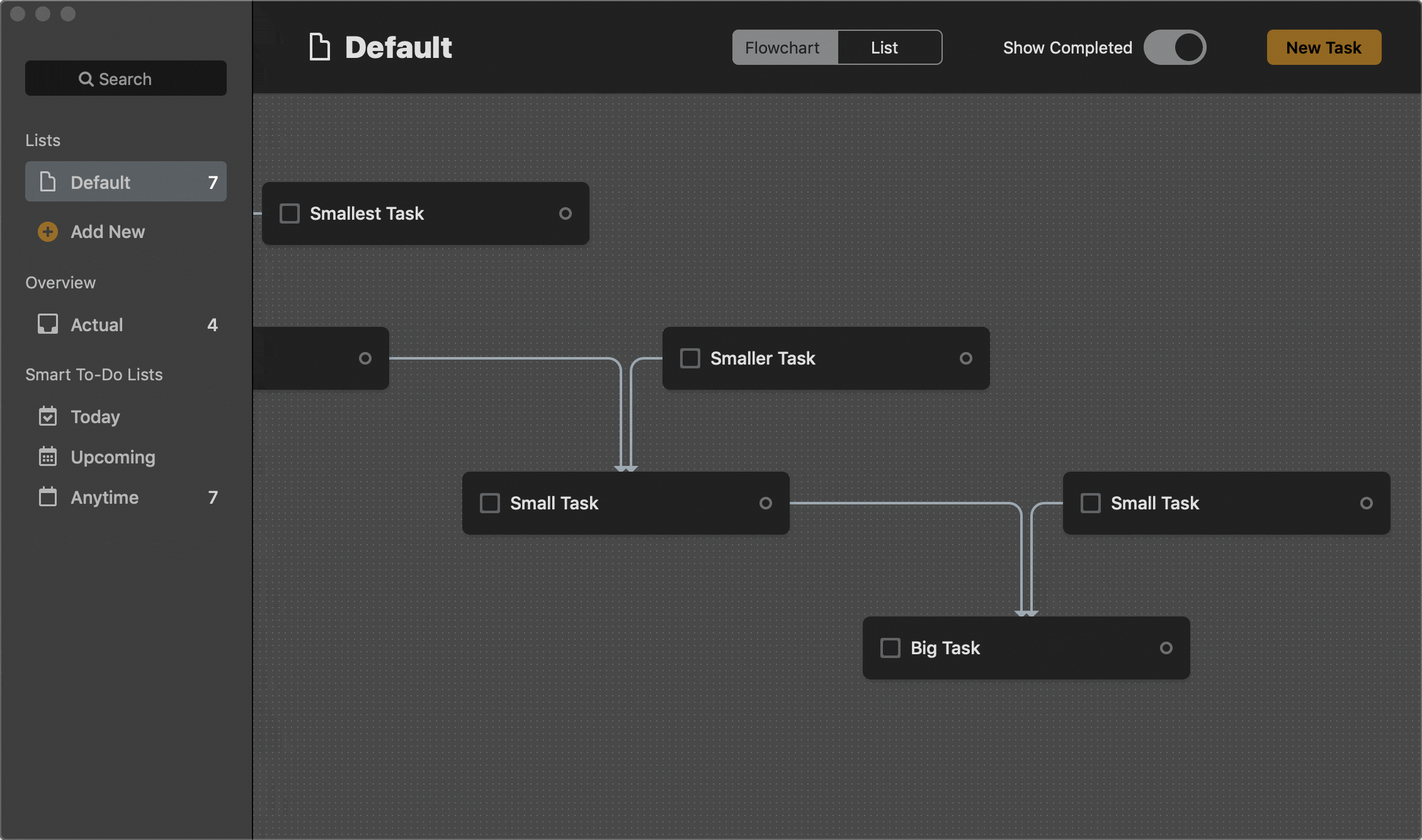 Notice how neatly webbed those items are. Beautiful! Let's make one together before getting personal with your own items to get a feel for mechanics.
Add and prioritize
That ember-orange button, New Task. Click it. Type in something that's a big deal, like Ice Cream.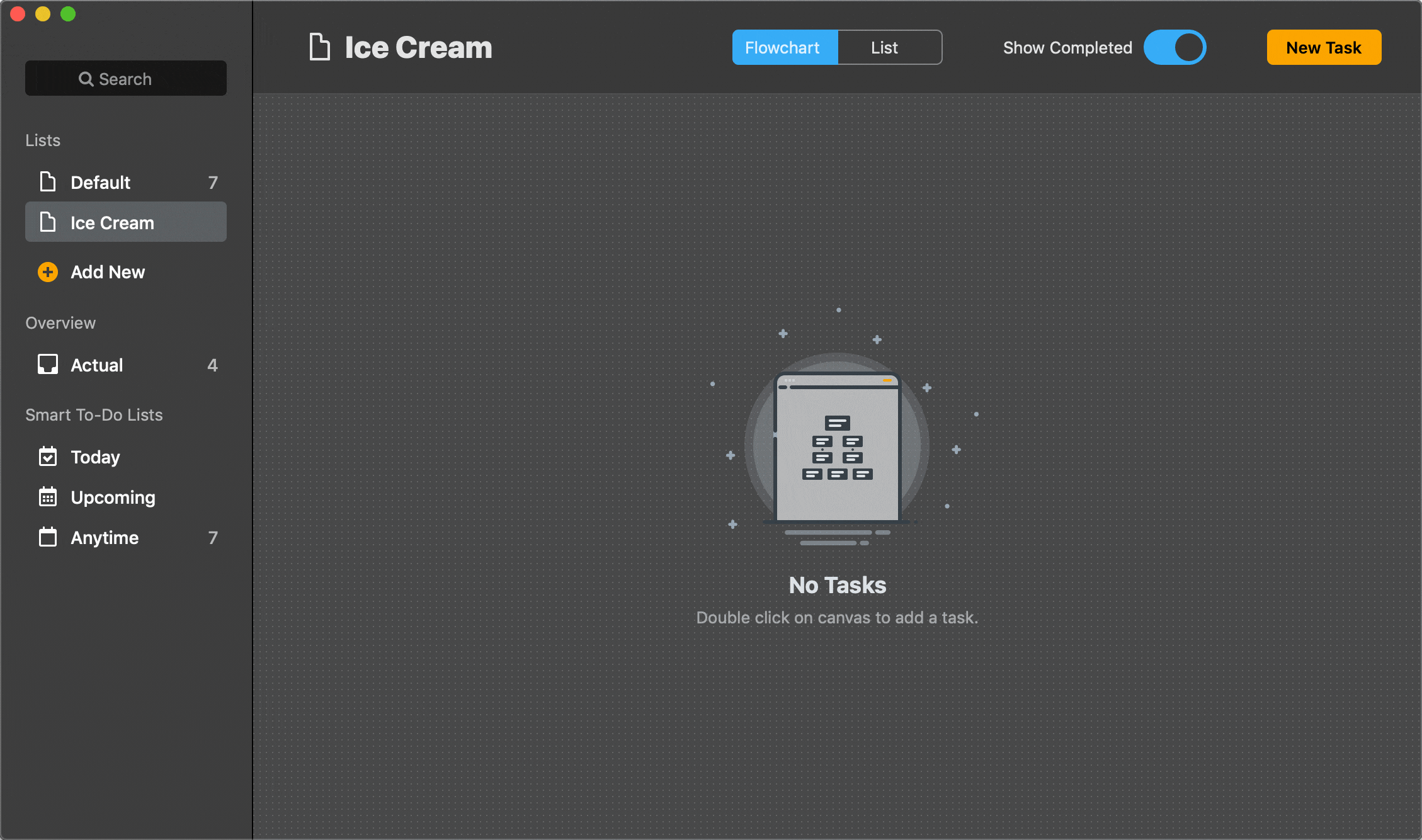 Mmm, Ice Cream. Deservingly, that'll be the big kahuna. Now let's build out from there. To eat ice cream, what needs to happen? That's right, we need to abduct a cow.
There are two ways to add a subtask: The New Task button and the plus button below an existing task. First, try the plus button.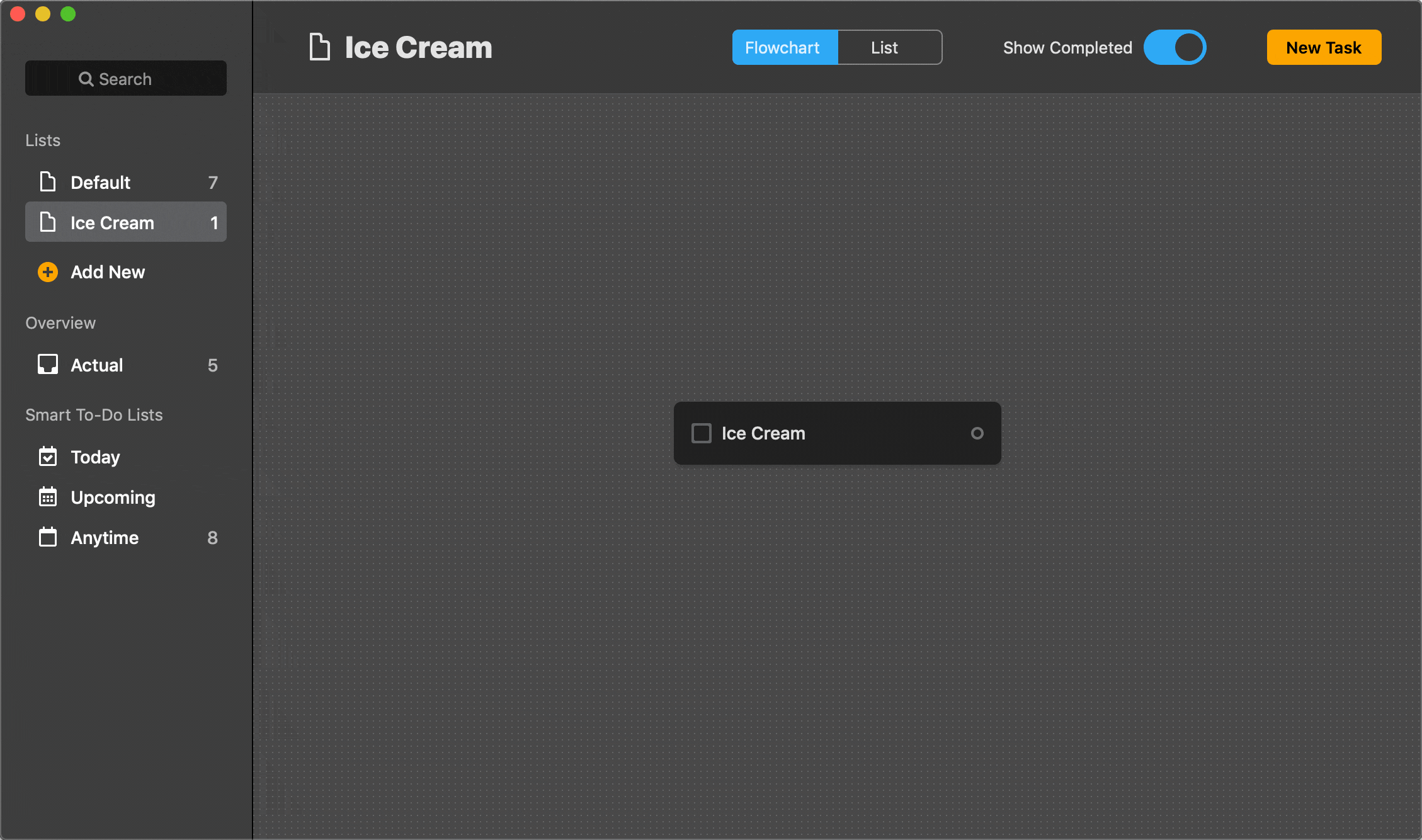 Ah, you caught the switcheroo! It's necessary to click the little connecting arrow to switch around items, thereby prioritizing them. It shows Taskheat that buying a UFO comes before eating ice cream. Now try the other method.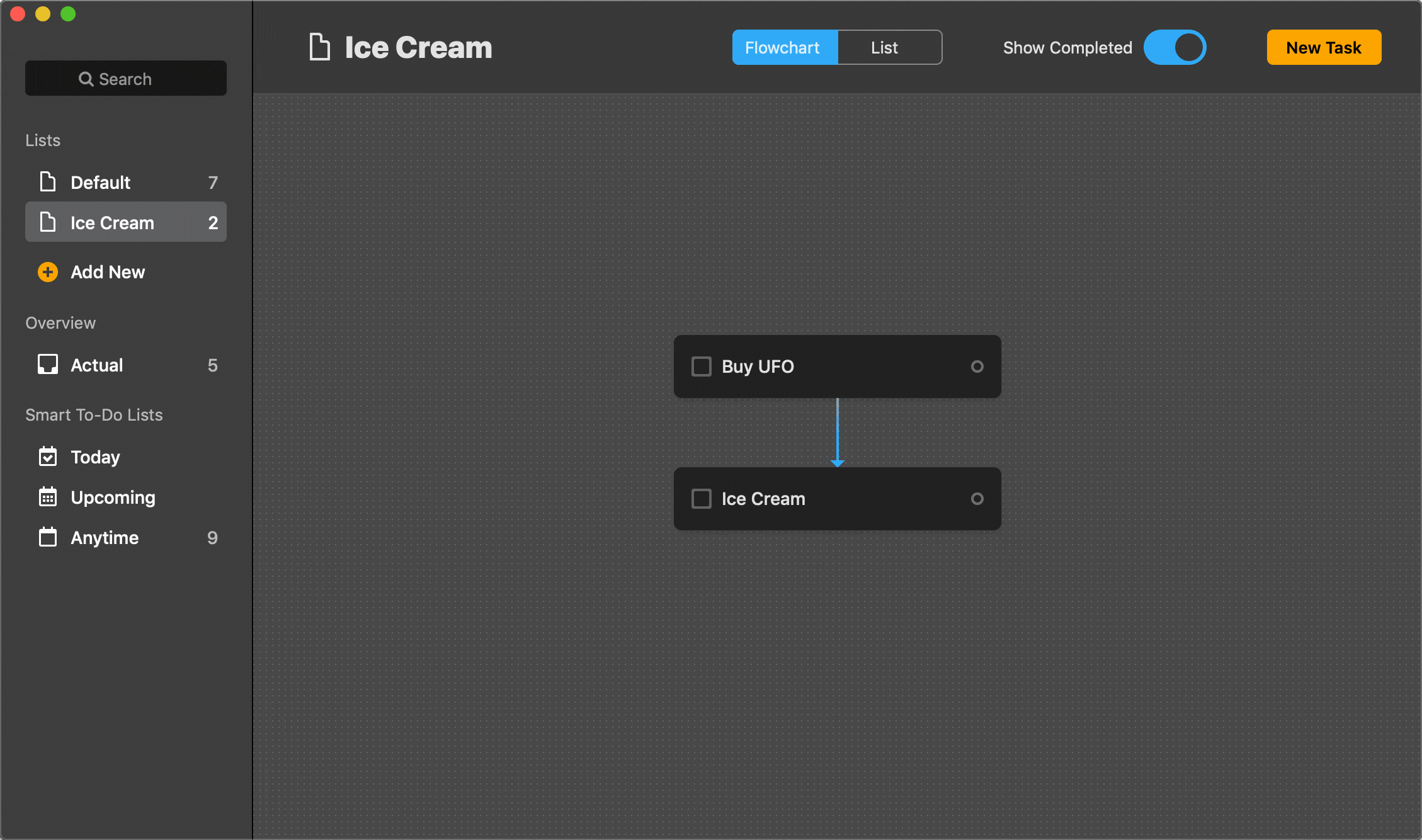 To connect this floating item, hover over it until a little dot appears to the right. Drag from that dot to its parent task.

Look at that! The beginnings of a daring frozen-dessert caper. The other items are up to you. We take no liability for the treatment of bovine creatures during and after abduction. Be sure to give plenty of pats and set her down gently.
Get toasty
You're now a pro. Time to turn up the heat.
Mechanics are down-pat, so start exploring what else Taskheat has to offer. Add a new list in the sidebar, pop in some items, and step back by selecting Overview>Actual. There you'll see an expanded view of what's on your plate.
Add extra info to items when you create them, or in retrospect by double-clicking. Set due dates and see what's pertinent for the current day with Smart To-Do Lists. Toggle Show Completed at the top for a cleaner view. Taskheat is streamlined and simple while retaining features you'll find yourself using every day.
Like we said — at first, it may not fit your flow. Maybe you only use it for a certain type of project. A side hustle. Maybe it sits dormant in Setapp for a while until the perfect use bubbles to the surface. Hey, maybe you got eager and already cut ties with your old task list.
Whatever's brewing in that busy mind of yours, count one more method in your productive arsenal. Flame on.
P.S. If you're a fan of flowcharts, check out similar apps: MarginNote and iThoughtsX — both are available on Setapp.