Keep an eye on your assets with a neat cryptocurrency tracker Moonitor
The newest addition to Setapp collection is our first cryptocurrency app. It's been long time coming and we're happy to welcome Moonitor in our ranks. In this piece we'll cover why it's good, what it offers you as a trader, and how it circumvents the pitfalls of other similar apps.
Moonitor's main features
Large selection of markets. The first thing you need to know is how broad your options are with this app. Very. They are very broad. You have access to nearly all existing cryptocurrency markets and it's two clicks to create an asset with one.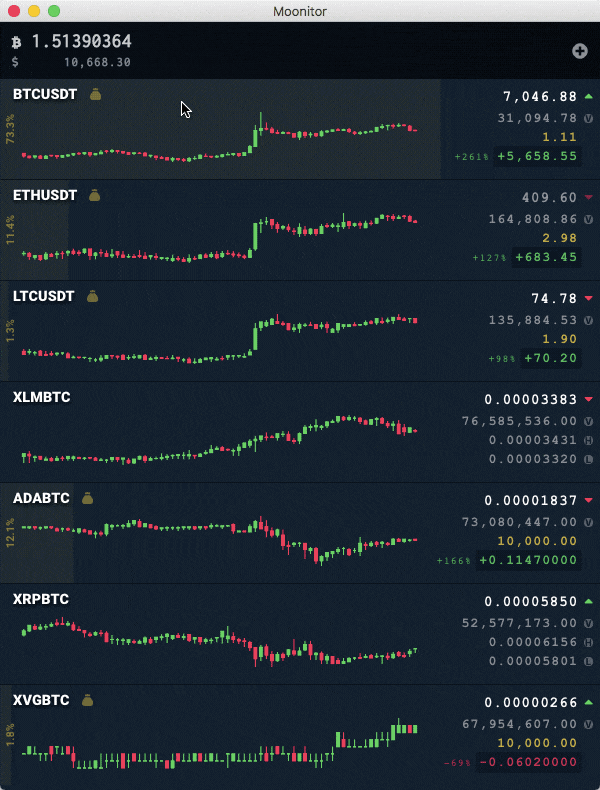 Open the app, hit the plus icon in the top right corner, find the market you need and follow it. Anything from Binance and Bittrex, with ultra-accurate data pulled directly from their own servers.

Real-time asset tracking. Within the markets you follow, you can track your individual assets. At a glance in a convenient interface with multiple indicators, you can view history of your profits and investments, including past trades.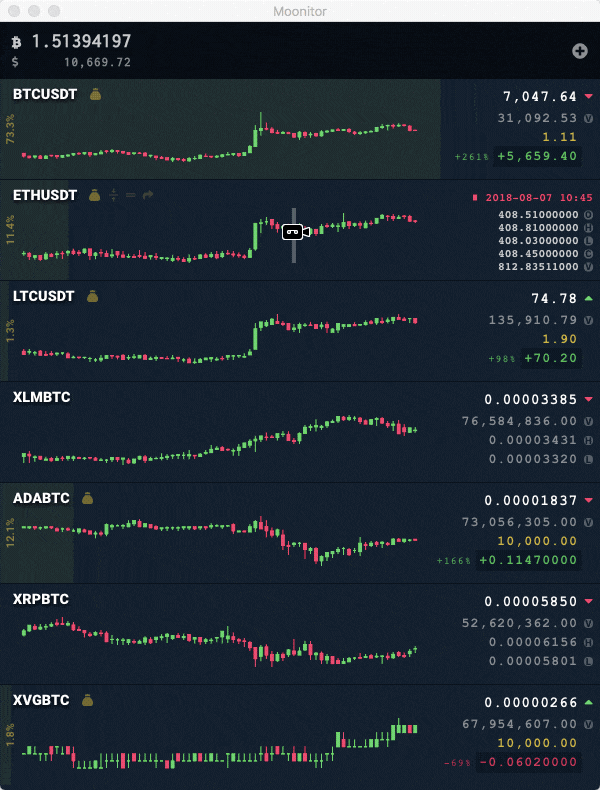 Auto import of your portfolio in read-only mode. Moonitor uses your exchange API keys in read-only mode. Which means it's entirely safe because it doesn't actually have access to your funds, it merely displays their state. Thus, your cryptocurrencies portfolio will be automatically imported and always synchronized.
Advanced benefits of Moonitor
In short, the best description of Moonitor app would be: zero compromises.
Absolute privacy
While most applications that allow you to track your crypto assets will sell your data to marketers and third parties, Moonitor is a sealed vault and none of your info ever escapes it. The data Moonitor collects is stored only on your computer.
Failproof API and server response
Most common reasons for profit losses or missed opportunities in the world of crypto trading lie in tech lags. When your app is slow or down and doesn't deliver values on time it's usually because it uses a free API or runs on unreliable servers.


Moonitor only utilizes official APIs from the exchanges and never resorts to free solutions. You can be sure that the numbers you see are accurate up to a second.
Readable, user-friendly interface
One of the best things about all the richness of functionality in Moonitor it that it's actually really easy to access. All of the markets are lined up with all significant info right next to them; your assets are hidden behind the money bag icon, a click away; everything is movable and customizable.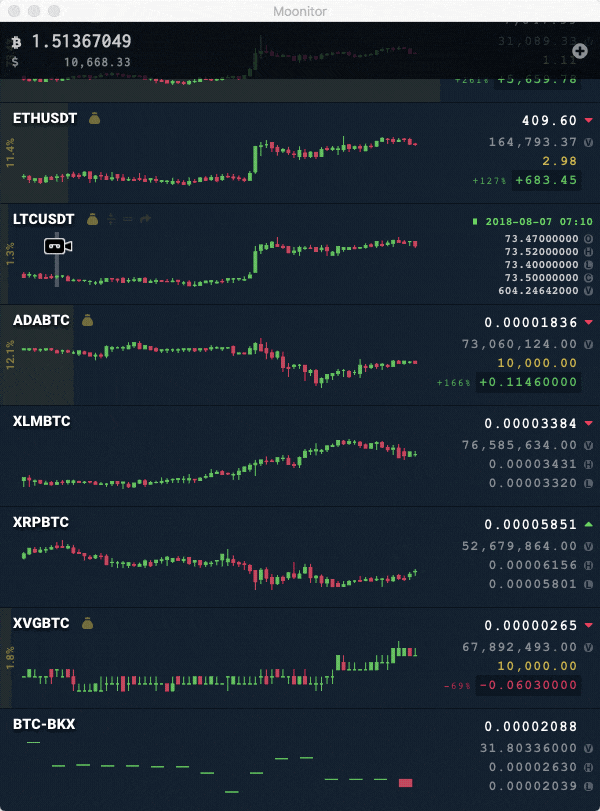 And the interface is just nice to work with, unlike the ones so many similar applications offer. It's minimalistic, sophisticated, and well-animated. That is truly a rare case of well-thought-out apps because it's usually either or: design or usability. Here, you finally get both.
That's about it with our new cryptocurrency tracker. We hope you enjoy Moonitor in Setapp, wish you successful trading and a wonderful day. Cheers!