Chatmate - the smart WhatsApp desktop client for your Mac
WhatsApp users now have a better way to stay in touch from their Macs, as it has released a ChatMate for WhatsApp.
ChatMate for WhatsApp is a slick, unobtrusive WhatsApp client for Mac users. It syncs conversations and messages from your phone, you can send and receive texts with Emojis, photos, videos, and other documents, as well as send and receive voice messages right from your desktop.
The app is flexible, giving you options for how you'd like to receive notifications and display your messages. It integrates into the "share" feature of other apps, making it easy to send links, attachments, and more. Plus, it upholds WhatsApp's reputation for security with robust, customizable privacy mode.
How to get and use WhatsApp on Mac desktop
These most powerful features can only be found in ChatMate for WhatsApp :
Send and receive text and voice messages
Record videos and photos directly in app and share them with your friends (the app automatically transcodes all video files that you want to send into the correct file format for sending in WhatsApp chat)
Full support for Emojis
Send and receive documents
Save received images, videos and documents to your Mac
DnD Mode disables notifications to keep you focused on your work
Privacy Mode locks app with password after a user selected idle time
Stealth Mode prevents others from peaking into your private conversations
Customizable visualization style lets you change the font size and theme mode
More than 20 different notification sounds
Full support for MacBook Touch Bar
To start using this app, just install ChatMate for WhatsApp from Setapp, wait a moment while the desktop client will retrieve your contacts and conversations, and you'll be able to use WhatsApp on your Mac. Follow these easy steps to set it to your specifications.
Access and notifications
ChatMate for WhatsApp syncs all of your conversations to your Mac so that you can chat on whatever device is most convenient for you. Also, this app lets you know immediately when a friend sends you a new message.
MenuBar notification indicates new unread messages
Desktop notifications show messages previews and support quick reply
Dock notification show total amount of unread messages
Options to hide the Dock and/or MenuBar icons (run the app seamlessly in the background)
Which ones you choose or disable is up to you. In the app's preferences tab you can specify how you'd like to access it. Some users might choose to have its icon appear in their Dock. Others might prefer to open it with an icon in the menubar. Some might prefer to have both. You can add or remove these icons by checking or unchecking the appropriate boxes.
You also have options when it comes to notifications. This messaging app can alert you through the menubar or dock icon, or you can choose to have a desktop notification appear. This small window will let you read and respond to a message without opening the app, which can be handy for multitasking. These notifications can be further customized on the preferences page.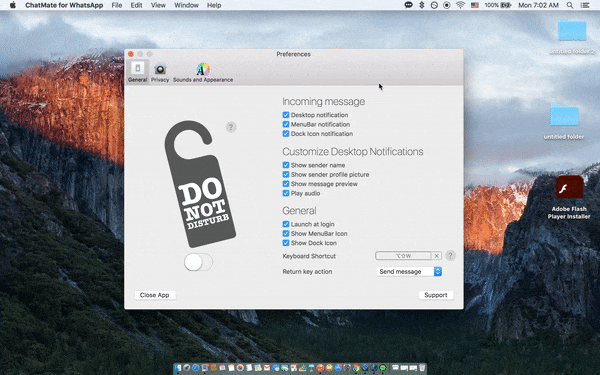 Also, for privacy reasons, you can disable the message preview or even the sender name and image in the notification dialogs.
How to remain concentrated
DnD Mode disables all notifications with a single click (or even via Touch Bar) to keep you focused on your work.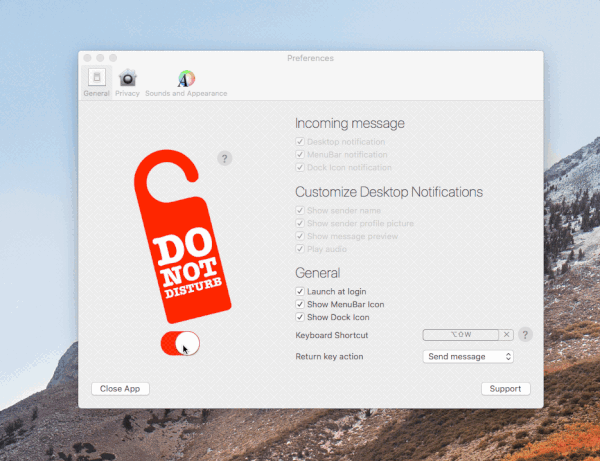 Keep your WhatsApp chats private and safe
Privacy Mode locks app with password after a user selected idle time
Stealth Mode prevents others from peaking into your private conversations
In the "Privacy" tab of the app's preferences you'll find an array of security settings. You can click the button under the large lock icon to open security mode. You'll be prompted to enter a password. After a set amount of time, the app will lock and no one will be able to open it without entering that password. This feature supports touchID for Macs with touchbars.
Another feature, Stealth mode lets you blur chat bubbles unless you move the mouse over them. Also it causes the app's window to become almost transparent. This makes it difficult, if not impossible, for people nearby to see your messages.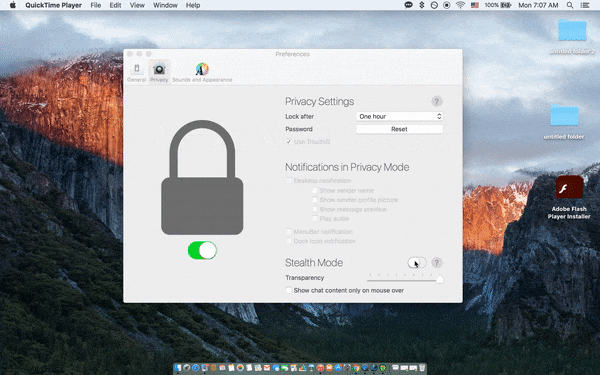 Appearance
User selectable chat window wallpaper image
More than 20 different notification sounds
Choose your favorite visualization style
Precisely configure the app to your personal likings - from visual appearance and sounds to keyboard shortcuts for opening the window.

The appearance tab lets you customize the look and feel of your Chatmate for WhatsApp window. You can set notification sounds, font size, and set a background image. You can also customize the app's theme—a darker palette can be easier on the eyes. A Dark mode is also very useful when chatting in a dimmed down environment.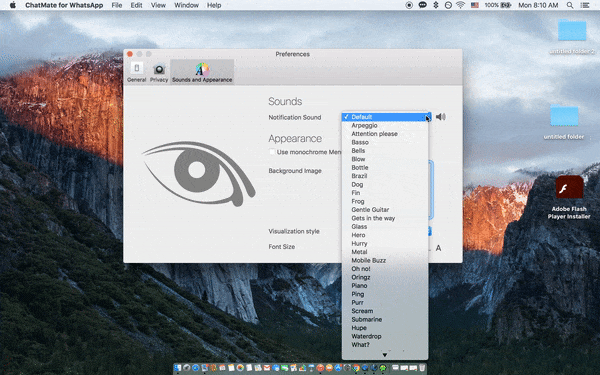 Get ChatMate for WhatsApp on Setapp and discover other useful app's features:

Use drag-and-drop to send media
Reply to incoming messages right from the message notification
Customize apps notifications
Disable the message preview, sender name and icon
Show unread message count in Dock icon badge
Show new unread message alert in MenuBar
Play videos inside the app
Open the app window with a customizable keyboard shortcut
Take control of startup launch
Beautiful Mac style user interface
Integrates seamlessly into your Mac workflow
ChatMate for WhatsApp takes everything you love about WhatsApp and makes it available on your desktop. Be sure to take advantage of its security features and customize it to fit your needs; one size doesn't fit all.