Meet Tayasui Sketches Pro for Mac
New to Setapp, Tayasui Sketches Pro turns your Mac into an art studio. You can draw, paint, and design with your fingers on the trackpad, or use a graphics tablet with a stylus. Sketches Pro has all the features serious artists love in apps like Painter and ArtRage, only wrapped up in a friendly interface that lets anyone jump in and start making cool stuff right away.
Sketches Pro started as an iPad app (it's now on Android tablets as well), and Tayasui achieved the same intuitive feel on the Mac. You can even start a drawing on Sketches Pro for the iPad and save it to refine further with Sketches Pro for Mac. (The iPad app is free to download, and a $4.99 in-app purchase unlocks the Pro feature set.)
Lifelike brushes and color blending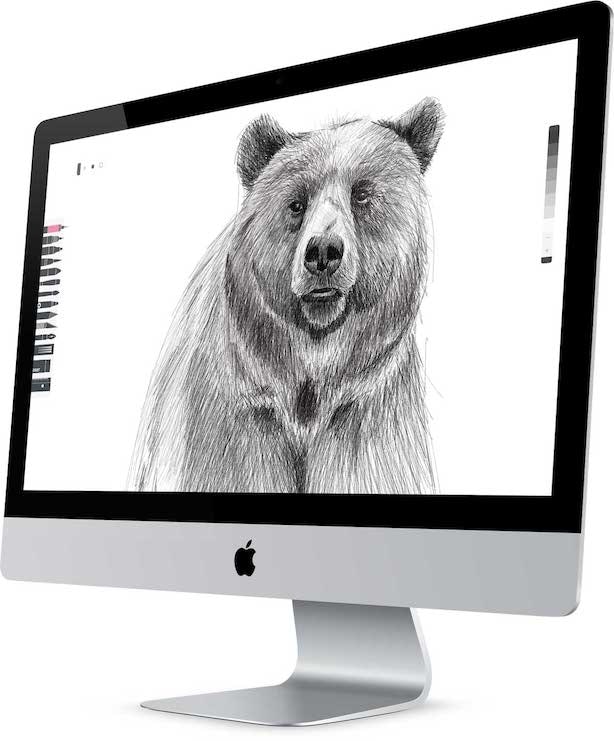 The best thing about Sketches Pro is its set of realistic-feeling tools. It's got incredibly thin pens, calligraphy brushes, paint brushes, pencils, markers, an airbrush, a smudging stick, a knife, an eraser, anything you could want. You can customize brushes by changing their size and opacity and save those presets to use again.
The watercolor brush is especially gorgeous. You can dab it on the paper to produce blobs of transparent color, and blend colors into each other. The way the watercolor seeps out from the brush, just like in real life, might even make you forget you're using a computer.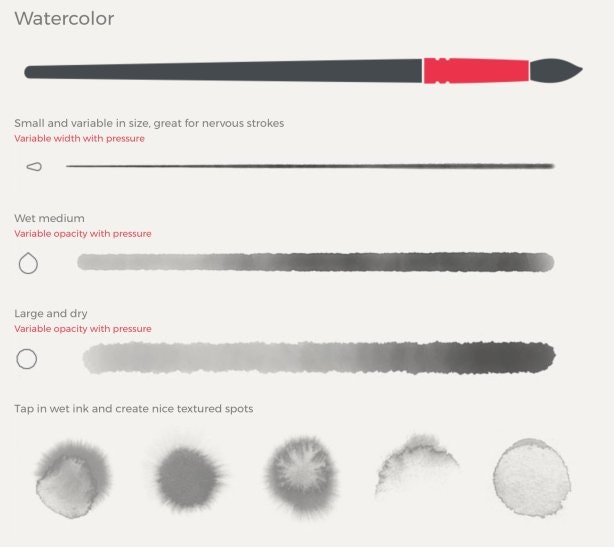 A sampling of what the watercolor brush can do.
As you're painting, the speed that you flick your fingers across the trackpad affects the thickness of the lines. And with a pressure-sensitive graphics tablet and stylus, you can achieve natural-looking lines even more easily.
The palette manager, your pocket full of colors
Sketches Pro can save as many custom color palettes as you like, and creating new palettes is a breeze. You can even import a photo that inspires you and use the eyedropper tool to sample the photo's colors and save a palette of your favorites.
While it's fun to blend two colors together right on the canvas, you can also combine two colors in the color picker, and grab just the right shade for your drawing. With easy undo and infinite layers, you really can't mess up too badly, and Tayasui makes it fun to experiment. Sketches Pro supports ASE (or Adobe Swatch Exchange) meaning you can import and export palettes to and from Adobe products like Illustrator.
A workflow fit for the creative pro
Sketches Pro includes lots of keyboard commands, and points them out to you the first time you use the app. That's for a reason: Once you get good at them, you can press the Tab key to clear the onscreen controls off of your workspace. Then just draw on the trackpad to your heart's content, switching brush sizes, colors, and even tools with just a key-press here and there.
Layers are an essential feature for a good drawing app, and Sketches Pro lets you have as many as you need. It's a snap to hide or show them, drag them to a new order, or adjust the opacity.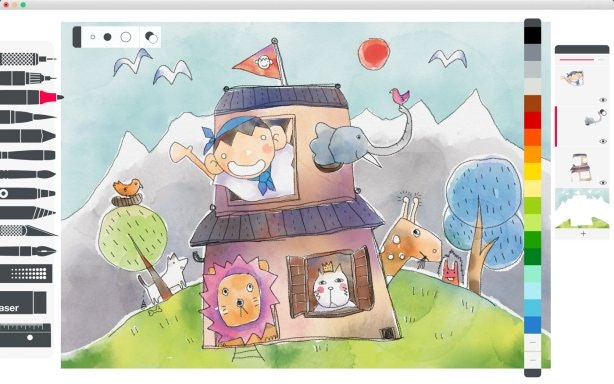 The Layers palette is shown here on the right side.
Sketches Pro also helps you turn a sketch into a more polished design, with tools to fill in large swaths of color or pattern at once. It also has plenty of shapes and text options to add an extra flair to your masterpiece. Artists can even share their work with the Sketches Pro community—check out some of the results by pro artists, and the wider community, anytime you need inspiration.
Files are saved in Tayasui's SKT format to keep the layer data intact, but you can also export them as fully layered PSD files to work in Adobe products, or as flat PNG and JPEG files. Another intriguing export option is Export Layers, which results in a folder with a PNG file for each layer of your drawing.
Remember how fun it is to draw
Even if you don't need to draw and paint for work, or you don't consider yourself "an artist," Sketches Pro could suck you in. Sketches Pro can even record a video of you doing this, which would make a fun time-lapse if you sped it way up in post-production!
It's even fun to just to doodle. The ruler tool, for example, lets you draw perfectly straight lines and 90-degree corners with any of the other brushes and pens. So you could spend a conference call absent-mindedly filling a Sketches Pro canvas with straight lines and boxes in a ton of different colors. Drawing with this app is nearly as simple as doodling on a paper notepad.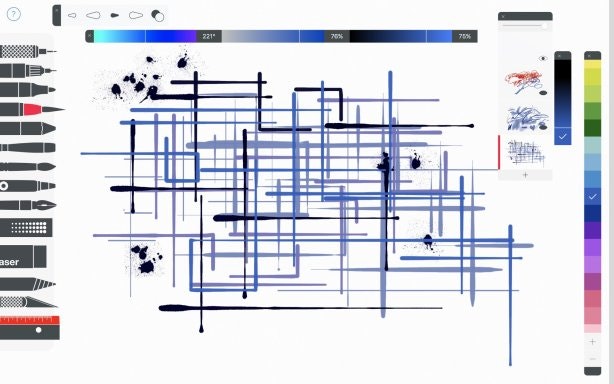 See, you can just doodle.
Touchscreen drawing apps are a natural fit because you're using your hands or a stylus directly on what you're drawing. Sketches Pro for the Mac does remove you one step (unless you have a fancy touchscreen Cintiq drawing tablet, that is), but the app's iOS roots and simple yet robust interface put the tools in your hands and then get out of the way. Give Tayasui Sketches Pro a spin on Setapp and see if it brings out the inner artist in you.