Personal finance manager
This app + 200 others in one suite.
Free for 7 days, then $9.99/month.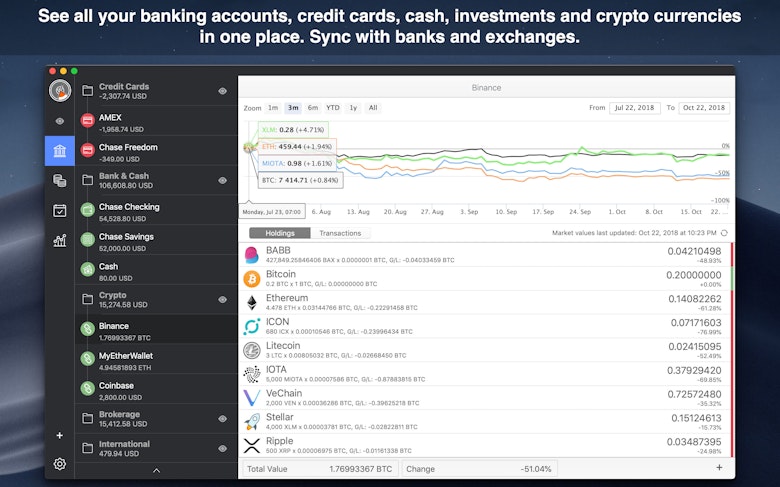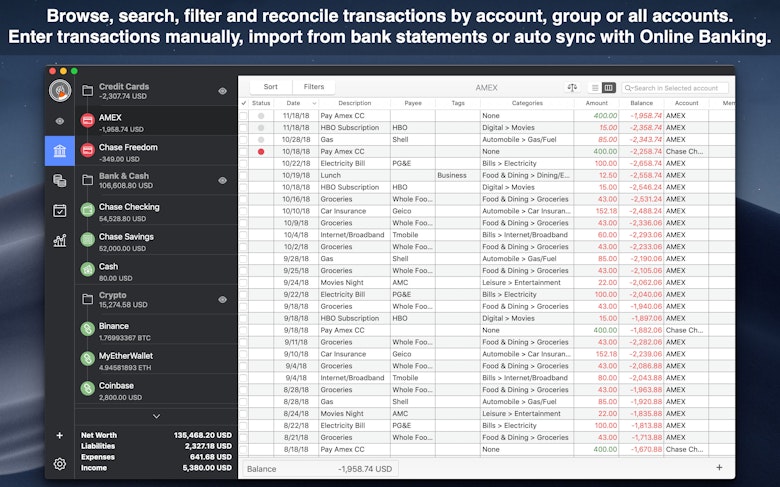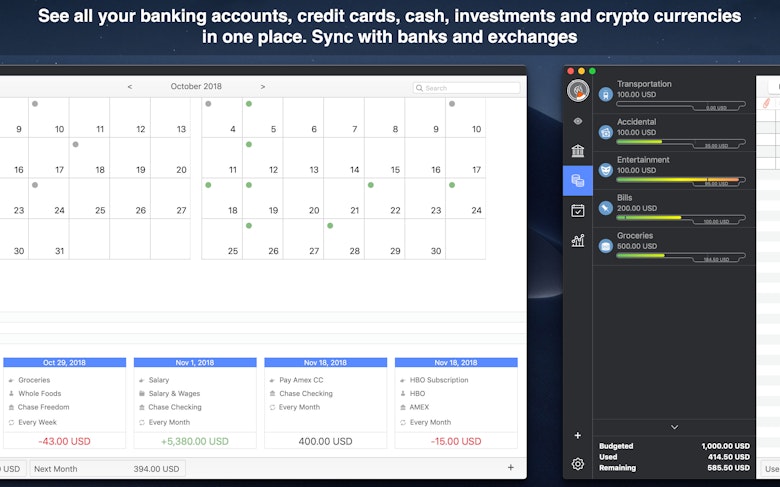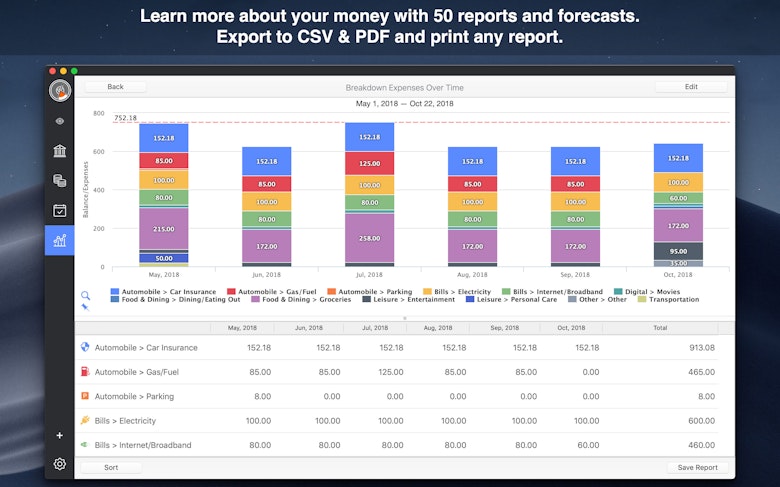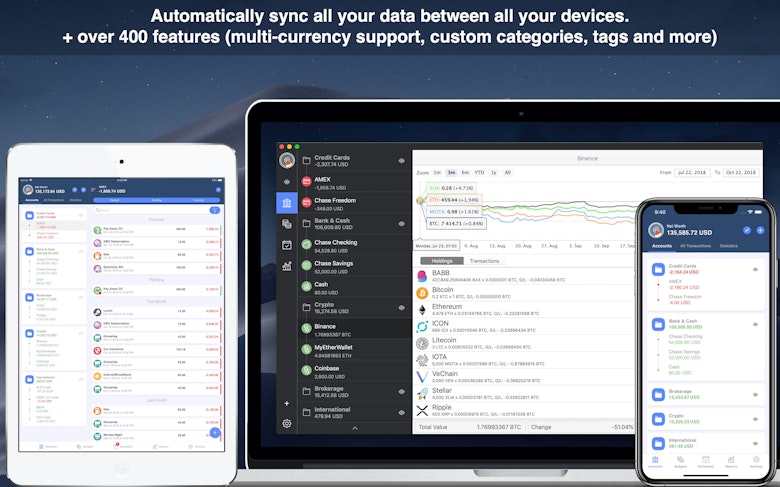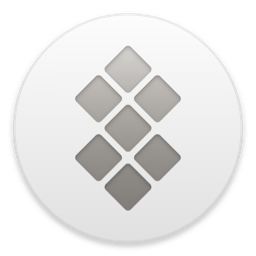 Your app + 200 more with Setapp.
Setapp is a curated suite of Mac and iOS apps — all yours with a single membership. Explore for 7 days free, then $9.99/mo.
MoneyWiz features
MoneyWiz is one of the best budget apps. It's not just a bill organizer, but a robust personal finance software. Track everything from accounts and groceries to rents and loans. Reports in MoneyWiz sync instantly across all your devices and worldwide online banking allows for a quick check of your stats. MoneyWiz is a simple and extremely well-designed budget software.
Bill reminder
Being an independent adult means you have to deal with your bills. That is never fun. But MoneyWiz can help you with the scariest part: missing a bill. You can schedule every payment and see timely alerts about each right when you need it. Paying bills will never feel overwhelming again.
Budget planner
Budget planning feels better with automations. Set up any number of budgets for anything you have planned and MoneyWiz will monitor your spendings. It will assign each transaction to the right budget on your list. No more digging through your checks to figure out what's what.
Spending forecasts
Need to know how much will you spend this month? How much disposable money will you have for a summer vacation? Do all your accounts have sufficient amounts to pay your bills? MoneyWiz can easily answer any of these questions. Plan all your spendings and feel confident at all times.
Bill payment organizer
The trouble with bills and other due payments is that they are too many. You have to keep in mind every monthly, weekly, and yearly item. That's fairly impossible if you don't have a bill organizer to stack all of them together in one list. In MoneyWiz you can view all your payments in a calendar, just a click away.
Banking software
If your bank uses at least some kind of online banking system, you can join it with MoneyWiz and every transaction will be displayed in the app as soon as it happens. Using a personal finance app for banking is a major time saver, especially when you can draw reports directly from your accounts.
Easy entry
Keeping track of transactions is also quite simple. All the entry fields can be quickly customized and adjusted to your needs. There is a single gesture to save a new transaction. All this makes transaction entry as fast as it can be, leaving you no excuse to skip it "because it takes too much time".
We love Setapp
---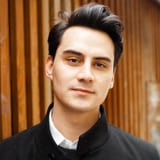 Very impressed with World Clock Pro @setapp @minimuminc. Making light work of time differences 🤘yew. How MacOS still doesn't have some kind of digital clock widget is mind boggling.
jessengatai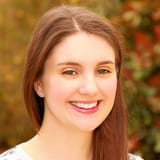 I have used Endurance (http://enduranceapp.com ) which is on @setapp to try and extend my battery life, 12 hour flight from Vienna to LAX and I spent about 8 hours working on an essay - not bad going!
Rosemary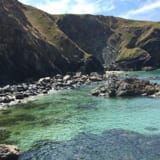 Wow just downloaded Setapp for my Mac - the value here is amazing. Some of the apps cost more than the monthly subscription alone and there are some amazing apps like Ulysses, RapidWeaver etc. @setapp
Mark Mitchell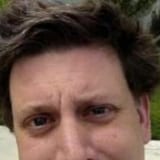 Discovered @PDFpen via @Setapp. Worth it just for the stellar OCR job it does on poorly-scanned assigned readings. Now to start playing with all those PDF editing features...
Nate Dickson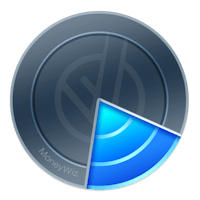 Spend less time searching, more time doing
Setapp has MoneyWiz plus more than 200 other beautifully designed tools in one collection. No ads, no in-app purchases, no paying for updates. Just apps, fully unlocked. Setapp is $9.99/month. You get an entire week free to try it out.
Rating: 4.5/5
based on 915 reviews
Pricing: Starting at $9.99
Latest Version: 3.7.9
System Requirements: 10.13