Sounds good? Well it looks good too.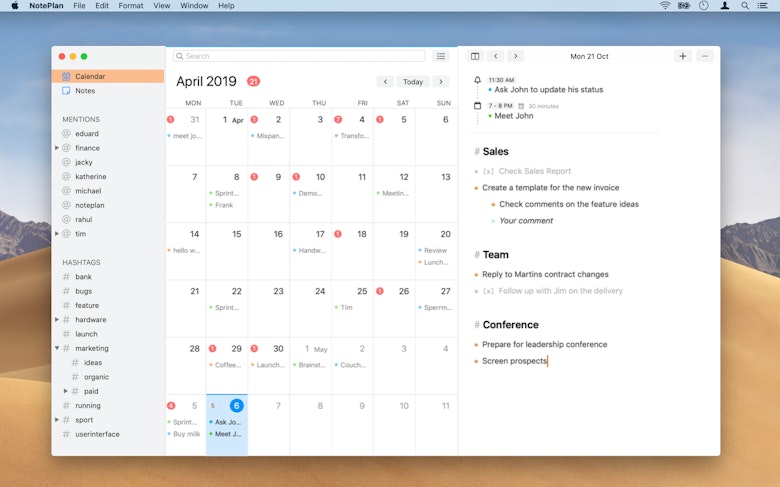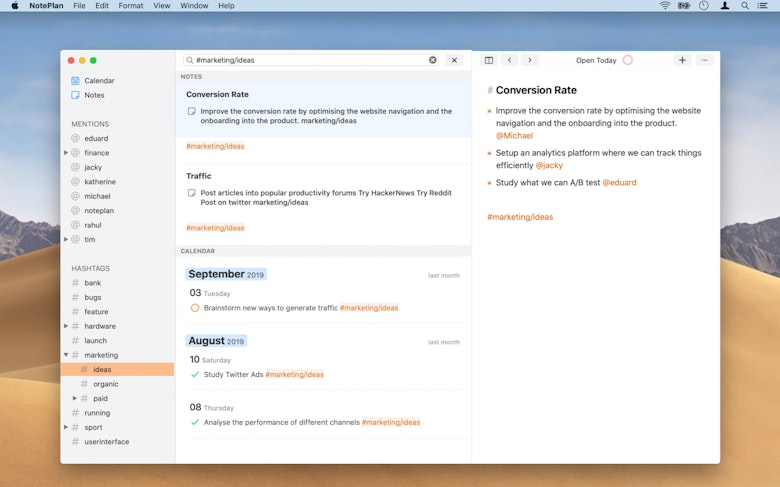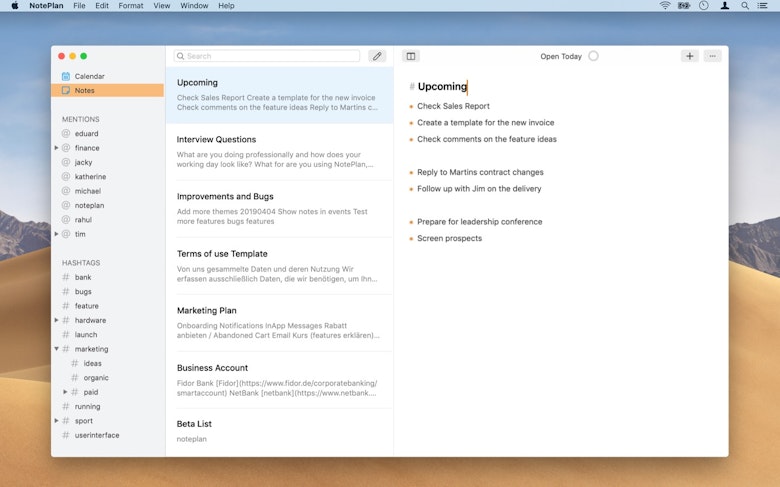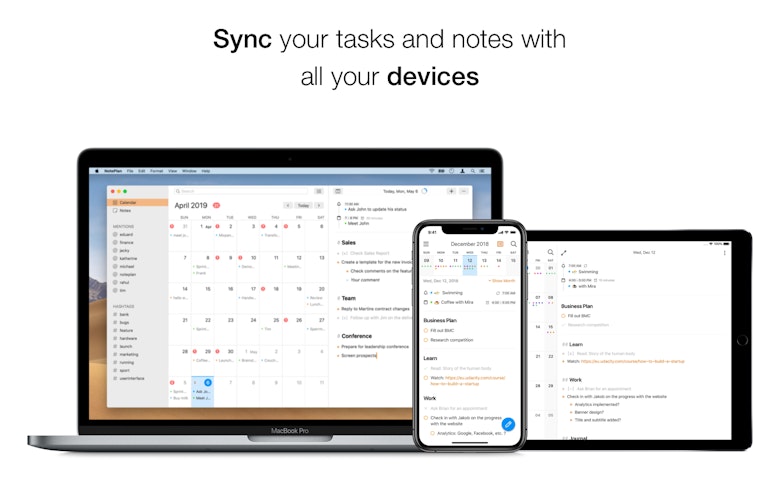 NotePlan features
Responsive calendar
The app is built around an active, responsive calendar. When you enter notes and tasks with deadlines, they're automatically added to your calendar, giving you a bird's-eye view of what you need to get done. Plus, its native calendar seamlessly syncs with outside platforms like iCal or Google Calendar to make sure you never miss a deadline.
Automatic notes
Note-taking is easy and organization is automatic. NotePlan supports tags, checkboxes, and filters to make your notes as useful as possible. This means that any note can become a checklist or to-do list as needed, while tagging makes it easy to sort and find exactly the page you need.
Markdown-ready
For some, the notebook is a planning tool. For others, it's a creative home where they shape the message they'll share with the world. The app supports Markdown so that any note can be formatted for easier reading and organization of your writing. With just a few keystrokes you can give your notes proper formatting, and hierarchy.
Robust backups
The app protects against the trauma of losing your notes with a robust backup system. It can backup lightweight text-document copies of every note you take to your iCloud server, so that even in the event of a serious hardware failure, you can recover your work. Nothing you type is ever saved on or sent to NotePlan's servers, only Apple's.
Hotkeys support
As gestures become a bigger part of computing, apps are adapting. NotePlan maximizes the use of hotkeys to help you easily switch between views and notes, format text with Markdown, and check off tasks. A smoother workflow is yours for the taking.
Any device
One of the most useful aspects of the app is that it doesn't tie you to a single device. You can install it on any iOS device and sync between them so that notes you take on the subway will be waiting on your desktop when you get home. This seamless functionality helps keep you in control.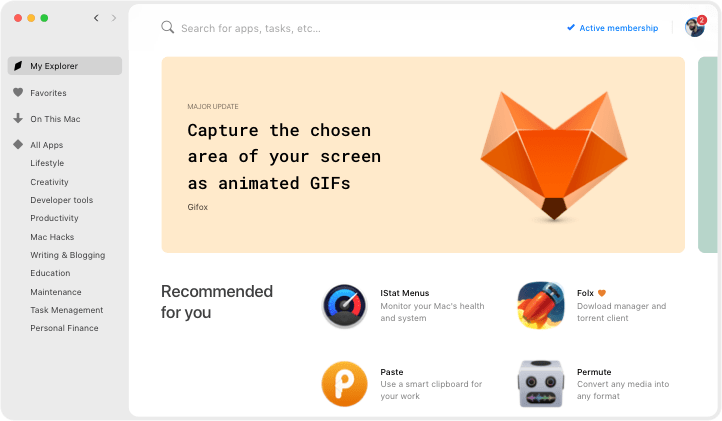 We love Setapp
---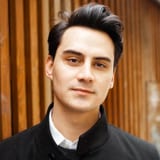 Very impressed with World Clock Pro @setapp @minimuminc. Making light work of time differences 🤘yew. How MacOS still doesn't have some kind of digital clock widget is mind boggling.
jessengatai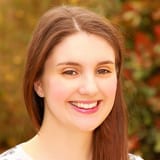 I have used Endurance (http://enduranceapp.com ) which is on @setapp to try and extend my battery life, 12 hour flight from Vienna to LAX and I spent about 8 hours working on an essay - not bad going!
Rosemary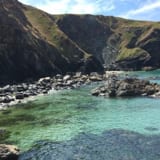 Wow just downloaded Setapp for my Mac - the value here is amazing. Some of the apps cost more than the monthly subscription alone and there are some amazing apps like Ulysses, RapidWeaver etc. @setapp
Mark Mitchell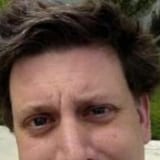 Discovered @PDFpen via @Setapp. Worth it just for the stellar OCR job it does on poorly-scanned assigned readings. Now to start playing with all those PDF editing features...
Nate Dickson