Sounds good? Well it looks good too.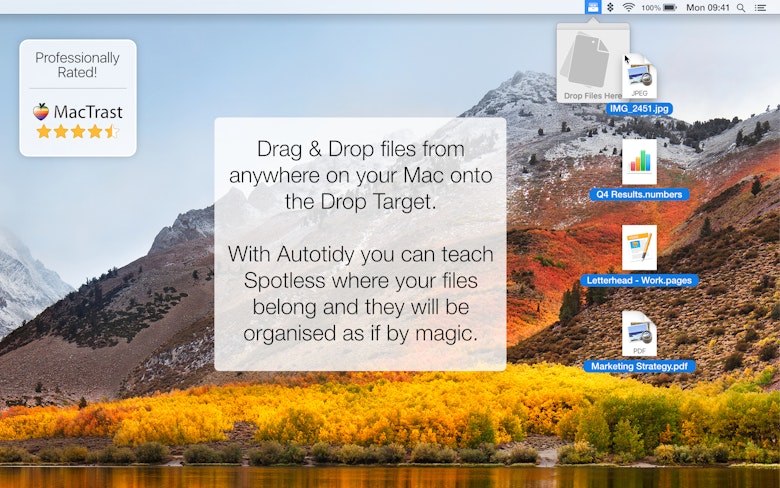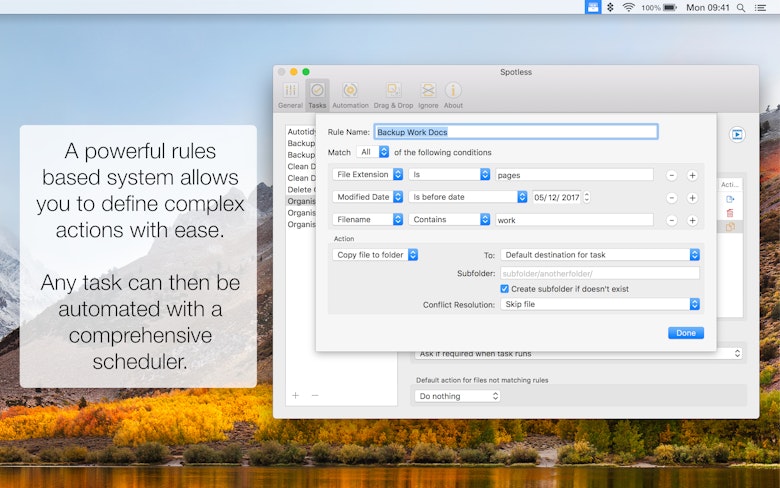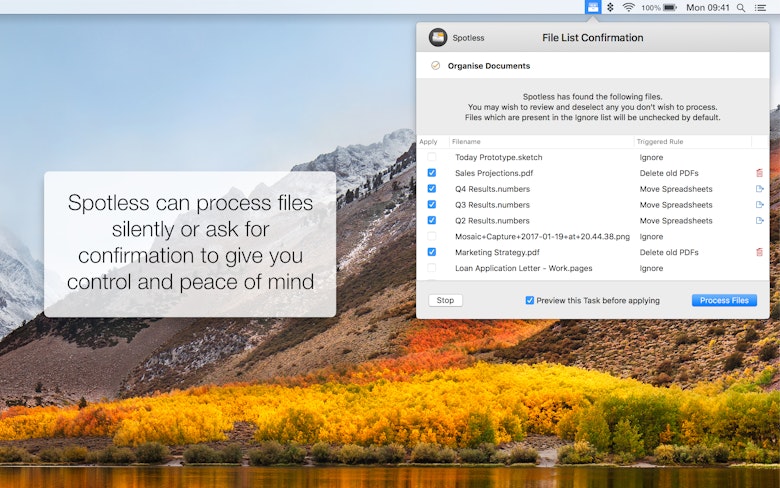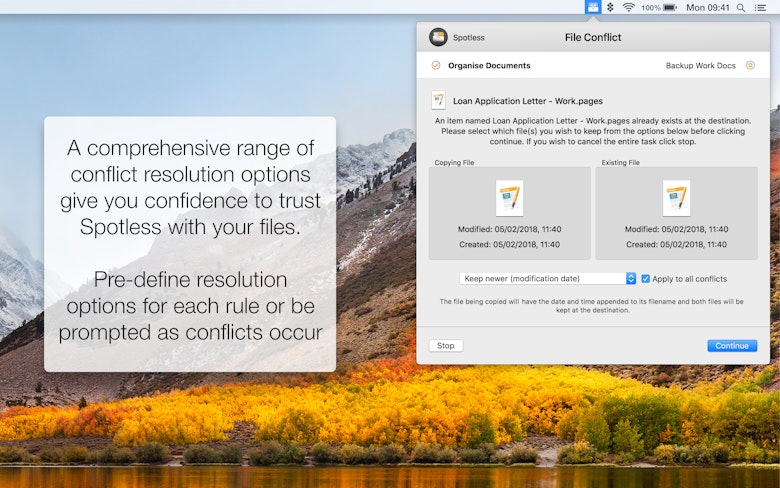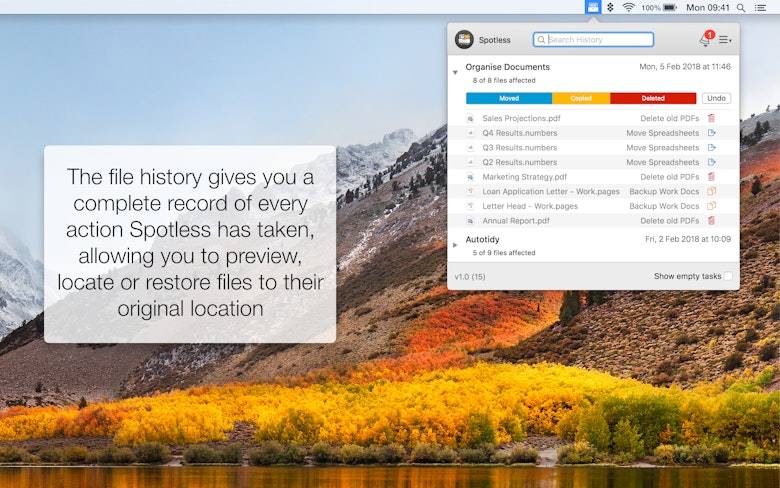 Spotless features
Locate or restore any file
Spotless saves you from hair-brained searching for files and folders. When you drop a file into the app, its automatic sorting will find the correct shelf in your computer library. Then, when you need to find it, you can use Finder to reveal its location. If you want to move the file again or even put it back, that's easy too.
Create customizable rules
The simple setup window helps you create rules that make sense to you. Choose from a list of actions, set the specifics, and then let Spotless do the rest. Copy? Send? Move? The possibilities are endless and the tasks are unlimited. You can even create actions with multiple steps by grouping rules together to keep all the files and folders organized.
Drag and drop files
The Spotless drag-and-drop feature is the simplest way to get your bits and bobs in order. Just add the native extension to your desktop so you always have the app on hand. No matter the file type, size, or how buried it is in your drives, drag a file to the Drop Target icon in your menu bar and let Spotless get to work.
Schedule a cleanup
Discover the life-changing magic of scheduled tidying. Tuesdays at 2 am or Sundays at 8 pm? You decide. Set up organizer app to run in the background so you can get on with your day. Prefer to be notified? You can ask Spotless to alert you when it's about to run a process and choose to preview the task before applying.
Back up automatically
Create an archive a librarian would be proud of. When you copy files, you can choose to organize them into folders based on type, date, or size. Spotless will save you memory and space by not duplicating full backups or individual items. Make sure you schedule a regular backup to an external drive so you never forget to save your files again.
Manage conflict resolutions
Take charge of conflict resolutions in your folders and your drives. Default actions allow you to decide what to do with files that aren't handled by the rules. There's a preview option so you can review the changes before they are applied. The process manager gives you control of what goes where and that means nothing is unintentionally deleted.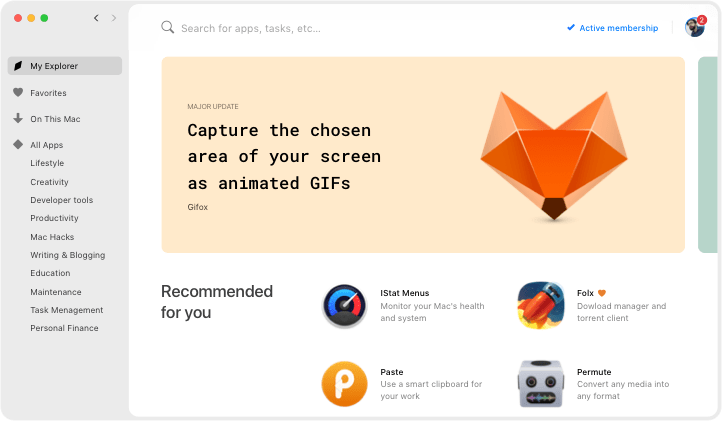 We love Setapp
---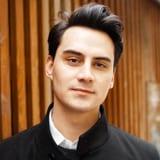 Very impressed with World Clock Pro @setapp @minimuminc. Making light work of time differences 🤘yew. How MacOS still doesn't have some kind of digital clock widget is mind boggling.
jessengatai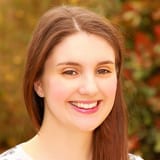 I have used Endurance (http://enduranceapp.com ) which is on @setapp to try and extend my battery life, 12 hour flight from Vienna to LAX and I spent about 8 hours working on an essay - not bad going!
Rosemary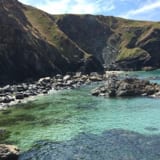 Wow just downloaded Setapp for my Mac - the value here is amazing. Some of the apps cost more than the monthly subscription alone and there are some amazing apps like Ulysses, RapidWeaver etc. @setapp
Mark Mitchell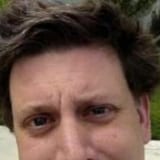 Discovered @PDFpen via @Setapp. Worth it just for the stellar OCR job it does on poorly-scanned assigned readings. Now to start playing with all those PDF editing features...
Nate Dickson