Sounds good? Well it looks good too.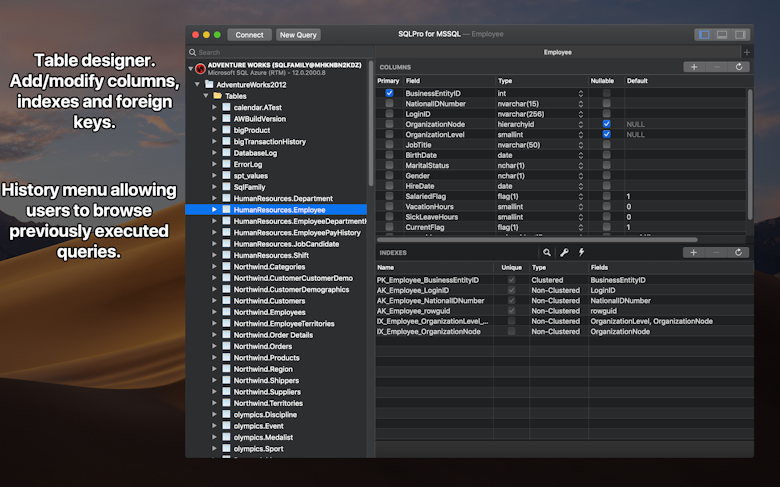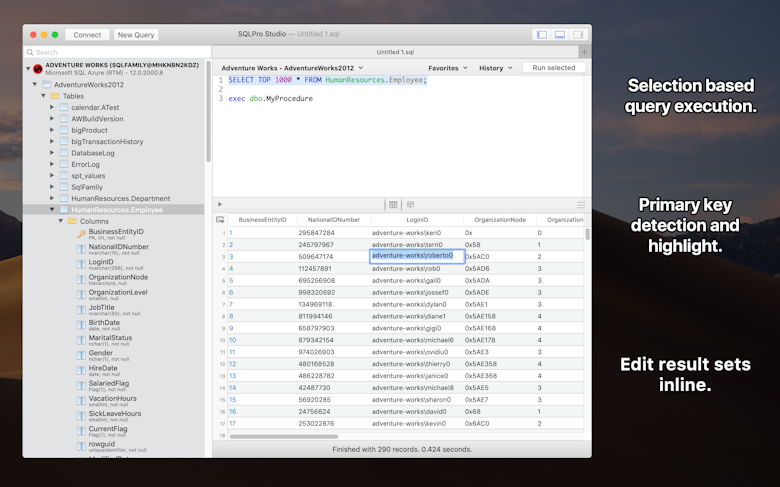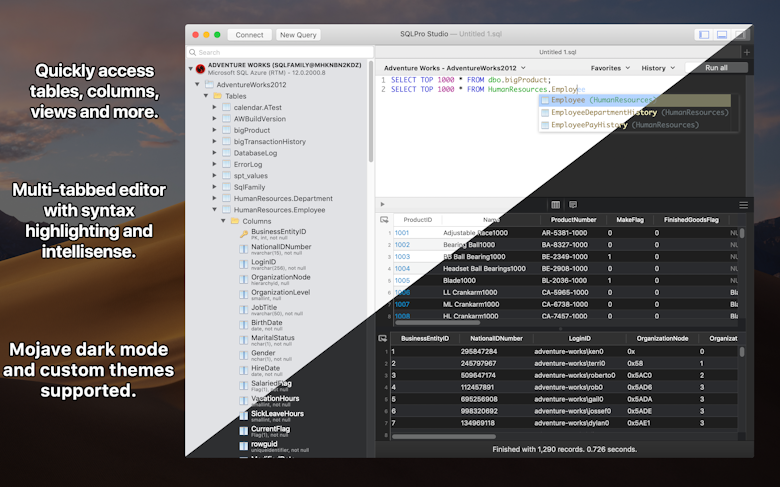 SQLPro Studio features
Compatible with Major SQL database types
Do not limit yourself to a single database type! The app allows you to use the majority of SQL database types, not to mention MySQL, Microsoft SQL Server (2005 or higher), PostgreSQL, MariaDB, and Oracle (8i or +).
A number of result sets at once
How about getting the results for multiple tables at the same time? Fancy simultaneously executing a number of queries? Use this handy database management app! The SQL formatter and validator feature is a nice way to go if you often work with SQL and DBs. Get the results for each table displayed at once, both messages and errors. Update table content with ease.
One or several cells selection
Work with results using single or multi-cell selection, just like a spreadsheet. Select one or several cells at a time. Now with this cool app, you do not need to use the full-row selection once you wish to select a single cell. It's designed to format any kind of SQL statements with ease.
Solid basic SQL management tools
This simple database software has everything you may expect in terms of database management. Create or update tables without efforts. You can detect any kind of syntax errors within seconds because if there is a mistake, it gets highlighted. Plus, there is a handy autocomplete feature.
Cloud-based services support
Regularly work with cloud vendors, for example, Heroku, Amazon relational database service, or Microsoft Azure? This application has got you covered because it supports major cloud database vendors. The functionality is the same as the one provided by a locally-hosted SQL instance.
Native utility for your Mac
This Mac application does not require Java. For you, this means that it effortlessly outperforms any of the other Java based database management interfaces. So, it smoothly runs each time you launch it on your computer.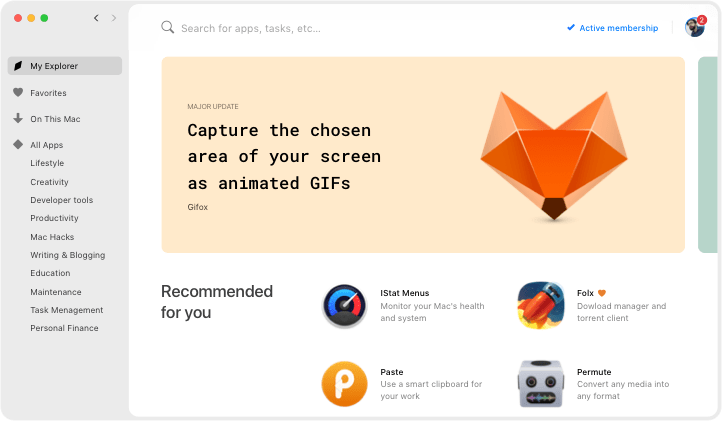 We love Setapp
---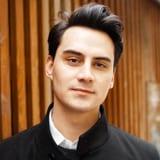 Very impressed with World Clock Pro @setapp @minimuminc. Making light work of time differences 🤘yew. How MacOS still doesn't have some kind of digital clock widget is mind boggling.
jessengatai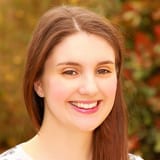 I have used Endurance (http://enduranceapp.com ) which is on @setapp to try and extend my battery life, 12 hour flight from Vienna to LAX and I spent about 8 hours working on an essay - not bad going!
Rosemary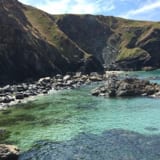 Wow just downloaded Setapp for my Mac - the value here is amazing. Some of the apps cost more than the monthly subscription alone and there are some amazing apps like Ulysses, RapidWeaver etc. @setapp
Mark Mitchell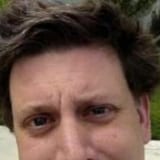 Discovered @PDFpen via @Setapp. Worth it just for the stellar OCR job it does on poorly-scanned assigned readings. Now to start playing with all those PDF editing features...
Nate Dickson