Sounds good? Well it looks good too.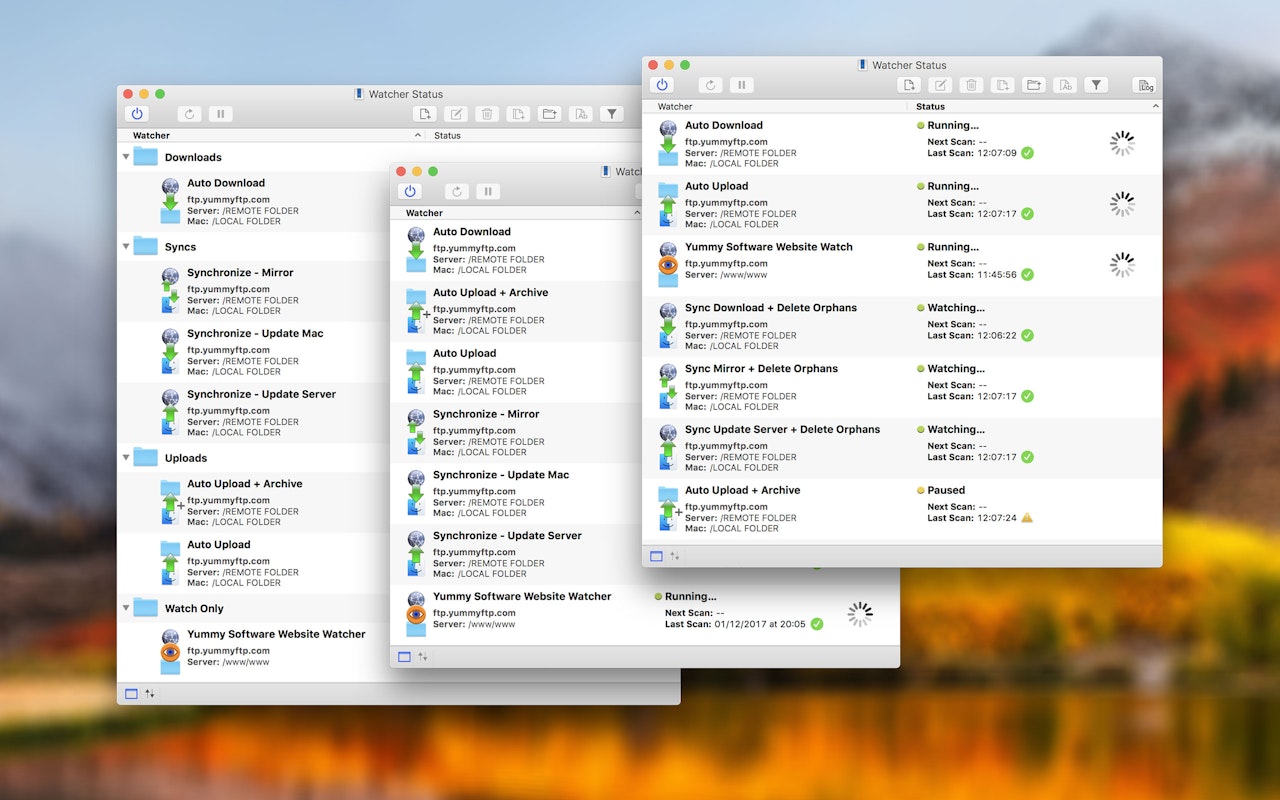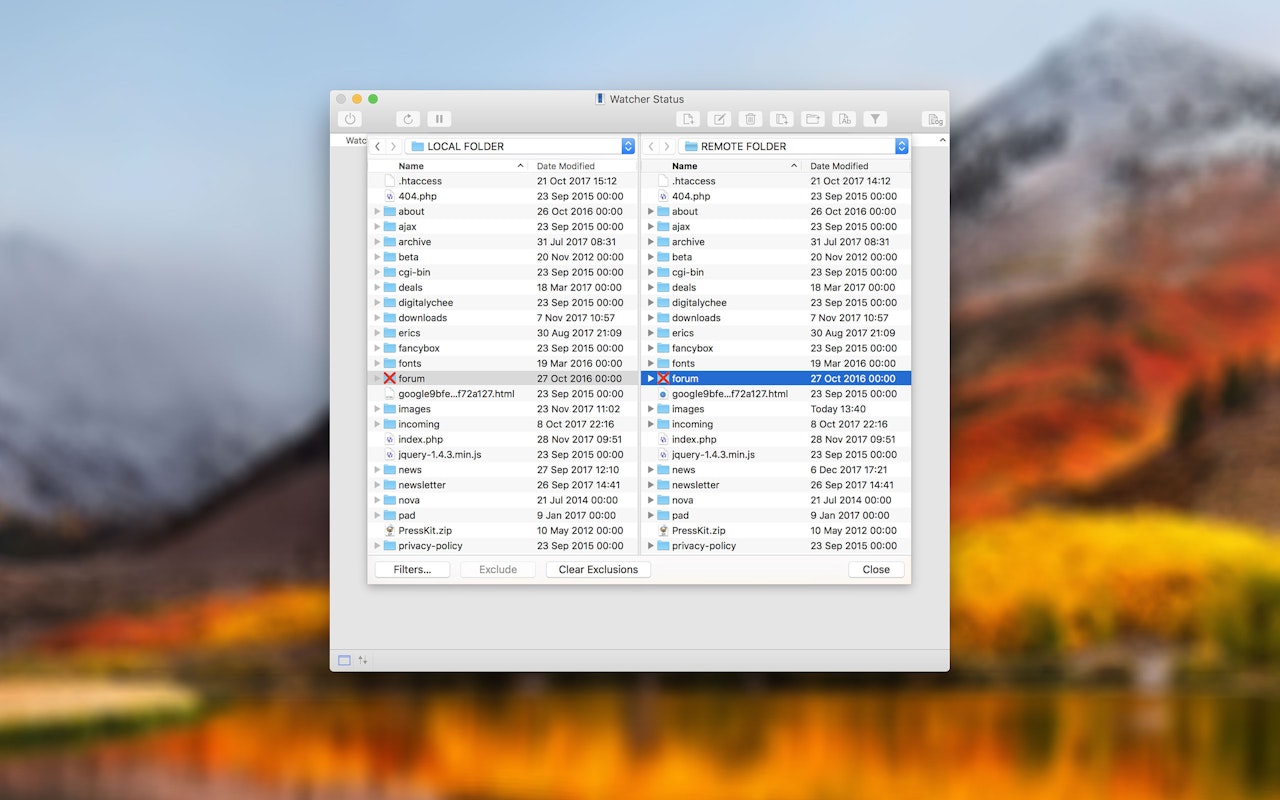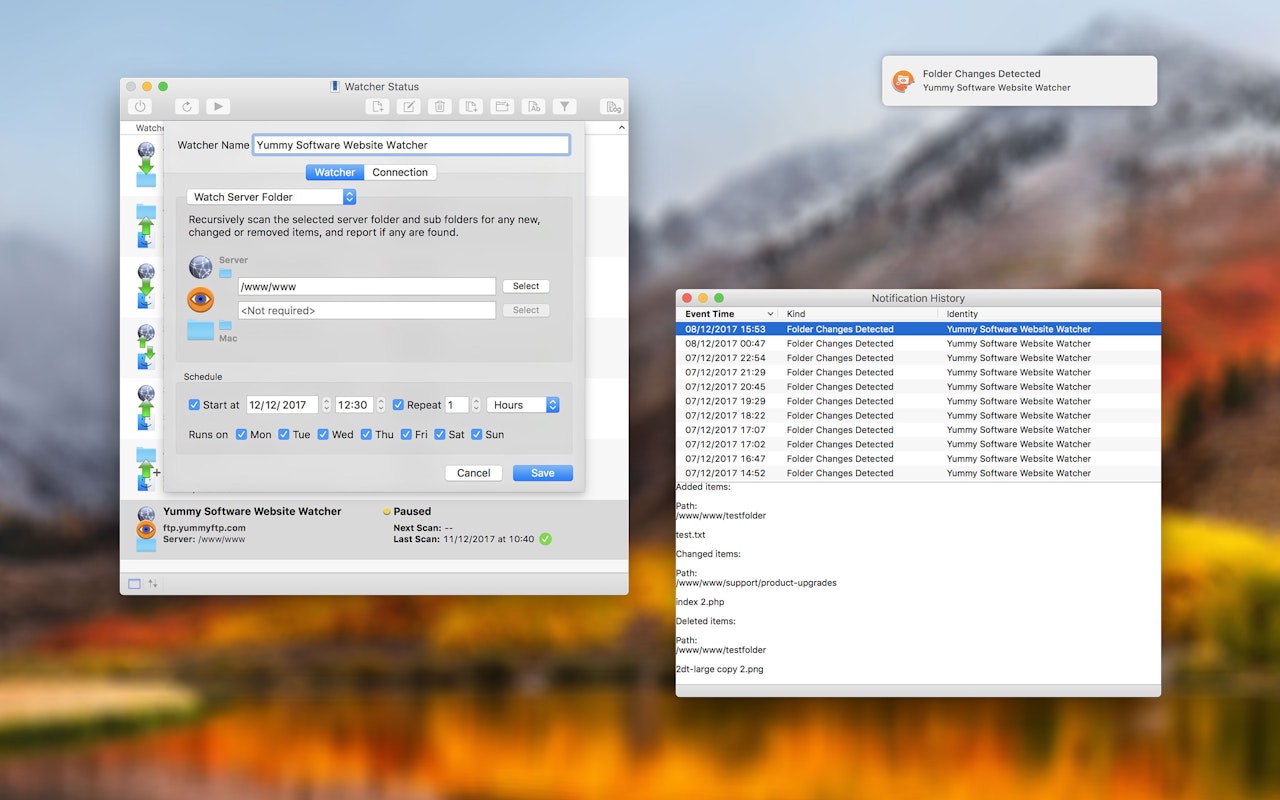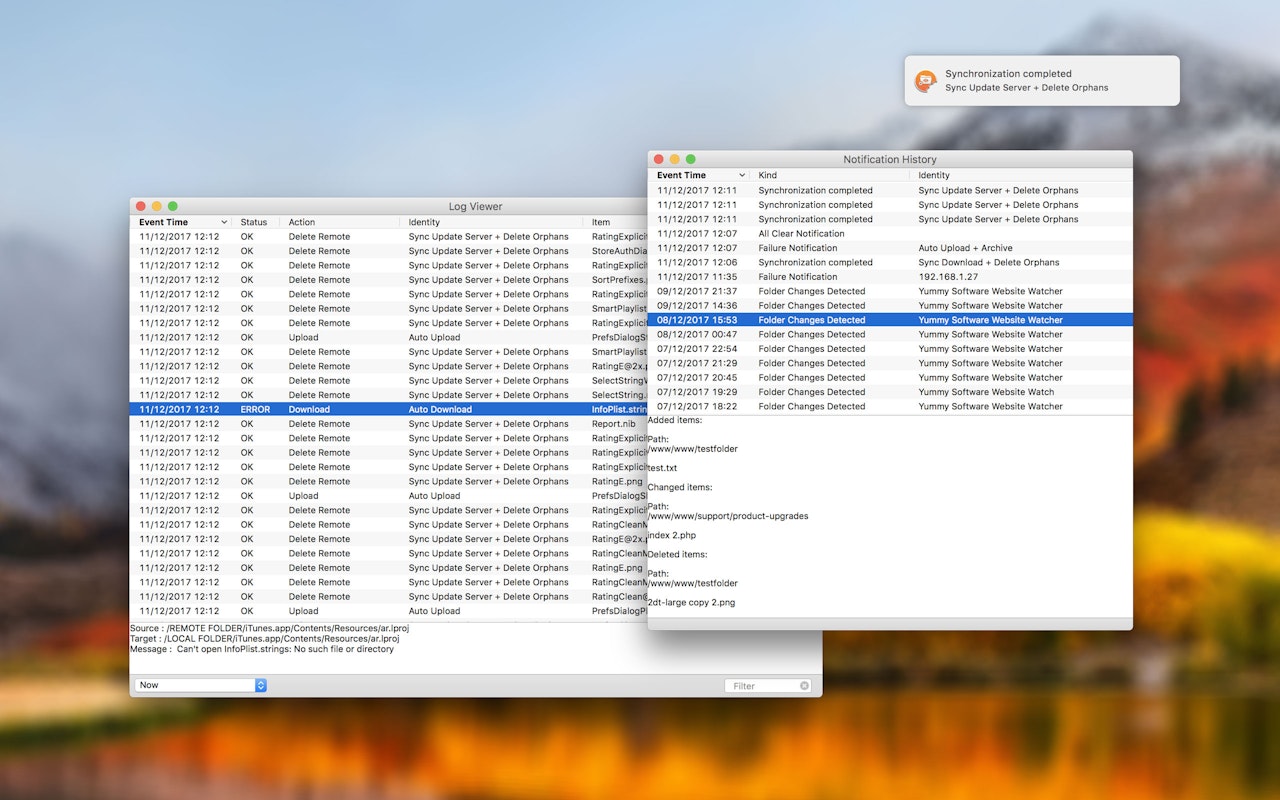 Yummy FTP Watcher features
Folder watching
Assign the app to work as an automatic FTP manager for local and remote files. Once you instruct it to watch a file or folder on your Mac or server, it will automatically upload, download, and archive anything added or changed. This gives you and your team complete version sync for important documents, keeping you all on the same page.
Automatic monitoring
Let the app do all the FTP monitoring silently in the background, but easily access its monitor view and editor through the menu bar. If you need to double check a sync, those windows are just a click away. You'll be able to see automated transfers as they happen, make any last-minute changes, and perform manual tweaks as needed.
Preset schedules
If you'd rather not use the app to monitor and update files, schedule updates and syncs in advance. Set up managed file transfers that sync at preferred regular intervals: seconds, days, months, and even years. The syncs can run in any direction: Mac to server, server to Mac, and even mirror syncs.
Folder browser
View all your servers through a single built-in folder browser. Whether you use FTP/S, SFTP, or WebDAV/S servers, you can easily and quickly search for what you need and restructure the layout right from the app. It also handles multiple servers with ease, letting you toggle seamlessly between different remote locations.
Defined boundaries
Set bandwidth restrictions, filtering, and exclusions to let the auto FTP manager truly shine. That way the peace of mind simply can't be overstated. The app's background work won't put a dent in your connection, and you won't spend extra time updating files that don't need it.
Email notifications
Keep yourself in the loop and use automated email notifications to know when things are going smoothly or when a problem has occurred, so you can quickly jump in before the crisis hits. A hands-off approach shouldn't mean no communication. In fact, communication is key.
We love Setapp
---
Very impressed with World Clock Pro @setapp @minimuminc. Making light work of time differences 🤘yew. How MacOS still doesn't have some kind of digital clock widget is mind boggling.
jessengatai
I have used Endurance (http://enduranceapp.com ) which is on @setapp to try and extend my battery life, 12 hour flight from Vienna to LAX and I spent about 8 hours working on an essay - not bad going!
Rosemary
Wow just downloaded Setapp for my Mac - the value here is amazing. Some of the apps cost more than the monthly subscription alone and there are some amazing apps like Ulysses, RapidWeaver etc. @setapp
Mark Mitchell
Discovered @PDFpen via @Setapp. Worth it just for the stellar OCR job it does on poorly-scanned assigned readings. Now to start playing with all those PDF editing features...
Nate Dickson