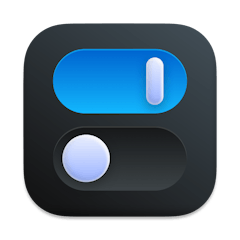 "Double the number of daily users in the first week on Setapp."
– Allen Wang, One Switch developer

The idea behind One Switch was to create an easy set of key switches for every mode. From Screen Saver to hiding desktop icons to connecting your AirPods. So instead of remembering tons of macOS settings, you use the menu bar toggles. While its a great asset for every Mac, the creators of One Switch aimed at taking it to the global market. Setapp became a shortcut.
Before Setapp
Before submitting the app, some of the Fireball Studio developers — the creators of One Switch — became Setapp users through the Family Plan. They loved the interface and were impressed by the quality of apps. For instance, Bartender and iStat Menus were the tools they used on a daily basis, so it made much sense to use them alongside other applications in one pack.
"We've never tried a subscription model before. Now we're considering to use it with our next application."
The initial version of One Switch was distributed via the company website as well as Price Tag Store in China. But they were constantly on the lookout for an effective Mac App Store alternative that would have an easier app review and an extensive international user base. They found Setapp.
Turning Point
The idea about joining Setappp was an aha moment for the team. The subscription model seemed very promising as a source of recurring revenue, and with big players like Apple integrating it into their Arcade product — totally worth a try.
"We instantly decided to add One Switch to Setapp. We knew it was an entry point to the global Mac app market."
Compared to the App Store, Setapp offers 10x faster app review. Integration is easy — you basically only connect SDK and it's all up and running. What they didn't expect was to get the immediate results right after joining Setapp.
"We have a friend who is one of the developers behind Inboard. We were super inspired when he told us they had 50% of their daily users coming from Setapp. That's kind of what we were aspiring to as well. One week with Setapp, and we've actually reached the goal."
Setapp Experience
According to the developer, Setapp gave them a steady distribution channel — a path to capturing the attention of global Mac app users. Instead of trying to drive sales, they can now focus on refining the product.
"We receive great feedback from Setapp users every day. They actually help us build a better version of One Switch. The most incredible thing is we got a mention from the MacRumors editor in their app review article in the first week on Setapp. Couldn't even dream of this."
Become a part of Setapp