Edit all your photos at once with Photobulk
As with every art form, photography has a fun part and a not-so-fun part.
The fun part? Trekking to the view, fiddling with lenses, setting up the shot, waiting patiently, and capturing the perfect moment.
The not-so-fun part? Coming home to a jumble of digital photos with nonsense file names and thinking: did I really take all these? And what am I going to do with them?
Enter Photobulk, a workhorse image editor for Mac that makes the grunt work of photography a little smoother. It works in batches to speed up your workflow, letting you quickly watermark photos, rename files, or optimize images an album at a time.
Batch edit and watermark hundreds of pictures
Instead of spending hours doing the same repetitive tasks, just set one template for the group and let the app do the rest. In just a few clicks, it's all done. If you're ever worried that your presets might not work for a particular image, the app's individual preview feature helps catch mistakes before you publish, too.
Your time is best spent behind the lens, not behind the keyboard. Snap for longer, and let Photobulk take care of the rest.
Bring all your photos in
The first step to bulk editing photos is adding the photos you want to edit. Drag and drop a folder of images into the app window, or click the + button at the bottom of the screen to select individual images.
When you're finished, click Open. The preview images at the bottom of the screen let you quickly scroll through the pictures you've added. Hit the Trash icon to dispose of any that don't belong.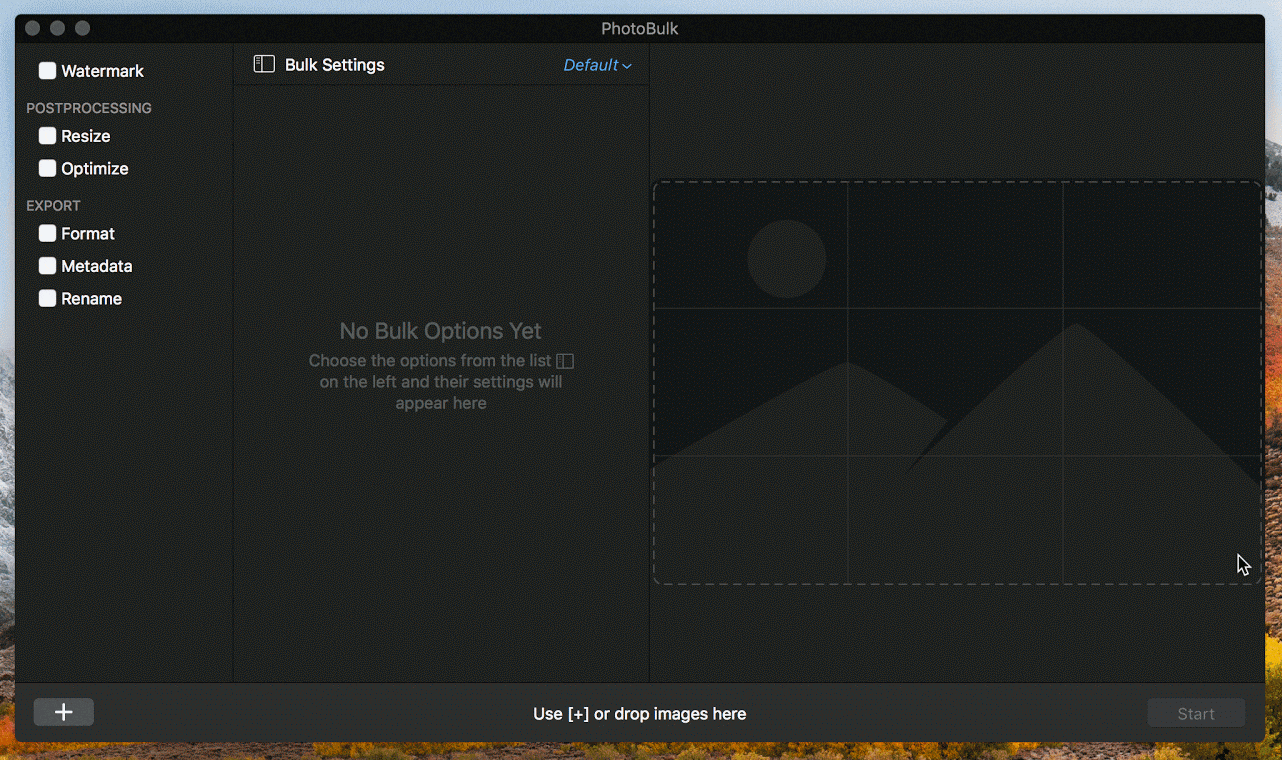 Build a bulk edit
Click the checkmarks on the left hand side to add an operation to your bulk edit and a separate control panel will appear in the middle column. Use the drop-down menus to configure the image resizer, image converter, and image compressor, as well as your watermark and other post-processing options.
The + sign can be used to add additional watermarks if you need to credit multiple artists. If you plan to reuse a particular bulk edit, click Presets in the menu bar and select Save As.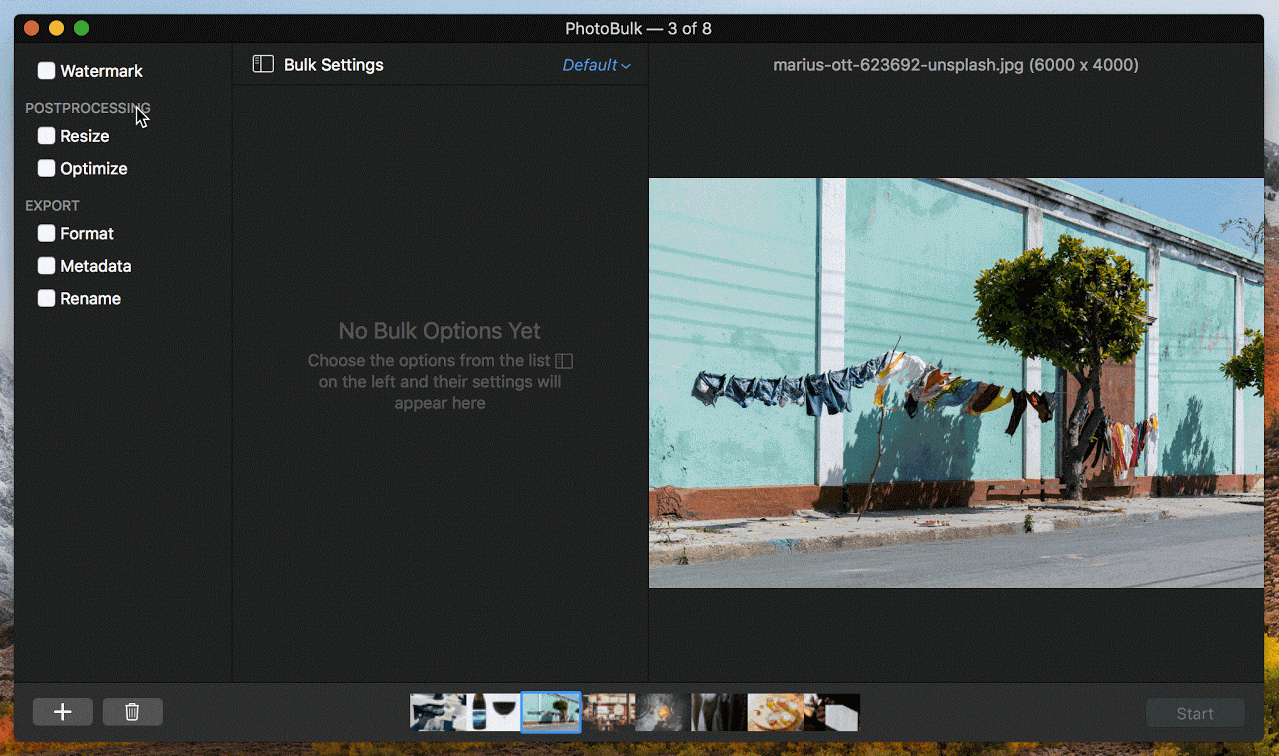 Export with just the data you need
The app also lets you configure file names, metadata, and image formatting for your photos. As you add these items to your bulk edit, you may want to consider their destination and what naming convention will be most useful in keeping them organized. You may also want to remove GPS data under the Metadata field if you're planning to post your work online.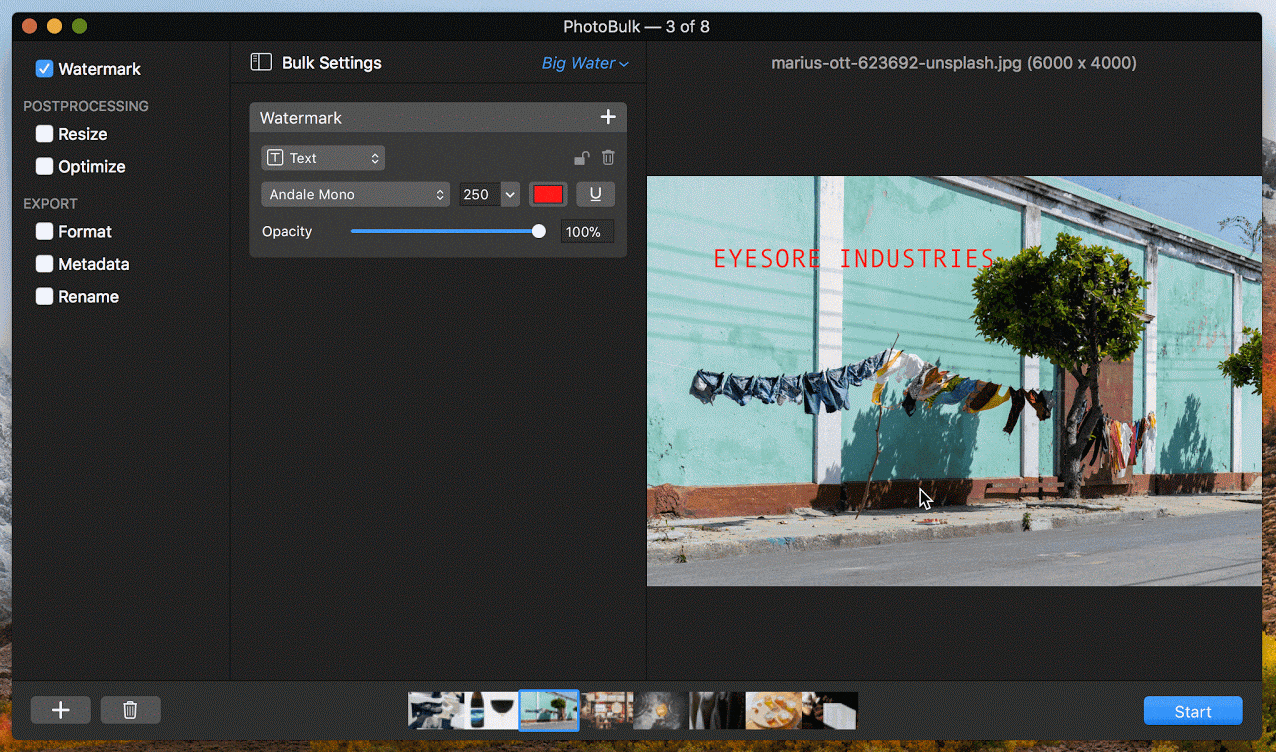 Publish whole photo sets in minutes
When you're happy with your settings, flick through your batch to ensure that your work looks as you'd like it. You can click and drag individual watermarks if they're in an inconvenient place. Click Start to apply your edits, select a destination for your finished images, and click Save. Then put your feet up and enjoy the time you've saved.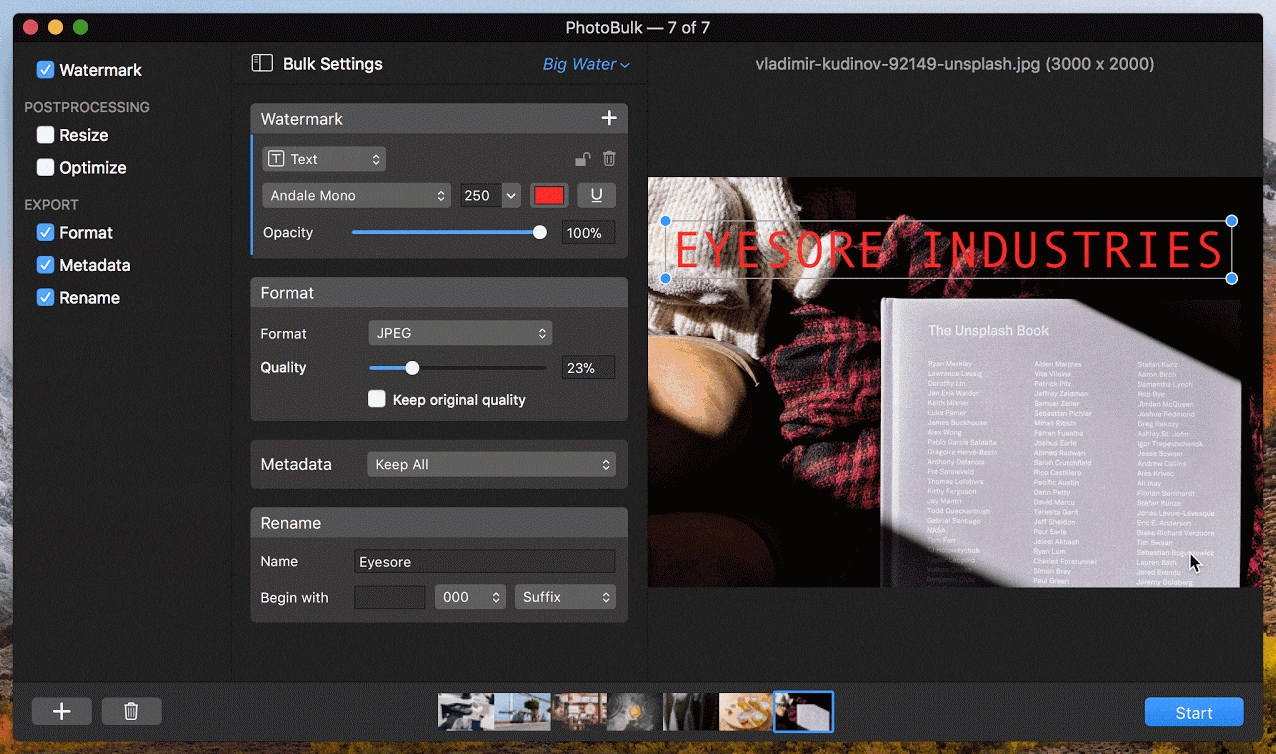 With Photobulk, available on Setapp, you'll always have the tools to make your work look right, even at scale. Just point, shoot, and bulk edit.