Chronosync Express: Make Reliable Backups and Synchronize Folders Easily.
Chronosync rejects a one-size-fits-all approach to backing up files. The app works like a routing switchboard for your files. Its synchronization documents let you select only the files you want to backup, specify their destination on a linked device, and schedule backups at recurring intervals.
Plus, you'll stay up to date with your files when you enable system notifications and emails. The Chronosync app also provides a detailed history and analysis of your backups, letting you stay ahead of the game.
Here's how to put it to work:
Setup backup and sync
In the app, you can manage your backups with Synchronizer Documents. Each document lets you set the source and destination of the files you'd like to back up, as well as the direction of the sync. You can choose to back one file up to another location, or sync two files bidirectionally.
To complete the sync manually, just click the large arrow button in the middle. You can also preview what the sync will do with the "Trial Sync" button.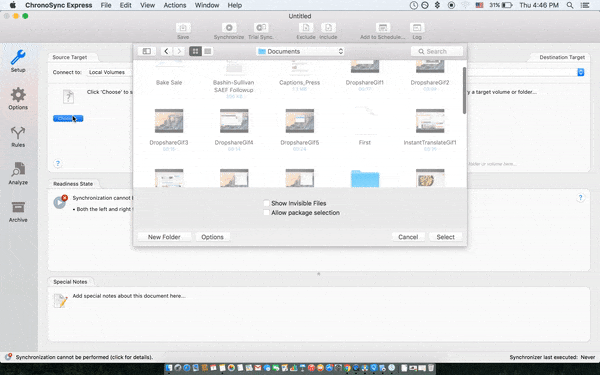 Scheduling
Whether you're more of a "set it and forget it" person or just need to be totally sure your files get backed up on time, the solution is built right in.
To automate a monthly, daily, or weekly sync, click the "Add to Schedule" button. You'll be able to set syncs for intervals or specific dates.
You can also use the checkboxes to set options for how the app will handle errors, ensuring that if something doesn't go according to plan, you'll be sure to know.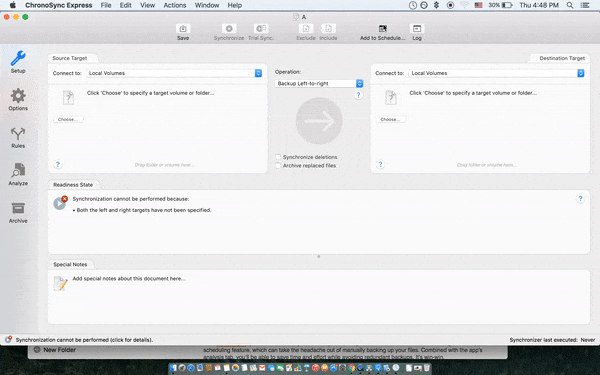 Alerts
You'll also be able to set your preferences so that the app keeps you regularly updated.
To configure alerts, open the preferences tab. Under the Synchronization Behavior section, the button marked "Setup" will let you enter your email information. This in turn will let the app notify you by email about successful or upcoming syncs.
You can also use the default setting, which sends desktop notifications instead.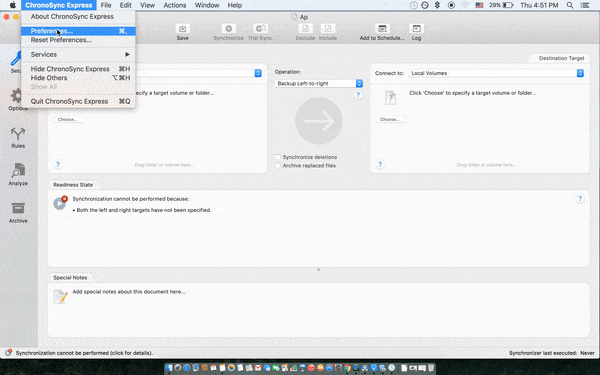 Analysis
If you're ever unsure of what a sync covered, you can click the "Analyze" tab to get a detailed record of previous syncs. Select a file to see where it came from, where it was headed, and whether it got there. Click
the "+" button for even more insight into your files.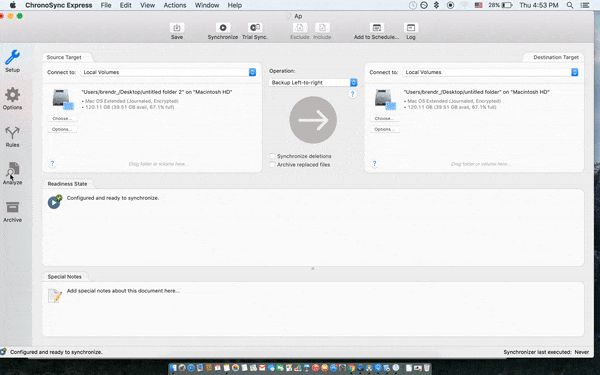 With Chronosync Express, you'll be able to stay comfortably ahead of your files. Make sure to take advantage of the app's scheduling feature, which can take the headache out of manually backing up your files.
Here is a wrap-up video of how to sync files and folders on a Mac:
Combined with the app's analysis tab, you'll be able to save time and effort while avoiding redundant backups. It's win-win.