Extend Wi-Fi range, increase speed and fix network problems with WiFi Explorer
WiFi Explorer is an easy-to-use network analyzer that gives you the power to investigate your WiFi's performance. It empowers you to diagnose, and possibly fix, that drop-off in speed — all without a professional.
The app breaks down the networks in your area by clear metrics and generates easy-to-read graphs automatically. Plus, its troubleshooting guide helps even novice users take some useful steps toward improving performance or resolving issues.
Scan all network devices in seconds
WiFi Explorer is the powerful wireless network scanner for macOS. When the app is opened, it scans your wireless environment and generates a list of active networks. You can filter these networks by vendor, signal strength, and more by clicking the top of each column.
Use the Filter field at top right to narrow down the networks on display, or use the drop-down menu to refine the types of networks you want to see. To stop scanning, click the large Stop button; to start again, click the Play button.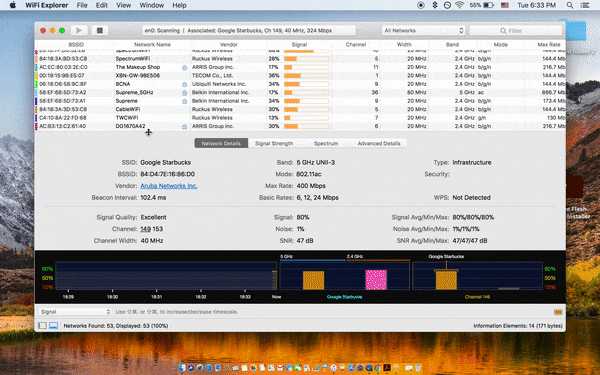 Get detailed WiFi information
You can click any network from the list to see more information about it. Once it's highlighted, select the Network Details tab below. This will display a timeline of its performance over time, as well as other information about signal quality and interference.
Click over to the Advanced Details tab and use the expandable arrows for even more detailed information about each network.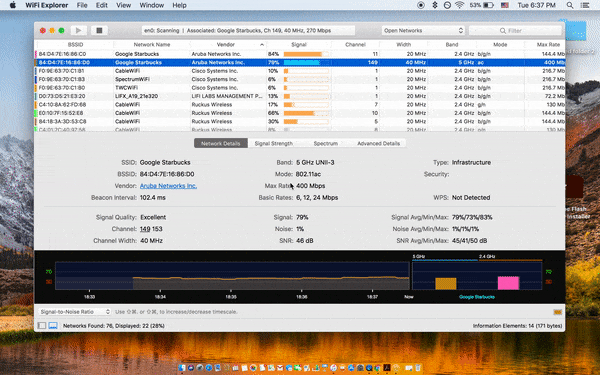 Analyze network performance, channels, and WiFi speed
The app gives you different options for comparing the networks in your network.
Under the Signal Strength tab, you'll find a display that compares the strength of local networks over time. The highlighted portion of the graph changes based on which network you've selected, and the graph is color-coded for easy reading.
The Spectrum tab instead shows you how the frequencies of different networks overlap, which can indicate slowing.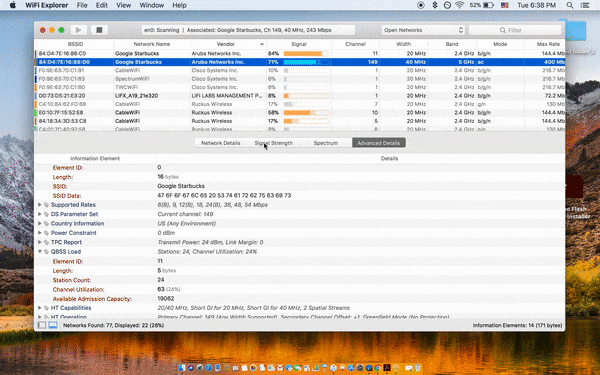 Resolve Wi-Fi issues
Wi-Fi Explorer shows you what actually affecting the connectivity and performance of your home, office or enterprise wireless networks. Want to try your hand at fixing some of your network issues? Click the Help tab in the menu bar and select WiFi Explorer Help. This handy guide includes both detailed background information to help you better understand your scans and easy-to-follow troubleshooting instructions to help you identify channel conflicts, overlapping or configuration issues.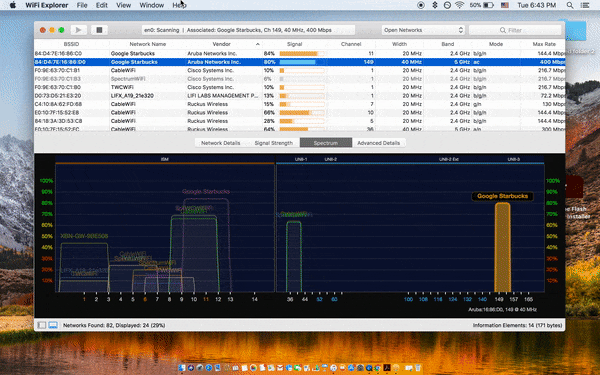 WiFi Explorer by Setapp can help you get to the bottom of any WiFi network issue you may have. Its intuitive, colorful interface is the perfect companion as you dig into the invisible world of networks that surround you.