News Explorer: a powerful news reader for your Mac
News Explorer lets you combine updates from your most trusted news outlets into a custom feed on your desktop. The app handles RSS feeds and Twitter posts alike, putting all the sources you want to hear from in the same place. Smart filters help sort and organize your updates, so you only see the stories that interest you most, while customizable alerts and layouts are ready to meet your reading needs.
So much news, so little time – make the most of yours. Here's how to get started.
Adding RSS feeds
It's easy to get updates from blogs and news sites. Click the "+" button in the lower left corner of the app window and select "Add new feed…" from the pop-up menu. You'll then be prompted to enter a link. The app can locate the RSS feed from the homepage URL of most major news sites and blogs. For large media outlets, specific verticals may have their own RSS feeds (nytimes.com vs nytimes.com/arts).
When you've selected the feed you want, select the proper destination from the drop-down menu and click "Add Feed".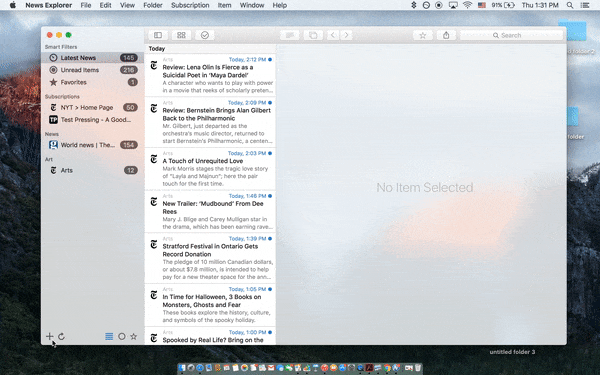 Adding Twitter feeds
If you choose to allow the app access to your Twitter account, you can also add feeds from the accounts you follow.
To do so, go to "subscriptions" in the menubar and click "search." Make sure you have "Twitter Accounts" selected from the top drop-down menu. Enter the @ username of the account you want to follow and click "search," then select the feeds you want to add from the results below and click "Add selected feeds."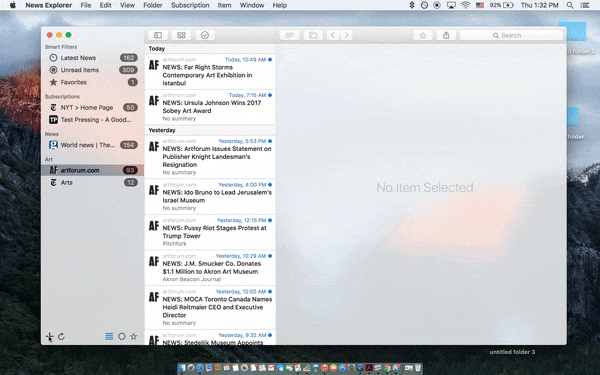 Folders
Once you've added a number of feeds to your subscriptions list, you may find them a little hard to manage. Folders bring some much-needed organizational clarity.
To make a new folder, click the "+" button and select "Add new folder…", then give the folder a name and click "Add." You can click and drag feeds freely between folders in the left-hand panel, or specify a destination folder when you create a new feed.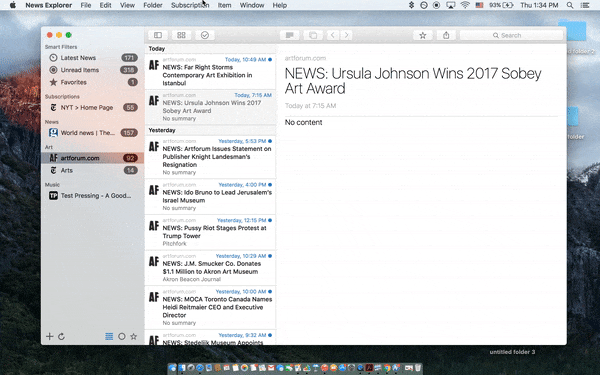 Sharing
The app makes it simple to share pressing news items with your network. Click the "share" button at the top of the window to see a complete list of options for sharing and exporting links.
In the age of information, it can be hard to keep informed and tune out the chatter. With the convenience and organizational power of News Explorer, you'll solve both problems.
Here is a wrap-up video of how to the news from your RSS feeds right to your desktop:
That's it. Yes, it's really that easy.
Download this RSS reader on Setapp, and get full-featured free trial for 100+ best Mac apps.