Get professional in minutes with CameraBag Pro
It's all in the name: CameraBag Pro is like giving yourself a giant suitcase full of lenses, color filters, and more. This lightweight photo editor is packed with a ton of professional-looking features that take your images to the next level.
Designed to be a quick and flexible alternative to bulky and intimidating photo software, the app is perfect for casual snappers and hardcore shutterbugs alike. CameraBag Pro comes with a wide range of preset effects, perfect for adding a little "wow" factor to photos before posting.
Need to make changes to a whole album's worth of photos? No sweat. CameraBag Pro's batch editing feature makes it easy to crop, filter, and watermark dozens of images at once. It even includes tools to give your digital photos a more grainy, old-fashioned look.
Best of all? The same toolset that makes your still images look great works just as well for videos! It's a one-stop editing station for any media. Here's how to give your pictures and videos the professional treatment.
Bring all the photos in
To start making adjustments, drag one or many images into the app window. To cycle through a batch, press Shift and the left or right arrow keys to change the current image.
If you want to apply the same transformations to a whole group of images, press Command + B and select the folder you want to batch process.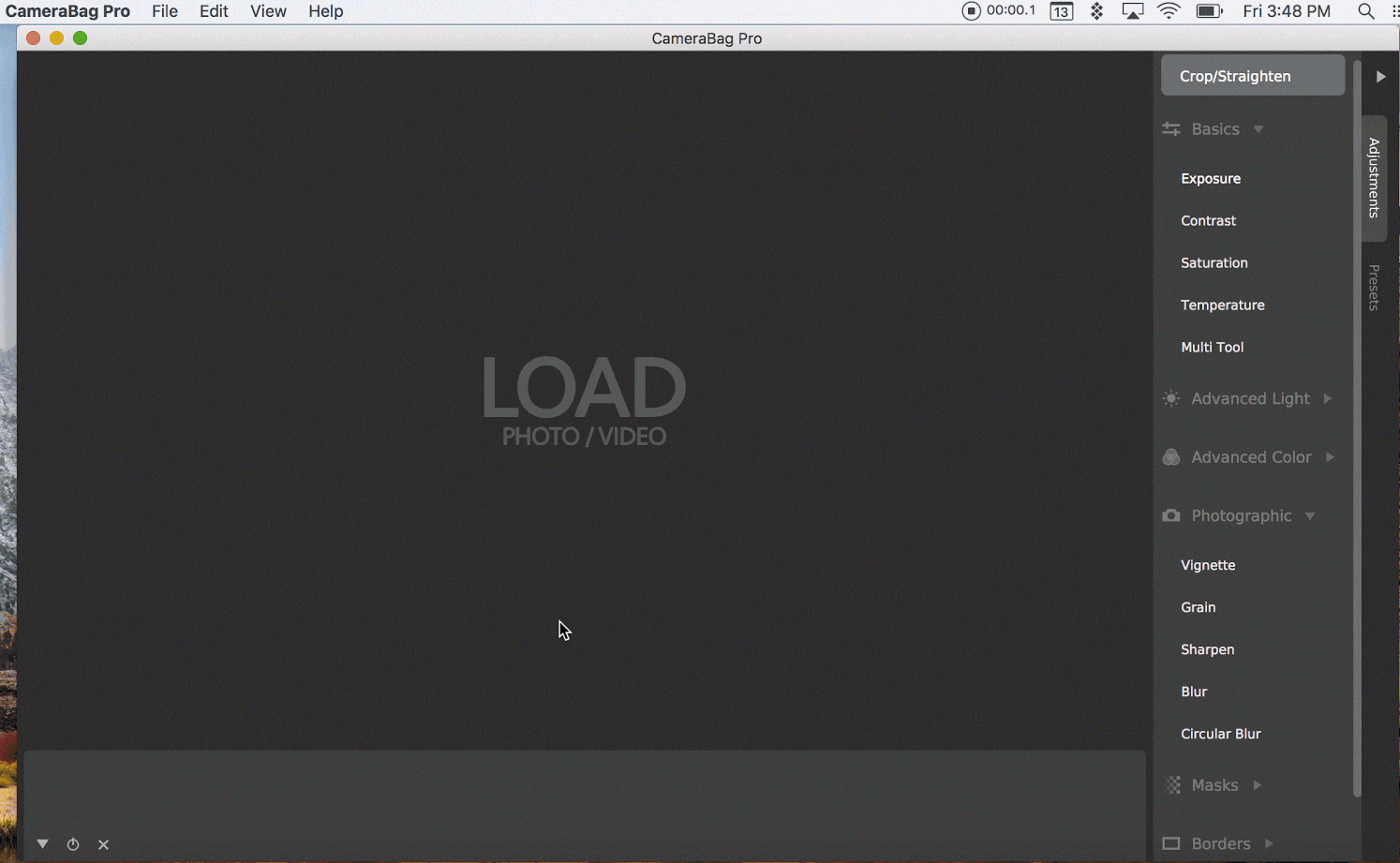 Crop and straighten images
Once your images are loaded, the next step is to properly crop and size them. Click the Crop/Straighten button and use the slider bar to adjust the image's tilt. The drop-down menu at left lets you apply an aspect ratio to the image, or you can crop it yourself using the bounding box.
When you're finished, click Done.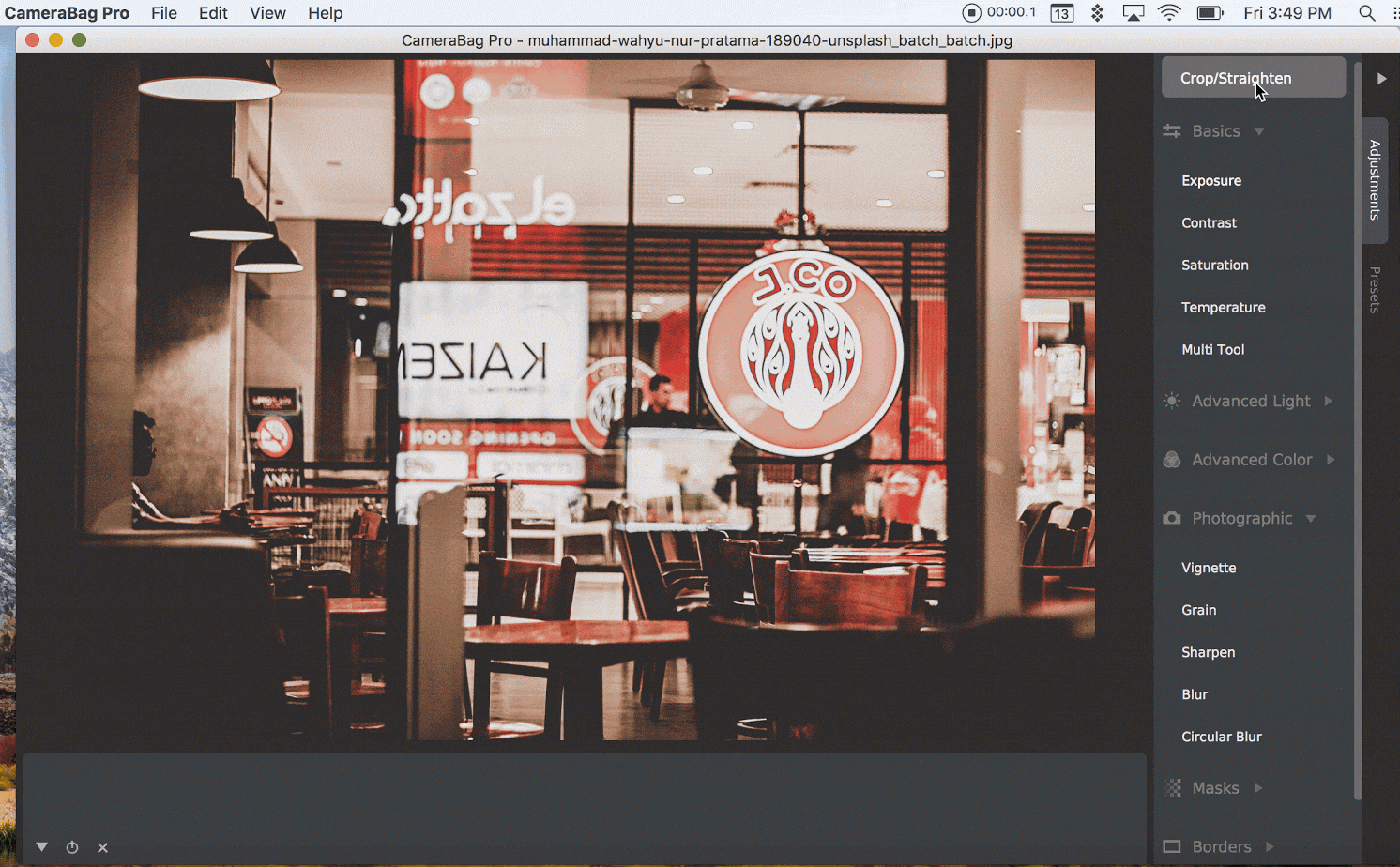 Edit pictures in the adjustment tab
To manually adjust different aspects of your images, click into the Adjustment tab. As you click on transformations, sliders or other control devices will appear below the image so you can fine-tune your changes.
Click the arrow at the bottom of the screen to reveal a palette where each adjustment will appear as a tile. You can remove tiles at will by clicking the X in the top corner.
Get a shot ready in seconds with presets
If you'd rather use readymade transformations, click to the Presets tab. Simply click any transformation to apply it to your chosen image.
If you'd like to combine multiple presets, mouse over each name. When the + button appears, click it to combine the preset with the changes you've already applied.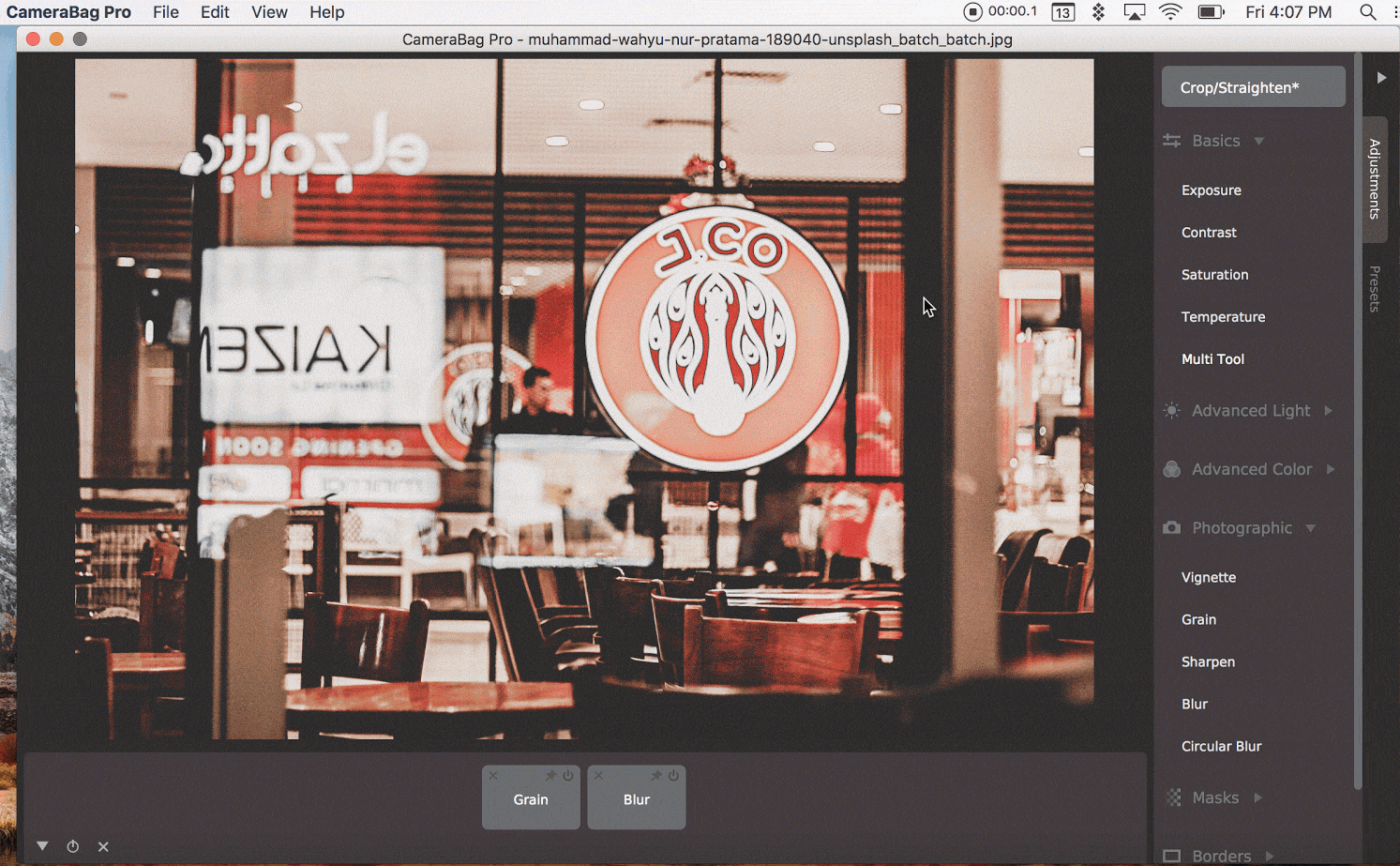 With CameraBag Pro, available on Setapp, you'll have total control over every image you post. Subtle or bold, there's a transformation that will work for you.