Mac Apps Report 2022: What apps users want
What are Mac users looking for in an app? What defines their buying decision and can developers improve their apps to fit users' needs better?
Does app price, or developer reputation matter? How many Mac users buy additional apps for their Macs and does it matter if an app is subscription-based or a one-time purchase?
These and more questions is what prompted Setapp to conduct the very first Mac Apps Report in 2021. This was the first-ever report that focused specifically on apps for Mac.
In 2022, the tradition lives on. The brand new Mac Apps Report 2022 is ready to uncover Mac app usage and choice trends — be ready to find out what persisted from last year and what's new. Scroll down for our comprehensive summary of the 2022 Mac Apps Report from Setapp.
Psst! Want the full report? Scroll down to the very end of this post.
Without further ado, let's see what real users really want from their Mac apps in 2022, how they use them, and more.
Apps installation and usage
To make great apps in 2022, you need to understand what Mac users are looking for in their apps, what apps they already have installed on their Macs, and how frequently they are using them. Here's what our report shows.
The number of installed apps from Mac users surveyed for the report grew year on year — from 31 installed apps in 2021 to 37 in 2022.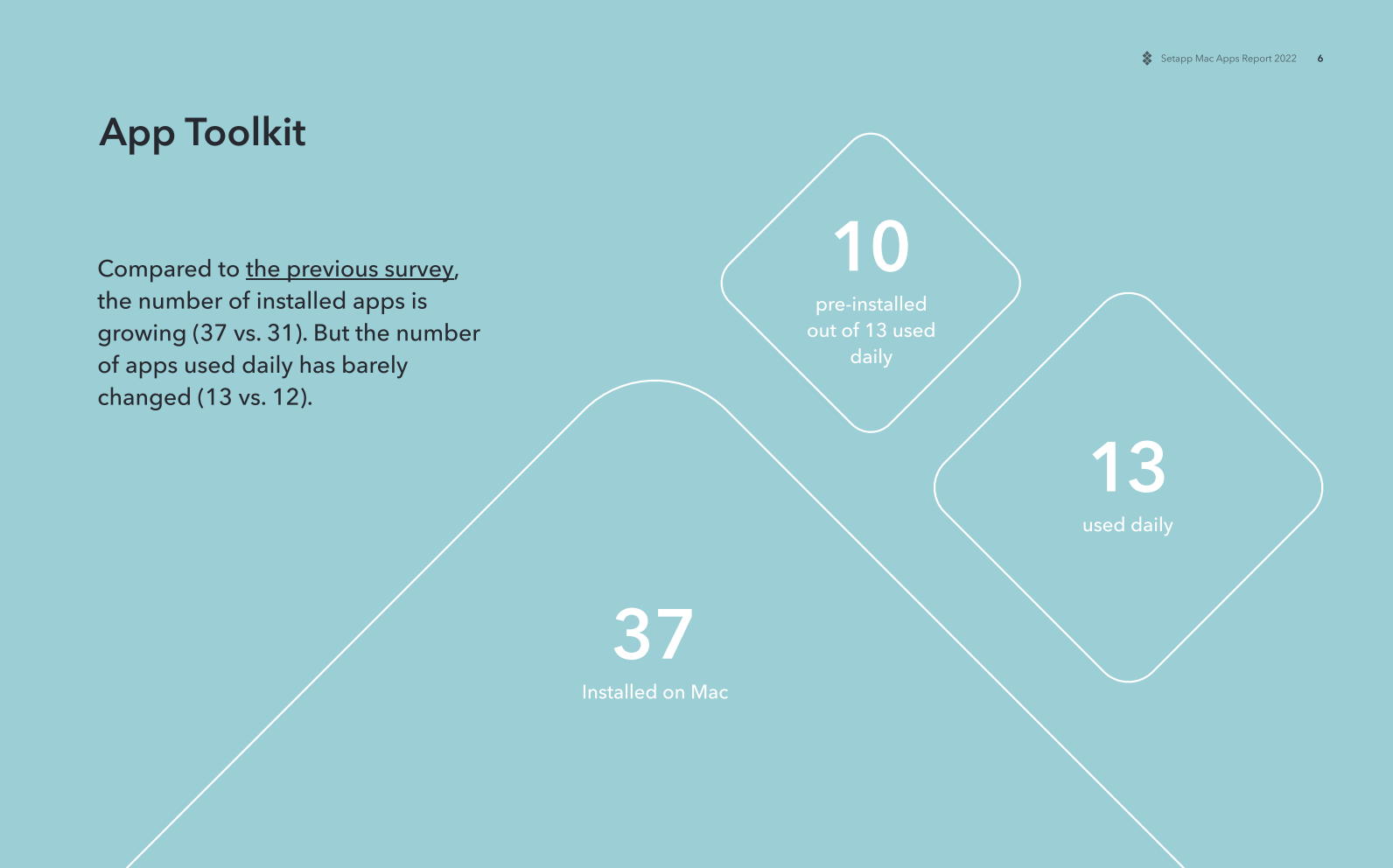 If you are an app developer, you want to pay attention to this number — how many paid apps surveyed Mac users had installed on their Mac. According to our 2022 findings, users had on average 9 paid apps installed on their device.
Pricing your app is crucial for its commercial success, so keep in mind that the annual budget for app spend that the surveyed Mac users reported was $139. This includes app subscriptions, one-time app purchases and in-app spending.
While the most used built-in Mac apps in the surveyed sample were Safari, Messages and Photos, the most frequently used third-party apps were Microsoft Office pack (Word, Excel, etc.), Google Chrome and the Adobe pack (Photoshop, Lightroom, Illustrator, etc.).
How users pick their Mac apps
To make an app successful, it's vital for app makers to understand what drives a user to pick one app over the other.
47% of surveyed Mac users said app features is what drives their decision to get a new Mac app. Almost as important is security — 45% noted this as an important factor when choosing a new app.
But this does not mean that price is no object. The top reasons to buy an app that were listed by users are the app's purpose, i.e. the app does what it says, and app price being within the user's budget.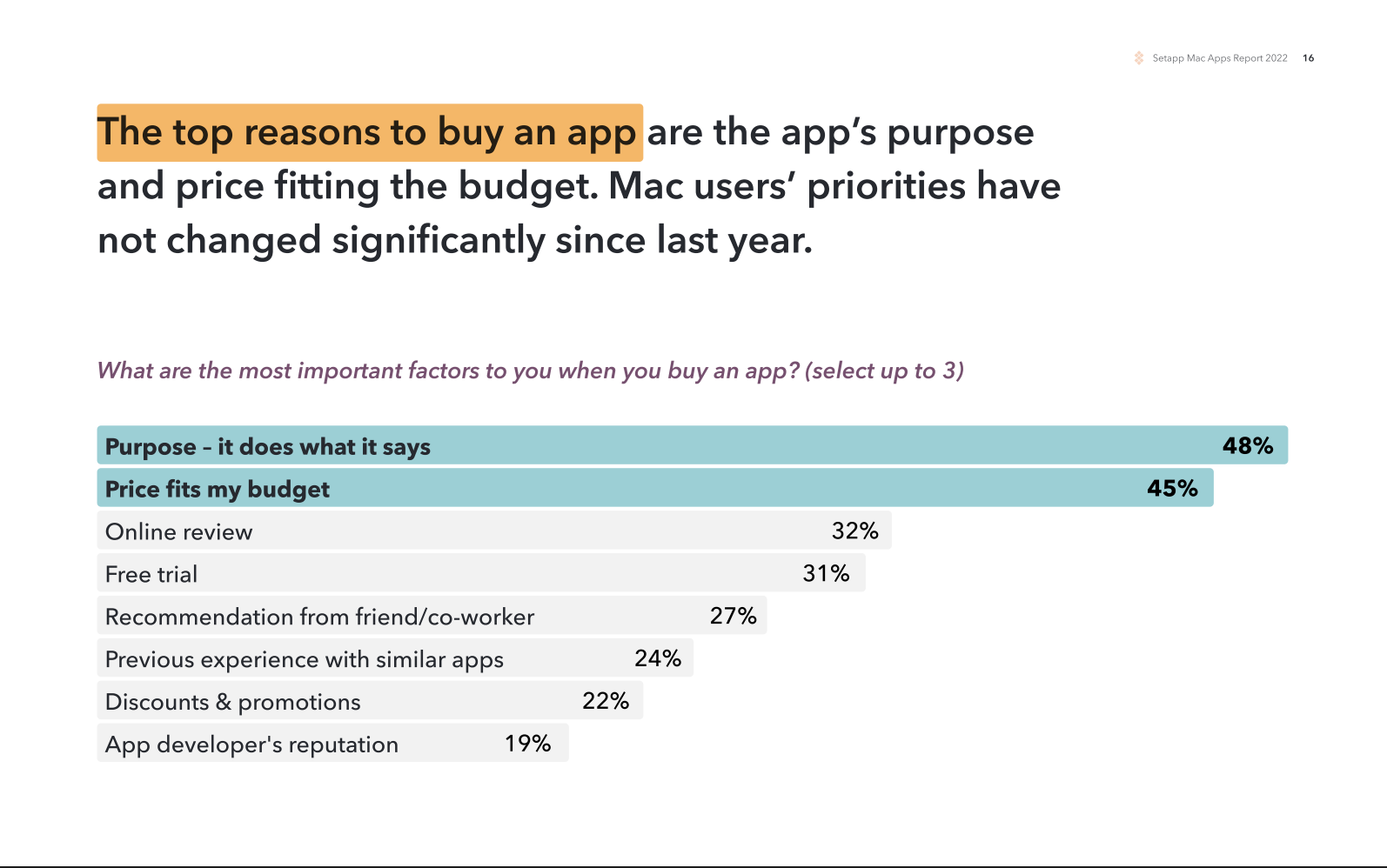 While it may feel like in 2022 most apps have switched to the subscription pricing model, users still like one-off purchases.
According to our results, 36% of surveyed Mac users prefer to buy apps as a one-time purchase. 17% favor annual subscription, and only 13% like monthly subscription best.
At the same time, developers seem to favor the subscription model as our 2022 Mac Developer Survey shows 26% of Mac developers relying on the subscription model to monetize their apps.
Survey audience
To give you an idea of who we talked to — we've surveyed 611 Mac users in the US, aged 18+.
For more information on our audience and survey findings, including more data on users' preferred devices, business vs personal use, the value of M1/M2 support and more, — check out the full Setapp Mac Apps 2022 Report.
Request us to email you Setapp Mac Apps 2022 Report (it's free!).
Want to compare to last year's report? Here's our summary containing key survey findings.