Mac Apps Report 2021 — What Mac users want in apps
Here at Setapp, we care about the apps you use and how to better cater to your needs. This is why we held a Mac user survey this past April to find out how Mac users pick apps for daily use and what they value most about them. Whether you are a curious Mac user, a happy Setapp subscriber, or a developer looking to make your existing or planned app more desirable for users, we are excited to share our findings in today's post!
What's more, this is the first report of its kind (that we know of) that helps shed light on users' preferences when it comes to apps for Mac. For app developers, this can be an invaluable insight into the thinking of the end users. We hope to assist them in discerning just the features and characteristics that are bound to set their apps apart in a highly competitive market.
Without further ado, let's get into the results.
Mac apps aren't budget busters
On average, the number of apps installed across the surveyed users was 31. Out of these, people estimated that they use about 12 on a daily basis.
Importantly, we've asked the respondents to share their Mac app spending over the last 12 months. We got an average of $36.
14% prefer subscriptions, while more than double — 36% prefer one-time app purchases. 38% were open to options picking an "it depends" answer for their app purchase preferences in this regard.
Mac apps make users feel more productive
We've also found that users prefer native apps and apps designed specifically for Mac. Plus, apps make them feel more productive.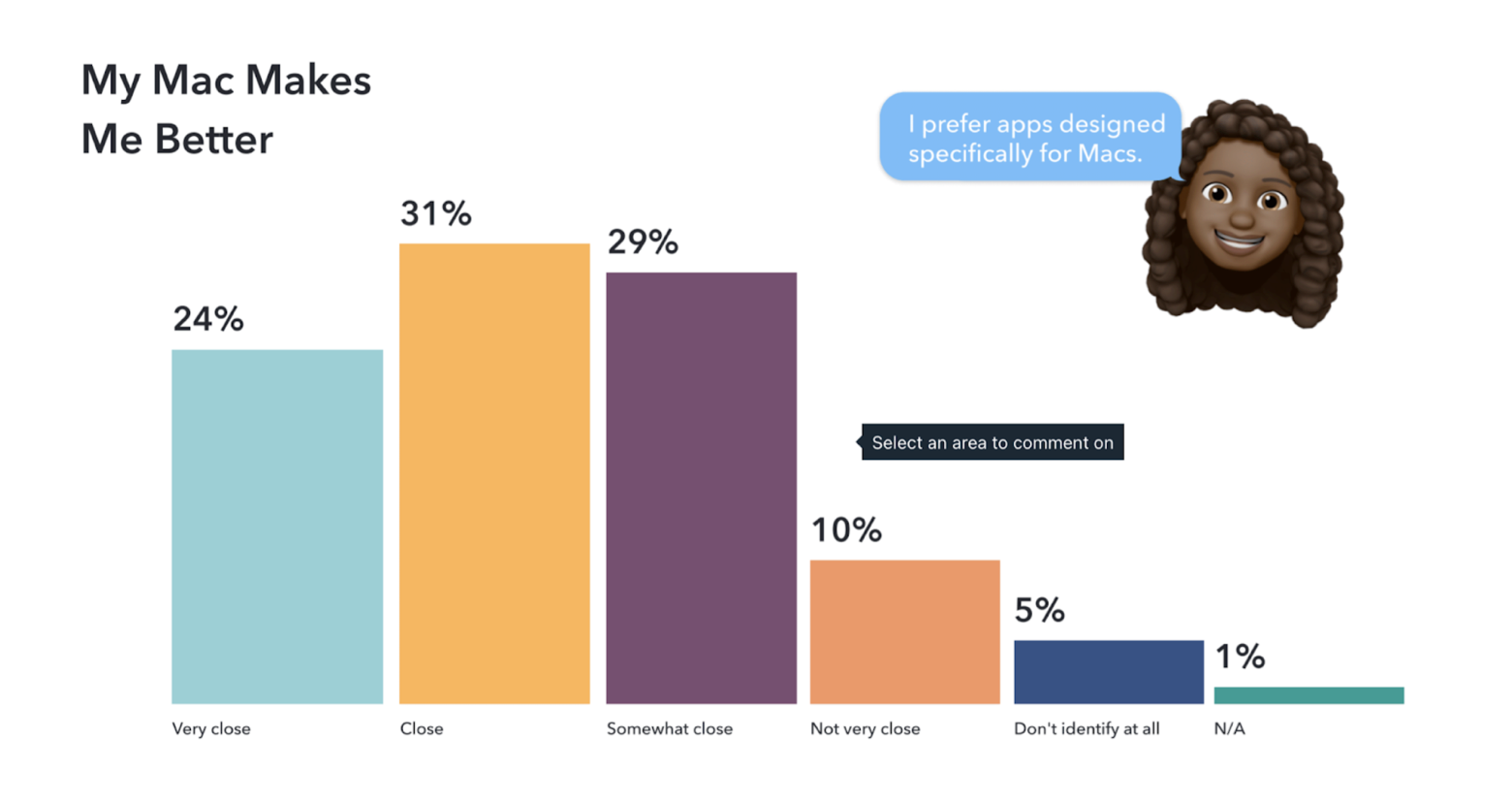 Most users also agree that they'd miss their Mac apps if they weren't using a Mac anymore.
Purchase drivers
We found that users list quite a few things when it comes to reasoning over buying or not buying a specific app. For 50% of the surveyed an app doing what it does, i.e its actual purpose, is important.
44% also noted that the app price needs to fit their budget. An option of free trial seems to stand a chance of swaying the decision for 38% of the surveyed.
Almost one in four (24%) valued a recommendation by a friend or coworker. Nearly as potent were discounts and promotions, making it onto the list of factors influencing their purchasing decision for 23% of the respondents.
20% consider app developer's reputation when deciding on an app.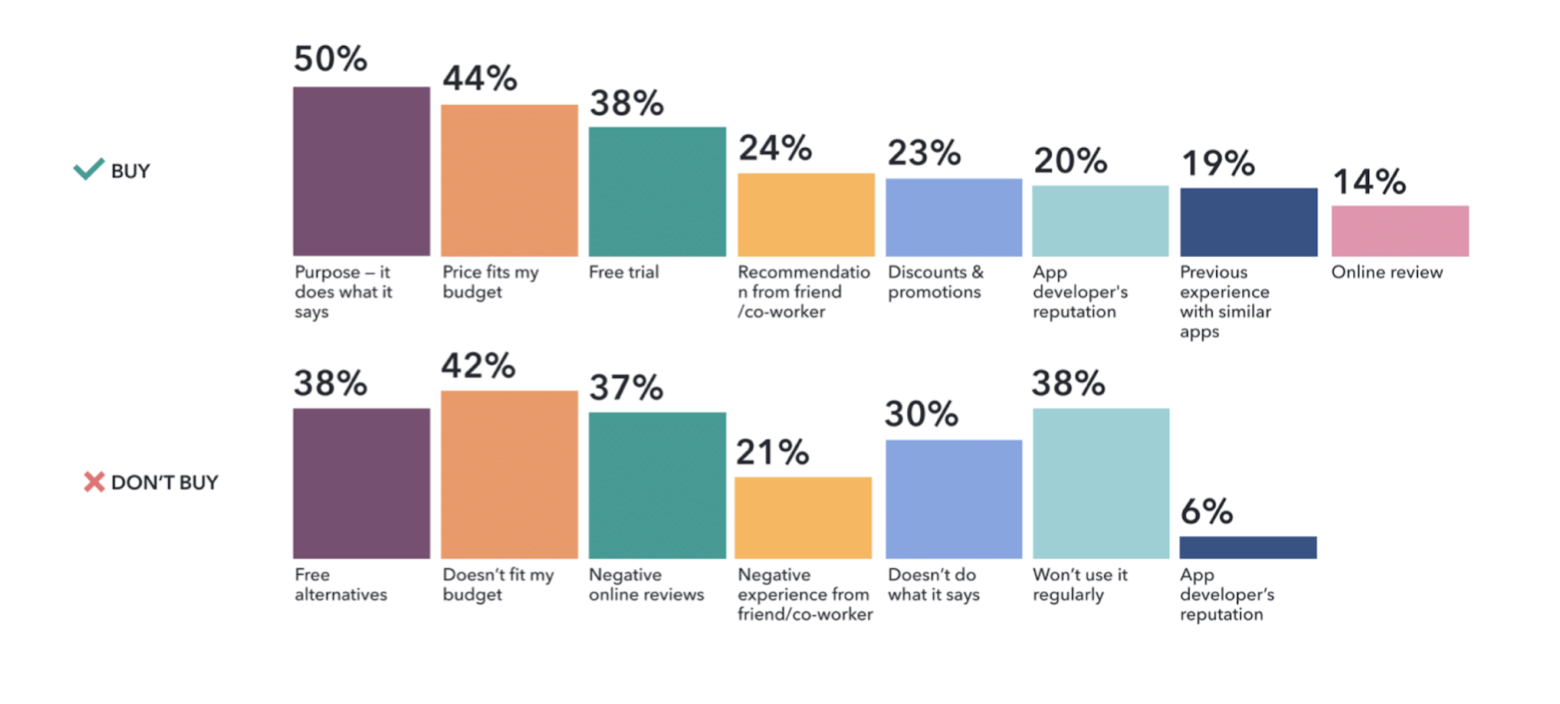 Factors that are more likely to negatively influence users' purchasing decision included presence of free alternative (for 38% of the surveyed), price (42%), lack of regular use (38%), and negative online reviews (37%).
Our survey also showed that security is a vital value factor when selecting apps for 57% of the surveyed. App features were the second most important factor with 47% agreeing. Another important criteria when choosing apps to use was user experience and interface, as noted by 44%.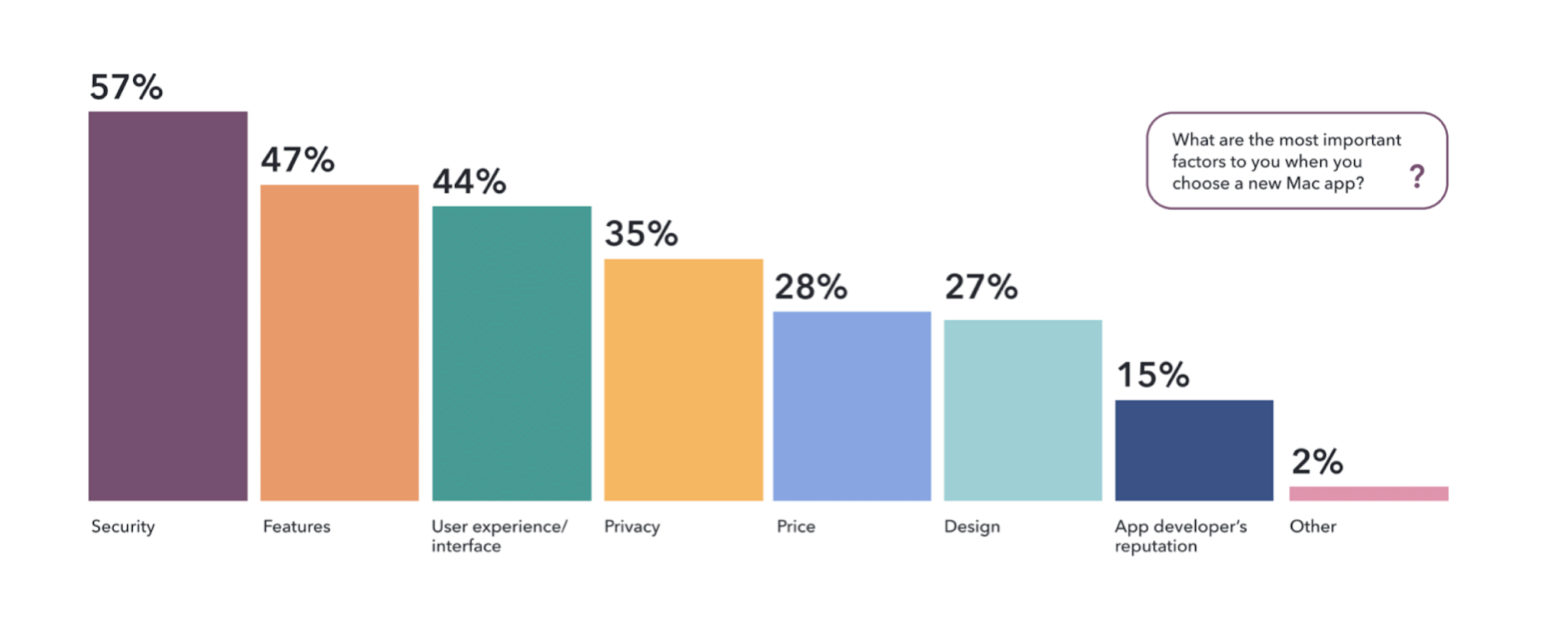 Apple silicon: The market is ready
Not everyone will run out to buy the latest Mac the moment it gets announced (or even the year), but if you are a developer, it makes sense to think about your app's compatibility with the latest Apple tech. Some app purchases are a one-time deal, so future-proofing makes perfect sense. For other apps, users will still be noting compatibility, as many are at least considering an upgrade to their Mac at some point in the future. Plus, the market share for the new, M1-equipped Macs is growing by the week, so it's definitely time to catch up, if you haven't already.
36% of the surveyed stated that M1 compatibility is very important in their Mac apps. Another 37% listed the compatibility as somewhat important.
We've also asked our respondents if an Apple silicon mattered to them when selecting their next Mac. More than 30% considered this of importance.
Our surveyed audience
And finally, let's outline the audience we've surveyed for this report.
On April 14-15, 2021, we surveyed 462 participants from all over the US. 56% of the surveyed identified themselves as female, 44% — as male. 47% were in the 45 to 60 age group, 32% — 18 to 44, and 21% — over 60.
Macbook Pro and Macbook Air are the preferred devices for 42% and 33% of the surveyed, respectively.
The main reasons why the respondents preferred Macs over other solutions, as uncovered by the report, were performance, ease of use, and quality.
Curious about developers' point of view? Check out our Mac Developer Survey 2020
If you want to participate in our next Mac developer survey, please submit your email here.