Monitor your websites, servers, and apps with Simon
Keep an eye on current status of all of your monitored websites, servers, and applications.
Simon is a robust website and server monitor that you can fine-tune to alert you whenever important sites need your attention. Packed with features that let you customize the frequency and conditions of your alerts, the app is perfect for webmasters and other folks who need to stay on top of a lot of updates. With Simon app you also can easily track posts and check new comments on your or friends' blogs, get notifications of updates to favorite news and entertainment websites, and many other uses. While the app itself is straightforward, its possible applications are quite complex.
Take your monitoring to the next level
Let's get acquainted with how the basics work - create tests and monitors, customize built-in templates, and import your existing custom scripts to monitor your apps and relevant services.
Capture data - create a set of tests
Simon works by creating a set of "tests," which return results about the sites and servers you're watching either according to certain conditions or at regular intervals.
To create a new test, click the "+" button and select "New Test." Then, name your test and click over to the "Services" section. Select the service that you'd like to monitor and enter the URL or location where the test should focus. When you've finished, click "Done." If you need to update the test's settings at any time, click the "Edit" button.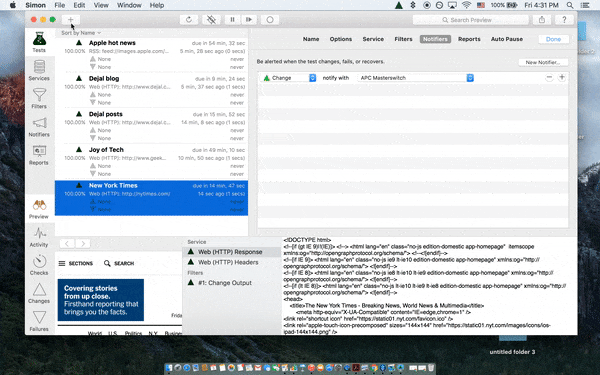 Add filters to check key performance indicators
Each test can be modified with filters and notifiers to make sure you only get the information you need from the sites and servers you're watching.
Under the "Filters" channel, you can use the drop-down menus to create a set of conditions that dictate when and how the app will deliver results. Use the "+" button at the top right to assign multiple filters to a single test. Likewise, the "Notifiers" tab lets you configure notifications to alert you under specific conditions, using sound, desktop alerts, and other effects. Again, add multiple conditions using the "+" button.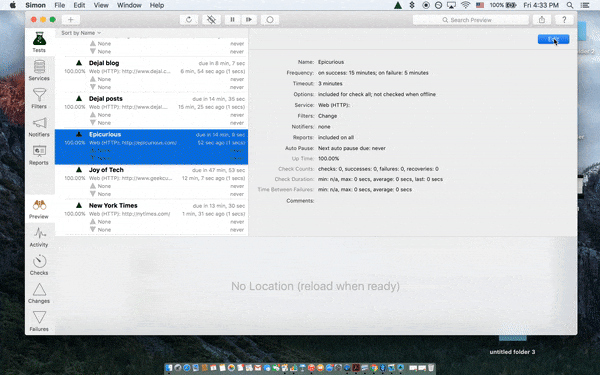 Customize alerts and notifiers
The Simon app comes set up with a comprehensive library of pre-made alerts, notifiers, filters, and services. If you need to edit or create your own, click the relevant tab. The large "+" button at the top left lets you create new iterations, specify their behavior in the relevant tabs, and save them for application to future tests.
If you lose track of any of these modifiers, you can change the way the list is organized with the drop-down menu at the top left.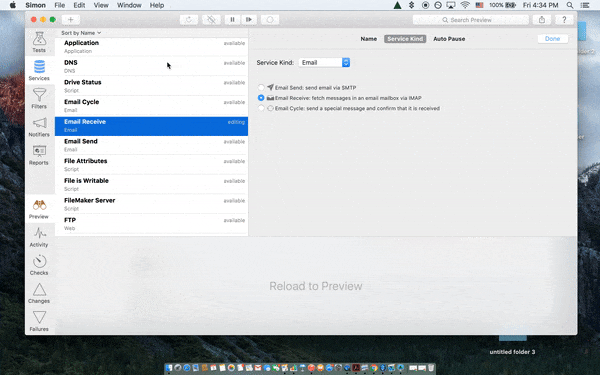 Logging results
The app provides a complete accounting of every test's result. Select a test and click into the "Activity" tab to see every action that the app has performed. To know exactly when each check was made, click the "Checks" tab. The "Changes" and "Failures" tabs let you see the app's activity history by result. You can always check in on a test by using the app's drop-down menu in the menu bar.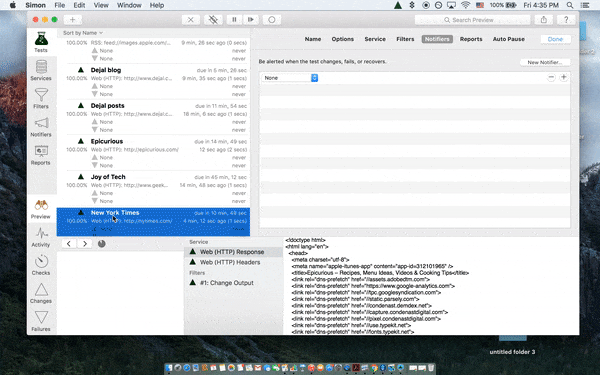 With a few simple components, Simon by Setapp builds a program capable of incredible complexity. Once you've mastered the art of fine-tuning your tests, you'll be able to monitor your sites and servers with total ease.