Mosaic: a simple window manager to resize and reposition apps on your desktop easily
Mosaic is the ultimate desktop organizer. The app gives you a host of options for compartmentalizing your screen, so you always have the windows you need within easy reach. You'll be able to resize and re-organize your apps with ease. Unlike Apple's current approach to fullscreen multitasking applications (with their full screen and 2 up views), Mosaic doesn't require the app to support special full screen or side-by-side, but simply needs to be resizable.
It may take a little while to figure out the layout that works for you, but here's what you need to know up front. Using either keyboard shortcuts, drag and drop, or even the Touch Bar, your desktop apps can be positioned conveniently to allow for a great functional working space.
Initial settings
When you start using the app, you'll need to decide how you want the app to behave. To do this, go to the menu bar and click the Mosaic icon, then select Preferences from the drop-down menu.
Click the Behavior tab to set the conditions for opening the Mosaic bar — you might want them to open every time you drag a window, or only when you hold down a key. Under the General tab you can set your gutter sizes and make other basic adjustments.
Create your own custom Layouts and groups
The Layouts tab controls all the possible layouts that Mosaic offers. Under this tab, you can click the "+" button to create a new layout or select an existing one and click and drag to resize or reshape it. This tab also lets you assign any layout a keyboard shortcut. Layouts are combined into groups under the Groups tab.
To create a group, just click the "+" button and check the boxes of the layouts you'd like to include. Existing groups may be edited in the same way.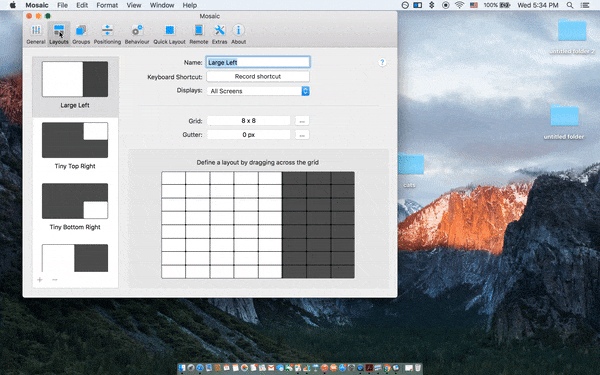 Quick layout
The app also includes a Quick Layout, which can be used to resize a window on the spot. Under the Quick Layout tab, you'll find options for setting up this feature, which will always be available in the app's pop-up bar.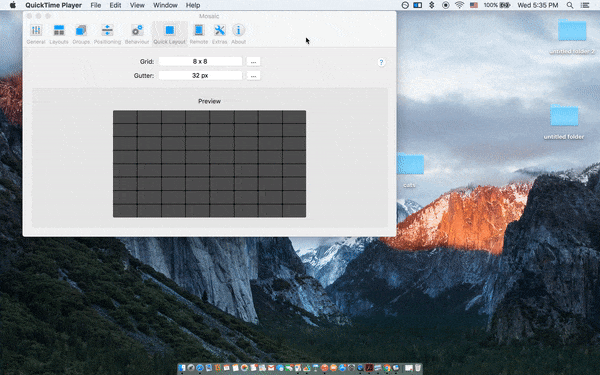 Using the bar
Before using the app's pop-up bar, make sure that you've enabled the groups you want to use with the drop-down menu. Then, use the method of your choice to open the Mosaic bar and select your preferred size for the window you've selected. Repeat until the screen is set up as you'd like it.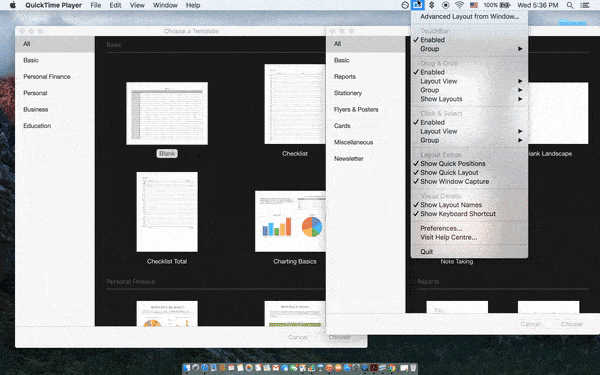 Mosaic in Setapp takes a little work to set up, but the rewards are undeniably worth it. Once you're comfortable with the app's settings, you can start tailoring them to fit the tasks you do every day. Your days of clicking around a cluttered desktop in search of a single window are over.