Measure every tiny bit of your Mac's screen
A poorly measured layout can turn a design project into a disaster. Professional design software like Adobe has good tools for measuring your screen — but not everyone has Adobe. If you need a super accurate and affordable alternative, PixelSnap is your choice. Apart from measuring, it can also instantly save the scaled elements of your layout as screenshots.
PixelSnap, for exploring screen pixels in detail
PixelSnap gives you the flexibility to adjust the scaling scopes and refine alignment — and it really is way easier than it sounds. With nothing but a movable cursor, you can measure every part of a web page.
The tool works equally good for pro designers and newbies. For instance, you can take PixelSnap with you and go explore alignment on the best design layouts. Or, compare button scaling trends across multiple web pages. With this app, creating your first professional layout stops being a challenge.
Measure objects and distances with ease
Once you install the app, it appears in your menu bar. Click on Find Dimensions and you're ready to measure. By dragging a cursor across the screen, you'll be able to view distances between different elements and the boundaries of different objects. You don't have to be precise — the app snaps to your layout elements automatically. If one is not enough, PixelSnap allows to measure multiple objects on the same screen.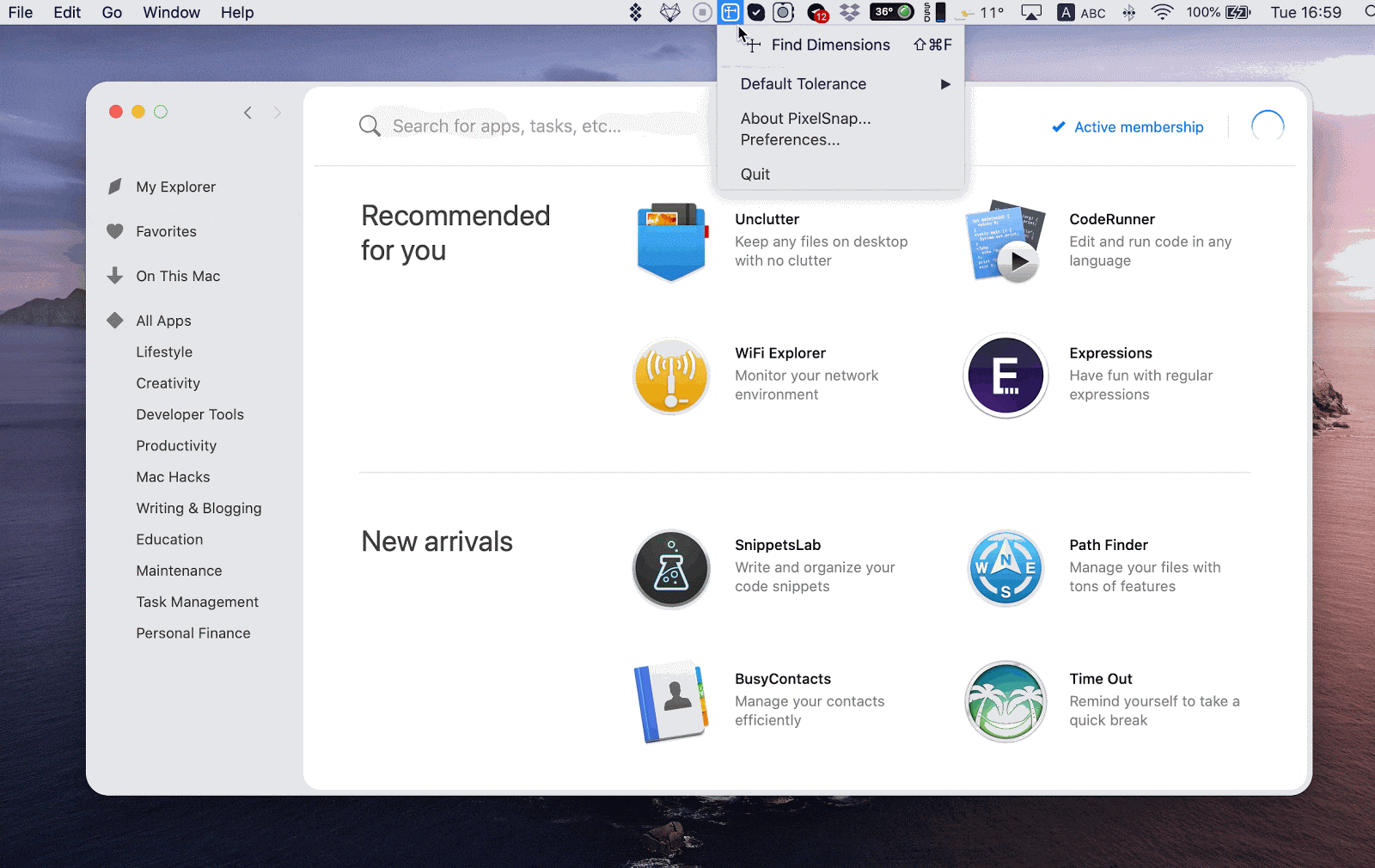 Adjust tolerance for precision
PixelSnap allows you to toggle between four tolerance modes — from zero to high — right in the drop-down menu. This allows you to control every visual element, including shadows, gradients, and highlights.
Check alignment
Ensure every element on your web page is properly aligned with PixelSnap's guides. They work both horizontally and vertically. The guides are snappable, so you may choose to hold them on screen. Use H and V hotkeys to add and hold the guides, or create your own shortcuts via the app's Preferences.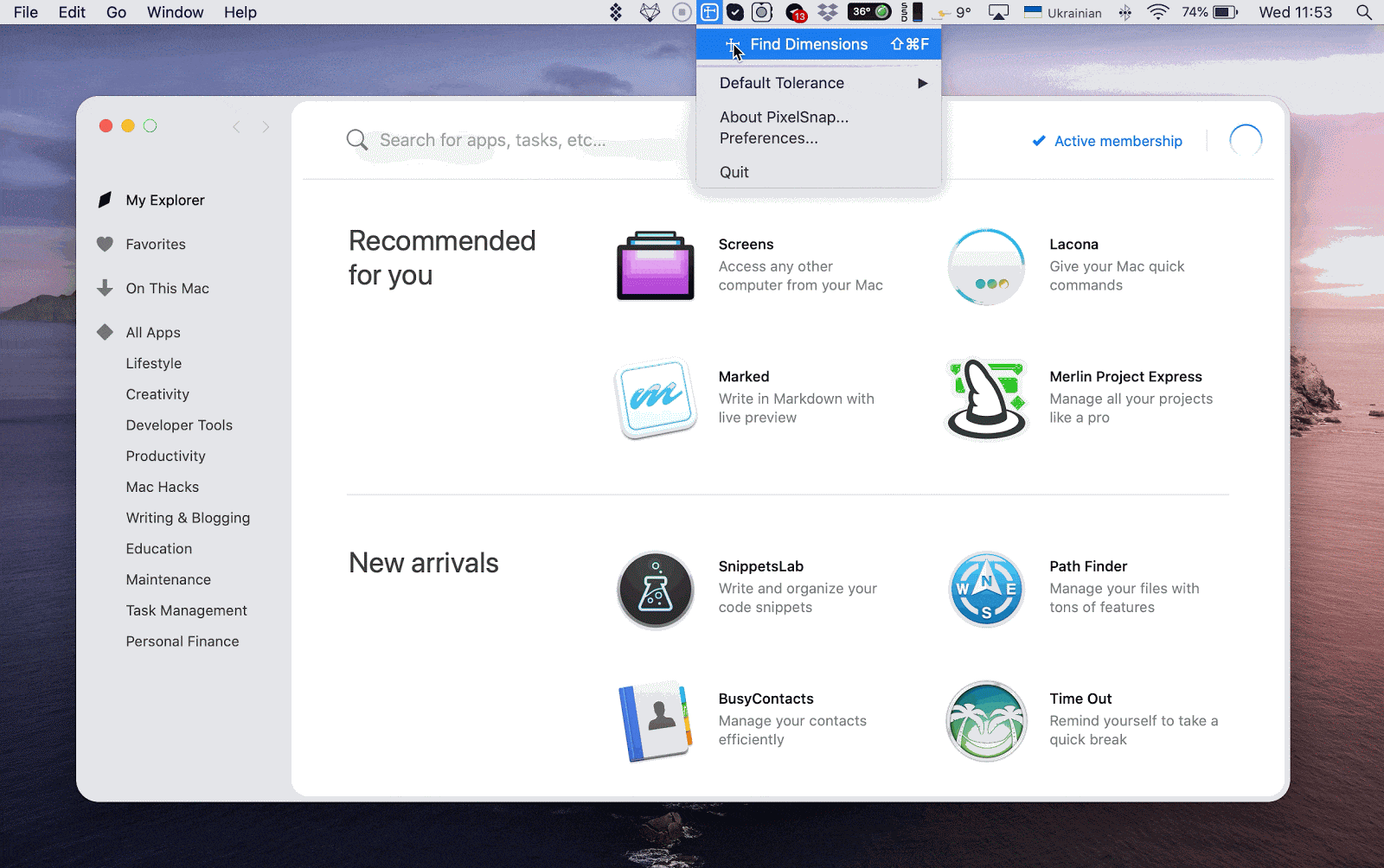 Take instant screenshots
PixelSnap has a native integration with CleanShot, an advanced screen recording tool. So that you can keep your measurements on Mac as long as you like — and you don't even have to own CleanShot to use the feature. Once you're ready with the measurement, hit S to save the screenshot to your selected export location, or C if you want to save to clipboard.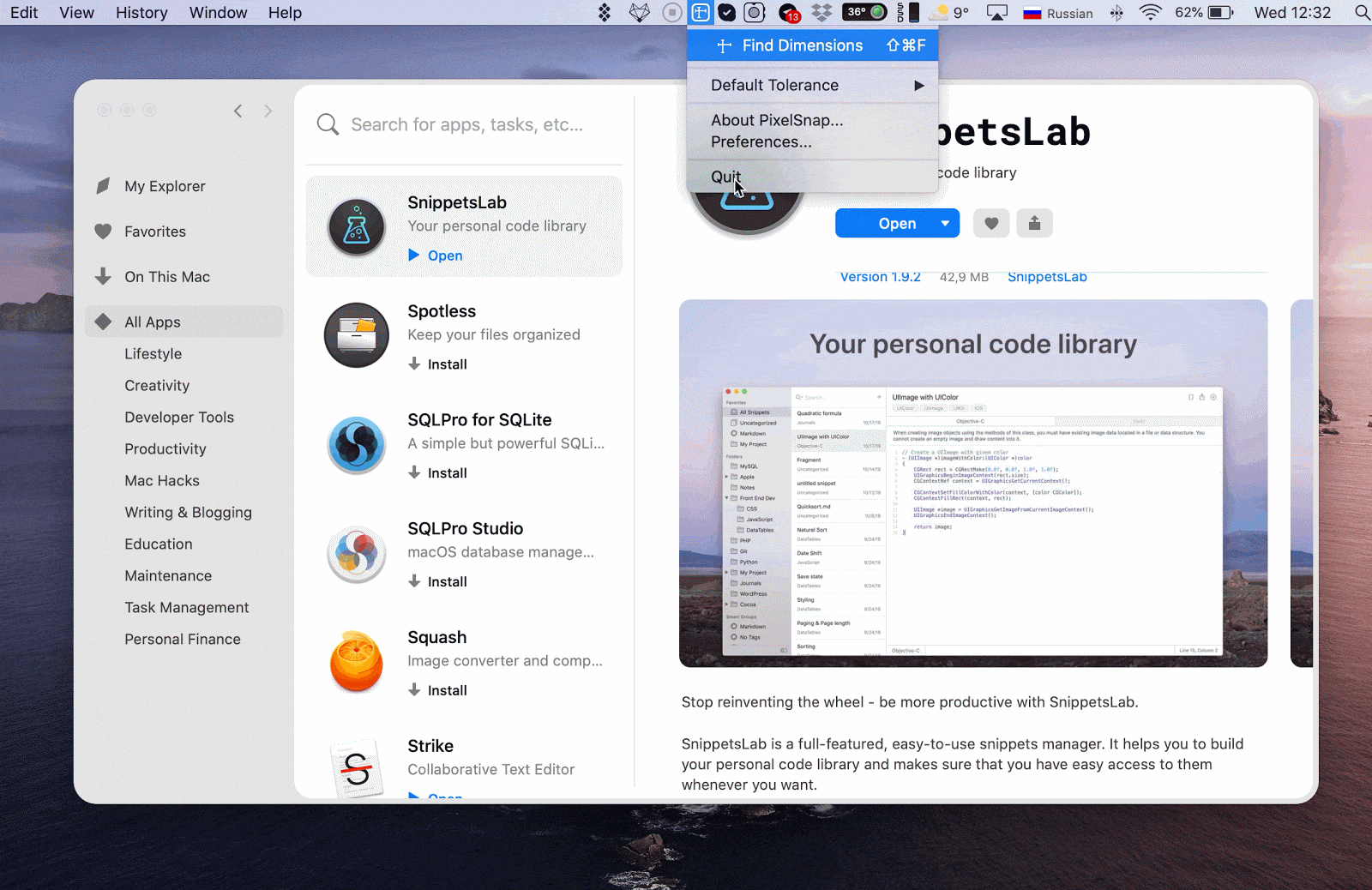 Work with your favorite design software
Apart from CleanShot, PixelSnap integrates with many professional design tools. This means you can take pixel measurement power to Adobe, Figma, Invision Studio, or Sketch. Because when it comes to good design, an expansive toolkit is a must.
PixelSnap is available as a lifetime license on the official website. The price depends on the number of devices — the basic license for one Mac will cost you $25. On Setapp, you can use the app with a monthly subscription. By the way, CleanShot is a part of Setapp, too — along with other 150+ apps.