iPhone 12 review: Best features, release date, and prices
On October 13, Apple announced a new line of iPhones — and they are a big leap into the future. Meet the tiniest iPhone with the most powerful features you've ever seen. Get ready for uninterrupted streaming with 5G. And embrace a magnetic experience with the new iPhone 2020. Here's everything we know about the latest iPhone 12 and why it stands out.
iPhone 2020: New features are big promises
There are only two widely help opinions about Apple iPhone 12. Some say it hasn't changed much since last year. Others say it's a phone that came from the future — mostly because of 5G (something that most people won't be able to use very soon) and a bold wireless charging ambition. Still, iPhone 12 has many down-to-earth improvements that make it worth an upgrade. Let's see what's in it for you.
Here's iPhone agenda for the year 2020 at a glance:
New iPhone 12 mini starting at $699

iPhone 12 switches to OLED display

New edge-to-edge design and Ceramic Shield

5G connectivity and Data Saver Mode for automatic downgrade to LTE

MagSafe for quick wireless charging and accessories

Best Night Mode you've seen in iPhone so far

LiDAR scanner for new AR capabilities.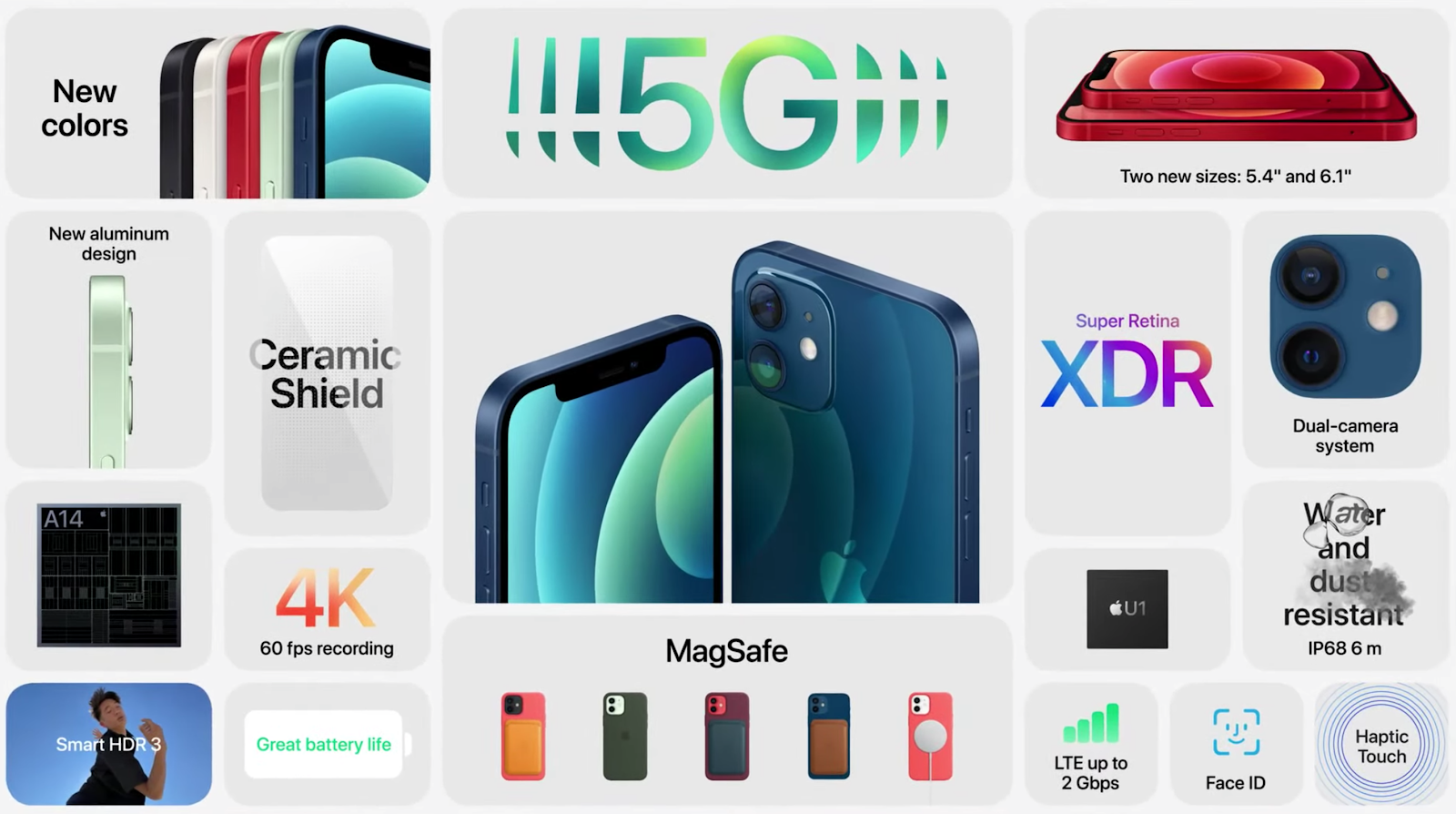 iPhone 12 and iPhone 12 mini
Two base models that are going mainstream in 2020 are iPhone 12 and iPhone 12 mini. The mini version has the smallest 5.4-inch display but shares all the new perks of iPhone 12, including 5G support, the latest A14 chip, and OLED display.
The iPhone 12 is a successor to last year's 6.1-inch iPhone 11 — but a bit more expensive. The price of iPhone 12 mini starts at $699, and iPhone 12 starts at $799.
5G connectivity
New iPhone 12 models will be the first to support 5G networks. There are two types of 5G — faster mmWave and more widespread Sub-6GHz — and iPhone 12 will reportedly work with both. When we refer to breakthrough hyper-fast 5G, we usually mean mmWave. However, mmWave is only limited to some major urban areas and specific locations (for now). So if you buy the newest iPhone in 2020, it will most likely support Sub-6GHz.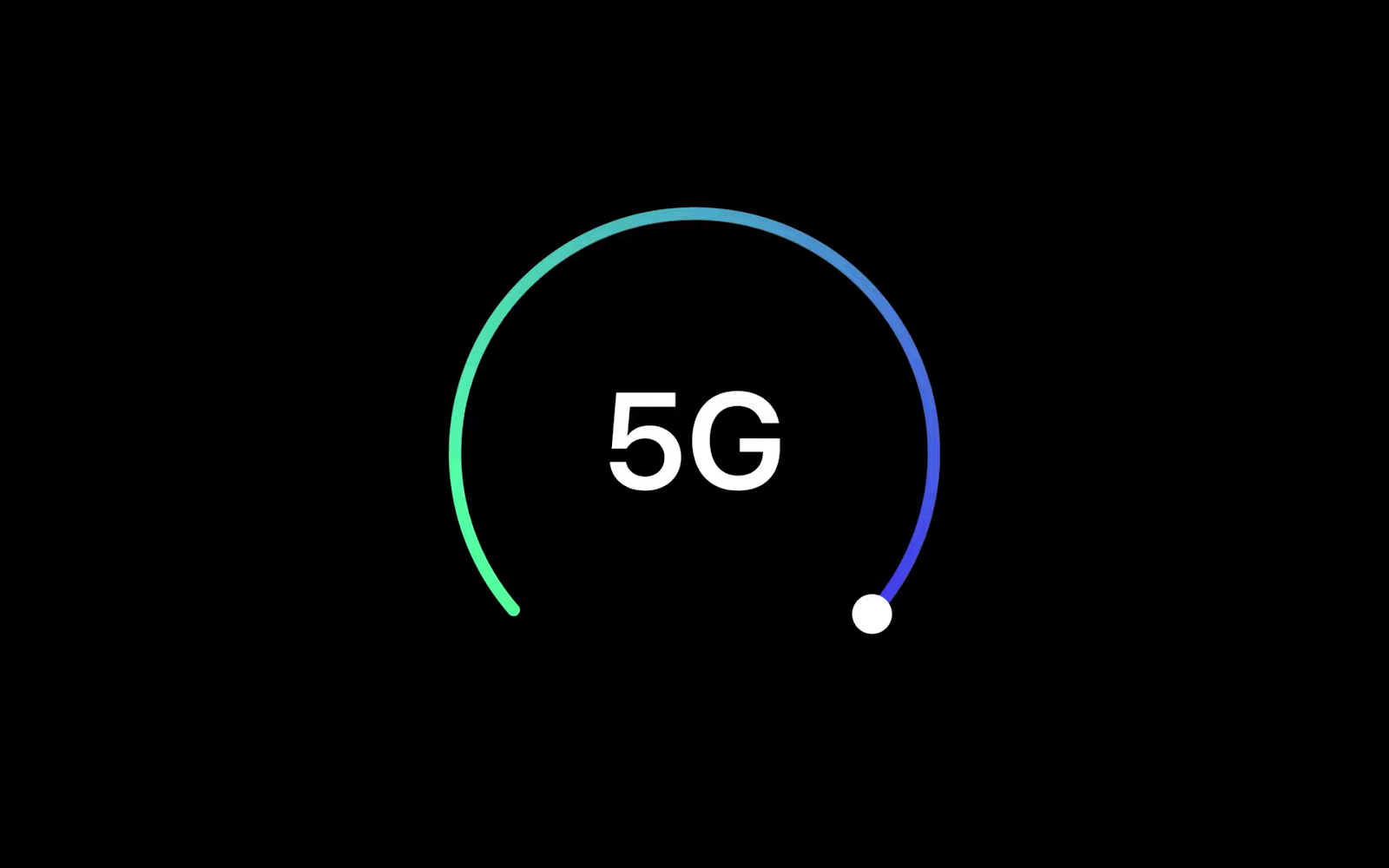 Zooming out, 5G is very promising. It's certainly going to be more widespread in the upcoming years, so the idea of having a phone with the support of 5G definitely makes sense. What's in it for you? You'll be able to stream content faster and watch movies in higher resolution. 5G will also upgrade FaceTime calls quality and allow faster downloads.
Experts argue 5G isn't the biggest hit though. If you're sure there's solid 5G connectivity available with your carrier in your location — go for it. Otherwise, it might be wise to wait a bit until 5G gains more traction worldwide.
The future is MagSafe
Another big bet of Apple is snap-on magnets. The new line of iPhones arrives with MagSafe chargers. Every phone is embedded with an array of magnets that will allow for a quick connection with a wireless MagSafe charger. The magnet can also be used to attach a snap-on case or other accessories to an iPhone.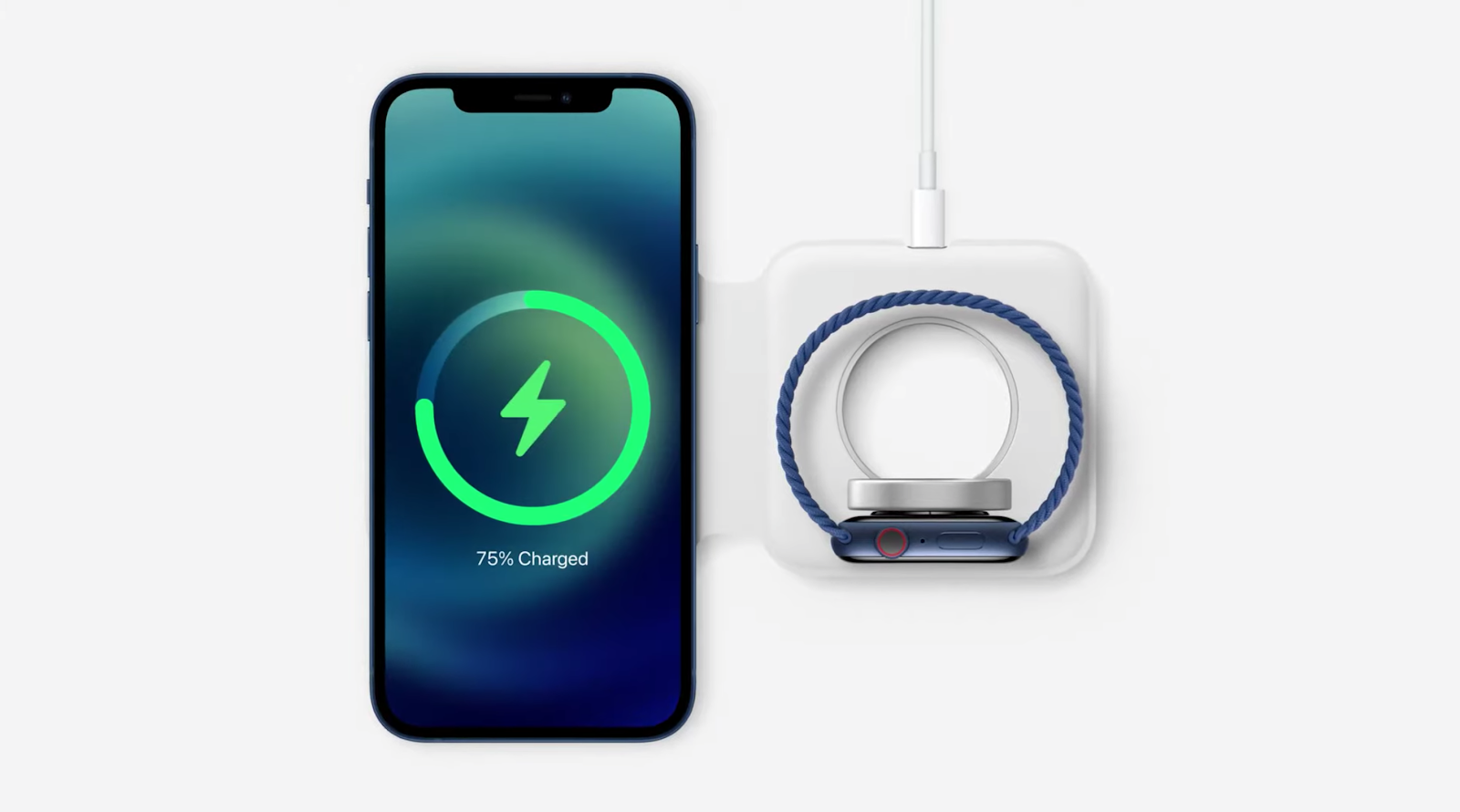 You can pre-order a standalone MagSafe charger for $39 as well as buy accessories separately. Note that earpods and power brick won't be included with iPhone 12. Apple claims it will have a major positive effect on the environment — but it also means there is extra cost involved.
By making MagSafe magnets built-in with iPhone 12, Apple makes a bold statement — wireless charging will be a common standard soon. The next logical step would be to make portless iPhones — but this will require convincing the world we're really ready to ditch all the cables and chargers we've been using so long. Also, it certainly gives Apple more control over the ecosystem, which is something that could raise controversy.
iPhone 12 design
You can say that iPhone 12 feels more "squared" compared to the previous models. The edges are sharp 90-degree angles and not rounded as in iPhone 11 and iPhone X. In this regard, the new design is actually pretty similar to what you've seen in iPhone 4 and 5. iPhone 12 also has the new Ceramic Shield that makes it four times less likely to shatter, according to Apple.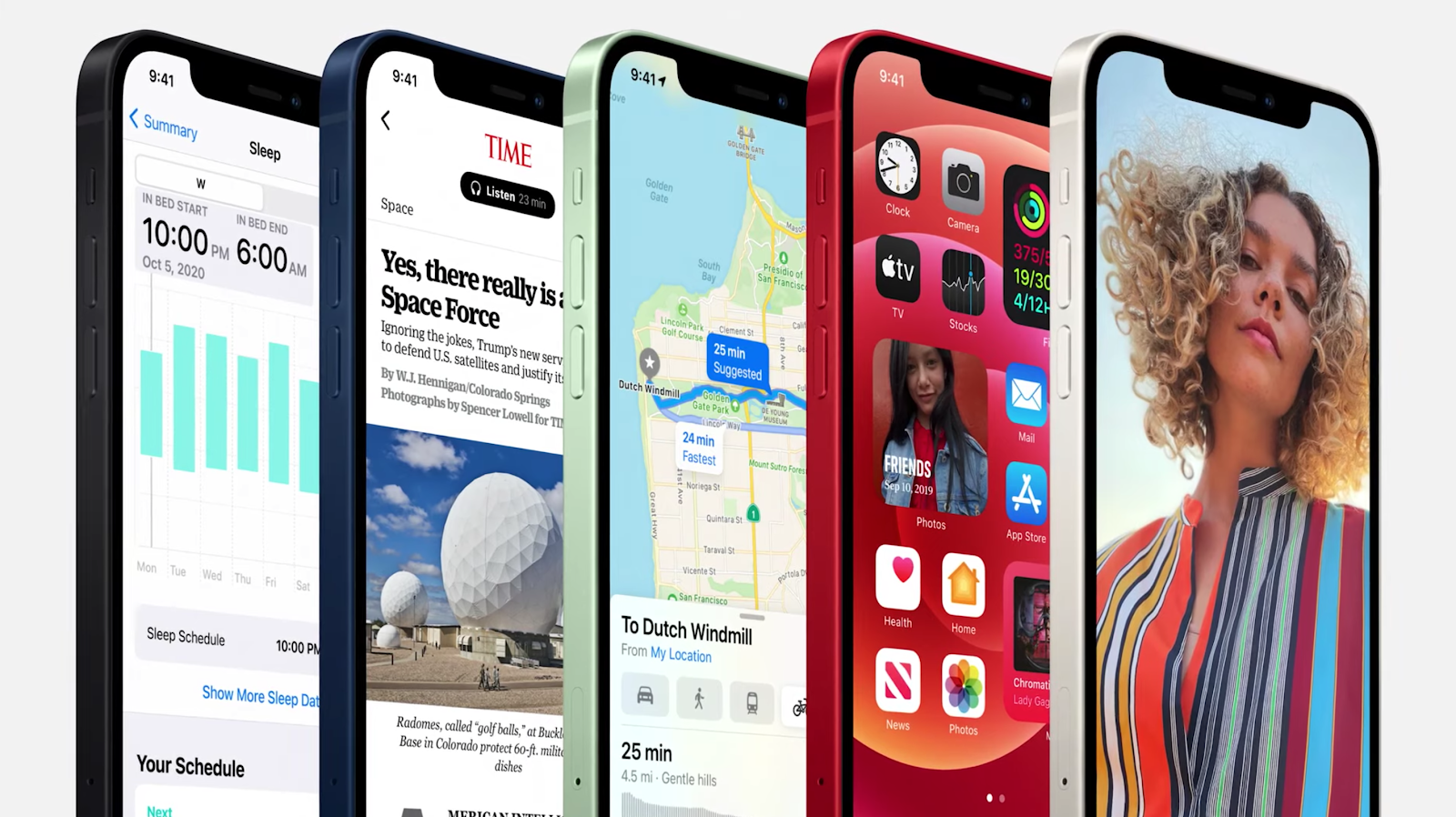 There's one downside to the new design of iPhone 12— the repair cost will reportedly be higher. It hasn't changed for the Pro models but with iPhone 12 you'll have to pay $279 for screen repair versus $199 with iPhone 11. It's most likely connected with the switch to OLED screens in iPhone 12. Bottom line: iPhone 12 is not likely to shatter easily but if it does — you have to pay more for repair than you would with iPhone 11.
iPhone 12 size
Even though iPhone 12 has the same 6.1-inch display size as iPhone 11, it's generally thinner and lighter than the previous model. iPhone 12 mini comes with 5.4-inch display and is the tiniest phone Apple has released since iPhone SE in 2016.
Here are detailed tech specifications of iPhone 12 mini (on the left) and iPhone 12 (on the right):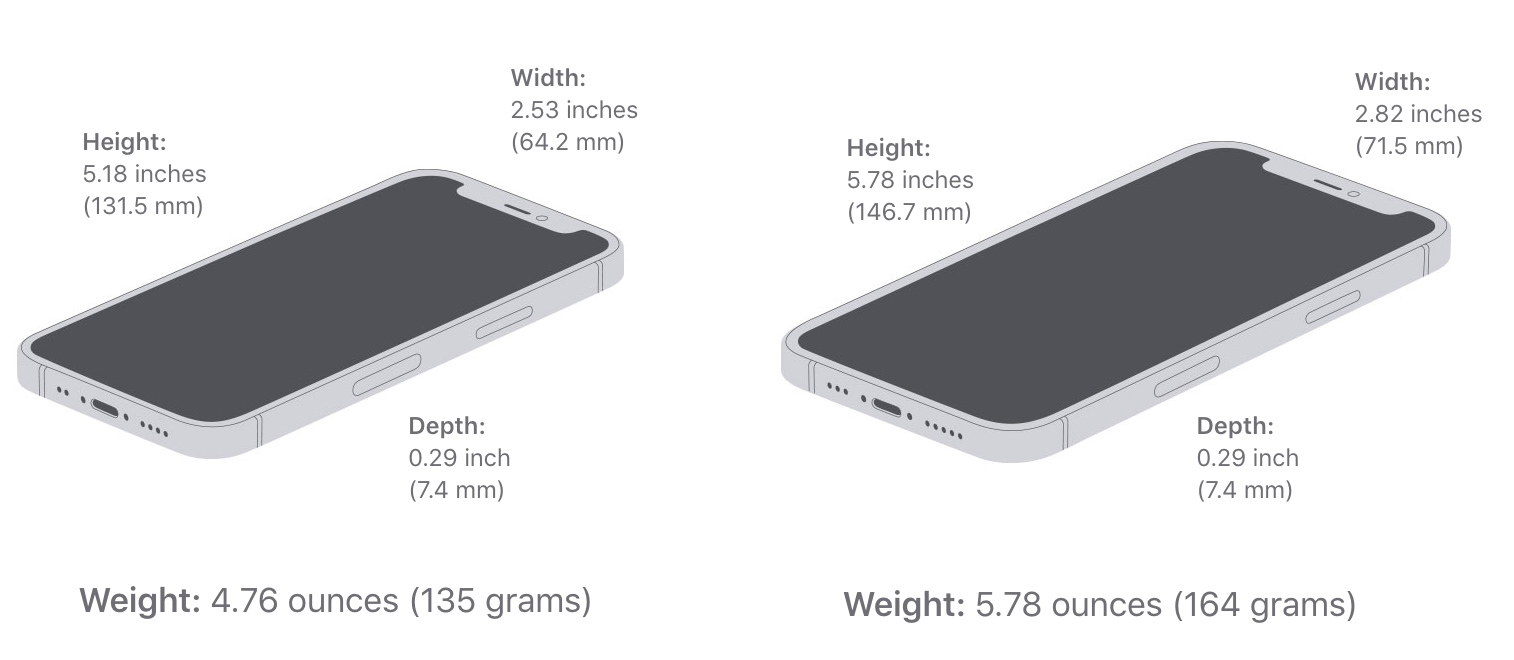 apple.com
Camera upgrades
If you expected new iPhone release to bring about more cameras, we must disappoint you. The camera setup in iPhone 12 looks similar to the one you've seen in iPhone 11. However, there are a few upgrades under the hood, which should enhance your photography:
LiDAR scanner. Following last year's iPad Pro, the new iPhone 12 will be equipped with LiDAR — adding depth scanning for AR.

Night Mode improvements. Night Mode will now be available with the ultra-wide-angel lens and in selfie mode.

New lens in wide-angle camera. The new lens that arrives on all four iPhones has a larger sensor and an aperture of f/1.6 that should account for an improved quality of low-light photos.

2.5x optical zoom in iPhone 12 Pro Max. The largest edition of the new iPhone gets the new 65-millimeter lens for enhanced optical zoom.

Dolby Vision HDR support. You get automatic Dolby Vision color grading on all videos shot with iPhone 12.
Battery life: Will 5G cause battery drain?
Faster downloads and more Netflix movies during your morning commute. Does this mean 5G will make your battery life shorter? The short answer is it might. But there's a solution.
As a matter of fact, iPhone 12 promises great battery life — up to 17 hours of video playback with iPhone 12 and iPhone 12 Pro, and up to 15 hours with the mini version. But 5G is a huge factor here. Tom's Guide has recently run a battery test on Apple iPhone 12, and the results are not great. What they observed is that iPhone 12 loses 2 hours of its battery on average when using 5G data. While Apple obviously was ready for this, they introduced the feature called Data Saver Mode. It's supposed to automatically downgrade your connection to LTE when 5G is not needed.
iPhone 12 Pro and iPhone 12 Pro Max
iPhone 12 Pro and iPhone 12 Pro Max are the more expensive counterparts of iPhone 12 — with 6.1-inch and 6.7-inch displays respectively. Just as last year, the Pro models have a three-lens camera in contrast to iPhone 12's dual camera. They arrive in deeper and more elevated shades — silver, graphite, gold, and pacific blue.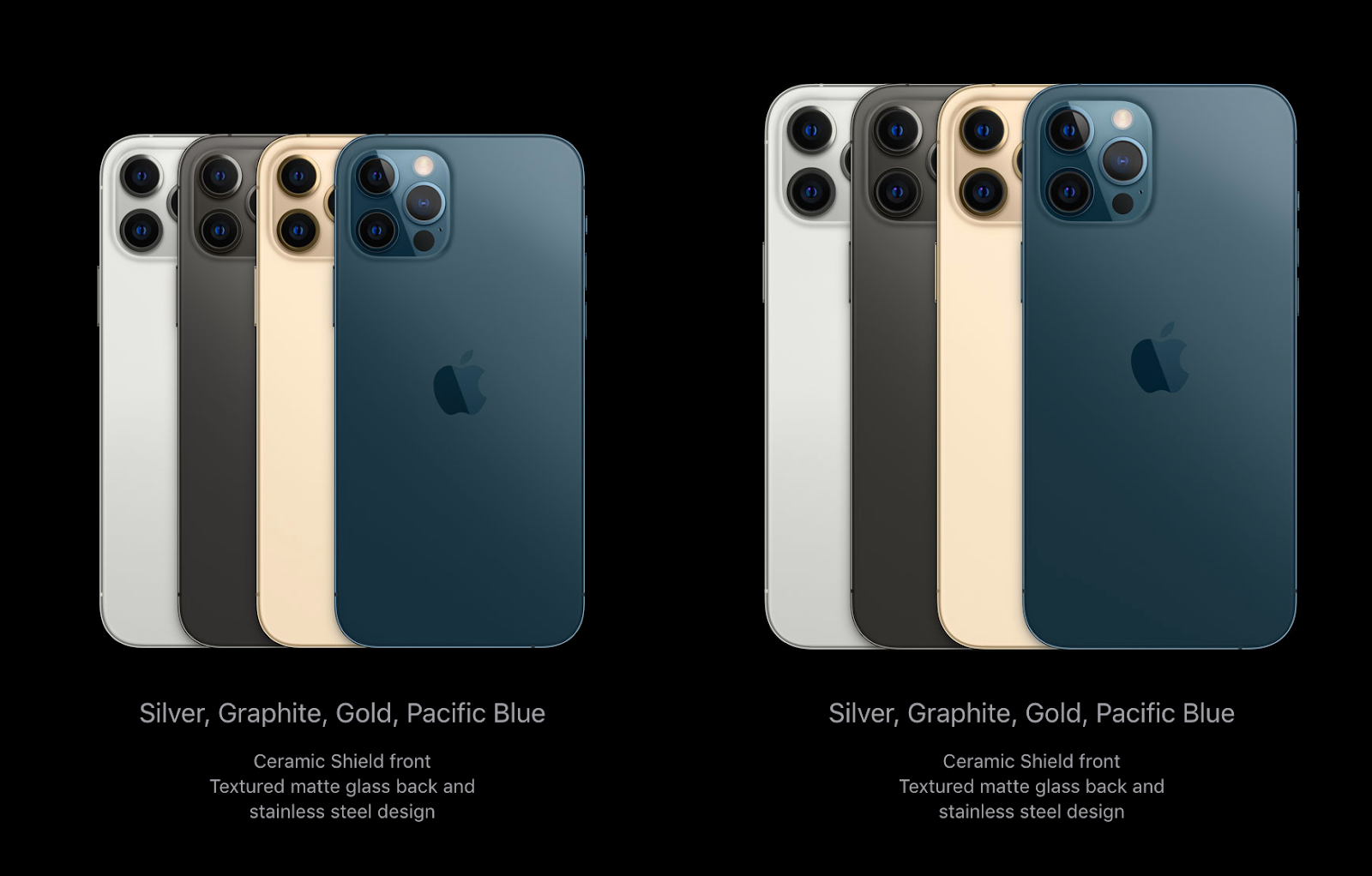 apple.com
iPhone 12 release date
iPhone 12 and iPhone 12 Pro is available for pre-order starting October 16, with the release set for October 23. iPhone 12 mini and iPhone 12 Pro Max arrive a bit later — available for pre-order starting November 6 and launching November 13.
You can pre-order your new iPhone on apple.com as well as AT&T, Verizon, T-Mobile, Walmart, Target, Xfinity Mobile, Best Buy, and Sam's Club. iPhone 12 and iPhone 12 Pro pre-orders go live in 30 countries, including the US, the UK, China, Australia, Germany, Japan, and more.
iPhone 12 price
iPhone 12 has a higher base price than iPhone 11 released last year. The price of the 6.1-inch iPhone 12 starts at $799. However, this year, you can get iPhone 12 mini for the price of iPhone 11 — $699. The price increase sounds quite reasonable, considering the addition of 5G, MagSafe, and camera upgrade.
Below we lay out iPhone 12 prices with regard to their storage capacity. Note that a SIM-free model of any new iPhone will cost you $30 on top of the base price:

Is the newest iPhone worth it?
So here's the verdict: It's not very reasonable to buy iPhone 12 only because you're thrilled by 5G. The truth is 5G connectivity is still a next-generation network and not available across many locations in the US and worldwide. So it's a bit too early for mainstream 5G.
But if you love the design and the new OLED display, then why not? iPhone 12 is thinner, lighter, and less likely to shatter than its older counterparts, so it's generally a great phone for your day-to-day tasks.
Finally, whether you're planning to upgrade or not, there's always a way to make any iPhone more powerful with the best software. Just in case you didn't know, Setapp — a collection of 200+ Mac apps — now provides curated apps for iPhones too. So you can ensure your iPhone always works in your favor!