Setapp arrives on iPhone and iPad
For years, we've been asked the same question over and over again: "Are you guys adding iOS apps?" For the first time, we can enthusiastically answer - YES! We're thrilled to announce the first curated collection of iOS apps on Setapp. This means you can now unlock the mobile versions of many Setapp apps on your iPhone or iPad. Find our all-time favorites, including Ulysses, Taskheat, and Paste, in the dedicated iOS category inside Setapp. And it's just the beginning — we'll be adding more! And more. Aaaaand more.
How to get started with Setapp for iOS
If you're a Setappian-to-be, you can try both Mac and iOS apps with Setapp for 7 days free.
Here's what you need to get started:
Active Setapp subscription that contains access to iOS
One available device in your Setapp account (check device availability here)
QR code scanning app (available natively in the Camera app on iOS 11 and later).
Unlock iOS apps via Setapp desktop app
You can activate any iOS app via the Setapp desktop client on Mac. That being said, there's no dedicated Setapp app to install on your iPhone or iPad — just pick an app from the desktop collection, and Setapp will trigger its installation on your iOS device. All the apps arrive with unlocked functionality, no ads, and no in-app purchases. In other words, we keep it Setapp.
Ready to go? Here's how to you can take Setapp to iPhone or iPad:
Open Setapp on your Mac
Click to open the app with an iOS companion — you'll find them all in one spot under "Available on iOS"

Click "iOS app" next to the Install button
Scan the QR code with your iOS device and install the app from the App Store
Hit "Done," then scan the second QR code. This will trigger a notification on your iOS device. Tap the notification > Open to launch the app.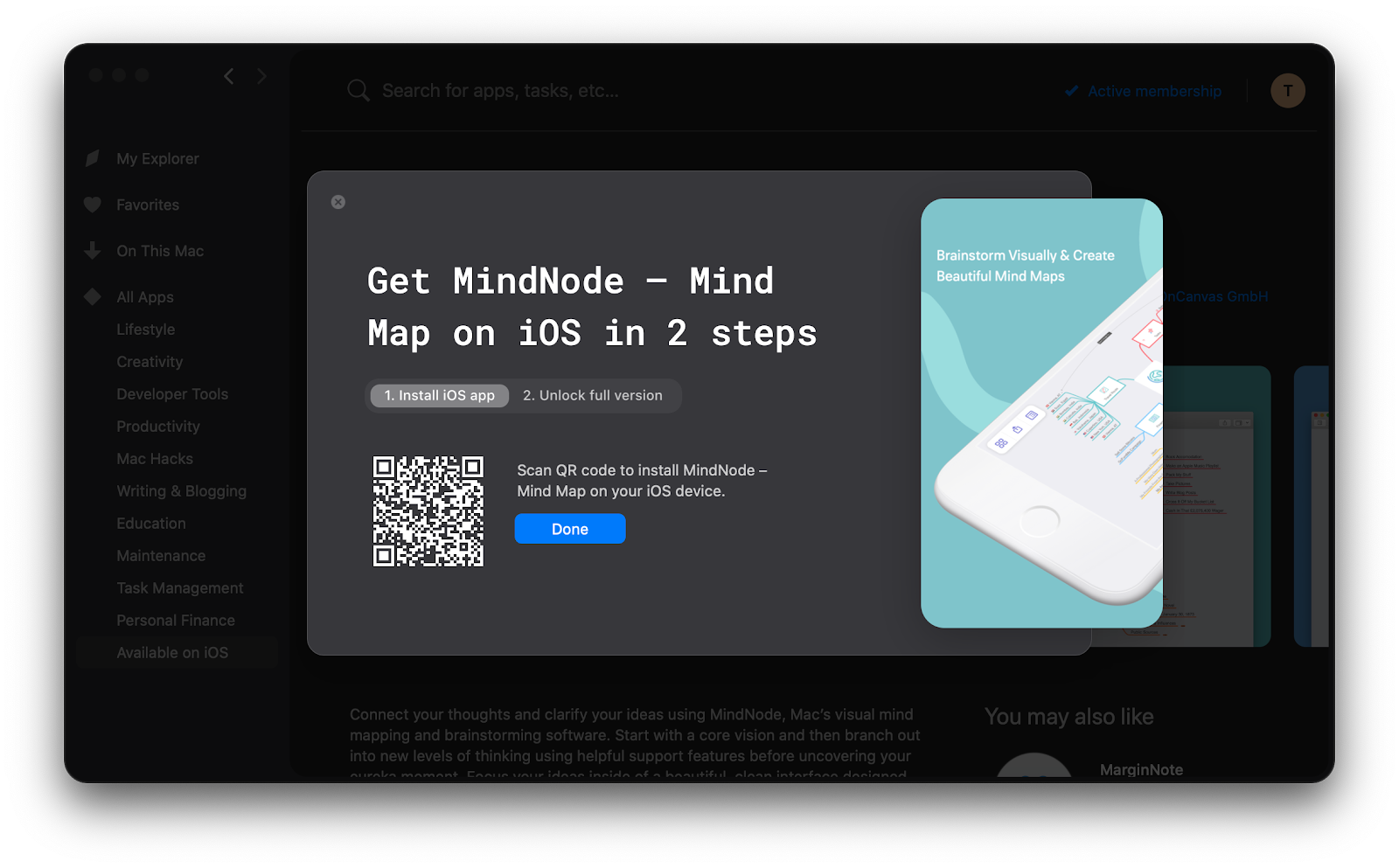 That's it. You should now be able to use the app on your iPhone or iPad. For more details on how Setapp for iOS works, check our support page.
Apps available with Setapp for iOS right now
Fingers crossed, your favorite app is already on board with Setapp for iOS. If not, no worries, new arrivals are coming soon. Here are some of the apps you can unlock on your iPhone or iPad as of now:
Setapp as a multi-platform solution
With new apps joining every week, Setapp has grown a few sizes over the past years. So we've looked at the current suite of apps and realized it's no longer a Mac toolkit. It's a package for solving tasks — anywhere and anytime. Wherever your daily flow takes you, we want Setapp to go with you. And now it's finally possible.
While it's the first time Setapp is stepping outside a Mac, we're beyond excited to see where it leads us. And you can certainly lead it with us! If you have any feedback or a special request, drop us a message at [email protected], and we'll look into it. Let's make Setapp yours, on more devices.