How to transfer photos from iPhone to Mac easily
Using an iPhone to take, edit, and share photos has never been easier. Some of these photos will be posted to social media or shared with friends right away, but most need to be stored on a device for safe and easy access in the future. As you might want to edit or just back up your images on your computer, understanding how to download photos from iPhone to Mac is essential.
If you take a significant amount of photos with your smartphone, there are a few issues you'll eventually run into: the amount of storage that's being used up on your iPhone, the safety of your photos, and the ability to access your photos from different devices.
All solutions for how to download pictures from iPhone to Mac are fairly easy to implement and will help you free up more storage, as well as back up and retain access to your photos. In case you're filming and editing lots of videos, you might be interested in how to transfer videos from iPhone to Mac too. Luckily, both can be solved the same way!
The easiest way to transfer photos from iPhone to computer
The apparent absence of easy photo sharing and management tools has led to the development of numerous third-party apps, each with its own unique approach to the problem. AnyTrans is one of the best solutions you can find.
AnyTrans is a file transferring tool and backup manager that makes file moving simple and accessible. It lets you instantly copy data from connected devices, so you can export various content and, of course, transfer photos from iPhone to Mac and import videos from iPhone to Mac as well. It's a truly intuitive and simple solution:
Open AnyTrans
Check that both your iPhone and Mac are connected to the same WiFi
Connect your iPhone to Mac with a USB and allow access if prompted
Navigate to the Device Manager in the top menu bar
Select "Export iPhone Content to Computer"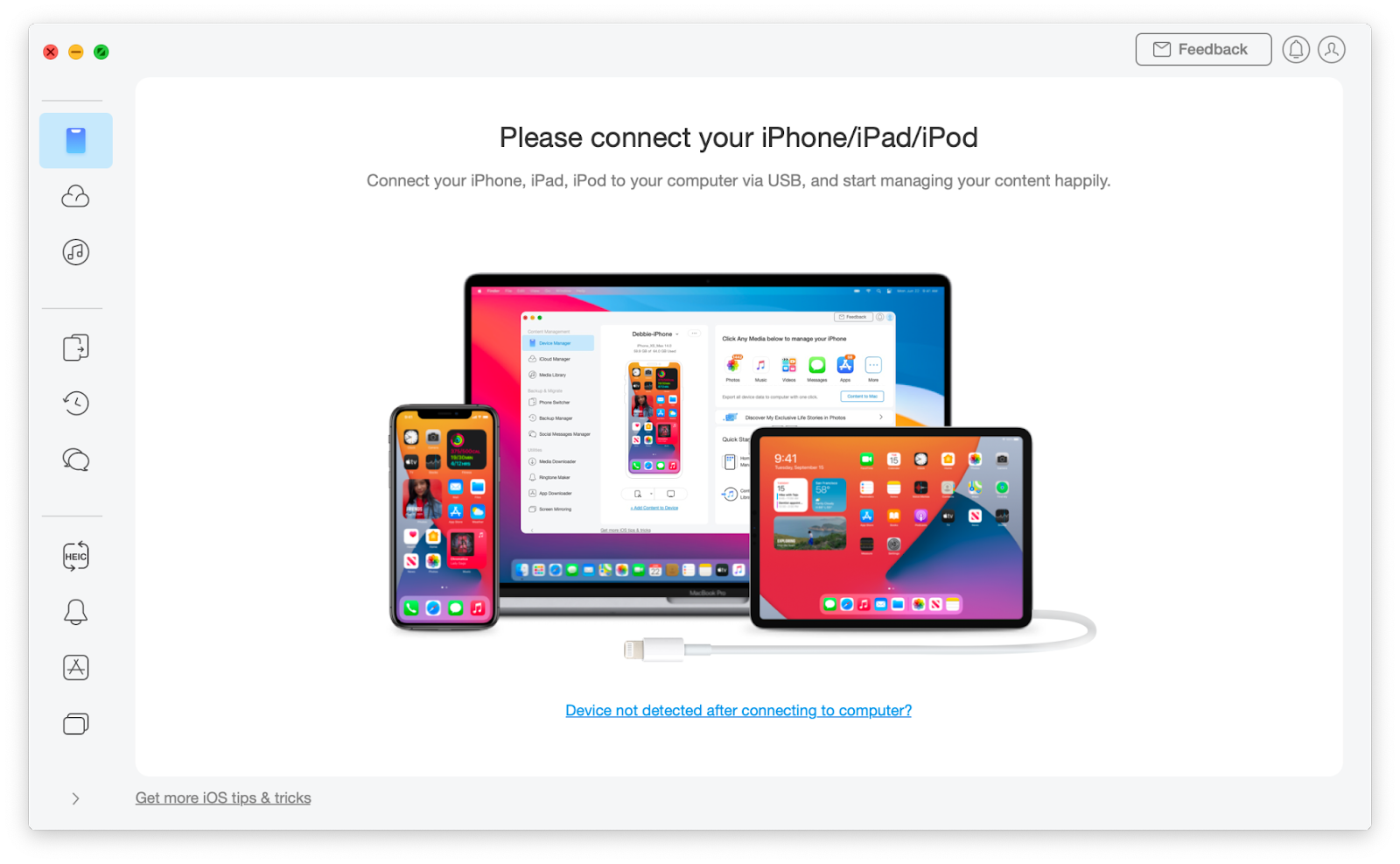 You've now successfully transferred photos from iPhone to Mac. The photos and videos that you download into the Photos app on Mac will also sync to iCloud, so all of your content is consolidated and backed up. Read more about how to backup iPhone.
Move photos from iPhone to Mac using Finder
If your Mac runs macOS Catalina (10.15) or later, you can sync your photos from iPhone to Mac using Finder. This method doesn't give you the same control as AnyTrans, though — you can only sync select albums or all photos. Here's how it works:
Connect iPhone to Mac with a cable
Open Finder and locate your phone under Devices
Click on your phone
At the top of the page, click 'Photos'
Check the box next to 'Sync photos'
Choose the app to sync your photos from
Choose if you want to sync all photos or select albums
Click 'Apply.'
How to import photos from iPhone using Apple iCloud Library
Apple's iCloud allows you to store and consolidate content across all of your devices on the cloud server, starting with a free-tier plan that covers 5 GB of storage space. If your beautiful pics occupy more space, you'll have to upgrade to a paid iCloud plan.
Setting up iCloud is easy, just sign in with your Apple ID in System Preferences and then use the same Apple ID on another device. After that, you can transfer photos from iPhone to Mac using the iCloud Photo Library. Start with your phone:
Go to Settings > Photos
Toggle iCloud Photos on
If you want to be able to share albums with other users, turn on the Shared Albums setting as well.
Next, turn on iCloud sync on your Mac:
Open Photos > Preferences
Go to the iCloud tab
Toggle iCloud Photos on.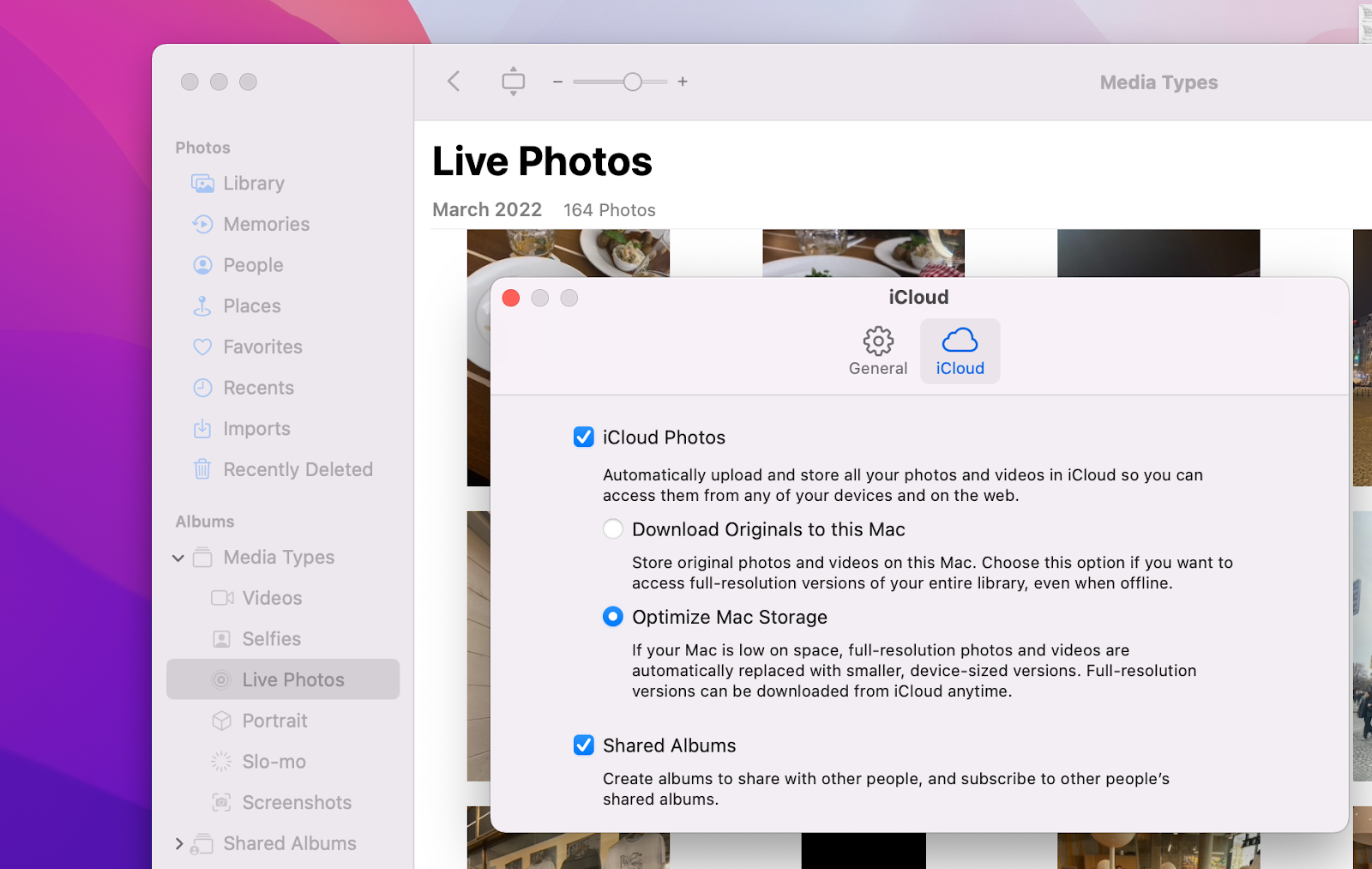 The media from your Apple Photos app will now be transferred to your Mac. Additionally, the process will import photos from iPhone to Mac automatically in the future.
A good next step after figuring out how to sync photos from iPhone to Mac is to learn how to detect duplicate pictures and avoid wasting valuable cloud storage you're most likely paying for.
Of course, you could go through your library manually, but as you take more and more pictures, this task might take hours without guaranteeing a perfect result.
Read more about how to recover permanently deleted photos from iPhone
Gemini solves the duplicate photos problem. It's a nifty utility that scans your Apple Photos, iTunes, as well as other folders and files for any identical images and allows you to delete all the duplicates in one click. Moreover, Gemini also shows you similar files, which you can review and determine if you want to keep both, or if one of them is more relevant.
Using Gemini is as easy as it sounds:
Install Gemini via Setapp and open it
Click the plus icon
Choose the folder to scan
Select "Scan for Duplicates"
Review the results and click on Remove for those you no longer need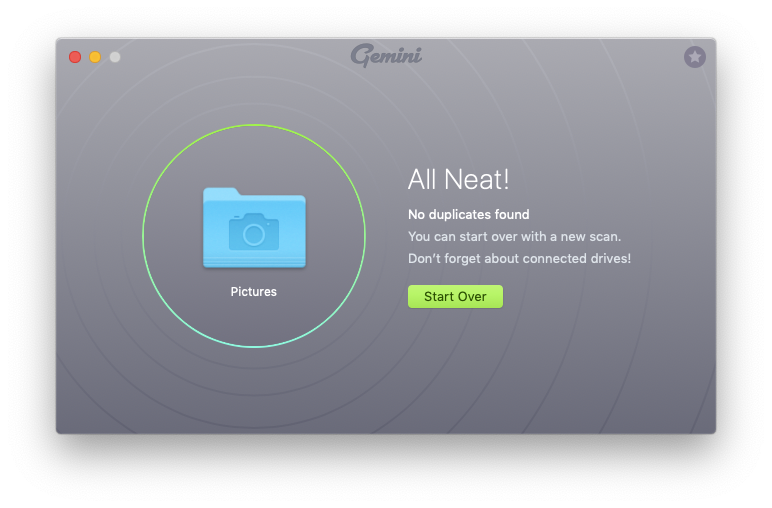 Transfer photos from iPhone to Mac with AirDrop
Another built-in option to transfer photos from iPhone to Mac is using the AirDrop feature, which makes it easy to send files between two Apple devices. As it's a native Apple utility, using it to import photos from iPhone to Mac is quite straightforward:
On your iPhone, go to Settings > General > AirDrop > Everyone (or Contacts Only) — this setting indicates who can locate your phone via AirDrop
Similarly on Mac, go to Finder > AirDrop and set up your Mac's visibility
Ensure both devices are connected to the same WiFi network
Open Photos and select the photos or videos you want to AirDrop to Mac
Tap the share icon at the bottom left of your Photos app screen
Select your Mac device name from the AirDrop section
Confirm that you want to accept the files on your Mac.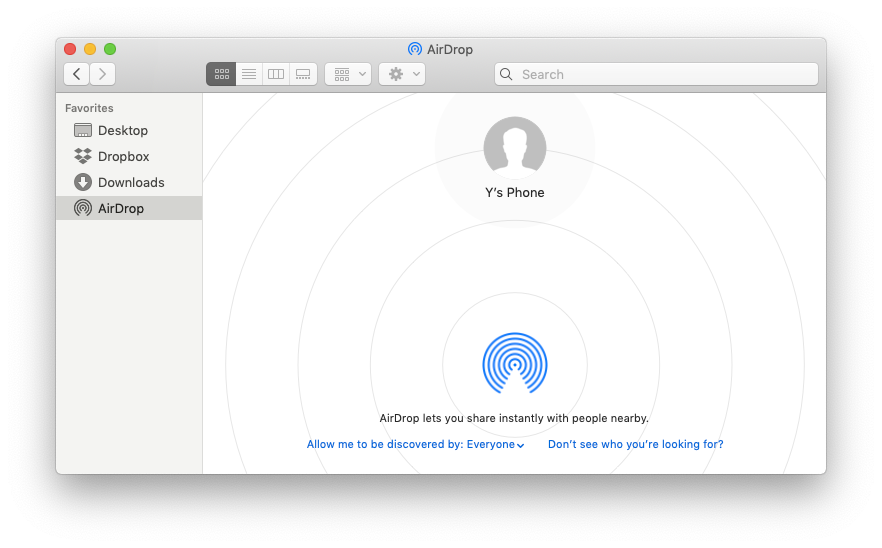 Transfer photos from iPhone to Mac via Photos
If Photos is your primary photo management app (both on iPhone and Mac), you can import photos manually via the Photos app:
Connect your iPhone to Mac using a cable
If prompted, unlock your phone and confirm that you Trust This Computer
Open Photos on Mac and locate your phone in the sidebar under Devices
Click your phone and choose where to import your photos
Select the photos you want to import and click Import Selected or Import All New Items.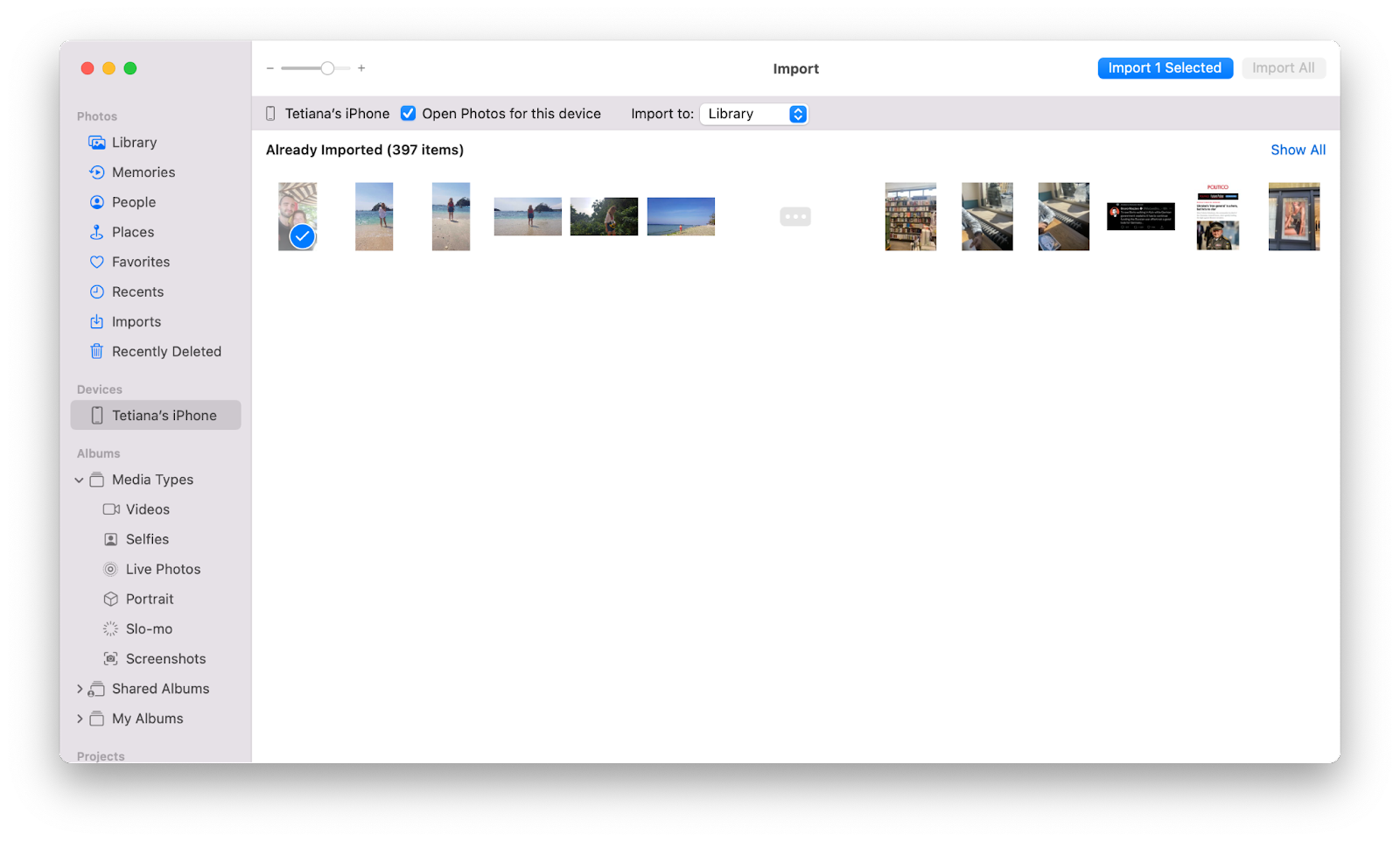 Using Dropbox to transfer photos from iPhone to Mac
You could be familiar with using Dropbox for large-file sharing between your friends and colleagues. But it's also a good option to upload photos from iPhone to Mac for yourself.
Dropbox is a cloud-based storage and collaboration tool, and is available as an app for both your iPhone and Mac. The free Dropbox account gives you 2 GB of space for your photos, videos, or any other files. To use it to transfer photos from iPhone to Mac, you'll need to set up an account on your iPhone first:
Install Dropbox from the App Store
Open the Dropbox app and grant access to your Photos when prompted
Tap the + (create) button
Select Upload Photos from the menu options
Tap each photo you want to upload
Go Next and choose the Dropbox folder in which to store the photos
Hit Upload.
Now you can transfer photos from iPhone to Mac:
Visit dropbox.com and log in to your account
Either choose specific photos to download or the entire folder
Select Download from the menu on the right side of the screen
Files will be saved to the Downloads folder on your Mac.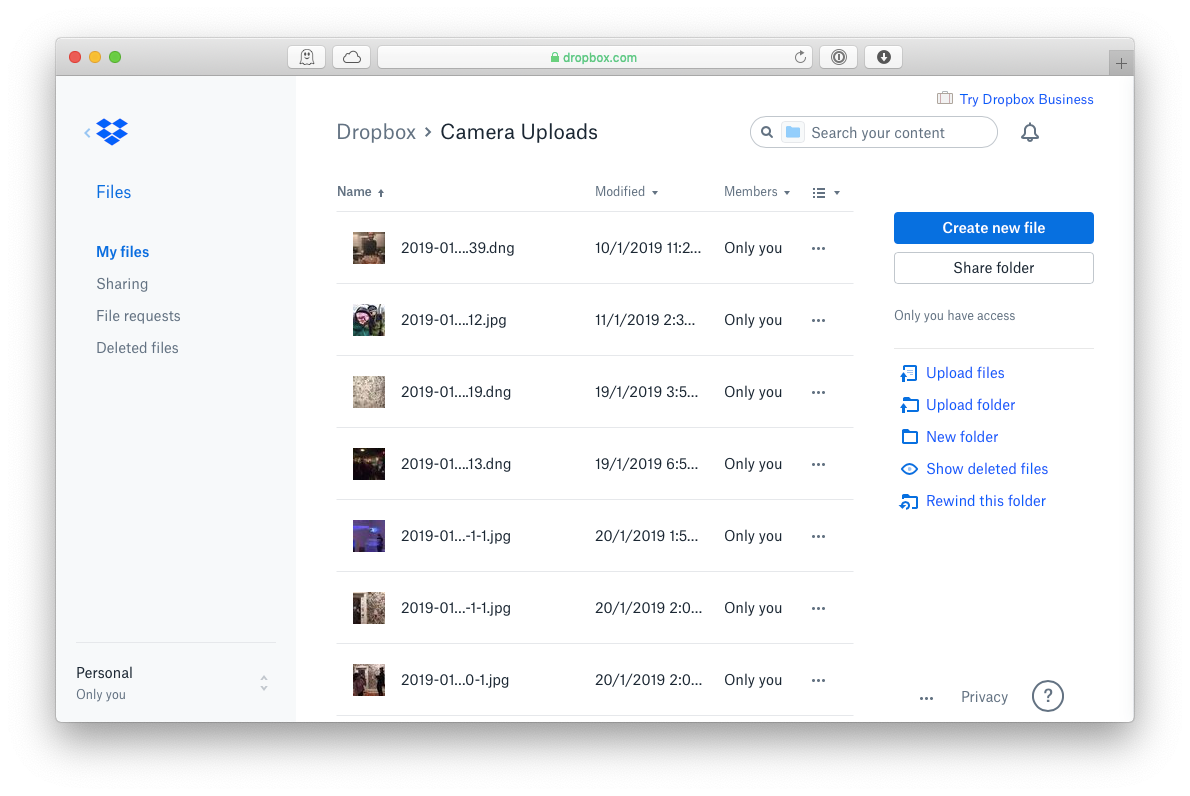 Transfer photos using Photo Stream
If you've been using iCloud and Photos for a while, you might be familiar with My Photo Stream — Apple's photo syncing feature that lets you sync the latest photos from your library across your Apple devices. Unlike iCloud Photos, it doesn't sync videos and live photos. So still images only. Here's how to transfer photos to Mac using Photo Stream:
On your iPhone, open Settings > iCloud > Photos > Toggle 'My Photo Stream' on
On your Mac, open Photos and go to Preferences > iCloud > Toggle 'My Photo Stream' on.
That's it. Your Photo Stream will be synced automatically.
Upload photos from iPhone to Mac using Image Capture
Did you know your Mac has a native image importer app? It's called Image Capture and it can be used to upload photos from iPhone to Mac, even though it's mainly used to transfer large photo libraries from cameras and scanners. Here's how you can use it:
Open Image Capture on Mac
Connect your iPhone with a cable
Click on your phone in Image Capture
Select the photos you want to transfer
Use the 'Import To' menu at the bottom to choose image destination
Click Download or Download All.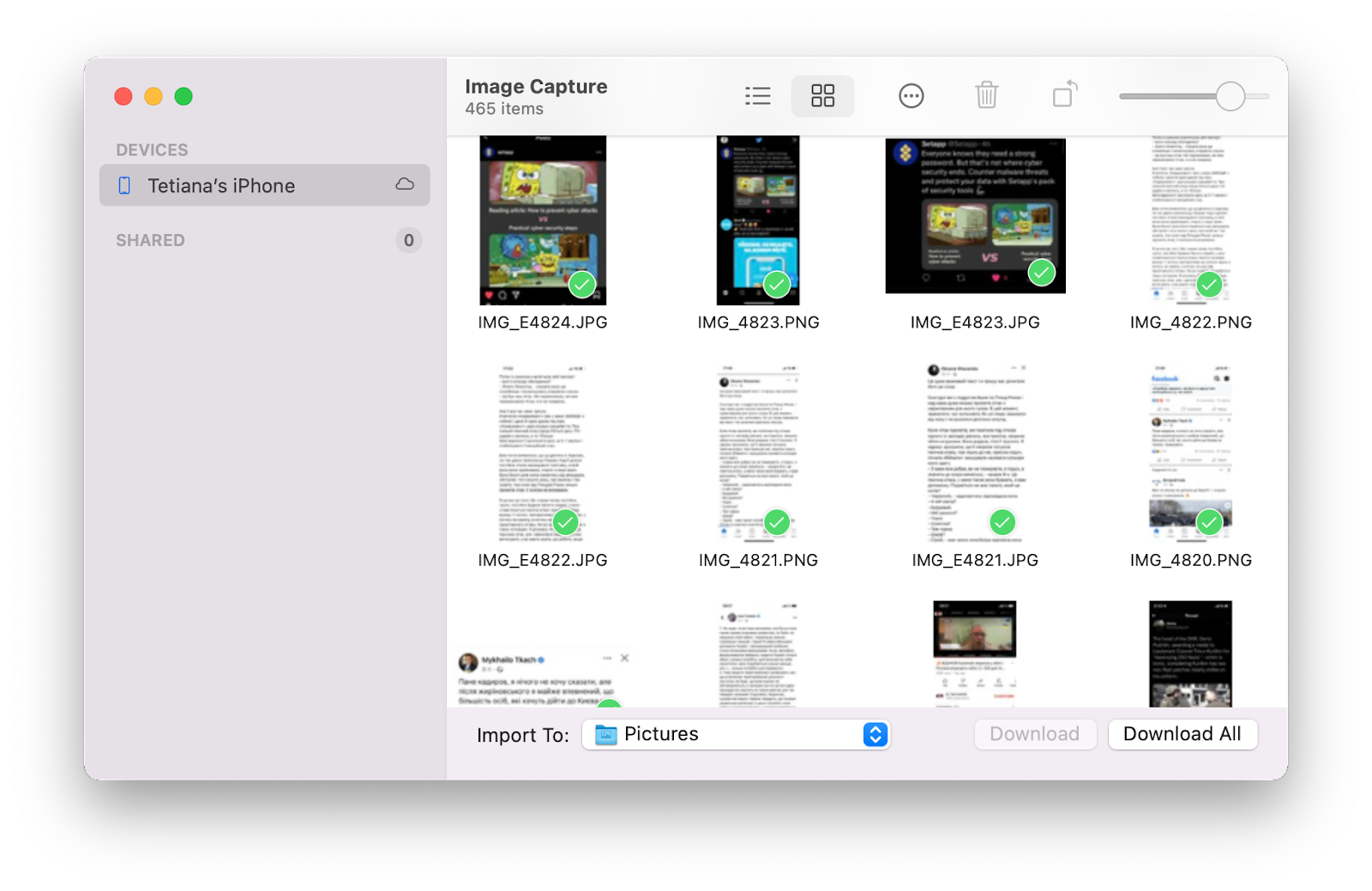 So what's the best way to transfer photos?
iCloud and Dropbox will not provide you with enough space for all your photos and videos on their free tiers. On the other hand, using a USB cable to sync photos from iPhone to Mac via Finder is quite limiting because it doesn't give you the flexibility of cherry-picking the photos you want to transfer. So how do you solve the task?
Wireless methods like AirDrop are the best in case you need to share a single pic. And if you need to sync a bunch of photos or videos, use AnyTrans — the most flexible content manager for your Apple devices. The app is available for a free trial via Setapp (if you're not sure you'll like it). And by the way, a duplicate finder Gemini is on Setapp too!
FAQ
A few final answers regarding the non-existent Apple version of Publisher and how you can replace it on Mac.
How do I import photos from iPhone to Mac without USB?
If you don't have a cable, you can share photos from iPhone to Mac one by one using AirDrop. Or, use iCloud sync to import all photos right away.
How do I import photos from iPhone to Mac without duplicates?
Use Gemini to scan your photo library for duplicates before transferring the photos. It's available on both Mac and iPhone via Setapp, so you can clean up your library on every device.
Why can't I import my photos from an iPhone to a Mac?
The most common problem occurs when you try transferring a large pack of photos at once. Possibly, your Photos app can't handle it all and gets stuck. In this case, try syncing photos in smaller numbers or use an alternative photo transferring method such as AnyTrans.
Another reason why your images won't be imported to Mac is that you have the 'Optimise iPhone Storage' setting enabled. If you do, your photos won't be transferred from iPhone because they are actually not stored on iPhone (iPhone just keeps the small copies). Make sure to disable this setting if you intend to use Apple's native methods to sync photos.
Lastly, make sure your cable works. A faulty USB cable could be the one that causes trouble.