iStat Menus: An Advanced System Monitor for Your Menubar
You open your Mac in an airport and it has 23% battery charge. How many hours of use is it, three? What if you stream a movie? macOS prefers not to disclose the exact time. To view your central processor usage, you'll have to launch Activity monitor, and same goes for network info. Every important number in your Mac seems intentionally hidden, so you'll need an app to bring them into the view and make them stay there.

iStat Menus delivers new insights into how your Mac is performing, all built into your menu bar. The app displays information about your CPU, memory, solid state drives, and network connection, and gives you a convenient way to check in on your computer's sensors.
Control Mac's activity and performance from menu bar
Each menubar display expands into a set of specialized charts and displays, each of which gives more specific information. Plus, you'll be able to customize the appearance of each display according to your needs.
Here's how it all works.
Getting to know your new Mac indicators
By default, iStat Menus embeds five displays in your Mac's Menubar: CPU, Memory, Solid State Drive, Network, and Sensors.
You'll also be introduced to a couple of extra stats, like weather and world clock. By extra we mean that you'll have to turn them on manually from the iStat Menus app window, they're not shown by default like the previous. They're available in the main menu as well and are frankly way more convenient (and informative) than native macOS versions, so you should look into that. For instance, weather doesn't just show you current temperature and moonphase. You can view virtually anything, from UV ray intensity to astronomical dusk and dawn times.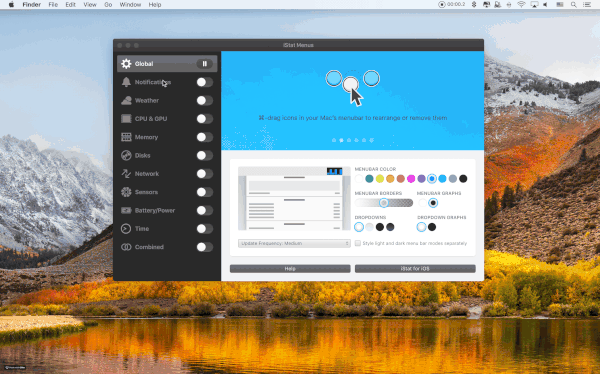 To expand any menu, just click on its icon. You'll find a series of readouts, with some illustrated by charts and graphs. For more information about a particular readout, hover over it with with your cursor. Some readouts expand into additional graphs or more detailed tables. Now, let's take a closer look at each of the main stat displays.

CPU & GPU usage
Central processing unit is a key indicator of a hard-working Mac. When the stats climb up, it's time to slow down on the apps you're using to prevent overheating. Usually, you'd have to resort to Activity Monitor, but iStat Menus will keep an overview of your CPU and GPU (graphic processing unit) load in your menu bar.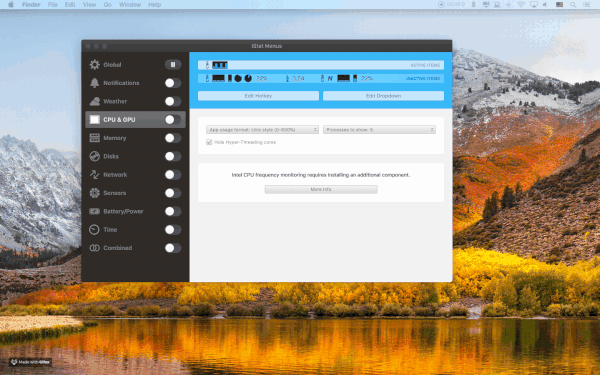 Memory load
All info on your memory load hides behind one blue bar in iStat indicators. You can view the list of apps that take up most memory resources and general division of memory load between wires, active, and compressed. As well as pressure that current usage has on your Mac's memory.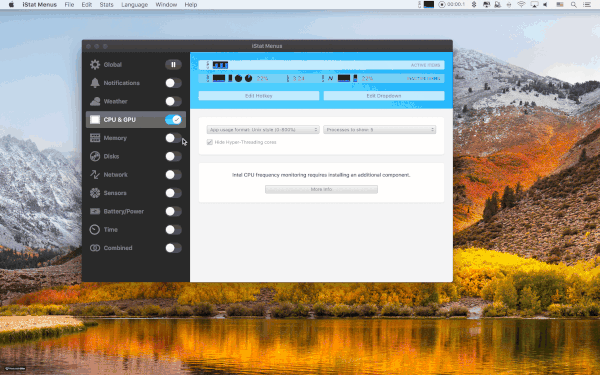 Battery power
One of the most useful (even though a bit unreliable) displays in iStat Menus is battery life. As macOS once did, it shows you the time until your Mac shuts down. The estimate shrinks when you open CPU and memory-hungry apps, but at least it gives you some comfort in knowing how much time your Mac has. Plus, it shows you charge cycles, unlike macOS (looking at you, Apple).
Temperature sensors
One of the crucial points in Mac's hardware that needs monitoring during intensive work is temperature. When you're running software that strains your system, there's always a risk of overheating. To prevent it, constant view of your disk's temperature is vital.
Weather details
As we mentioned earlier, the weather unit in iStat Menus is ridiculously rich in all kinds of information. Humidity, precipitation, pressure, dew point, dusk times, wind, visibility etc. You can fly planes with that much data.
Alerts and notifications
Depending on what you'd like to be notified about, high temperature or low battery, you can set respective alerts and not worry about unwanted issues catching you off guard.
Changing your preferences
In the app's preferences tab, you'll find a number of options for customizing your display. The section offers unique preferences for each display, giving you access only to the information you want and need.
Each display has an On/Off slider bar located to the right of its name. Move this bar to the "off" position to remove that display from the menu bar. Use the drop-down menus and radio buttons to set up your custom displays however you'd like.
Apperance
On the app's main page, you'll find a set of controls that will let you customize its appearance. Use the color buttons to set the display colors for graphs, and choose from several background and theme color options. Under the "order" tab, you'll be able to set the order in which the app's displays appear in your menu bar. You can also hide as many indicators as you want and add a widget to your notifications center. This way you can have important stats at hand and they won't crowd your menu bar.
If you ever want to remove a iStat Menus from your Mac, click the "uninstall" button at the bottom of any of the readouts.
Knowledge is power, and iStat Menus in Setapp tells you everything you'd ever want to know about how your Mac is running. Take advantage of its customizable appearance and functionality to get the information you want and need.