Depending on who you ask, personal finance is either boring, confusing, or absolutely essential. The older you get, the more you realize those in the last camp were right all along. Managing your personal finances can seem intimidating, but it's an absolutely essential skill to develop, especially once you start thinking how to prepare for retirement.
Track all of your personal finances in one place
MoneyWiz takes some of the pain out of watching your pocketbook with a suite of innovative features. The app lets you sync with your bank accounts to keep balances up to date, log transactions, set budgets, and schedule recurring payments. The time you invest up front into customizing the app will pay dividends later on when you're avoiding overdraft fees, saving consistently, and enjoying the app's automated visualizations. There are a few tips to get you started.
Bring all your financial accounts together
MoneyWiz tracks as many individual accounts as you'd like. It supports tracks cash, credit cards, and savings accounts
To create a new account click the "+" button in the bottom-left corner and then Add Account.
Choose from the list of options the app provides, which include digitally syncing with an online account through your bank or PayPal, uploading an account history from a file, or creating one manually.
Fill out the relevant information on the Basic and Extended tabs.
Click Create when you're ready.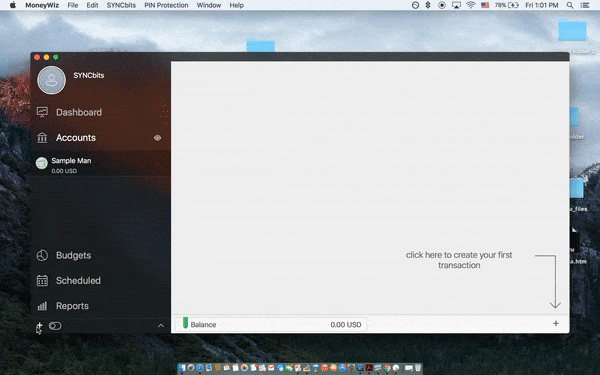 Personal budgeting and planning for the future
Budgets let you record how much you plan to spend on different kinds of expenses each month and then track your spending habits so you can see whether you keep to your spending goals.
To create a budget, click the "+" button and select Add Budget.
Customize the focus and spending limit of your budget in the pop-up menu.
Click Create to add it to your dashboard.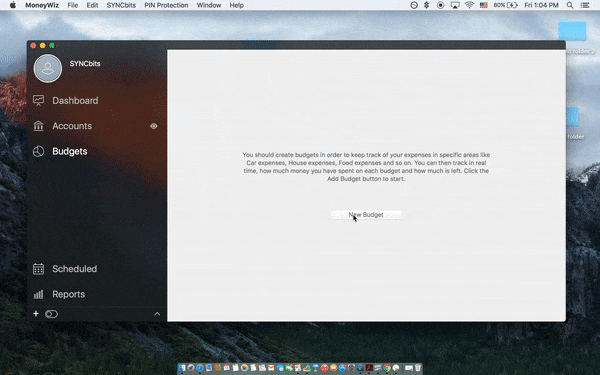 Scheduling payments
It can be easy to forget about recurring payments like electrical bills or gym memberships, but the app gives you the option to schedule your dues so they don't fall through the cracks. The same feature also lets you schedule your paychecks and other regular income.
To schedule a transaction, click the Scheduled tab and click the "+" button in the bottom-right corner.
Choose the type of transaction, then use the pop-up menu to enter the specifics.
The Frequency option lets you set recurring transactions on a daily, weekly, monthly, or yearly basis.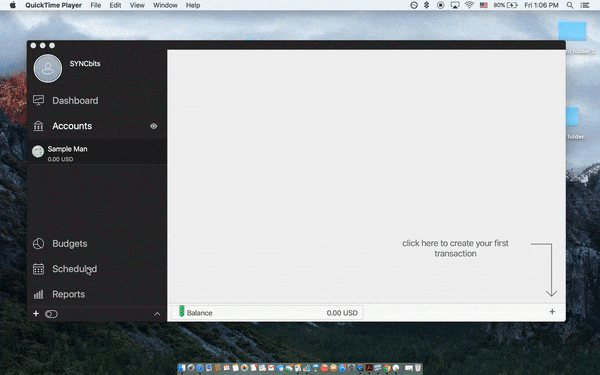 Analyze your finances in detail
In the Reports tab, the app automatically records and forecasts your balance based on posted and scheduled transactions. This information can help inform your budgeting process as you plan for the future. It can also generate different types of reports upon request based on the information you've logged. These can help break down your budget by expenses, cash flow, and net worth, helping you evaluate your financial health over the long term.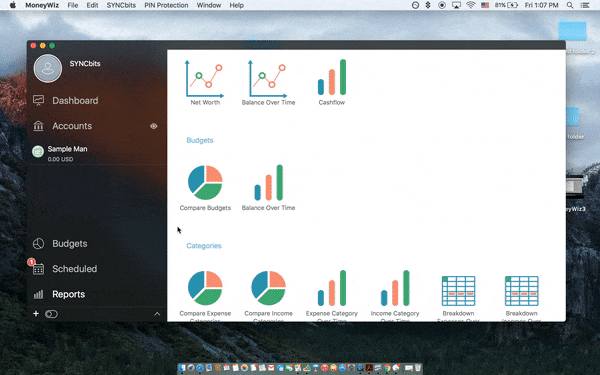 With MoneyWiz in Setapp, you'll have a clear and responsive picture of where your money is going, how much of it you're moving, and when it trades hands. It's an indispensable tool for people looking to take control of their finances for good.
Get 100+ Mac apps for any job
Sign up to Setapp and try them for free.
Try for free