How to visualize ideas with MindNode app
Here's the hard truth about a creative process: brilliant ideas fade fast if the only place they inhabit is your mind. Mind mapping tools are a good way to develop ideas, as well as give them permanent residence. Be it a presentation, a storyline, or a project plan, good ideas can embrace any shape if you let them out.
Mind mapping automation with MindNode app
Paper and pencil do a good job if you need to record a random thought. This is why writers carry a notebook at all times. But when it comes to working with your ideas, you need a more powerful instrument.
MindNode is a mind map maker for Mac, which takes your thoughts to a better place. It starts by capturing ideas in any form and builds a logical flow, based on your thinking process. Brainstorm, build connections, focus on specific points, view the full flow, and share what you've done – MindNode makes the whole process a breeze.
Make your idea feel real
Let's say, I want to become a baker. In MindNode, I can draft my first business plan. All it takes is adding the first node — "I want to bake bread." MindNode will help you take it from there.
Explore and investigate
The best part of wanting to be a baker is that you have to try bread and pastries everywhere you go. No excuses. With MindNode for iOS, you can jot down your thoughts about everything you've tried and add images. Build your own bread knowledge base on iPhone!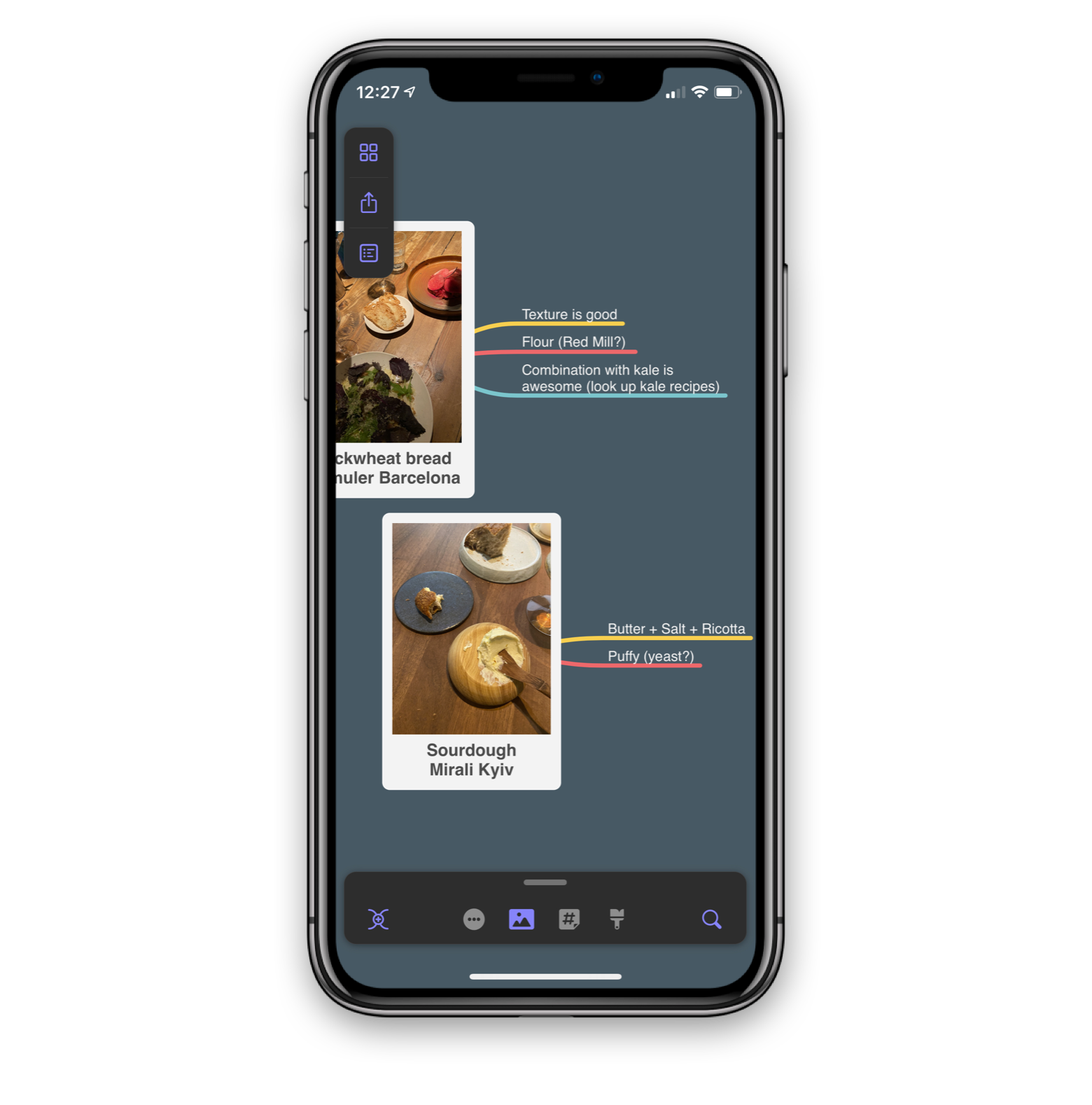 Implement
Once you're ready to get your hands dirty, MindNode won't stop being helpful. You can use it for inventory planning, monthly budget reports, and so much more.
Your thoughts take any shape
Eureka moments are tricky – you never know where they hide or what the camouflage is. With MindNode, you can master idea hunting pretty fast, though.
To get the creative juices flowing, jot down some notes, keywords, or major ideas in Quick Entry accessible via the menu bar widget. The app gives you total freedom to record ideas as they come, and you shouldn't worry about the format. Links, images, or text, there's the right package for any of your thoughts.
To add illustrations to your mind map, use Sticker Search. MindNode has a collection of tinted and colored stickers enabling you to bring complicated brainstorm maps to life.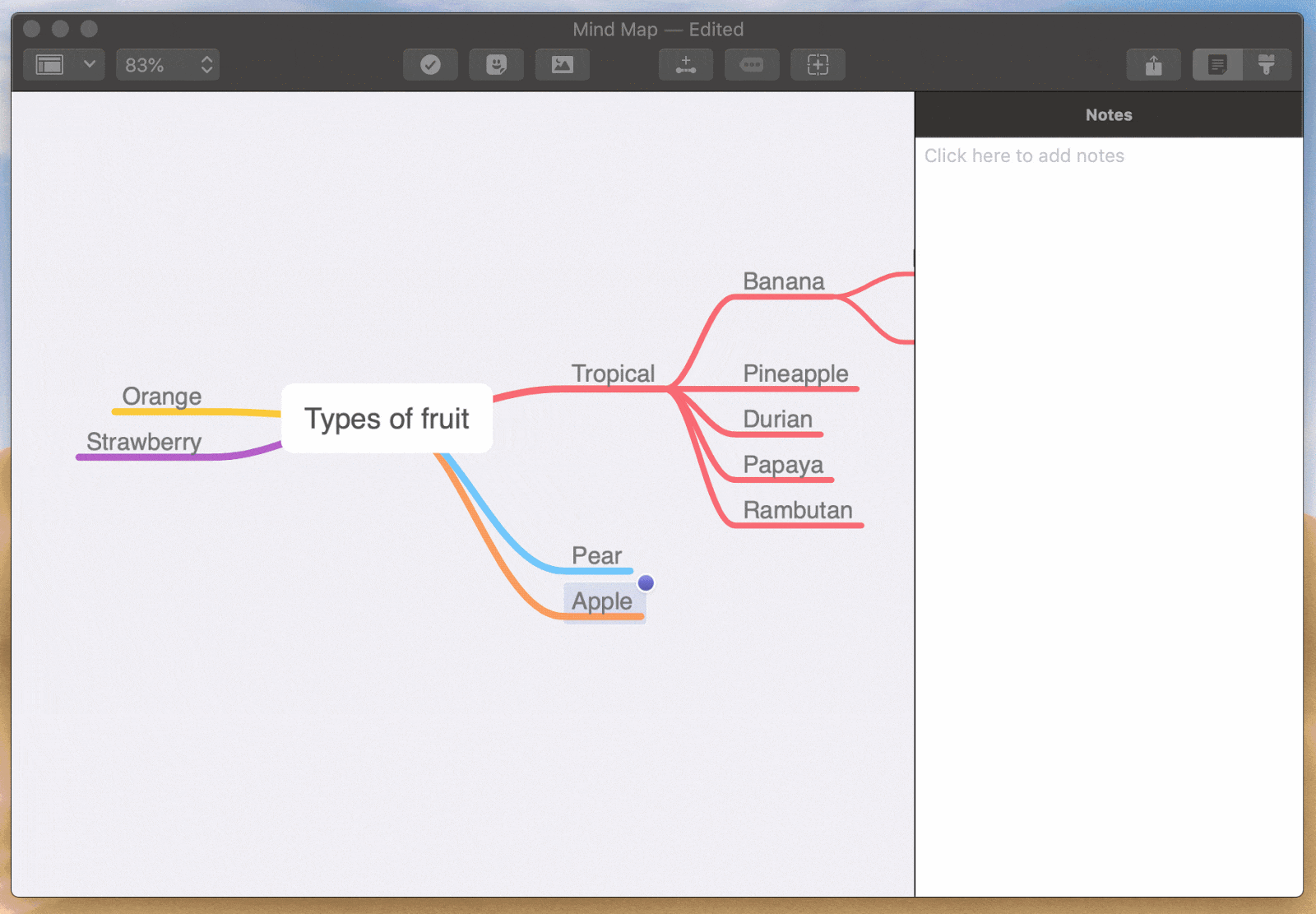 Organize your mind map
Add more structure to your mind maps with MindNode's extended organization tools. Sort your mind map children alphabetically, balance, or move to the left or right side.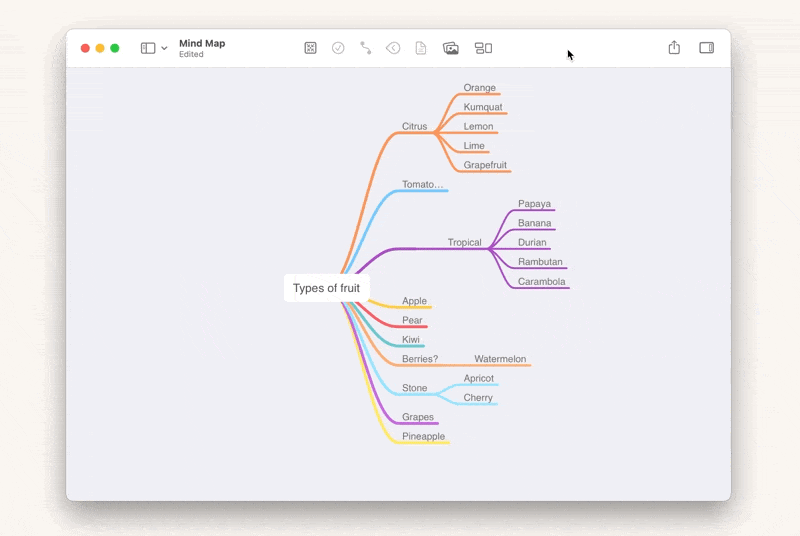 Effectively visualize ideas
The point of creating a mind map is to see how your ideas work together. MindNode allows you to build and manage connections between nodes in your own way. Connect, detach, or reorganize – you can make any changes, without your mind map falling apart. To focus on specific ideas, fold and unfold nodes by level or put a spotlight on a specific area through the Focus Mode. Browse preset designs to better reflect the mood of your mind maps: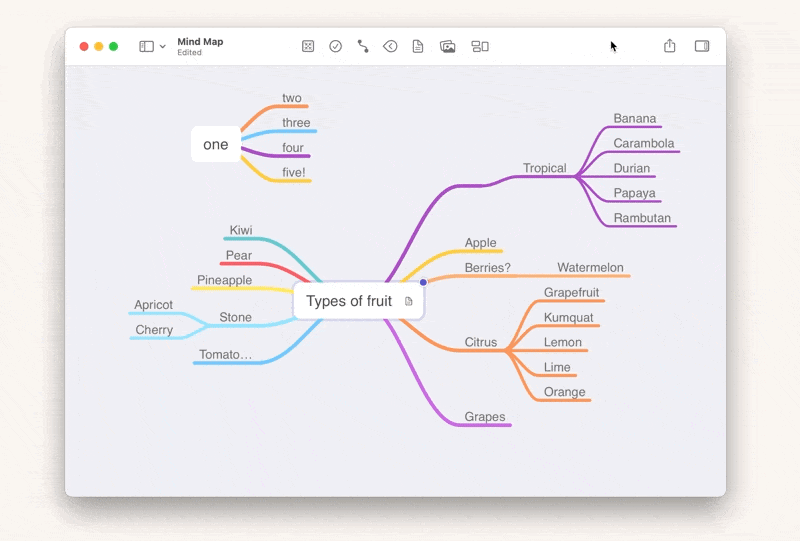 Turn items into checklist points: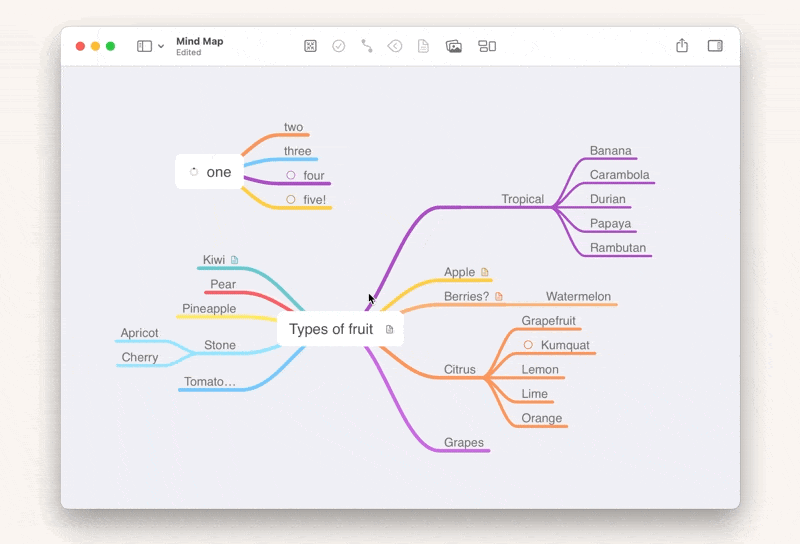 If you want to view your mind map without connections, navigate to View in the menu bar and toggle between Show/Hide connections.
Add notes
Chances are, a schematic structure is not enough to cover everything you have in mind for your plan, project, or idea. The good news is, MindNode has thought about that too. Use the app's notes feature to write down any explanations and additional info about your projects.
Simply click the side bar menu icon and go to notes by clicking the document icon. Select the item you want your note to be added to and type away!
Items with notes will show up with the notes icon next to the, so you can easily spot them: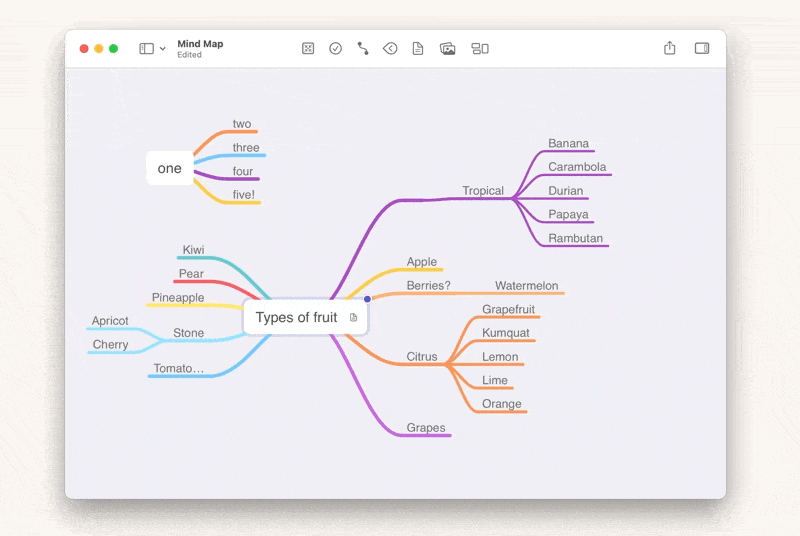 All ideas at a glance
If your mind map is the size of the universe, it could be difficult to process. But not if you let MindNode organize ideas for you. With unlimited themes and node styles, the app is an easy way to systemize complex concepts and flows. You can search your document and navigate easily by switching to the Outline view in the top left corner.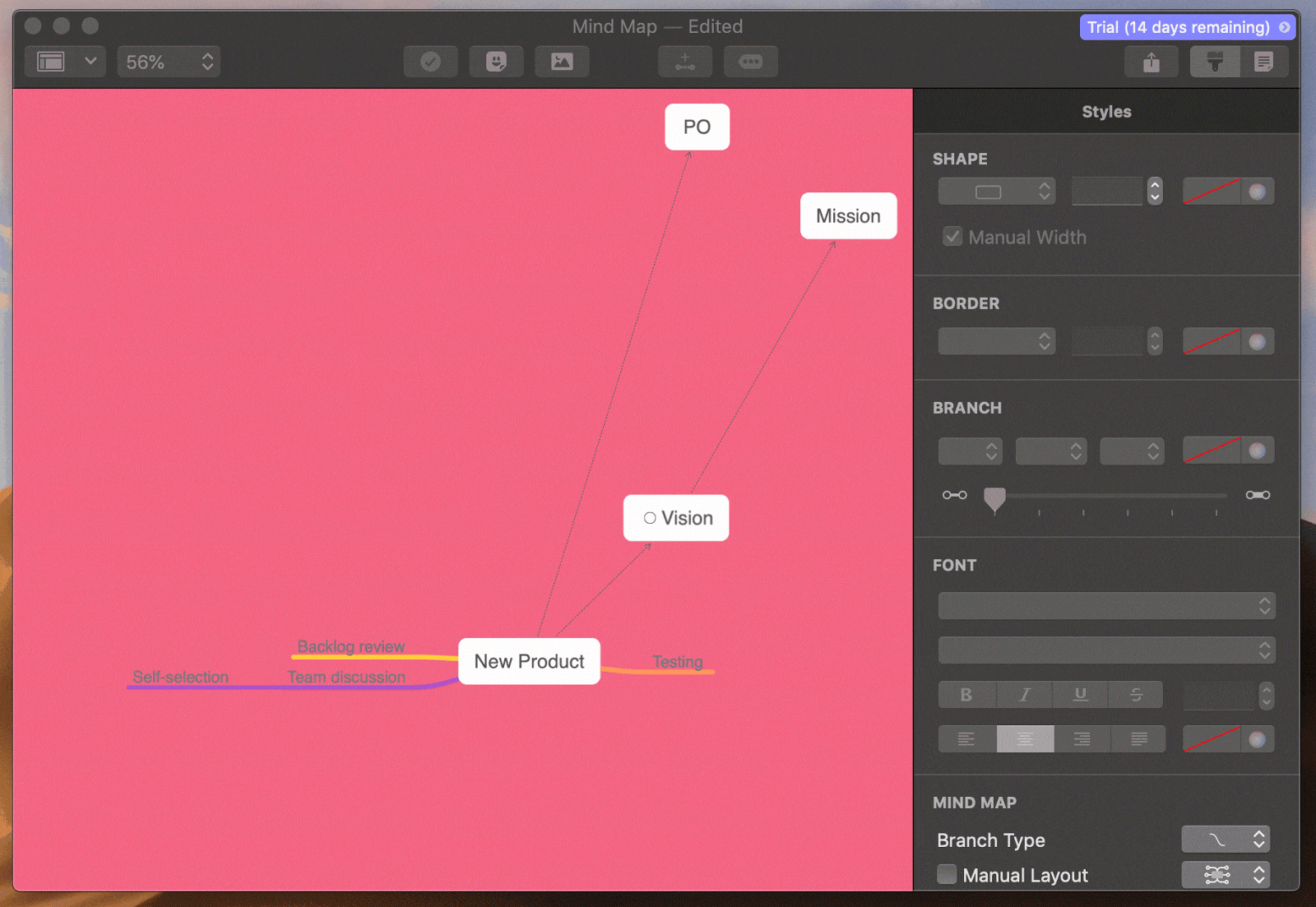 If your mind map is the size of the universe, enable Focus View mode to concentrate on specific points and ideas. Simply select the area you want to highlight and click on the plus sign in the upper menu of the MindNode menu.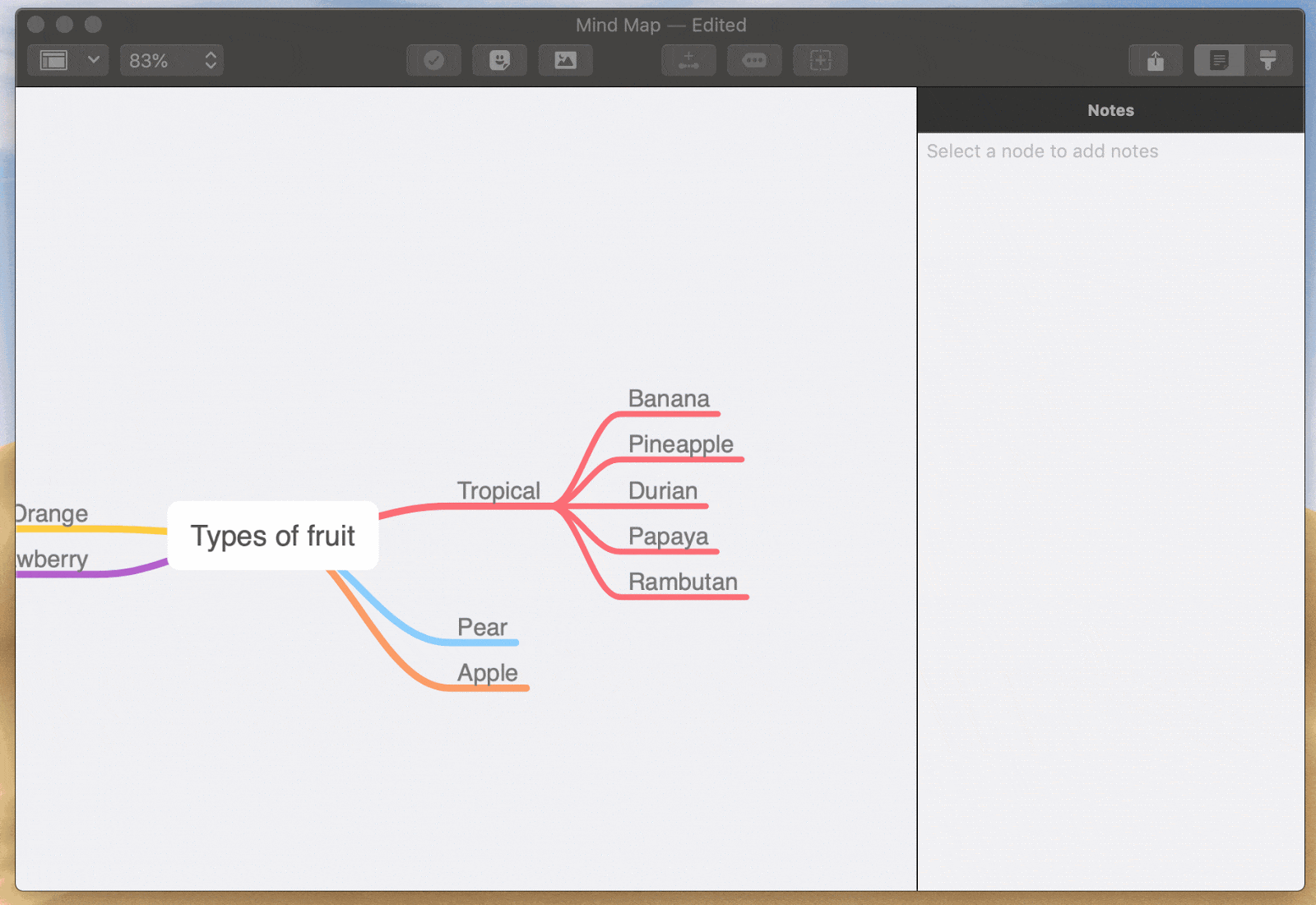 Share your mind mapping
Interactive docs that you create with MindNode shouldn't stay hidden up. The app gives you multiple options to share your nice-looking mind maps with anyone. The easiest way is to use a native web service called myMindNode. Alternatively, share your creations with AirDrop, Mail, or Messages.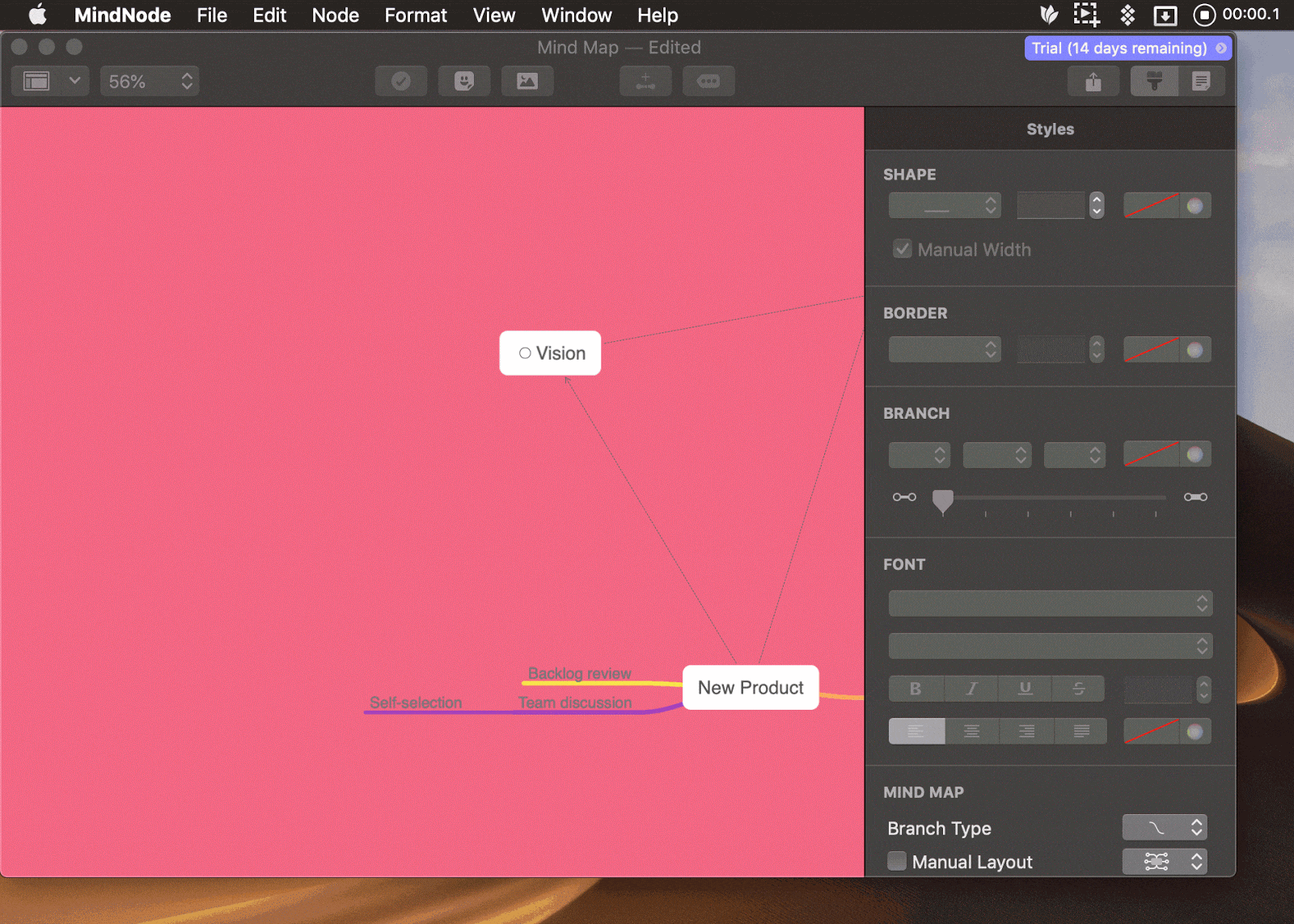 Make your brainstorming and planning sessions more productive with MindNode's extended mind mapping capabilities. Create elaborate flows, manage project sections, add notes, change the way your mind maps look, add stickers and emoji for more expressiveness, and get stunning bird's eye views of your ideas.
Use MindNode on Mac and iOS, so that you can work with your ideas wherever you are.
Get MindNode with your Setapp subscription! Don't have Setapp? Try free for 7 days with Setapp free trial. Setapp is one subscription to 240+ apps for daily tasks on Mac and iOS. From planning, scheduling, and maintenance, to more advanced tasks like design, coding, and AI content generation, Setapp has a rich, hand-picked selection of vetted apps that instantly power up your workflow.
Try MindNode and dozens of other awesome apps on Setapp now!