Make your online connection more secure with ClearVPN
A VPN tool encrypts your online data, making it harder to intercept your comms or spy on you. A VPN also changes your IP address, so the websites you visit have a harder time collecting this bit of personal information.
You can use a VPN to view what the browsing experience is like for users from different geo locations by setting your desired country in the VPN.
Enjoy secure browsing
In short, a VPN is your shortcut to a more secure online connection. If you are using a public Wi-Fi spot or sharing your internet with neighbors or roommates, a VPN drastically increases your protection from man-in-the-middle and sniffing attacks.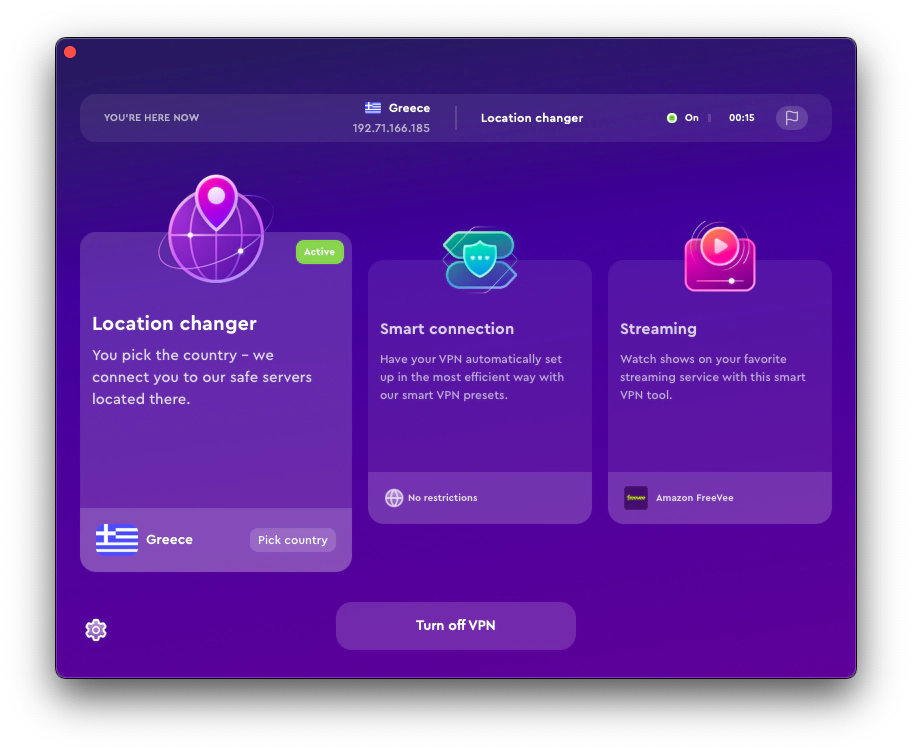 You can make your online browsing more secure with ClearVPN. Simply install the app from Setapp and start using it. This intuitive VPN is very easy to set up. All you have to do to connect securely is pick your option, e.g. Location changer or Smart connection, and click Connect me.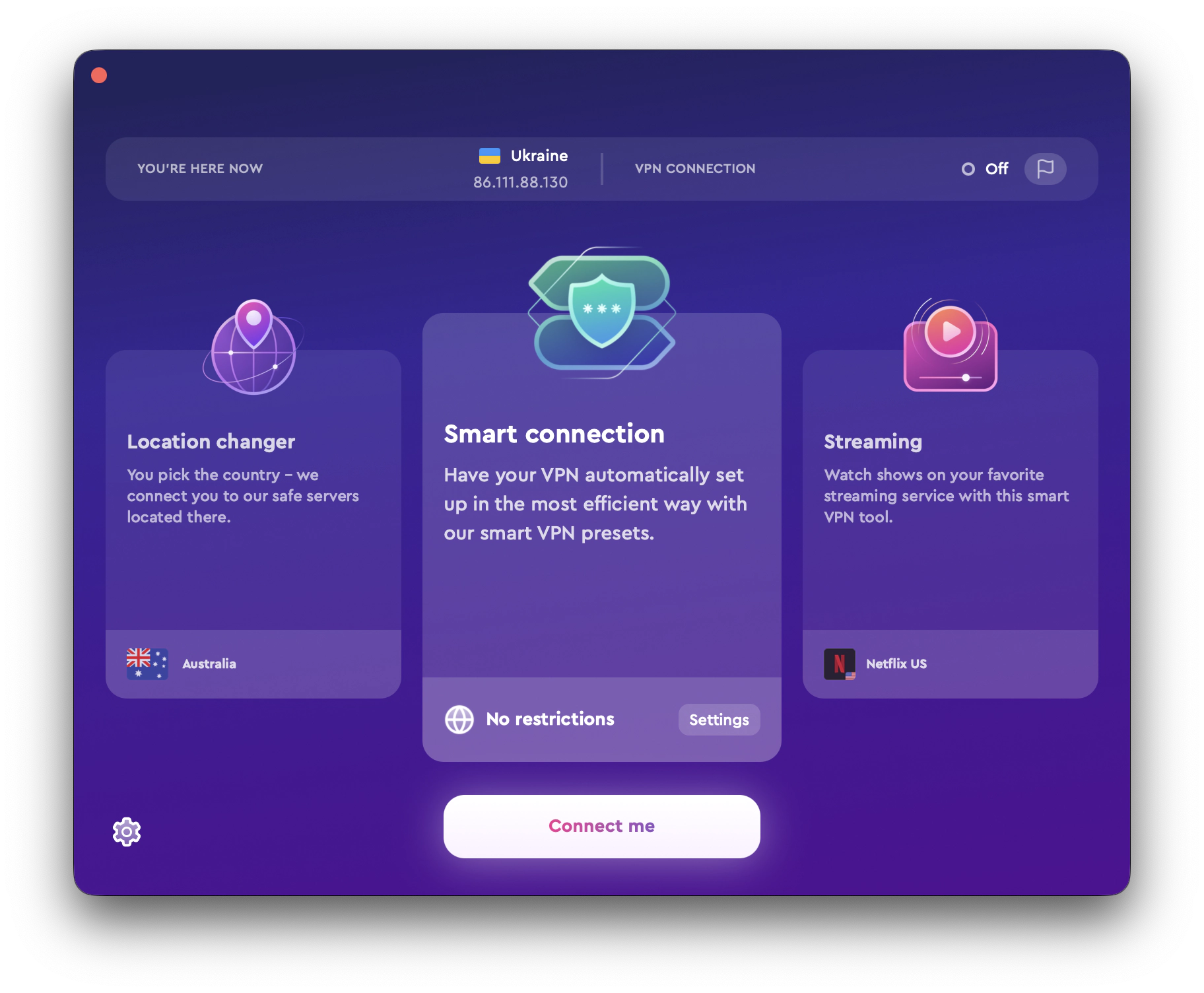 Note the green indicator circle on the ClearVPN icon in your menu bar — that means the connection is live and your traffic is routed via the VPN. When the indicator circle is yellow, your connection is being established.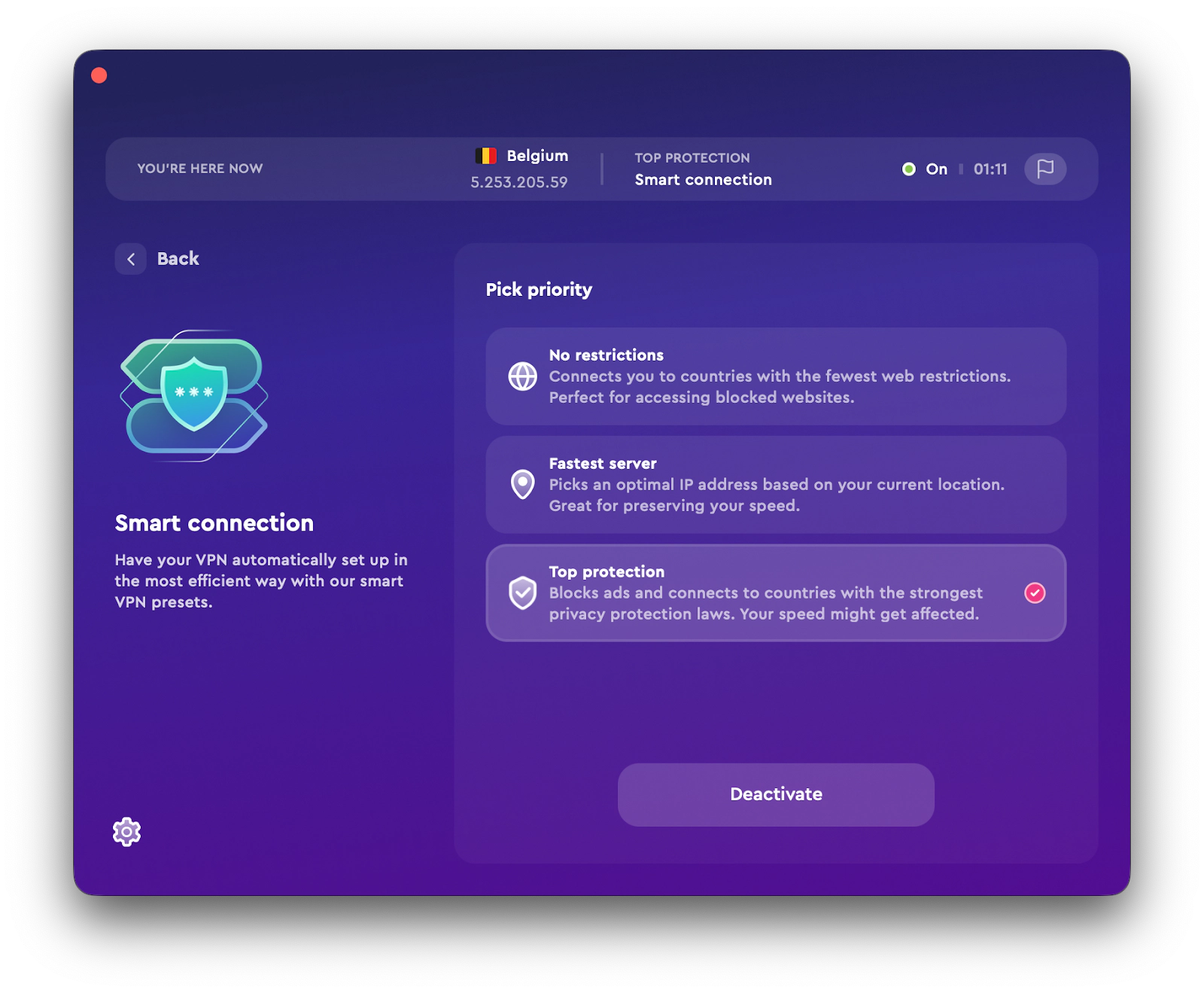 Use Smart connection for top browsing protection. The tool allows you to pick one of the three browsing priorities to better suit your needs every time. Pick one or switch as needed for easy browsing.
Since VPNs are known to slow down your browsing speed — they do route your browsing through additional servers, you can try to alleviate this by using the Fastest server option in the Smort connection tool in ClearVPN.
By choosing this option, you will prompt the app to pick the most optimal server based on your location (the farther away your server of choice, the more likely it is that your speed will be affected).
Change your virtual location
Sometimes you want to see what various web content looks like to users in other locations. Whether you are researching a move to a different country, planning a vacation, or just exploring, a VPN is just what you need to get the most accurate results.
In ClearVPN, you can pick one of the 40 available locales. Simply click the Pick country button in the Location changer and select your desired location. ClearnVPN will connect you to a remote server quickly, allowing you to experience content as a user from that part of the world.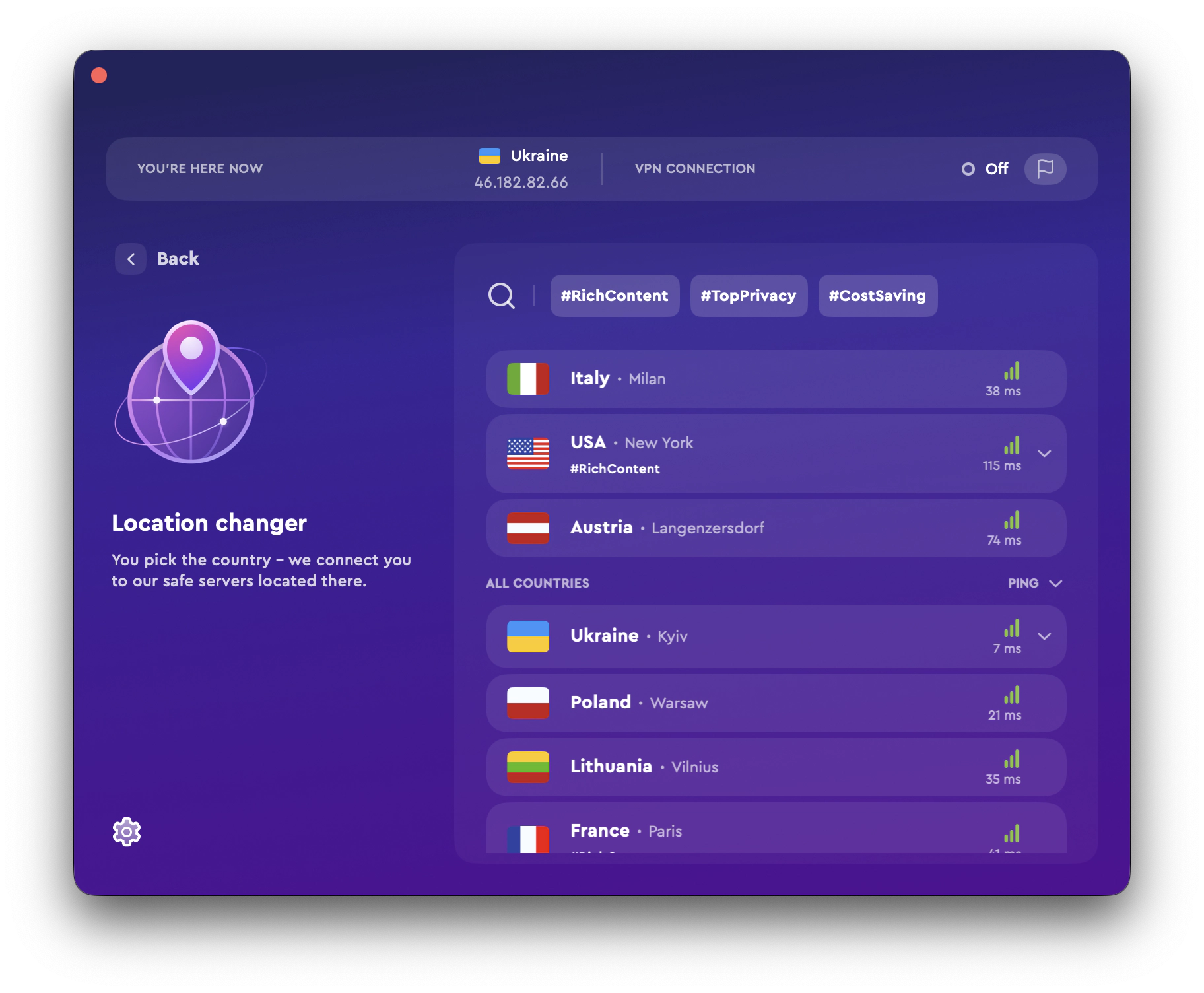 Don't leak data with Kill Switch
One of the most important features your VPN can have is a Kill Switch. If you are using a VPN to prevent attacks or preserve privacy, a sudden interruption in your VPN connection can lead to your IP address and data being unsecured.
To prevent this, a Kill Switch is on by default in ClearVPN. Do double check it in the app settings though — open the app and click the settings wheel in the bottom left corner of the app and go to System settings.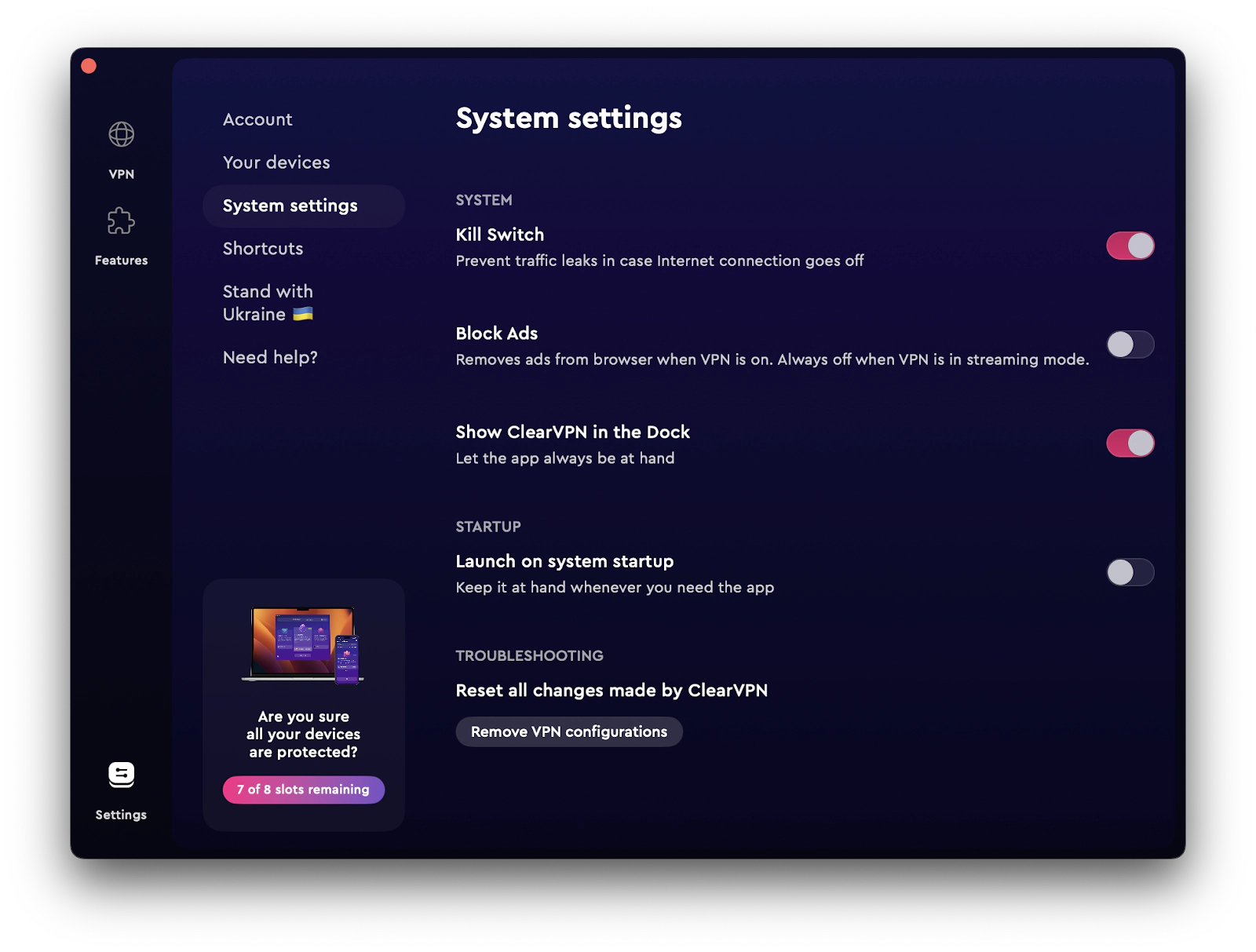 If the toggle is on, you are good. Your internet connection will be automatically shut off if the VPN stops working. A connection may drop due to a server issue or spotty internet connection (think crowded airport lounges), and you definitely don't want your data exposed to bad actors there.
Note that if you turn off your VPN connection in the app manually, the Kill Switch will not be activated and you will be browsing without the IP address and data encryption.
Your data is your business
ClearVPN has a strict no-log policy. The app doesn't store, share, or collect your online activity, personal information, or IP address. The app's motto is, "We don't have your data — we don't need it."
ClearVPN also offers industry-standard encryption that protects your connection and makes privacy a priority.
Final thoughts
As you've seen from our guide above, ClearVPN is extremely easy to set up and the app provides you with an additional layer of security to your web connection, whether you are traveling or browsing from home.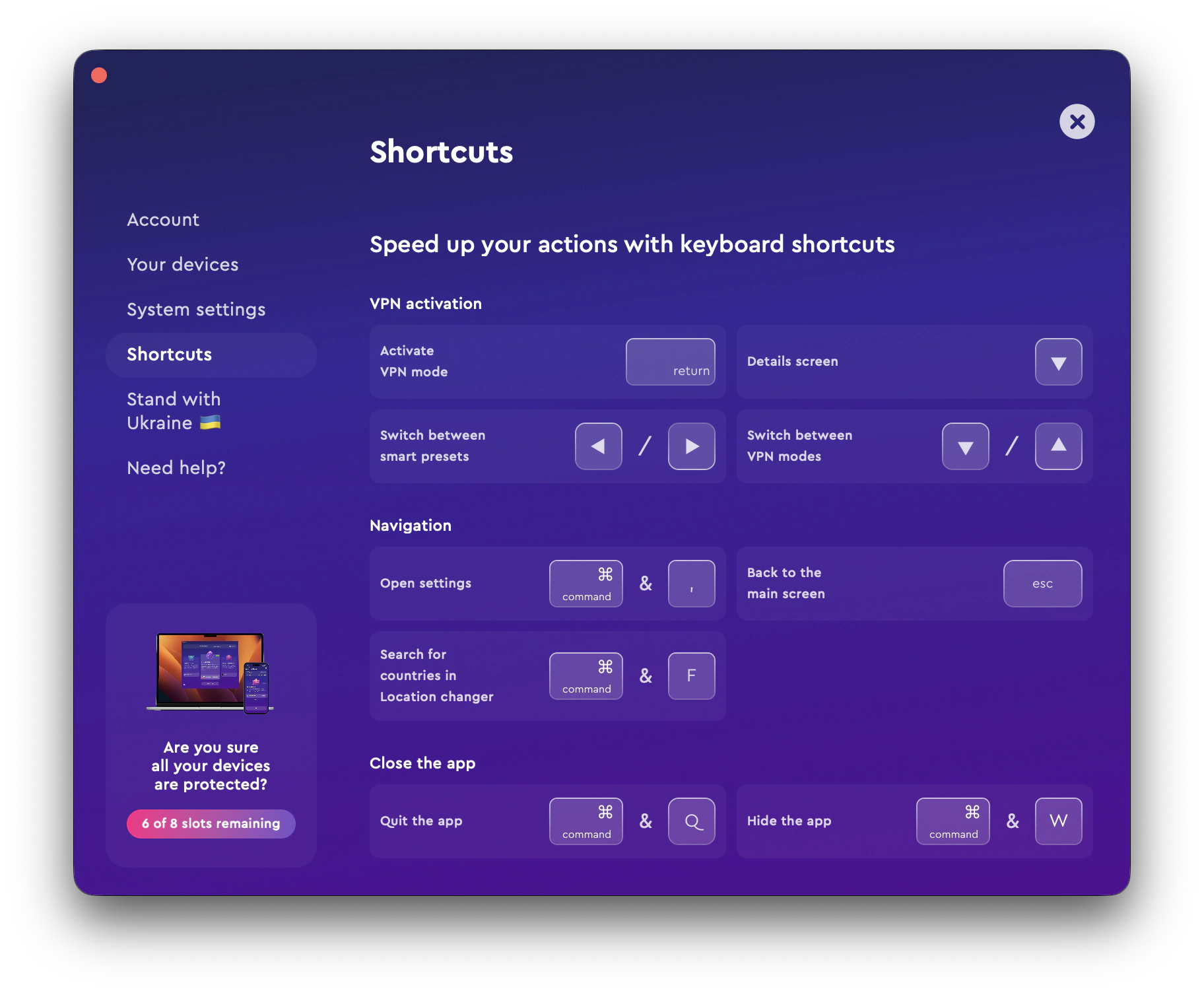 The app conveniently lives in your menu bar, allowing you to keep an eye on that green indicator circle to make sure your VPN is on. ClearVPN also has a KIll Switch that will prevent your internet connection from being live if your VPN drops off.
You can use ClearVPN on your Mac and iOS with your Setapp respective subscription (your subscription needs to include macOS and iOS devices to use the app on both). If you are not a Setapp subscriber, you can try Setapp for free with its 7-day trial.
Setapp is an app subscription service that features 240+ apps for daily tasks on Mac and iOS. The tools on Setapp help plan and manage workflows, work with media and create documents and emails. Setapp also features apps for coding, design, focus, file management, and more.
The latest additions to Setapp include apps to work with AI, including tools for customizable AI chats, text generation, summaries, and more. And Setapp itself has AI-powered features, including its AI Assistant that can recommend apps based on the task description or explain app features.
You can try ClearVPN on Setapp now.