What's the best VPN For Netflix?
Is there any more of a bummer than planning for a movie night on a Friday evening only to find out last-minute that the content you're about to watch is unavailable to Netflix subscribers in your region?
Sometimes it's simply infuriating. You're paying for the service to have access to the largest library of movies and TV shows online, but it turns out not all of them are accessible.
In fact, Netflix provides different local libraries for each country and restricts certain content geographically, even for users who are paying customers. So some top-rated US shows can be unavailable to French viewers, and some movies produced in Japan would be inaccessible to people in Texas.
What do you do? As you might've guessed from the article's title, you can use a VPN (virtual private network) to circumvent Netflix's restrictions. But it's not that easy. Netflix is actively looking for and closing all the remaining loopholes, so most of the VPNs can't even help you.
But don't worry. This guide will walk you through everything you need to know to set up the right VPN that works with Netflix right now.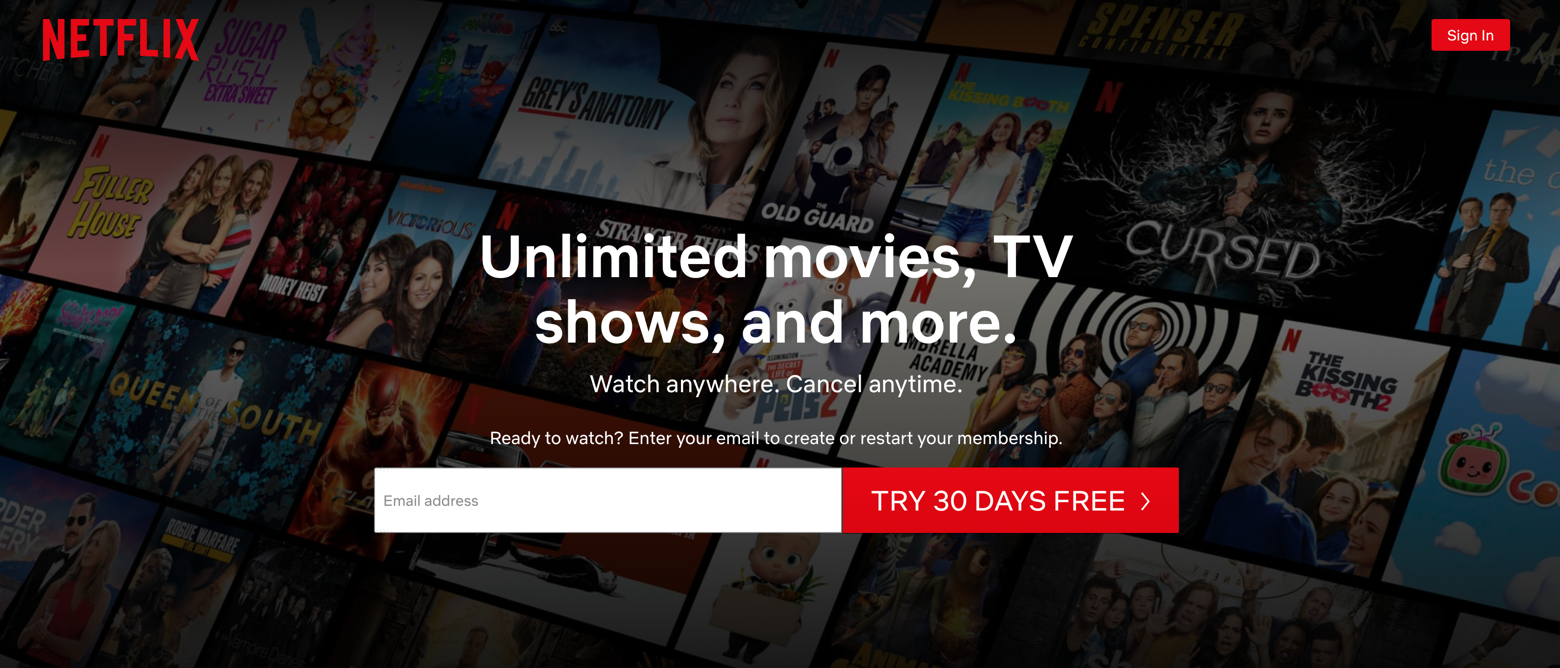 Why Does Netflix Block Video Content?
Don't think that Netflix is blocking popular films and series because it's evil, at least not in most cases. Netflix's goal is to provide video-based entertainment to the whole world (and get them to subscribe), so the more people watch anything they want on Netflix the better.
The reason behind the restrictions is buried in licensing legalities. Someone owns a copyright and license to every movie or TV show out there, and most of them are defined by certain geographies. So while Netflix can license a movie in the US, someone else could have the exclusive right to it in Ireland.
This is also why Netflix is investing so much in its own content production — so they have more control over distribution and can make it available to more people worldwide.
In the meantime, let's see how to use Netflix VPNs to unblock the content you want to watch.

How to unblock Netflix on Mac
The way Netflix knows you're about to watch content in a country where it's not properly licensed is by tracking your IP address (which is linked to your physical location). This is called geo-blocking.
It used to be that you could use any VPN to change your country and gain access to any Netflix content you desired. But over time, Netflix has developed tons of algorithms to monitor IP address changes and blacklisted thousands of IP addresses as a result.
If you get caught, you'll get a streaming error message saying that you seem to be using a proxy or unblocker and asking you to turn if off.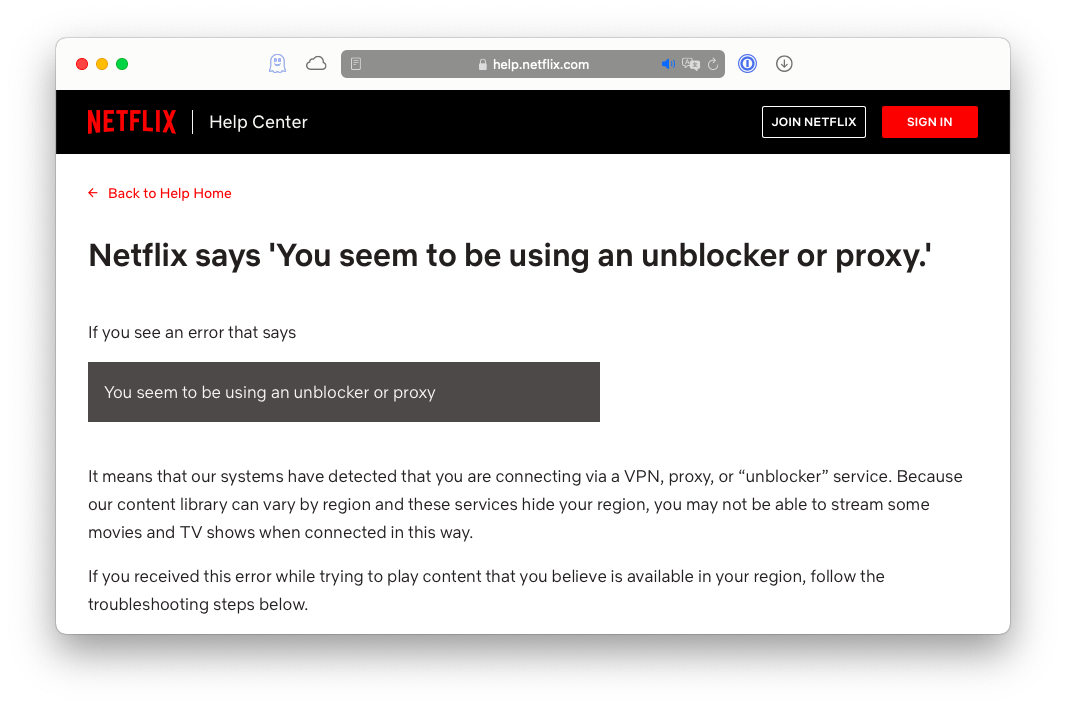 The good news is that your account by itself is available in any Netflix country in the world. So you don't need to pay for any additional subscriptions if you want to see the content from other countries.
The key to getting around Netflix's restrictions is through using geo-spoofing — a feature that only the best VPN for Netflix with hundreds of server locations globally can provide. Geo-spoofing involves sending your traffic through a series of servers and masking it as regular user traffic, thus outsmarting any detection systems.
So how do you use a VPN that works with Netflix in other countries?
How to watch Netflix with VPN
Conduct a quick search online and you'll find hundreds of VPNs claiming they work with foreign Netflix content. The truth is many of them can't access Netflix abroad at all. Even those that do often work on throttled speeds and frequently stop the playback to buffer.
When it comes to picking your go-to VPN to unblock Netflix, you need to be very selective and only try the few most reliable and fastest options with networks large enough to constantly keep updating IP addresses and evading Netflix's anti-VPN models.
Other than that the process for watching Netflix anywhere is pretty simple:
Download and install the best Netflix VPN
Launch the VPN and connect it to the country from where you want to watch the content
Open Netflix and enjoy as usual
Note: Make sure not to use any of the Netflix apps — go online instead. This is because it's much easier for Netflix to detect whether you're connecting via VPN when you're on their app. If you get any problems connecting, just restart the VPN, and it should use another server then.
The Best Netflix VPNs
By now, you might be wondering what are those magical Netflix VPNs that are able to go around content restrictions regardless of where you are and not even slow down in the process.
So here are the top three that reliably unblock Netflix at any time but also have somewhat different unique value propositions.
Price: NordVPN
As one of the largest VPN clients, NordVPN boasts more than 5,400 servers in 60 countries and, as such, is able to reach great speeds no matter where you're trying to use it from.
NordVPN's server power also means that they are able to pass Netflix's blockers with no issues and offer features like a double-IP change for an extra layer of security.
But the real jewel in using NordVPN is simply how affordable it is. There's a 30-day money-back guarantee and you can sign up for a two-year discount right off the bat for around $3 a month (there also frequent additional promotions available).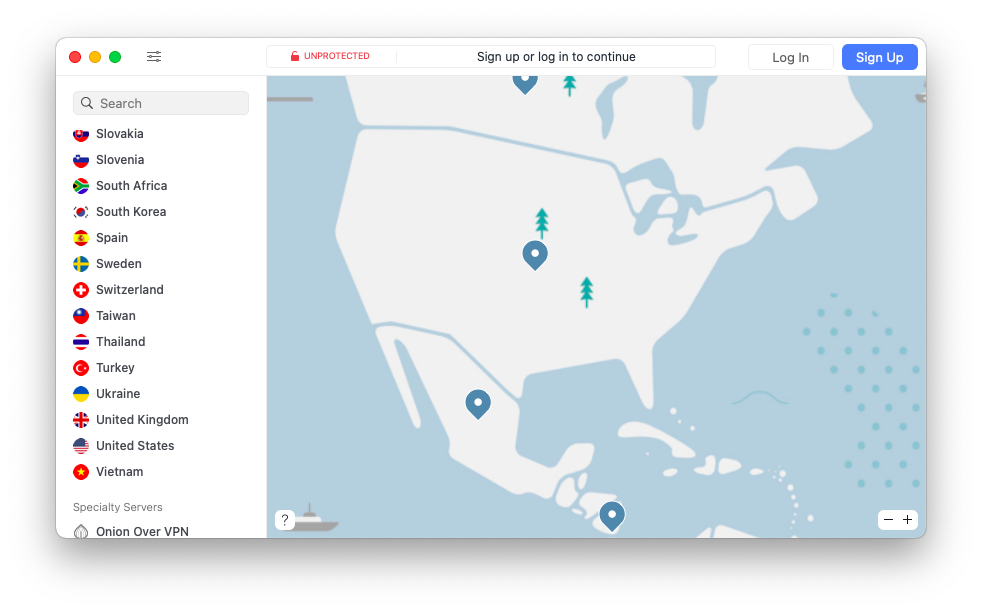 Flexibility: ClearVPN
While we're all looking for low price and high speed in any VPN we ultimately choose, the real reason behind VPNs still not being a ubiquitous technology is their complexity and rigidity. When someone launches a VPN, they generally have to know what exactly they want to do and which knobs they have to turn to get there.
Compare this to ClearVPN, which not only only works in plain language but also is beautiful and easy to use, regardless of what you want to do, on any device. For example, to watch US Netflix with ClearVPN:
Open the app
Switch to the All Shortcuts tab
Click Watch Regional Netflix
Select Watch Netflix USA
Activate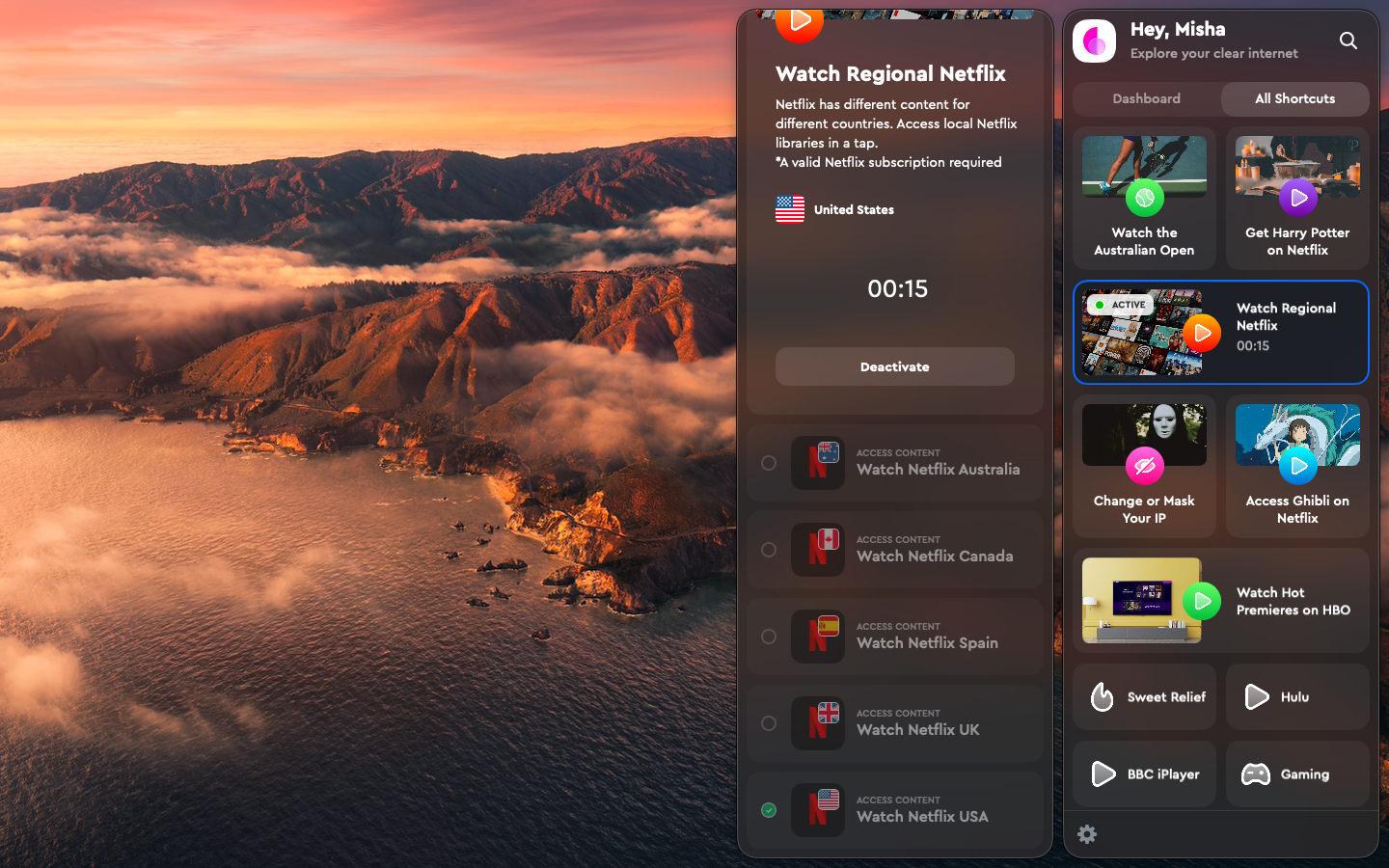 Besides Netflix, ClearVPN has shortcuts for anything you want to do, from masking your IP to blocking ads to gaming to malware protection to torrenting. Each shortcut changes dozens of tiny settings inside the VPN and optimizes your traffic through certain servers — something that would be nearly impossible to do on your own.
While ClearVPN might feel a bit pricey, the good news is it's part of Setapp, a productivity suite for Mac and iPhone users. So if you want the fanciest VPN app to watch Netflix both on your Mac and iOS devices, try Setapp.
Speed: ExpressVPN
If price is somewhat less relevant in comparison to speed, ExpressVPN could be the way you want to go. It's positioned as a premium service, but it also offers servers in 94 countries and 24/7 customer service should you need any help.
Other premium features include private DNS, network lock, and VPN split tunneling, where you can, for example, funnel your Netflix traffic through the VPN, but have everything else work as usual.
But what you actually pay for with ExpressVPN is speed. Regardless of where you're, this Netflix VPN is able to reach 30+ Mbps download speeds, which are more than enough to watch Netflix in the highest quality.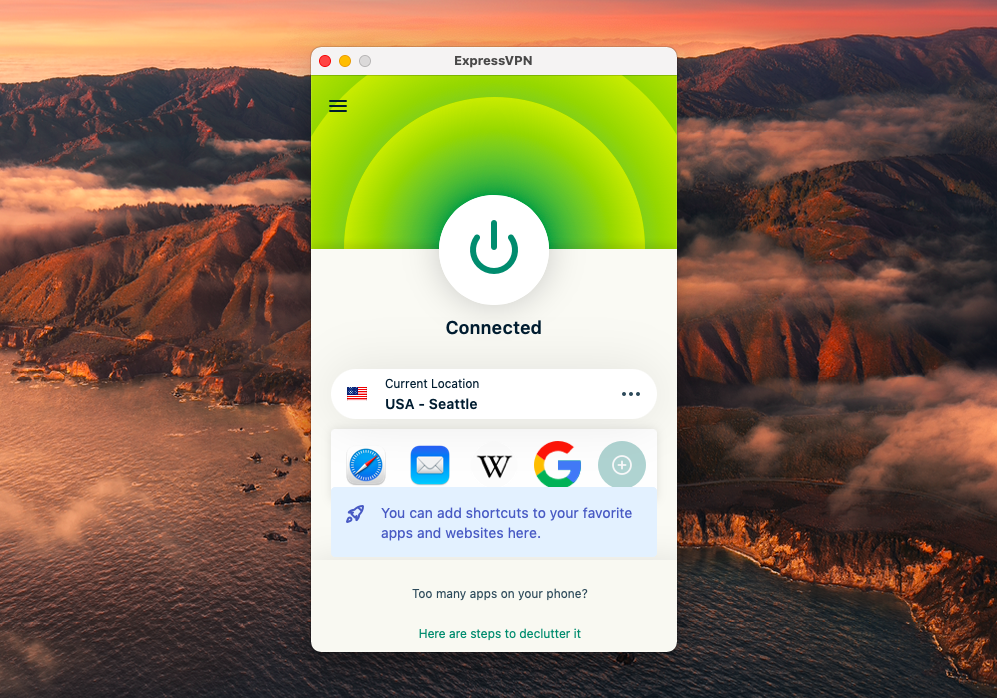 As you can see, even though Netflix is trying to section off geographical content and block subscribers from accessing certain movies and TV shows across borders, the leading VPNs like NordVPN, ClearVPN, and ExpressVPN make watching anything you want possible.
Best of all, you can use ClearVPN absolutely free for seven days through a trial of Setapp, a platform with more than 200 top Mac apps curated to cover all possible use cases, from editing photos (Luminar Neo) to managing menu bar icons (Bartender) to typing faster (KeyKey Typing Tutor). Try every Setapp app at no cost today and find your infinite well of productivity in no time.