How to save YouTube videos on Mac
The free version of YouTube doesn't have any built-in feature for storing videos for offline viewing. Only Premium account holders can download the video to their Mac, iPhone, or iPad by clicking "Save" below the video and watch it offline. However, such a file is not editable, it can't be transferred to another device, and if the owner deletes it from YouTube, you will lose access to it.
In this article, you'll figure out how to download a YouTube video Mac and get the ability to edit, modify, or share it.
Easiest ways to download YouTube videos on Mac
Downloading YouTube videos can be done using various methods on a Mac. Let's start with dedicated apps that are designed specifically to download video from YouTube on Mac. These apps don't just save files but also make it easier to find videos and process them.
One of the most convenient and intuitive apps is Downie. It can download a video in 4K, which is a pretty unique opportunity, or even its individual components: image, sound, and subtitles. It also allows you to search on YouTube without opening the video platform.
Downie performs all the tasks in one or two clicks. You'll see for yourself.
Here's how to download video from YouTube using Downie:
Install and open Downie
Drag and drop the link onto the app
Select subtitles if you want
That's it. Now, just wait for the file to save.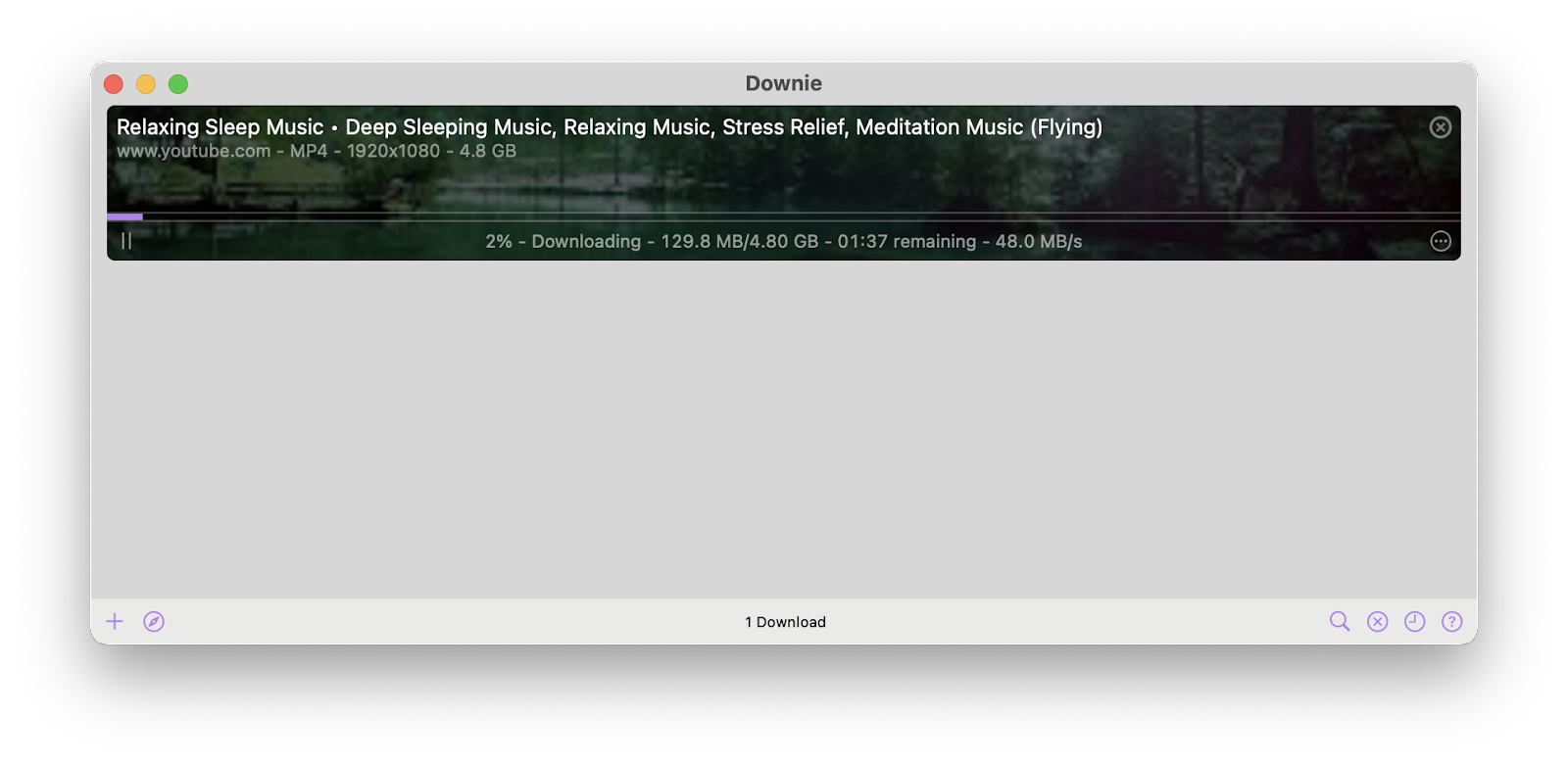 If you want to save only a part of the video or search for new ones, do the following:
Click the compass icon in the lower left corner
Paste the link to the desired video
Click on the image, text, or arrow icon and select the file you want to download (photo, subtitles, or audio).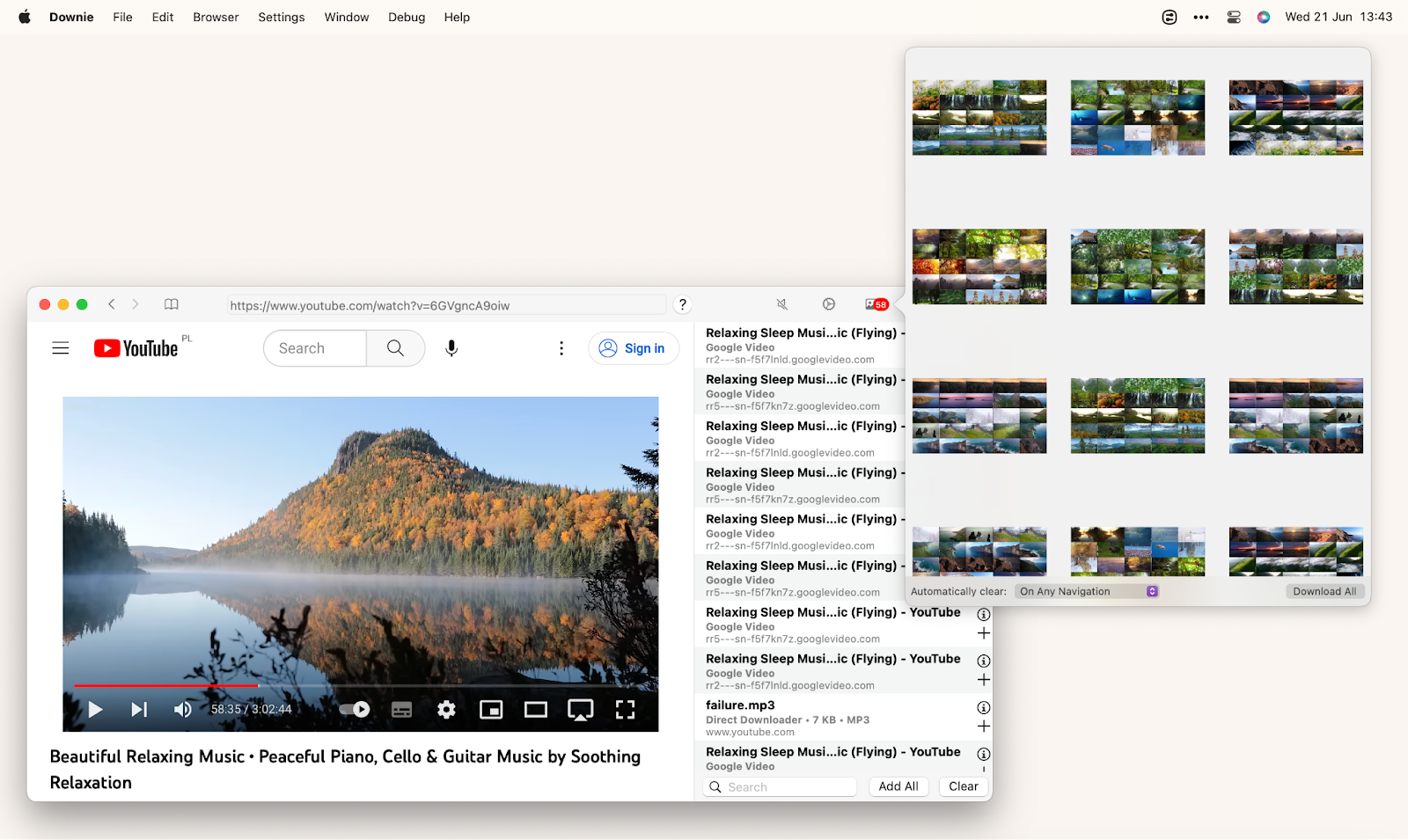 Overall, the Downie window is very similar to the original YouTube interface. You can do everything you do on YouTube: watch, like, and comment. And if you want to save something, just copy the link and follow the instructions above.
And if you need to download video or audio from another site, you can do it with Downie too. It can extract data from more than a thousand sites, including Facebook, Instagram, Vimeo, and more.
Save videos from YouTube using Pulltube
Pulltube has functionality similar to Downie but also can trim and download video fragments. To download videos from YouTube Mac with Pulltube downloader, do this:
Install and open Pulltube app
Paste the link to the video you want to download
Select the quality for downloading by clicking on the HQ button
Indicate whether you need subtitles by clicking on CC
Click Download.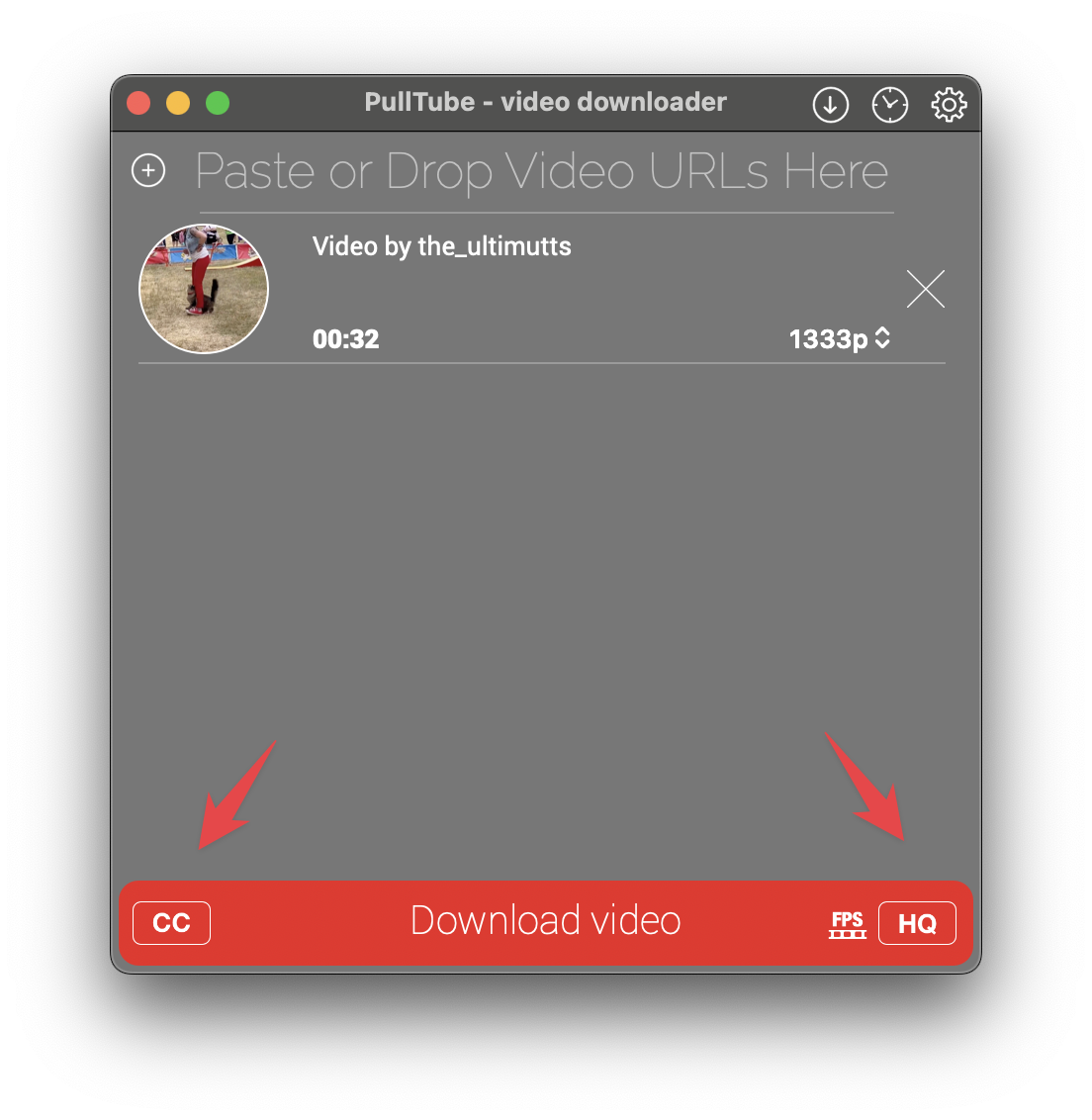 YouTube video downloading is the basic functionality, but you can do a little more than that.
Download only the sound. For this, select "audio only *m4a" or "audio only *mp3" in the menu that opens by clicking the HQ button.
Download subtitles as a separate file. This way, you can edit them later.
Download a clip from the video. After you paste the link, click on the scissors next to the circle. Then select the desired fragment manually or use the built-in time codes (they will appear if the source file contains them). After that, click the arrow — and you have the clip.
Take a screenshot of the frame. If you were to use a standard screen capture tool, the entire desktop would be captured. But in this case, you'll only get the frame.
Note that Pulltube has extensions for Safari, Chrome, and Firefox, so you can also use it directly from your browser.
Download YouTube videos on your Mac with built-in programs
Now, let's look at a few ways to save video using Mac's built-in programs, such as QuickTime and Screen Record. They don't actually download the video but record it from the screen. So keep in mind that:
You'll have to play the entire segment you want to record;
You'll need to edit the file after recording;
If the playback suddenly stops or freezes or is interrupted by advertising, all this will be reflected in the recording.
If this works for you, here are the instructions:
Using QuickTime
As mentioned, QuickTime is a built-in screen recording program. And here's how to use QuickTime to save YouTube video to Mac:
Open QuickTime. If you can't find it, type its name in the Launchpad search bar
Click on the File in the top menu bar of your Mac
Choose New Screen Recording

Then choose how you want to record: full screen, a single window, or a selected portion

In Options, check whether the MacBook Microphone is checked. If so, it means that the program will record video with sound (and outer, too)
Click Record
Open the YouTube video you want to save and play it
Click stop (the circle in the top right panel) to stop recording. The program will open the video for a preview. You're done!
Using Screen Record
Since macOS Catalina and beyond, screen recording and QuickTime are essentially the same. The only difference is that you can start recording with a keyboard shortcut, so there's less fuss.
Open the YouTube video you want to record
Press Shift + Command + 5.
Repeat steps 4–8 in the section on QuickTime.
As you can see, it's easy to record a YouTube video, but built-in screen recorders are not perfect. For example, they record both video and surrounding sound at the same time. In addition, the screen recording always contains redundant frames, such as the movement of the mouse. Usually, you have to download a third-party app to trim the extra fragments. It would be more convenient to perform these actions within a single app, right? Try CleanShot, a super powerful replacement for the macOS screenshot and screen recording tools.
Here's how to record your screen with CleanShot:
Open a YouTube video
Click the CleanShot icon on the top menu bar of your Mac
From the menu, select Record Screen
Press Enter, and the recording will start
If you want to open the advanced settings, press the spacebar. In the menu that appears, customize the recording as you like. For example, turn off the Macbook microphone (so that no external sounds are heard in the recording) and enable audio recording from your computer

Tap the circle on the top bar when you want to stop.
At this stage, the video is not saved yet. It will minimize in the lower left corner of the screen. Choose what to do: watch the video, save it, or edit it. Yes, you can trim off unnecessary parts and save the finished file.
We have described several other similar apps that simplify screen recording here.
How to save videos from YouTube using online services
Another reasonably convenient way to download a YouTube video Mac is to use web downloaders. All of them operate on the same principle: you go to the website, paste the link to the video into the window, select the quality, and click Download. These programs are very simplistic and usually do not offer other options, such as downloading separate audio, subtitles, or trimming. In addition, high-resolution downloads are not available or are only available to paid subscribers.
Here's what these sites usually look like.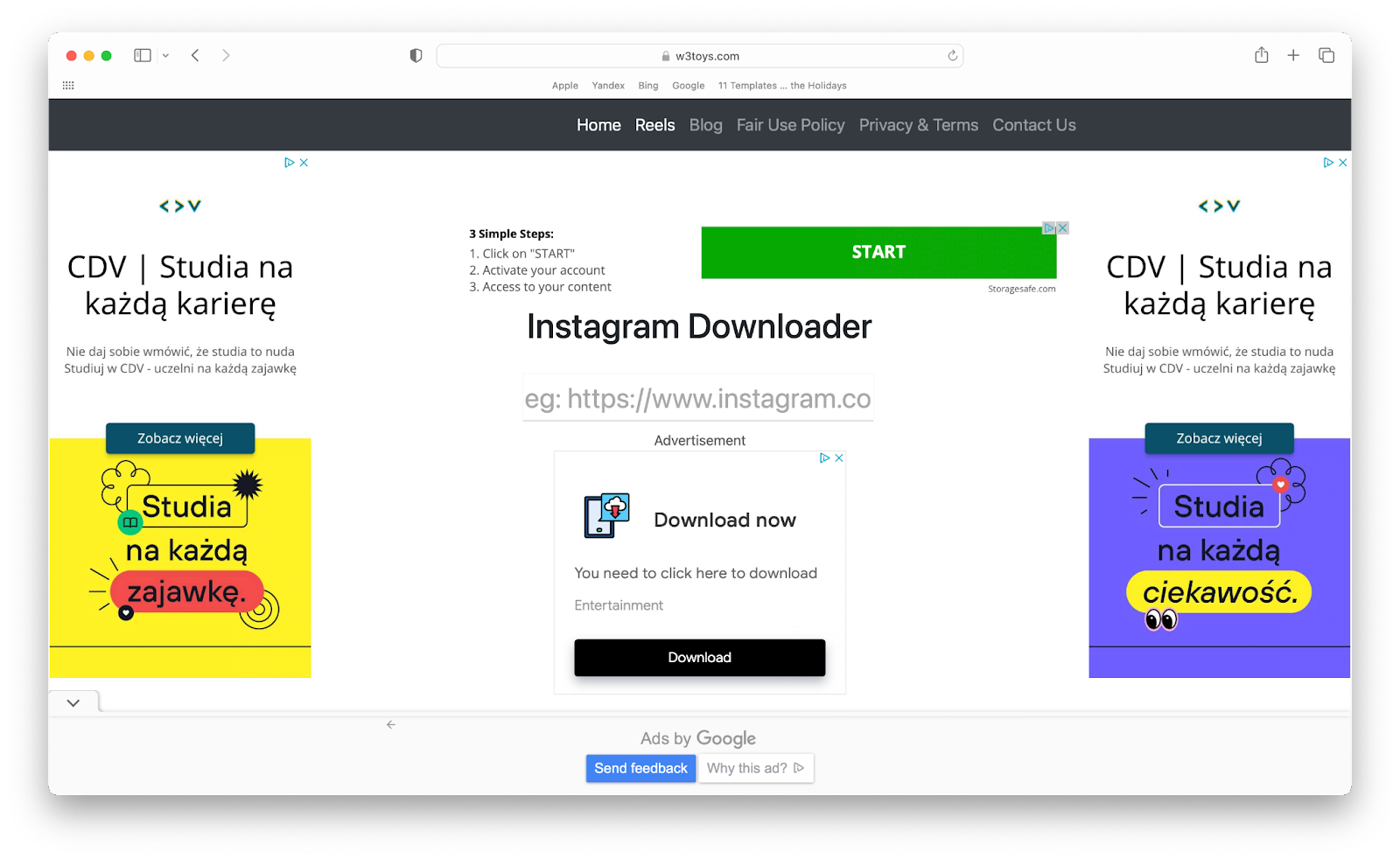 Since they all work in the same way, we won't provide detailed instructions for each one. Here is a list of resources you can use:
Savefrom.net
y2mate.com
ytoffline
OnlineVideoConverter
Online Downloader
ssyoutube.
Keep in mind that annoying ads may appear on such sites. Don't click on them, as they may contain malware.
How to unblock geo-restricted YouTube content
Some videos you come across will be geo-restricted, meaning they are only available in a specific country. This limits your access to interesting and important content, from lectures to hotel reviews in the country you're about to visit. If you want to watch the video anyway, use a VPN. It is important that the VPN has a country selection feature, as some videos can only be viewed in one country.
ClearVPN has all these features and more. Just turn it on and play the video you want. You will need a connection type 1 or 2 from this list:
Smart connection. The VPN automatically selects a network
Location changer. You choose which country's servers to connect to
Streaming. Allows you to watch geo-restricted shows on Amazon Prime UK/US, Disney+ US/U, HBO Max, etc.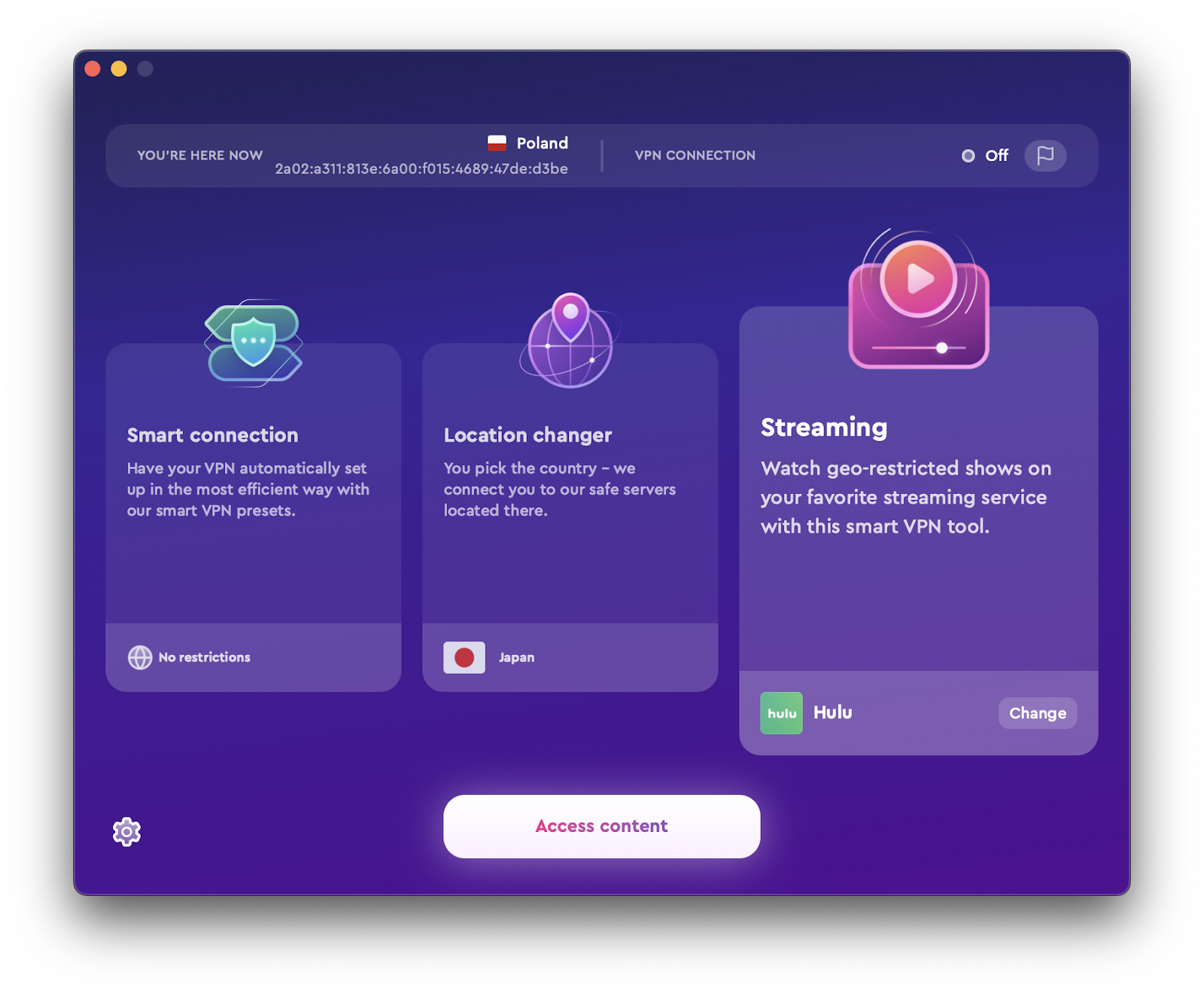 Fix the "video download failed" issue
Sometimes, you may get a "video download failed" error while downloading a video from YouTube. The ways to fix it depend on where the error occurred.
Downloading from YouTube Premium for offline viewing. We recommend checking your download settings. It is possible that the default quality is set to an inappropriate quality. To find this setting, click on the sign of your account > Settings > Downloads.
Online download site. YouTube regularly updates its security settings to prevent people from using such services. The site you're on may not have kept up with these changes. Try using another one.
Application. Check if the app is updated.
Why is YouTube not working?
Sometimes, YouTube doesn't work. The problem may be on the side of your computer or browser, or (rarely) on the side of YouTube itself. Try the following steps:
Check if your network connection is stable.
Update your browser.
Clear your cache and cookies.
Update your video drivers.
If this doesn't help, you may need to wait for YouTube to fix the problem.
Downloading from YouTube is very slow — what to do?
Another problem you may encounter is that YouTube downloads are too slow. Often, the problem is not the programs you're using but rather that your Mac is too slow because it's cluttered with unnecessary files.
The first aid, in this case, is to check these 4 parameters with CleanMyMac X:
System Junk
Trash Bins
Optimization
Maintenance.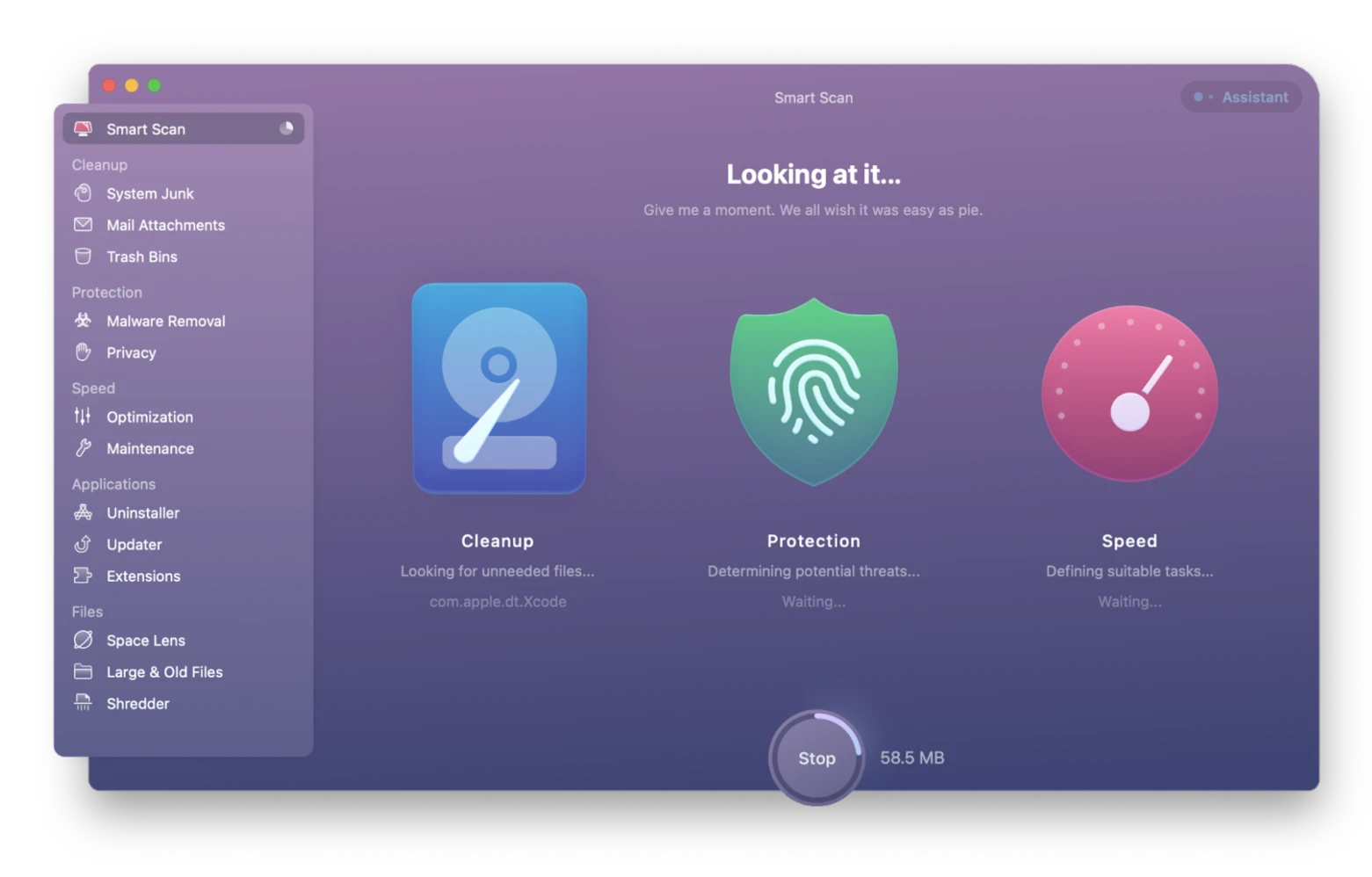 Select each option in turn and click Run. The program will detect unnecessary files and garbage and optimize your Mac. After that, it will run faster, and your videos will load faster too.
Effortless YouTube video downloads for a Mac
So, we've figured out how to download YouTube video on Mac: use special apps (Downie and Pulltube), save videos to an offline playlist, use screen recorders (built-in or CleanShot), or use a downloader on the website.
If you can't watch a video due to geo-restrictions, use ClearVPN. And if the video loads slowly, check if your Mac is clutter-free with CleanMyMac X.
Don't worry. You don't need to download each app separately because all of these tools are part of Setapp. This platform contains 240+ apps for your Mac, iPhone, and iPad to tackle almost any task. Try them all for free for 7 days and discover your new favorites.