How to Download Vimeo Videos
Vimeo is a site where anyone can upload videos, and opt to have those videos made public or kept private. If that sounds a lot like Youtube, well – that's because Vimeo is a lot like YouTube!
Instead of competing directly with YouTube, Vimeo has an audience of artists, creators, and brands who prefer its platform. Think of it like the Tumblr for video hosting: you may not find the most popular stuff there, but it's always interesting.
Because Vimeo tends to have really interesting, high-quality video, it's totally understandable you'd want to download some for yourself!
Just be aware downloading videos from the internet can actually cause legal issues. Each site has its own guidelines for downloading content, so always be sure to read through the terms and conditions carefully. Whatever your method for downloading videos, know that the act of downloading still applies.
Most sites don't mind if you download videos for personal use, but distributing the videos or broadcasting them publicly may get you into deep trouble. Keep that in mind before you sue a Vimeo downloader or download Vimeo videos in any way.
Note: Have you ever seen a screen before a movie or an announcer of a live event tell you it's not okay to distribute or broadcast a recording without express written consent? All video hosting platforms have the same rule, more or less, and you should consider it before you download video from Vimeo.

There are tons of reasons to use Vimeo over YouTube, which means there are plenty of reasons to want to visit and download from Vimeo. One of the more interesting features Vimeo offers is quick video editing, where creators can add text, edit fonts and colors, include a brand watermark, adjust ratio and style, and add a soundtrack.
Many have taken to Vimeo to livestream things like yoga classes or meetings, too. While you can't download a livestream, most of those videos are hosted on Vimeo proper after they are streamed. This makes downloading hosted, live-streamed videos really attractive. If you missed a yoga class, for example, downloading it to watch later on is a handy option!
Download Video from Vimeo
The first thing to do before you download Vimeo video is to sign up for an account. You can visit Vimeo directly, then choose 'sign up' from the homepage. You can define your own email/password setup, or sign-in with Google, Facebook, or Apple.
Once you're done with that step, Vimeo redirects to a page asking you to choose a plan. All plans listed are paid.
Note: You can choose an unpaid plan by scrolling to the bottom of the screen and selecting 'continue with basic.' This allows you to view videos, but you won't be able to upload or host anything.
To download videos, follow these steps:
Visit the video you want to download.
Click the 'download' button under the video, on the right-hand side
Select the video quality you want to download, if applicable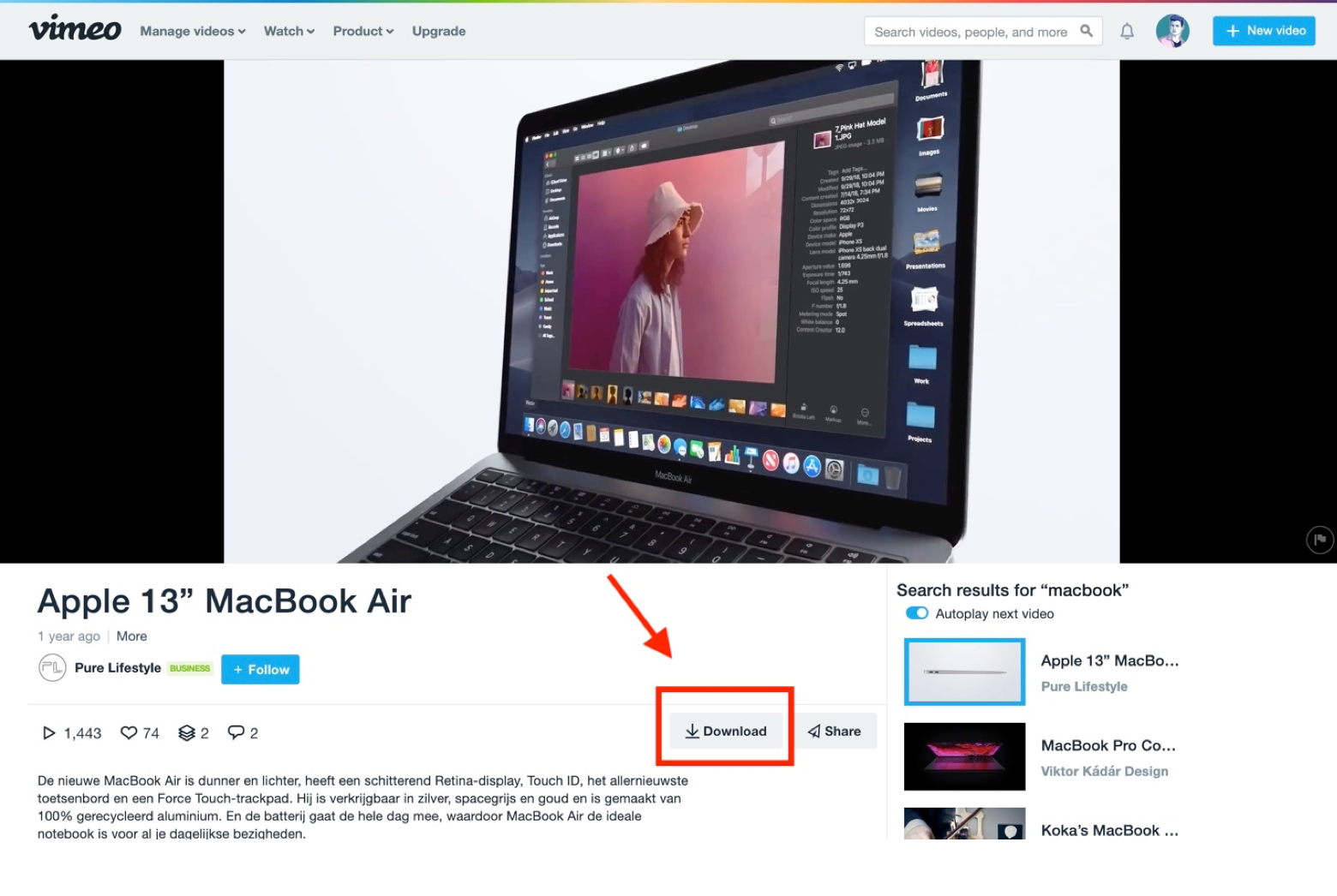 Note: Not all videos can be downloaded from Vimeo. If you don't see a 'download' button, Vimeo won't allow a direct download – but we've got a workaround for you coming soon!
You should also keep in mind your computer is vulnerable to malicious software any time you download anything from the internet. Vimeo will tell you its safe, but hackers are creating new methods for exploiting vulnerabilities every day; often targeting vulnerabilities companies weren't even aware of!
We suggest using CleanMyMac X to keep your Mac running in tip-top condition. It has a really thorough malware checked for your Mac, and running it routinely can keep your Mac performant and free of malware!
Download any Vimeo video with Pulltube
Pulltube is a powerful video downloader for Mac. A one-size-fits-all that doesn't compromise on quality. This app can get you any online video in no time — even those that can't be directly downloaded from Vimeo.
Here's how Pulltube works:
Open the app and paste or drop your Vimeo video
Click HQ to customize quality or change format to MP3
Click CC to select subtitles
Download video.
You can use Pulltube to save content from YouTube, Facebook, Dailymotion, and other popular video platforms. It also offers an extension to grab links directly from your browser. Speaking of which, there's another method to download Vimeo videos.
Using Vimeo Downloader in Chrome
One really interesting way to download Vimeo videos is with a Chrome extension named – wait for it – Vimeo Downloader for Chrome.
The extension is dead-simple to use, but has some really awesome features. Like any Chrome extension, it lives in the Chrome browser, and only activates when you click it. But when you do, it has an amazing feature we really think you'll like.
It allows you to download the 'other' videos on the page without navigating to each one individually. Vimeo lists similar videos on the right side of the browser window, a feature meant to keep you browsing and watching as long as possible. But think about it: How many times have you clicked on a video you ended up not liking, or felt like watching it later but not saving the video to your favorites or bookmarks?
Vimeo Downloader lets you download multiple videos from the page you're on, and view them in its pop-over if desired. It's a great tool for those times you're looking to download a lot of content without watching it all first!
Here's how to download a video from Vimeo with Vimeo Downloader:
Download Vimeo Downloader form the Chrome Web Store
Navigate to Vimeo in Chrome
Find a video you want to watch
Click the Vimeo Downloader icon in Chrome
Select the videos you want to watch or download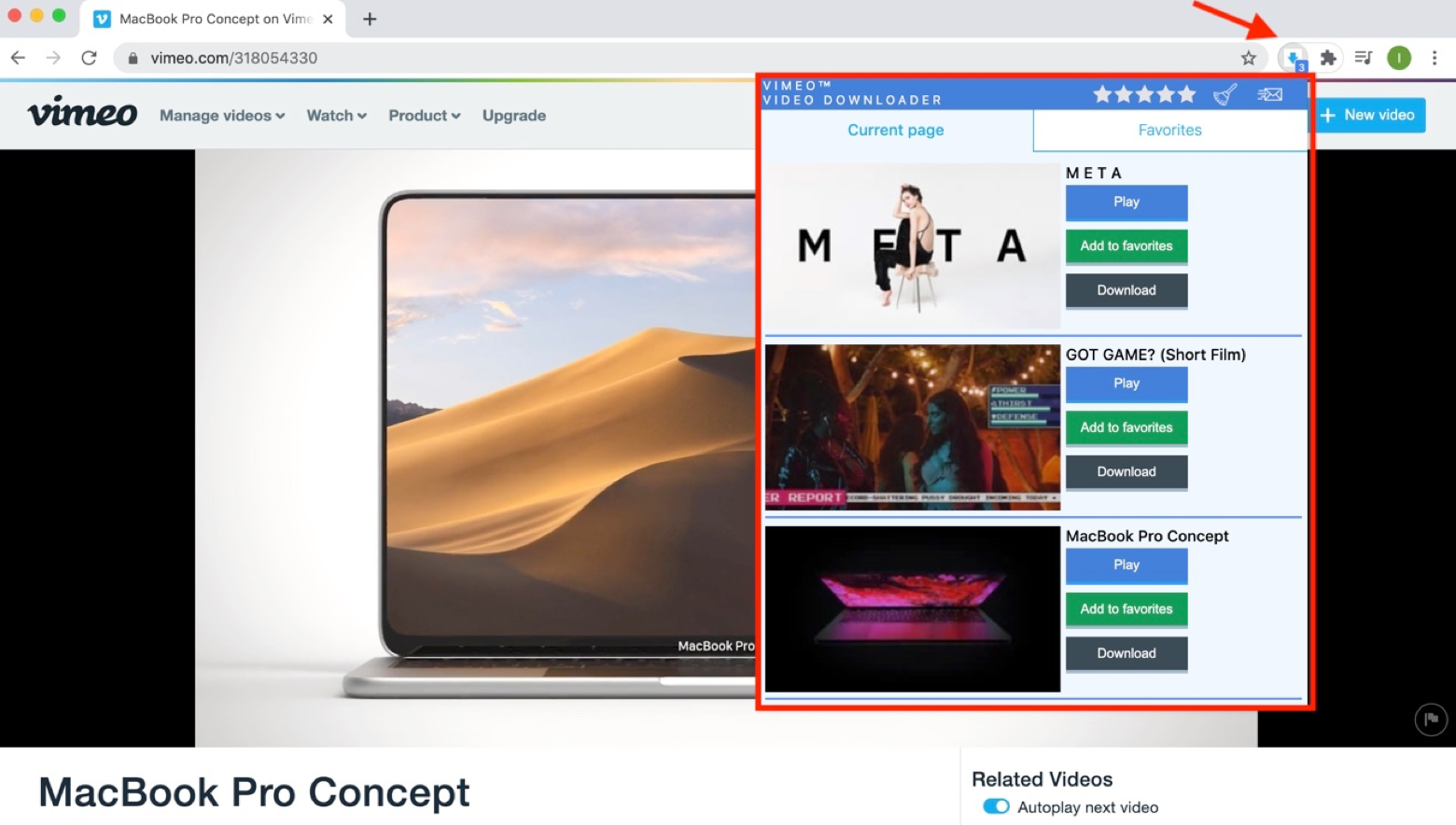 Selecting 'download' will start your Vimeo download immediately! Congratulations: you now know how to download a Vimeo video in Chrome!
Downloading videos in Chrome is easy, but remember that WiFi connectivity is important to the process. For that, we advise you use WiFi Explorer to discover the best networks available to you in your home or office. It helps you find the best network, which can encourage faster downloads for your Vimeo video finds.
Chrome is resource-heavy, and downloading videos uses even more of your computer's CPU, battery life, and other hardware features. To keep tabs on your Mac's overall performance and health, we prefer iStat Menus, an app that lives in your Mac's status bar providing a real-time glimpse at performance.
How to Download Vimeo Videos on Mac
There's a lot to unpack here. And let's be honest that many of these schemes won't suit everyone. Maybe you don't use Chrome, or don't want to sign up for a Vimeo account. Perhaps the idea of loading Chrome extensions isn't for you, or you're concerned about how much of your Mac's resources Chrome is using.
Don't worry! We've got you covered.
It is possible to bypass all of those hurdles and download Vimeo videos straight to your Mac. This will encourage you to watch videos anytime, without having to worry about needing a solid internet connection, and will prevent viruses from ever hitting your computer.
In addition to CleanMyMac X for managing malware and viruses on your Mac, we suggest an app named Elmedia Player for Mac as a tool for downloading Vimeo videos. One thing we really like about Elmedia Player versus a Chrome extension or a direct download from Vimeo is you don't need an account.
Here's how to download Vimeo videos using Elmedia Player:
Download Elmedia Player
Open Elmedia Player
Select the 'download' icon on the top right of the screen
Enter the URL of the Vimeo video you'd like to download
Press enter on your Mac's keyboard
Choose the video quality you'd like to download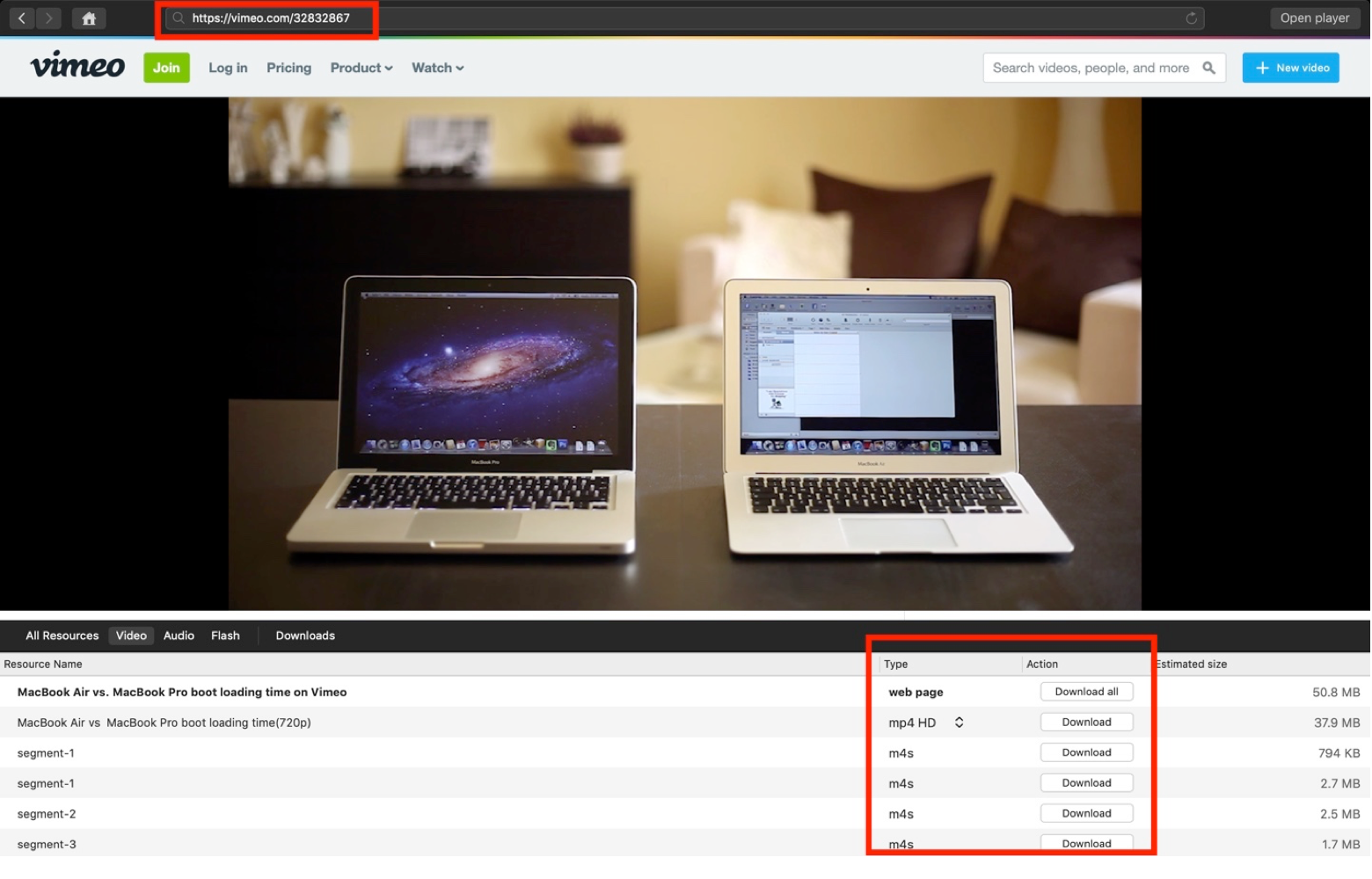 That's it! As you can see in the screenshot below, we haven't signed into Vimeo; so long as you have the URL of the video you want to download, Elmedia Player can download it for you!
But keep one thing in mind when using Elmedia Player: you do need a URL for the video. For almost any instance, this is fine; we'd venture most people find Vimeo videos via some other method other than navigating the Vimeo site, so whatever URL was shared with you or you find via a web search works in Elmedia Player!
Conclusion
Let's talk about what you're really trying to do: download Vimeo videos without paying to use Vimeo. We don't blame you! The most basic Vimeo plan is $7 per month, and the upgraded packages start at $20 per month. That's a lot of dough to host and share videos.
You could use Chrome and an extension, or download directly from Vimeo, but that's resource-heavy. This is why we prefer Elmedia Player for downloading Vimeo videos. No account needed, and it works just as well as any other downloading option. It also lives natively on your Mac, and doesn't carry baggage other browsers may have. You get right to the download!
And it's available free as part of a seven day trial of Setapp, the absolute best suite of productivity apps available for your Mac. Once your free trial is over, Setapp is only $9.99 per month, which grants you unlimited access to dozens of apps in addition to Elmedia Player, CleanMyMac X, Wifi Explorer, and iStat Menus.
If you prepay for a full year, Setapp is only $8.99 per month, a 10 percent discount! Families will love Setapp's $19.99 per month plan, which allows unlimited access to the full Setapp catalog on up to four Macs.
No matter which Setapp plan you choose, it's an amazing offer. Give it a try today!