How to download Vimeo videos
The options for downloading videos from Vimeo are limited. If you use the app on your phone, you can create an offline playlist. As for the browser version, some creators allow you to download their files. In this case, a download button (down arrow) appears below the video. However, this option is not that widespread, and the offline playlist will disappear if the owner deletes the file from Vimeo. Therefore, to download any video, you'll need an app or a browser extension.
In this article, we'll show you how to download Vimeo videos on Mac quickly, without complicated programs, ads, or other hassle.
One-click solution to download any Vimeo video on Mac
Can you imagine a one-click download from Vimeo? It exists! To get your video saved on your Mac, you'll need the Pulltube app. It enables you to download content from over a thousand websites, including Vimeo.
Simply install and open Pulltube, then paste the link to the video you want to download. Or drag and drop it into the window. If automatic downloading is all you need, that's it! Enjoy watching!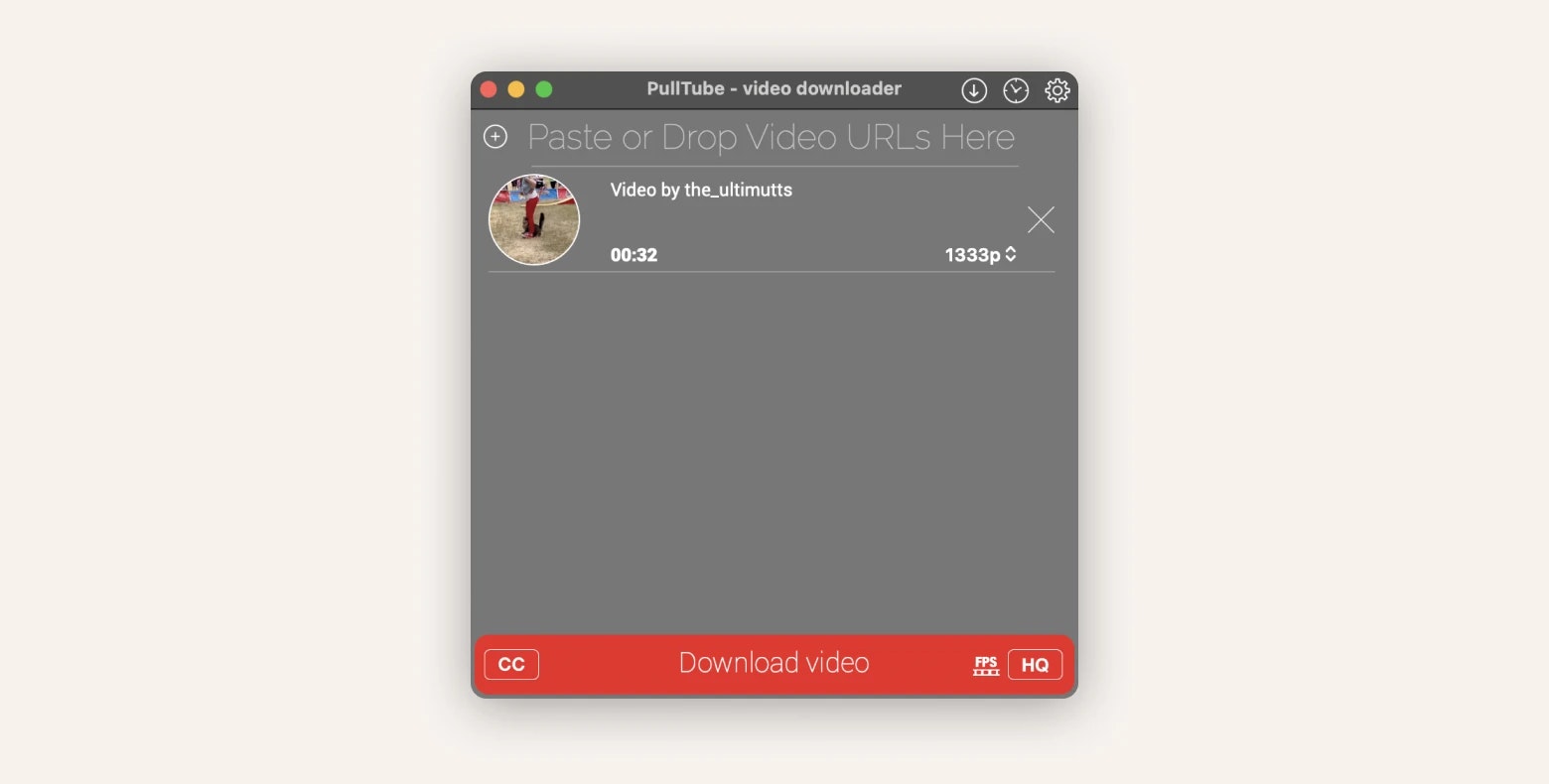 If you are interested in advanced features, here they are:
Open more options. Click the gear icon in the top right corner to choose where you want to save the file, set the bitrate, etc. And if you need just the text? No problem. You can select "Save subs as separate files" in Settings > Subtitles.
Change the quality. Click the HQ button in the lower left corner and select the quality you want to download the file in. The higher the quality, the more space the file will take up.
Upload audio. Among the options, you will see "audio only *m4a" and "audio only *mp3." This means you can download only the sound from the video.
Work with subtitles. Click on the CC button in the lower left corner. This will activate the download with subtitles (either automatically generated or added by the author). As a result, you will get a video with subtitles overlaid on the picture.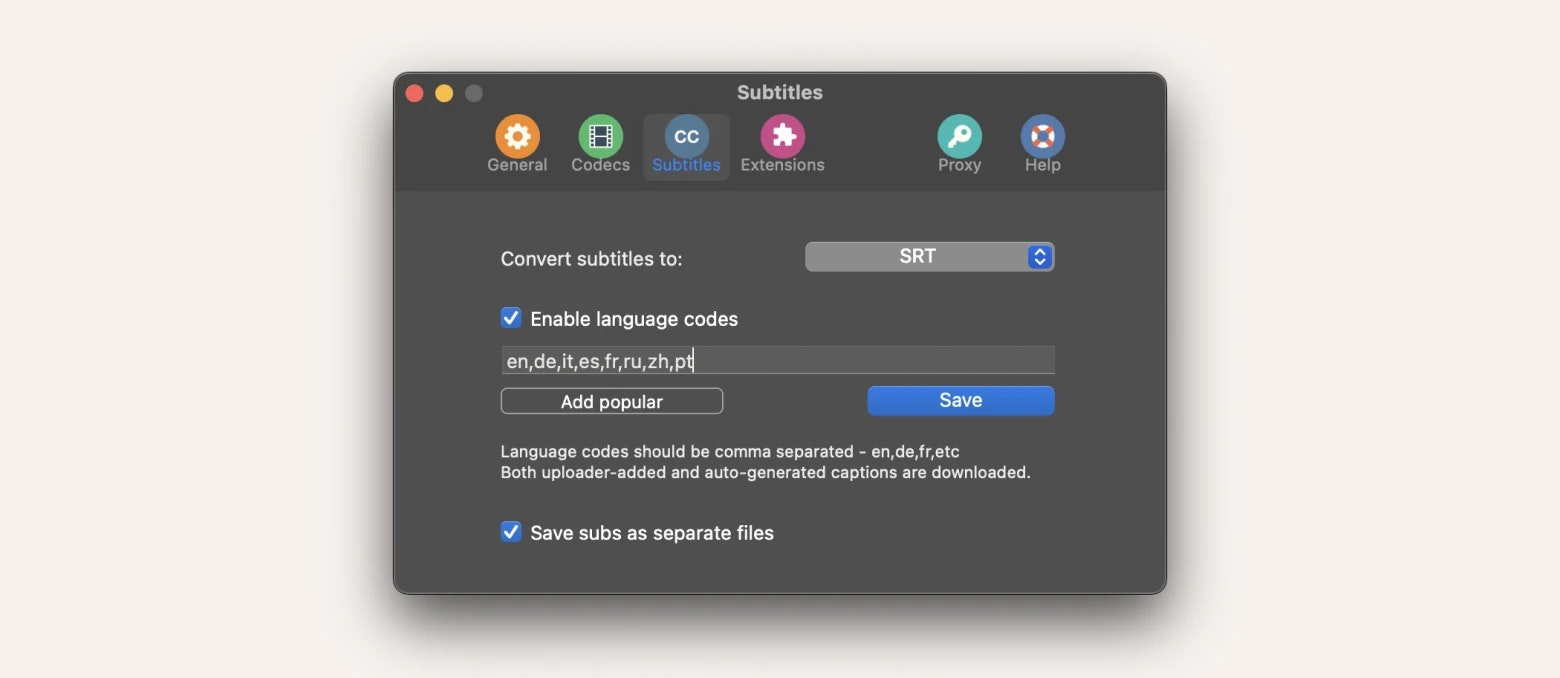 Now that you have the file you want try playing it in a more advanced way than usual with ElmediaPlayer. This app helps you customize the playback to your liking and get rid of bugs like audio and motion delays.
Here's how you can improve your viewing experience.
Stream video to your TV and mirror the screen from your iPhone or iPad.
Fix audio or subtitle delays. You can correct the shift to the nearest second.
Make the picture more attractive. Adjust brightness, saturation, contrast, gamma, hue, noise reduction, and sharpness.
Improve the sound. In the Equalizer section, you can adjust the sound manually or choose one of the effects, such as full bass, rock, or club. A great feature if you're playing a clip.
Add subtitles. This is a handy solution if you need to add your own subtitles or if the subtitles are not embedded but are a separate file.
Use one player, not several. You don't need players that support specific formats, as ElmediaPlayer works with FLV, DAT, SWF, AVI, MOV, MP4, MKV, and MP3.
Easily create playlists. Just drag and drop the file into the window.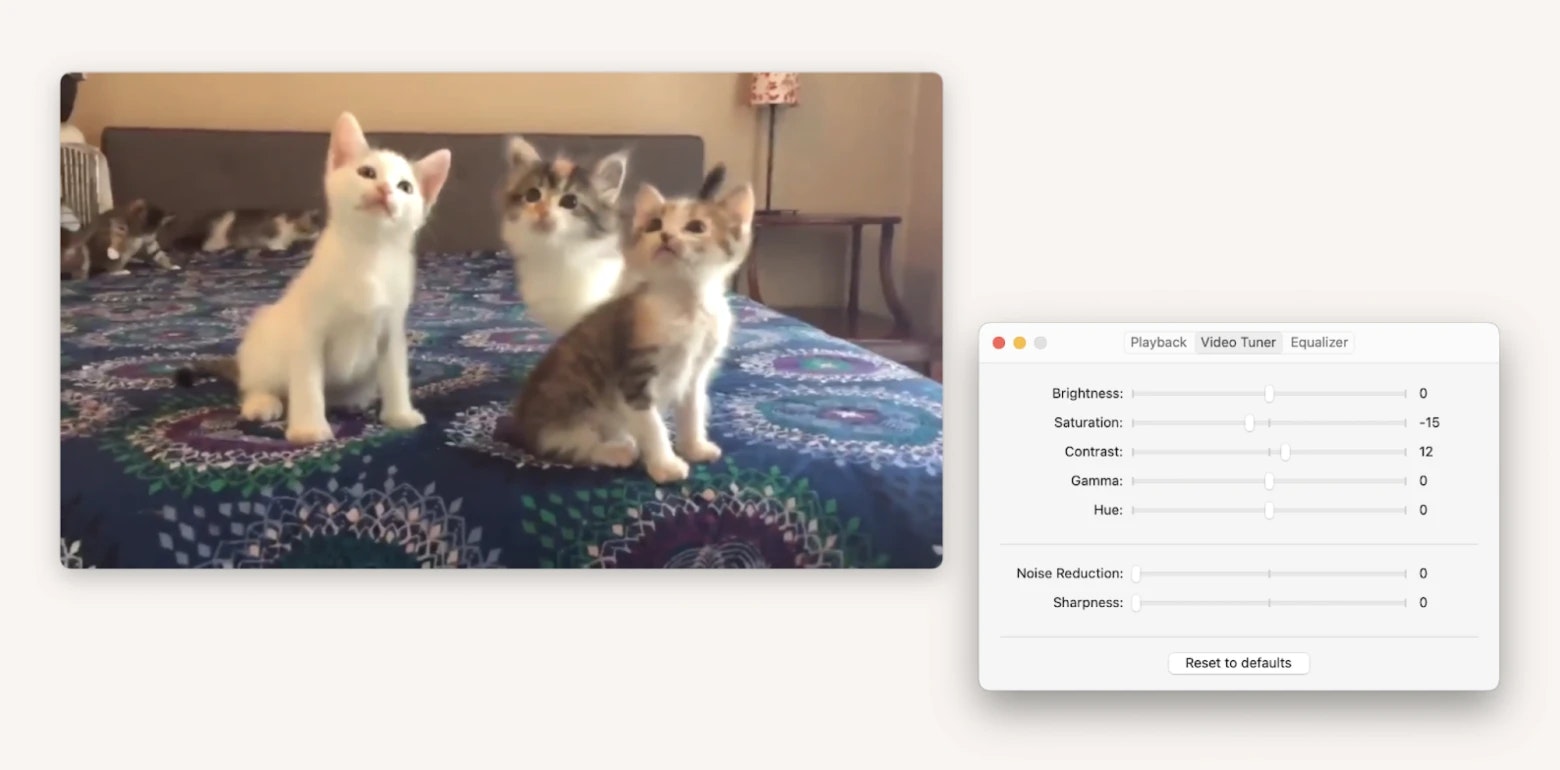 Download video from Vimeo and adjust it effortlessly
If you save Vimeo video to Mac, you might want to do some processing with it. The process isn't complicated and doesn't take much time if you use Permute, an app designed to effortlessly convert files of nearly any format to various other formats. With Permute, you can also edit videos with ease, regardless of your level of expertise. Here are the primary tasks that Permute can accomplish in just a few simple clicks:
Convert files. Upload a file and choose what to convert it to (GIF, HEVC, for iPad 3, iPhone X, etc.). One click — and the file is flying.
Extract audio from video (very few can do this). It will create Apple Lossless, FLAC, or any other audio format in seconds.
Edit the video. This is not a complicated editor that you need to learn. Just a few intuitive buttons, and you can crop or trim the file and add third-party audio or subtitles.
Convert and change almost anything. Audio to video — you can. Video to image — yes, too. Color replacement — okay. Merges PDF files — no problem.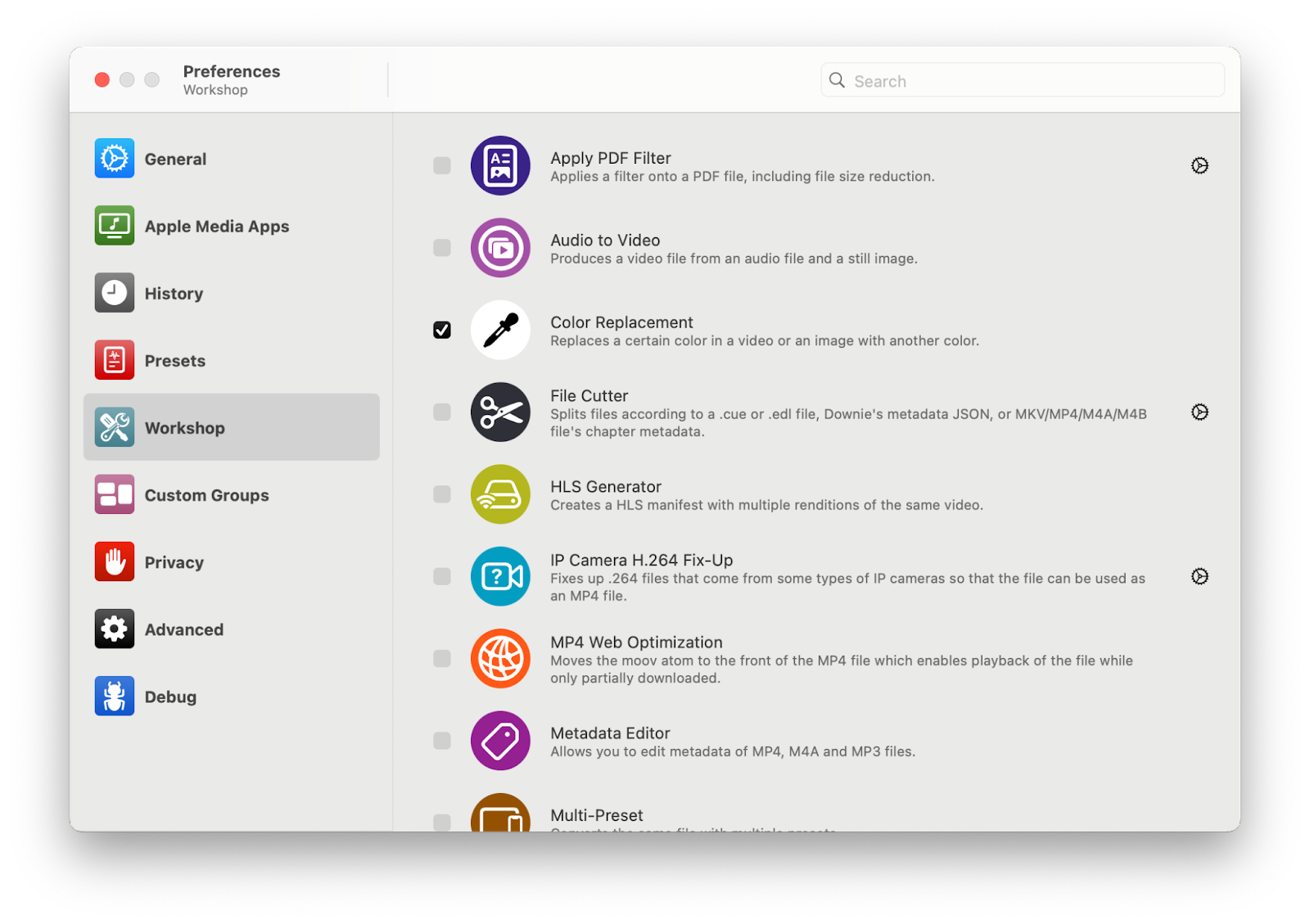 Using Vimeo downloader in Chrome
Let's get back to how to download a Vimeo video on Mac in various ways. For Chrome users, there is a dedicated extension tailored to this browser. It enables you to download videos directly from the Vimeo website without any hassle.
Just google for Vimeo video downloader and install the extension. A puzzle sign will appear in the upper right corner of the browser
Go to the Vimeo website and open the desired video
Below it, click the Download button and select the desired quality. Done.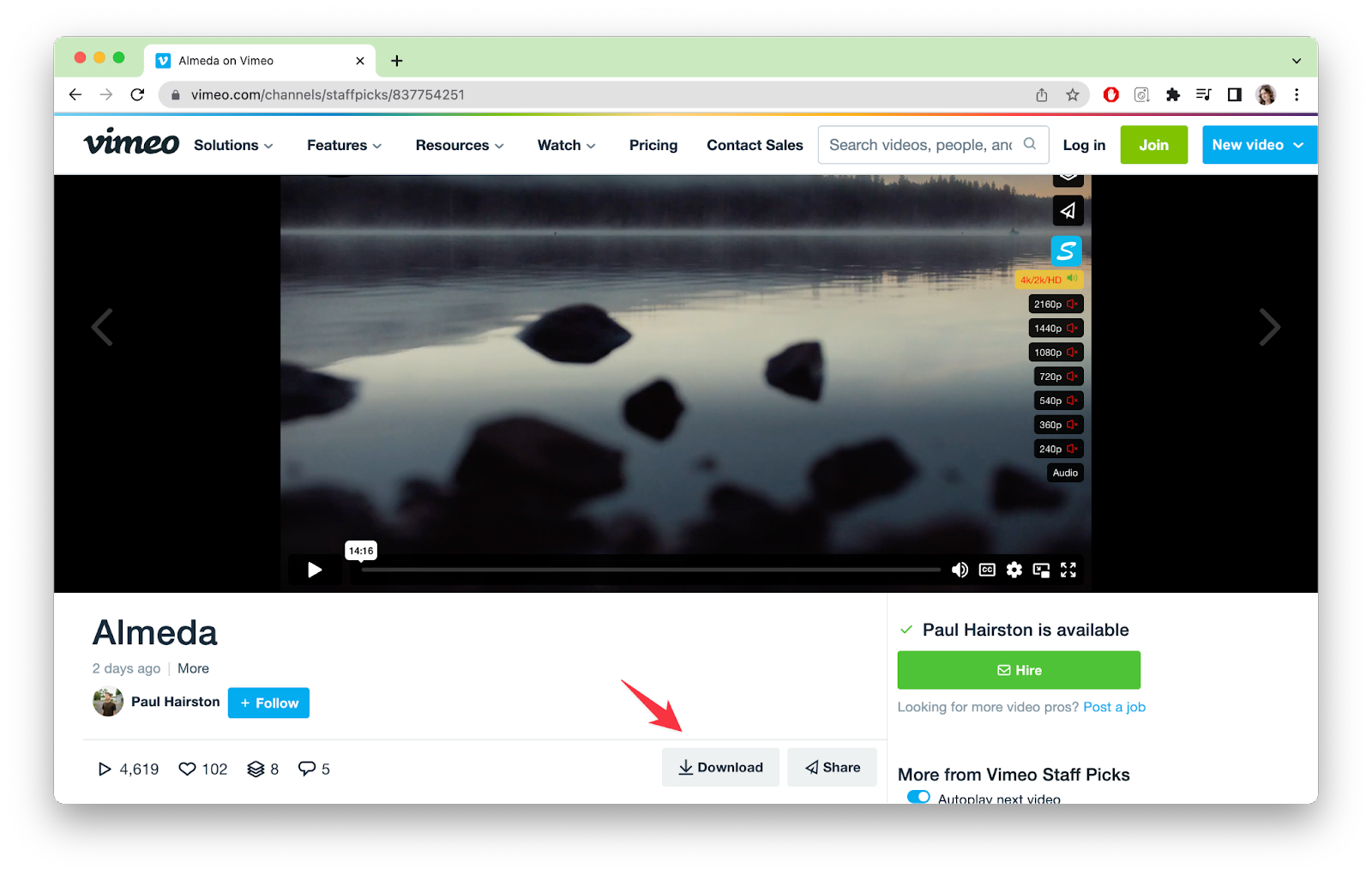 Vimeo Downloader lets you download multiple videos from the page you're on and view them in its pop-over if desired. It's a great tool for those times you are looking to download a lot of content without watching it all first!
Save videos from Vimeo to Mac using Safari
Due to a more limited selection of apps available as Safari extensions, an alternative approach is to use web downloaders. Essentially, these are websites where you can provide the link to a Vimeo video, and they will save the video to your Mac. Here's how to download Vimeo videos Mac through Safari:
Go to the service's website. You can try Save Video Me
Paste the link to the Vimeo video into the corresponding field
Click the Download button
The service will turn on a preview and the quality options for you to choose
Right-click on the link with specified quality and choose Download Linked File As.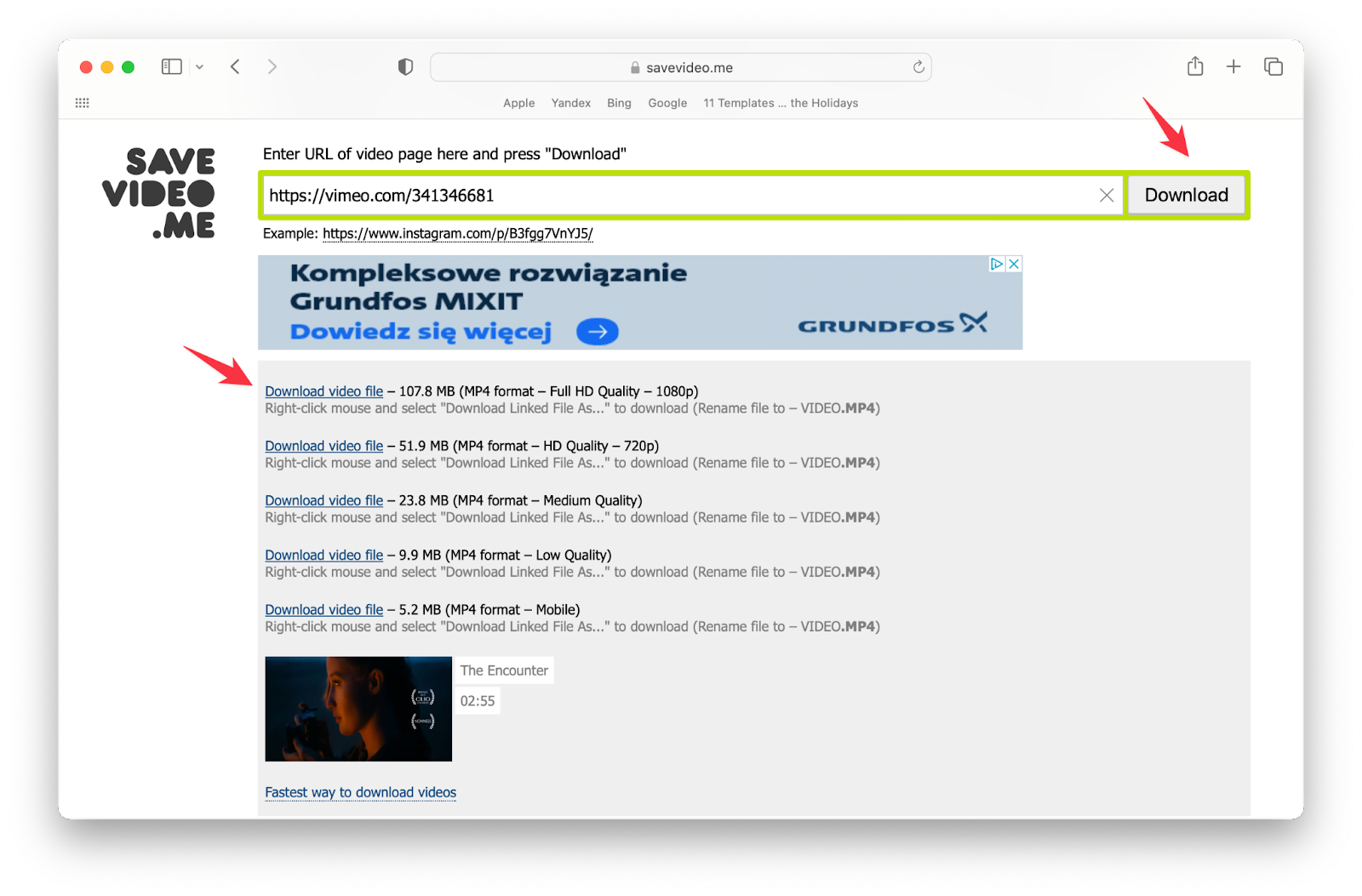 Tip: You should also keep in mind your computer is vulnerable to malicious software any time you download anything from the internet, especially when using online downloaders and other websites with tons of ads.
We suggest using CleanMyMac X to keep your Mac running in tip-top condition. It has a really thorough malware check for your Mac, and running it routinely can keep your Mac performant and free of malware.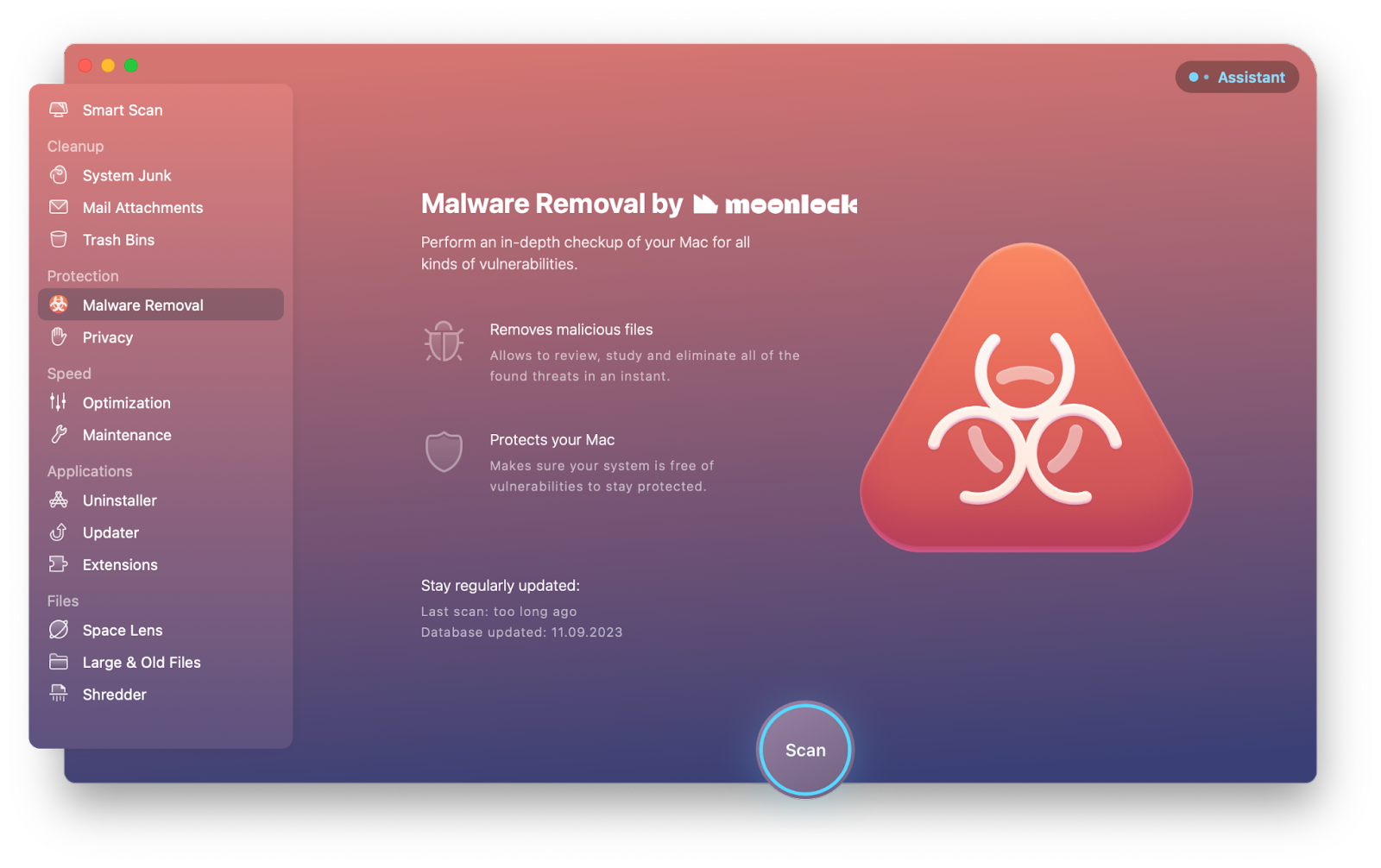 An additional method to download video from Vimeo, independent of the browser, involves using the native screen recording feature on Mac.
Open the video you want to record
Press Command + Shift + 5
Press Options, then select the audio recording source — MacBook's microphone
Start recording by clicking Record and turn on the video immediately
Stop the recording whenever you want.

However, keep in mind that this method is imperfect because you'll have to play the video and leave the Mac alone, which will take some time.
Download Vimeo videos on Mac using Firefox
Similar to other widely-used browsers, Firefox offers a wide range of extensions. Among them, we recommend trying a specific extension that adds a Download button below Vimeo videos. Follow these steps to download video from Vimeo to Mac using Firefox:
Install the extension
Open the Vimeo video you want to save
Click the Download button below it
Select the desired quality
In a few seconds or minutes, the file will be on your laptop in the Downloads folder.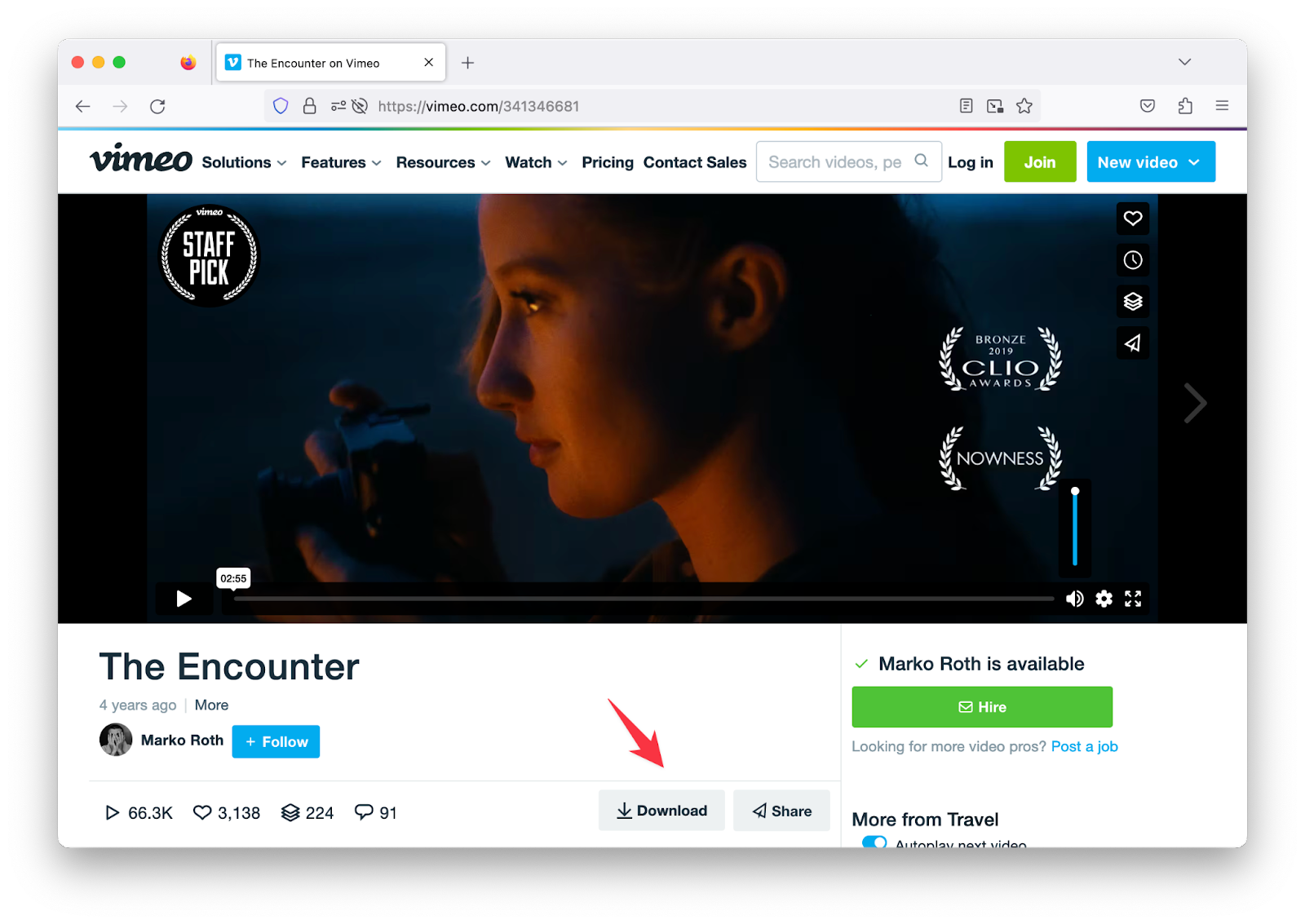 How to download a video on Vimeo using a mobile phone
Finally, how do you save videos to your phone? There are several options for this, too. First, you can create offline lists. Secondly, you can use a browser and save videos via a web downloader. The situation with apps is tricky. It's almost impossible to find a convenient one in the App Store, so we suggest focusing on other methods.
Let's take it one step at a time. If you have the Vimeo app on your smartphone, you can create offline playlists. This is not the same as downloading, but you will be able to watch any videos offline. If this is your main goal, follow the instructions:
Open the video you want to save
Click the three vertical dots on the right below the video
Click on Add to offline playlist and wait for the file to download
To find an uploaded file, open your account on the main page (the smiley face symbol in the upper right corner). There, you will find the Offline section.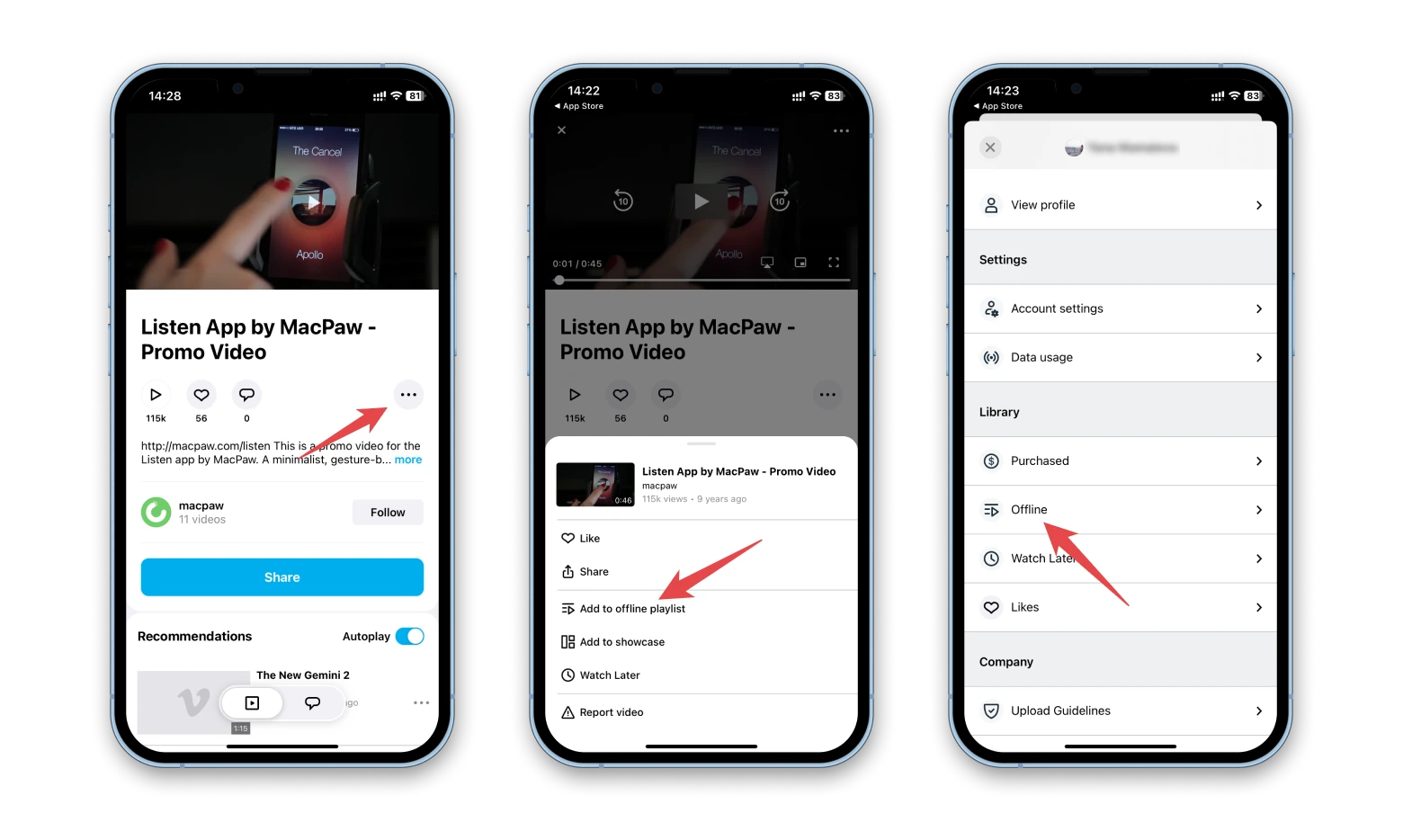 Essentially, this video will be saved to your phone, so it will take up space. Keep this in mind. You can also create offline playlists even if you are not logged into the app.
The next way you should know about is to use a web downloader. The principle of operation is the same as we described above. Open the website (for example, Save Video Me), paste the link to the desired video, and click Download.
Where do you get the link? If the video is open in a browser, click on the burger sign in the upper right corner and click Share. In the window that appears, copy the link.
If you are in the Vimeo app, find the airplane icon or Share button and copy the link.
The most convenient way to download Vimeo videos
Downloading Vimeo videos to your Mac allows for offline viewing, convenient access, and the ability to edit or reuse the content if you have permission. Unfortunately, Vimeo doesn't allow you to download most of the videos for free. In this article, we've figured out how to download a Vimeo video on Mac. Use a special app that will do it in one click, install a browser extension, or use sites that save files to your laptop.
The easiest method is to use the PullTube app. If you're saving the file for further processing, you'll need ElmediaPlayer (to stream the video to other devices, fix subtitles, or adjust picture settings) and Permute (to edit and convert the file).
All these apps are part of Setapp. This platform contains 240+ Mac, iPhone, iPad, and web apps that you get in one package. By signing up for a 7-day free trial, you can explore all of the Setapp apps mentioned in this article and many more.
When your trial ends, continued access to Setapp is only $9.99 per month – an incredible deal for so many awesome apps, so don't hesitate. Give Setapp a try now!