Tips On How To Loop A YouTube Video You Like
Ever hear a song you love and just want to listen to it over and over and over again? While there's more than just music on YouTube, there are also all types of content, such as meditation chants, tutorials, and TV shows that people would want to stick on repeat.
So you'd think there would be an obvious solution to loop YouTube video. However, up until recently putting YouTube on repeat has been quite hard to figure out.
What could be the reason for this? You guessed it — money. YouTube pays content creators who are willing to have ads featured in their videos based on the number of views. This means that tricksters wanting to make a quick buck could upload a video, set it on repeat, and every time it ends they would get another view. Money for nothing!
To work around this, uploaders create long compilations, often up to 10 hours. Yet, thanks to a recent YouTube update, these solutions are no longer necessary. The guide below will show you how to loop a YouTube video using the simplest tips and tricks out there.
Right-Click On Video To Loop
After many people took to the internet asking "How to loop a YouTube video," YouTube responded by recently updating their service to allow for a native solution. Now to have YouTube on repeat just requires some right-click magic.
If you right-click on the video itself, you'll see a dropdown menu. Quite obviously the option you want to turn on is Loop.
How to put a YouTube video on repeat:
Open YouTube and play a video of your choice

Right-click on the video

Select Loop. Ta-da! Endless YouTube repeats till you reverse the process.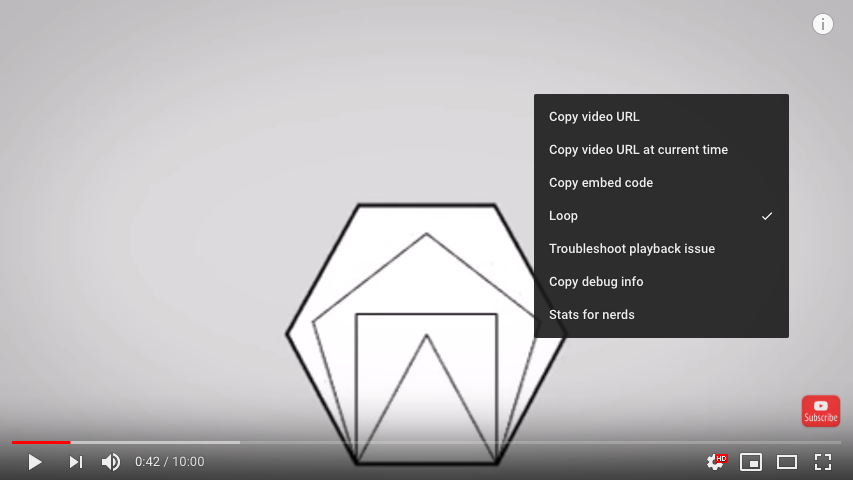 You don't even have to wait till the end of the video to know you've done it correctly, a check mark will appear to tell you it's a go.
However, before you put all your eggs in one basket, there's one drawback you should know about.
The disadvantage of the YouTube loop feature is that if the video features a pre-roll YouTube ad, which most do, you'll often have to watch it again once the video restarts! As well as the ads, any introduction at the beginning of the video will also replay and potentially disrupt your listening experience.
Stay online with third-party services
Another way to make YouTube repeat songs, shows, or movies is to use ListenOnRepeat. It's an online YouTube looper tool powered by a third-party site. As the name suggests, ListenOnRepeat lets you loop YouTube videos, or even choose the section of the video you want repeated, thus avoiding the death-by-intro situation.
ListonOnRepeat's features include displaying your listening history, a Discord chat, and video reviews.
How to make a YouTube video repeat:
Go to the ListenOnRepeat website

Find the video you want to repeat on YouTube by typing the name into the search bar

Click on the video and it'll automatically have YouTube repeat it
To select the section you want to replay, use the slider at the bottom of the media player.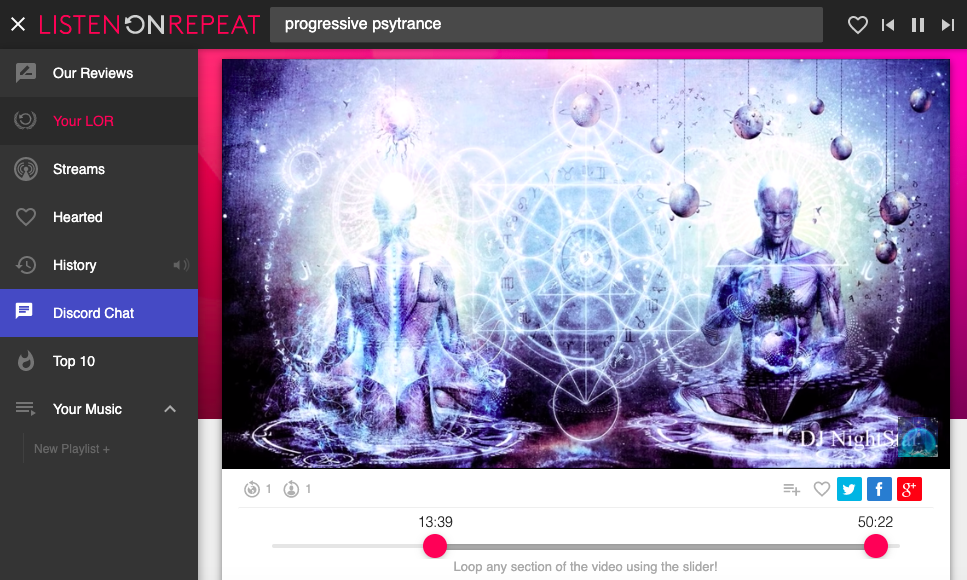 Go offline to avoid YouTube loop disruption
Here's an unpleasant thing about YouTube and ListenOnRepeat. They are streaming services. As they both require a stable internet connection, should the network slow down or go offline, it can stop your video in its tracks and interrupt a seamless YouTube loop.
If you want to know how to loop YouTube videos and have your favorite YouTube videos available for offline watching at the same time, there are many cool Mac apps that let you download YouTube videos easily.
Unfortunately, if you search for how to loop YouTube videos, you may come across dodgy websites that promote scams or malware, as well as lots of misinformation about copyright.
To help you be copyright cautious, here's the lowdown on downloading videos from YouTube. First, you shouldn't plagiarize someone's content by downloading it and then uploading it as your own or using it to promote your business.
According to YouTube's Terms Of Service, "You may access Content for your information and personal use solely as intended through the provided functionality of the Service and as permitted under these Terms of Service."
YouTube further specifies that "You shall not download any Content unless you see a 'download' or similar link displayed by YouTube." Too bad. However, if you don't tell or share with anyone, it's unlikely that YouTube would never find out.
Drag and drop to download YouTube videos
There's a world of content out there that exists beyond YouTube that you might want to listen to on repeat as well. Having a tool like Downie will let you get any video in just one click.
Downie lets you download YouTube videos and save content from hundreds of websites, including Facebook, Vimeo, and Instagram.
Just find a video you want to download, then drag and drop the link into the app — that's all it takes to get that video on your Mac. To make the process even smoother, you can take advantage of Downie's browser extension. That way, you'll always have Downie on hand.
To repeat YouTube videos here, you can use a media player of your choice and set up your own YouTube loop media system.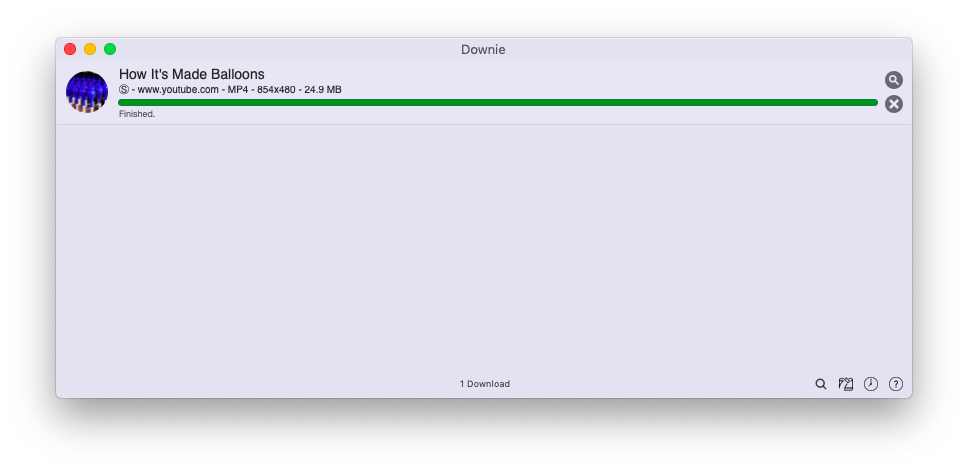 Speed up the download process
A more robust alternative for downloading content fast is Folx Pro, which works with YouTube videos, direct downloads, and torrents.
A great reason to have Folx Pro as your go-between to loop YouTube videos is the ability to split downloads into multiple streams, which speeds up the process. If you want to loop YouTube videos that are over an hour long, this solution won't leave you hanging around, waiting.
In addition, Folx Pro has a built-in torrent search and YouTube video downloader within the app:
Type in the name of the video you want to download into Folx Pro

Click on the relevant video and configure the download settings

Hit OK, and it will be in your Downloads folder before you know it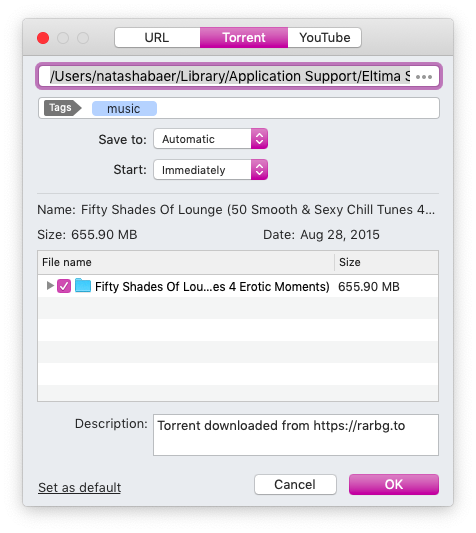 Keep your media organized
Now that your Mac has all the videos you want to repeat on YouTube, how are you going to keep them organized?
Elmedia Player is a media player that lets you open video and audio files no matter their format and turns your Mac into a YouTube looper. As well as finding, streaming, and downloading content from within the app, you can add a range of advanced features to fix playback issues.
How to repeat YouTube videos with Elmedia Player:
Open Elmedia Player

Drag and drop files to import them onto Elmedia, or use the in-app URL finder

Click the circular arrow button to loop YouTube video endlessly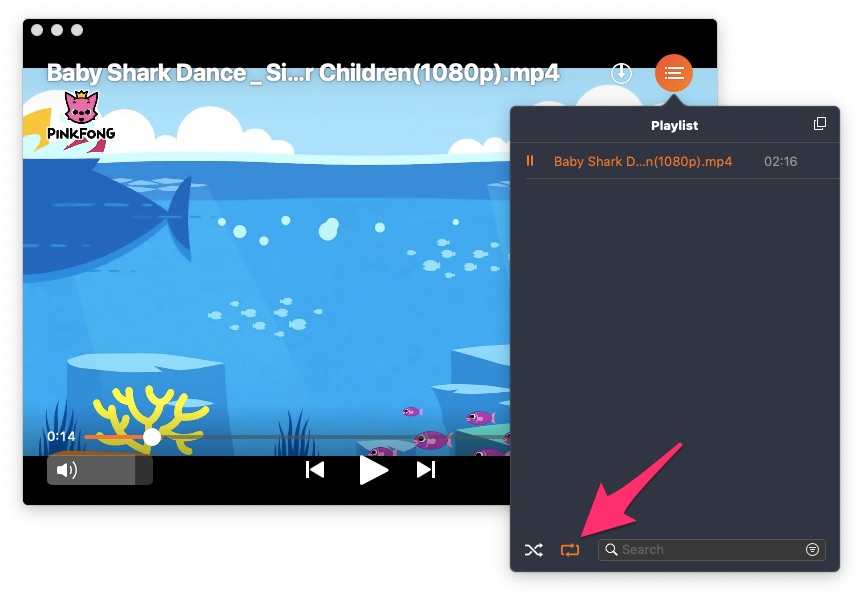 Finally you know how to put a YouTube video on repeat in many different ways and can keep enjoying the content till either you or your Mac runs out of battery.
Overall, keeping your Mac up to date with the latest apps will not only help you with simple tasks like YouTube loops but also do so much more. An exciting way to see what's on offer is using app platform like Setapp.
The apps mentioned in this article: Elmedia Player, Downie, and Folx Pro are just three of more than 150 apps from Setapp's selection. Browse through categories such as Productivity and Mac Hacks to find useful tools that will improve the way you use your Mac for good.
Just try it out and see! There's a 7-day trial offer with unlimited access, so you can test everything you need.